With several day trips from Las Vegas to choose from, you can experience everything from the great outdoors to the paranormal—all in a mere 24 hours.
The next time you want to escape Las Vegas for a bit, head out to any of these top destinations.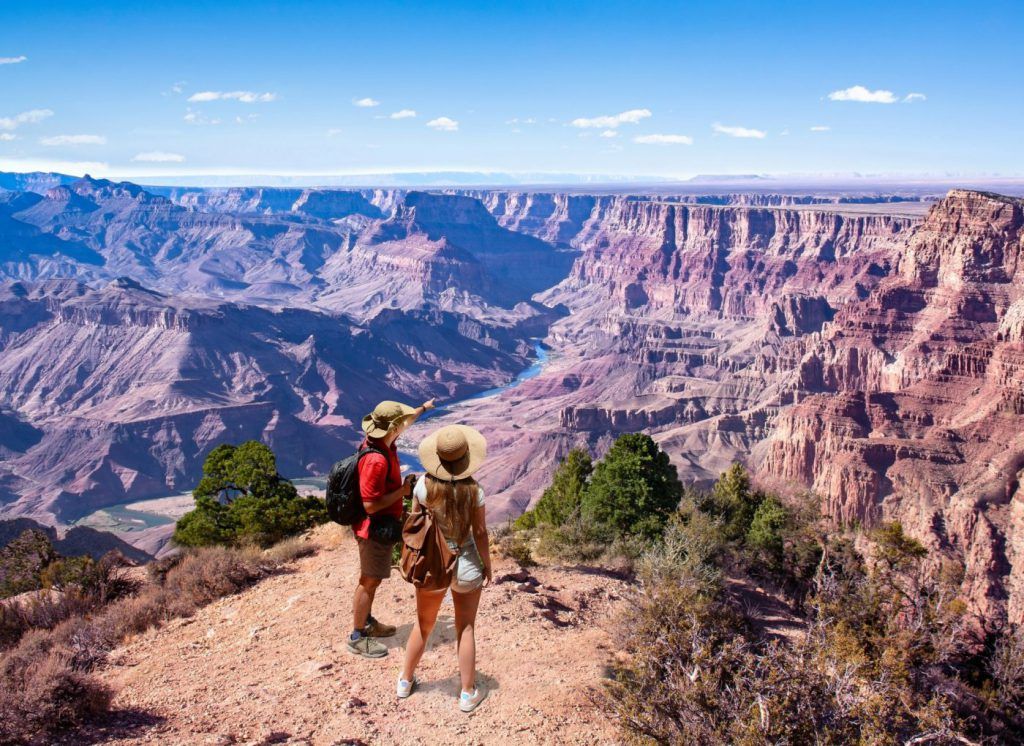 1. Grand Canyon National Park
Distance from Las Vegas: 4 hours and 5 minutes, 275 miles.
Doesn't it seem as though a trip to the Grand Canyon is on everyone's bucket list? Cross this item off your list when you take a day to explore the National Park.
Just over 4 hours away from Las Vegas, the Grand Canyon offers exceptional views along with a myriad of outdoor activities and fun including hiking, kayaking, and more.
If you don't feel like driving, there are multiple Grand Canyon tours you can hop on! For the daredevils visiting Vegas, reserve your spot on any of the Maverick Grand Canyon Helicopter tours. On top of epic views, you'll feel the rush of flying high above the ground. If you're not interested in an adrenaline rush, the Grand Canyon West Rim Bus Tour is just right for you.
2. Hoover Dam
Distance from Las Vegas: 45 minutes, 37.8 miles.
Many of our recommended day trips from Las Vegas include iconic landmarks, such as the Hoover Dam. Take a tour of this magnificent manmade structure by reserving your place on a Hoover Dam Express Bus Tour.
Hoover Dam tours include expert narration, behind-the-scenes access, food and drinks, photo opportunities, and so much more. And if you're feeling slightly adventurous, you could always fly over the Hoover Dam in a helicopter!
Since the Hoover Dam is such a short distance away, you'll have plenty of time in the day to explore the area and learn more about its history along with the notable men and women who made the dam possible.
3. Lake Mead
Distance from Las Vegas: 30 minutes, 26.1 miles.
Interested in quick day trips from Las Vegas? Lake Mead is the perfect destination for you.
The man-made lake is situated on the Colorado River and is known as the largest reservoir in the USA with regards to water capacity. While at the lake, visitors enjoy swimming, sunbathing, fishing, boating, and water skiing.
Combine your day trip to Lake Mead with the chance to see the Hoover Dam on the Lake Mead Lunch Cruise tour. This comprehensive tour includes up-close views of each destination along with a deep history. Plus, you'll indulge in a delicious breakfast and lunch along the way!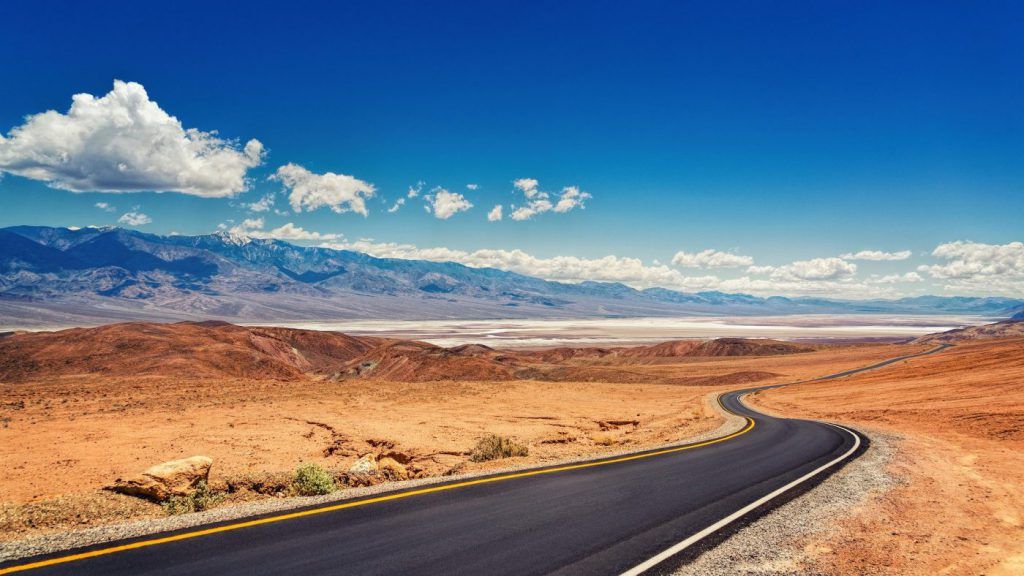 4. Death Valley National Park
Distance from Las Vegas: 1 hour and 55 minutes, 123 miles.
Located right on the border of Nevada and California, Death Valley National Park is a must-see destination. The national park is home to a multitude of sights and activities including a ghost town, the Badwater Basin's salt flats, and the Mesquite Flat Sand Dunes.
Star Wars fans might recognize the park as Tatooine! The national park was also the backdrop of this Star Wars land for Episode IV - A New Hope and Star Wars Episode VI - Return of the Jedi.
When deciding between day trips from Las Vegas, consider maximizing your day by signing up for an immersive Death Valley Tour. Tours stop at the national park's major landmarks, offer excellent sightseeing opportunities, and also feature narration from expert tour guides.
5. Rhyolite Ghost Town
Distance from Las Vegas: 1 hour and 53 minutes, 120 miles.
While you're out exploring Death Valley National Park, why not stop at Rhyolite Ghost Town and see if you come face-to-face with the paranormal?
Rhyolite was a thriving gold mining town in the early 1900s but came crashing down as the result of the 1907 financial crisis. Today, you can roam the abandoned city's streets, enter buildings like the bank, and hear more about the town's residents.
In fact, if you're lucky, you may get to meet one of them! (Hint hint… as a ghost.)
6. Area 51
Distance from Las Vegas: 1 hour and 20 minutes, 87.9 miles.
Do you believe that aliens exist? Think we're not alone? Regardless of your opinions on the extraterrestrial, a day trip to Area 51 is one for the books!
Area 51 is an extremely classified US Air Force Facility, also known as Homey Airport. Due to the facility's security and tight-lipped nature, conspiracy theories about aliens, UFOs, and other outer space studies have gained traction. As a result, the area has become a tourist destination for those hoping to get a glimpse of some alien activity.
In fact, several Area 51 tours exist! Hop on a bus and discover all the hidden secrets, conspiracy theories, and firsthand stories of the strange happenings at Area 51. Regardless if the true purpose of Area 51 is fact or fiction, it's a fun way to spend the day outside of Las Vegas.
7. Zion National Park
Distance from Las Vegas: 2 hours and 49 minutes, 159 miles.
When searching for day trips from Las Vegas, consider taking a drive out to Zion National Park in Utah. Visiting this national park and nature preserve is a fantastic way to combine a history lesson with an outdoor adventure. As you explore the park's trails, canyons, rivers, and more, you'll find yourself in awe of the area's natural beauty.
The park also hosts a variety of Ranger-led activities for those who wish to have their day trip organized for them. Take part in wildlife watching excursions, museum talks, guided walks, and more all led by expert park rangers.
8. Los Angeles, CA
Distance from Las Vegas: 4 hours and 11 minutes, 271 miles.
Hop from one city of glitz and glamour to another when you take a day trip to Los Angeles. While Hollywood is over 4 hours away, there are numerous flights to and from each city every day. You can opt to drive or fly for your day trip excursion.
In Los Angeles, take advantage of the ample free things to do, beaches, theme parks, and more.
If you're lucky, perhaps you'll encounter a celebrity or two along the way.
9. Red Rock Canyon
Distance from Las Vegas: 33 minutes, 21.1 miles.
A list of day trips from Las Vegas wouldn't be complete without including Red Rock Canyon. Just over a half hour drive away, this outdoor nature conservancy features a myriad of activities for visitors to enjoy.
Embark on the one-way 13-mile scenic drive, explore endless hiking trails, keep an eye out for wildlife, or participate in one of the park's programs—all in a single day.
The park also boasts cliffs made up of Aztec Sandstone, which is approximately 180 - 190 million years old! You'll want to charge your phone and camera. These natural stone formations throughout the park offer excellent photo opportunities for travelers and budding photographers.
Experience the Best Day Trips from Las Vegas
When you're ready for a break from Sin City, plan to go on any of these day trips from Las Vegas. Whether you want to explore the great outdoors or discover alien life forms at Area 51, you're bound to have a memorable day.