November 25, 2022 @ 8:00 am

-

December 30, 2022 @ 5:00 pm

EST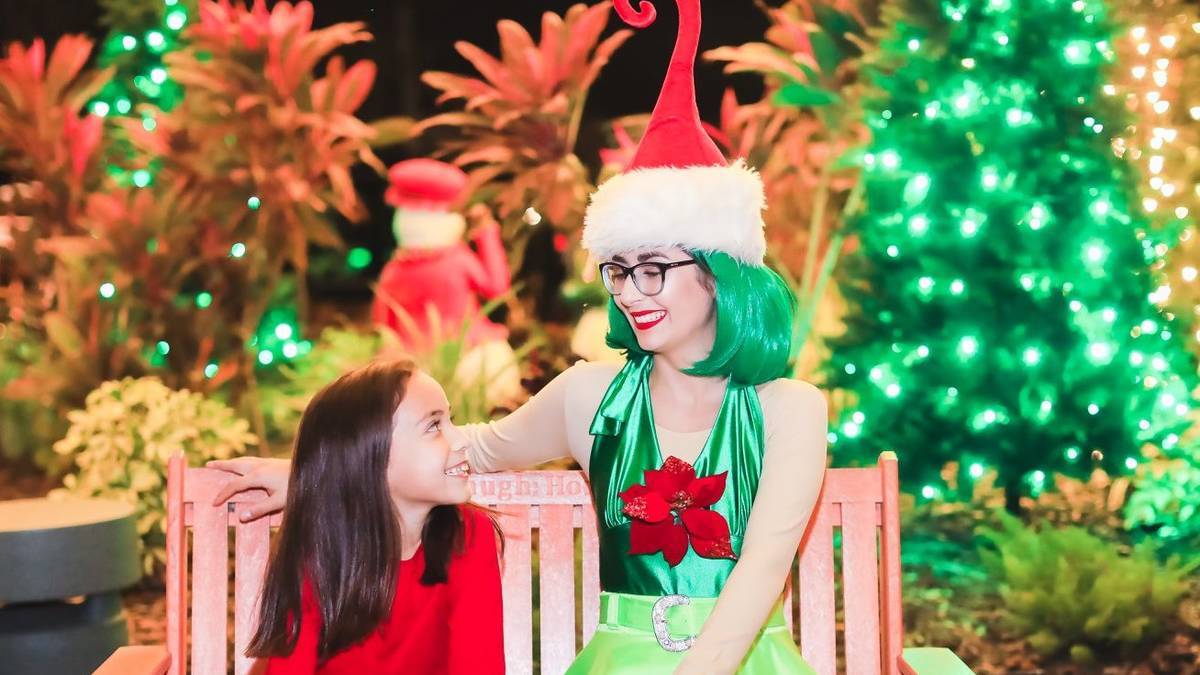 Let Zoo Tampa make your spirits a little brighter this holiday season with Christmas in the Wild!
Illuminated pathways are covered with colorful installations, delectable treats like a candy cane carousel that brings extra holiday cheer, and animal experiences tailored for the joyful occasion. Zoo Tampa is full of festive and awesome activities that keep you wishing the holidays never end.
Follow along to get the scoop on attractions, discounts, and tips at Christmas in the Wild Zoo Tampa.
Christmas in the Wild Tickets
Tampa Zoo Christmas in the Wild event tickets are required for all guests except children two years of age and younger who are accompanied by an adult. Early reservations are the only way to guarantee admission. 
Zoo Tampa members and Pay for a Day ticket holders need to pay a $5 reservation fee, which will be refunded in the form of a five voucher that can be used during the event. Zoo Members and reservations are strongly encouraged.
ZooTampa Discount Tickets
Secure discounted tickets for Zoo Tampa from Tripster. On top of saving some changes, you'll get to skip the stressful long lines that tend to ruin the vacation.
Booking online means you'll get to start your wild adventure right away.
One-Day Zoo Admission – SAVE up to $3
ZooTampa Vacation Package
Almost-perfect weather and plenty of tourist spots and landmarks – Tampa Bay is simply too spectacular for a day trip. Extend your vacation without spending all your money with these vacation packages:
Membership at ZooTampa
Lucky enough to live in Tampa Bay or visit the Zoo regularly? Then, a zoo membership is your best option. There are different membership plans, like Individual, Dual plus, and Family plus.
Each is accompanied by great discounts and exclusive perks, from parking and restaurants to events and shopping booths. Plus, you'll get early access and get the chance to enjoy member-only happenings.
Group Admission
Want to treat your family, including all the cousins and grandparents, to an educational and entertaining group activity? Come to Zoo Tampa. The Zoo offers more discounts for groups of more than 15 people. Plus, additional savings for senior citizens, high school, and college groups.
Rides and Attractions Included with Your General Admission
Ready for an adrenaline-filled safari experience? Your Zoo Tampa general admission comes with unlimited access to rides and Wildlife Connections. Make the most of your ticket by enjoying these attractions:
Related Post: 10 Totally Free Things to Do in Tampa
Wildlife Connections
Connect with wildlife and their caretakers at Wildlife Connections. Hear fun and crazy stories about the adorable animals, and visit these attractions.
Penguin Chat

Macaw Flyover

Orangutan Chat

Siamang Chat

Okapi Chat

Shoebill Chat
Thrilling Rides
Buckle up! These thrilling rides will test your stamina and spirit.
Tasmanian Tiger Coaster

Roaring Springs

The Carousel and more
Nearby Hotels
Complete your fun vacation with a perfect room to relax by booking any of these nearby accommodations.
Tripster offers the best lodging options, allowing you to get your well-deserved rest without busting out your wallet.  
*Discounts may differ depending on the travel date
Christmas in the Wild Attractions
Festive Realms
Zoo Tampa Christmas celebration is fit to perfection. Among its gorgeous spectaculars include the six immersive festive realms, complete with lights and a festive soundtrack. Step into these lavishly decorated grounds and take in all the Yuletide cheer and colors with the entire family. Make sure to bring your camera as you don't want to miss the photo opportunities.    
Shows and Attractions
Nothing can put a smile on our faces and remind us of the true meaning of Christmas better than holiday shows. This happiest time of the year; take time to witness live performances and festive presentations throughout the Zoo Tampa Christmas fair grounds. From innovative storytelling to musical concerts, the park's entertainment will surely impress your imagination.
Related Post: Insider's Guide to ZooTampa at Lowry Park
Animal Experiences
Calling all animal lovers. Here's your chance to get up close and personal with your favorite creatures! Meet and discover the unique and clever personalities of African penguins, Southern White Rhinoceros, Florida Panther, and more this Christmas at the Zoo Tampa.
Of course, friendly and knowledgeable staff will be with you every step of the way to guide you, give insights, and answer your questions. These adorable Zoo residents will wait for you this season.
Treats and Drinks
Whether you're into sweet and eye-catching holiday treats or flavorful seasonal cuisines, Zoo Tampa features food and drinks that will make you drool. Pick from a vast selection of pastries, sandwiches, desserts, and warm beverages.
Christmas in the Wild Date and Details
Christmas in the Wild happens on select nights from November 25, 2022, through December 30, 2022. The Christmas in the Wild Zoo Tampa Hours is from 4 PM to 10 PM. 
"Is Tampa Zoo opens on Christmas day," you might ask. Unfortunately, the answer would be no. The park is closed on December 24th and 25th.
Experience Christmas in the Wild
Animal lovers have no other place to be this holiday than Zoo Tampa! Your favorite theme park turns into a Christmas wonderland, so revel in its decorations and entertainment like never before. The fun begins as soon as you enter the Zoo.
Expect Tampa Zoo Christmas light displays and carollers spread across the wildlife paradise. There will be festive live shows to keep all guests occupied as well. We're hoping for Santa and Mrs. Claus's surprise appearance. Fingers crossed that the cookie decorating with Mrs. Claus will also be added for this year's event night.
Related Post: Ultimate Guide to ZooTampa at Lowry Park: Coupons, Discounts, and Deals
Then, connect with leopards, penguins, tigers, koalas, and more animals. Finally, don't forget to chat with the guide to get some interesting details about your favorite creature.
When you get hungry, you don't need to worry, as the Zoo is bursting with food booths offering themed snacks and drinks! 
So, get your tickets now and be amazed and delighted by the seasonal offerings of Zoo Tampa. While at it, extend your holiday trip with a Zoo Tampa at Lowry Park Package.
Related Events