March 24, 2023

-

May 21, 2023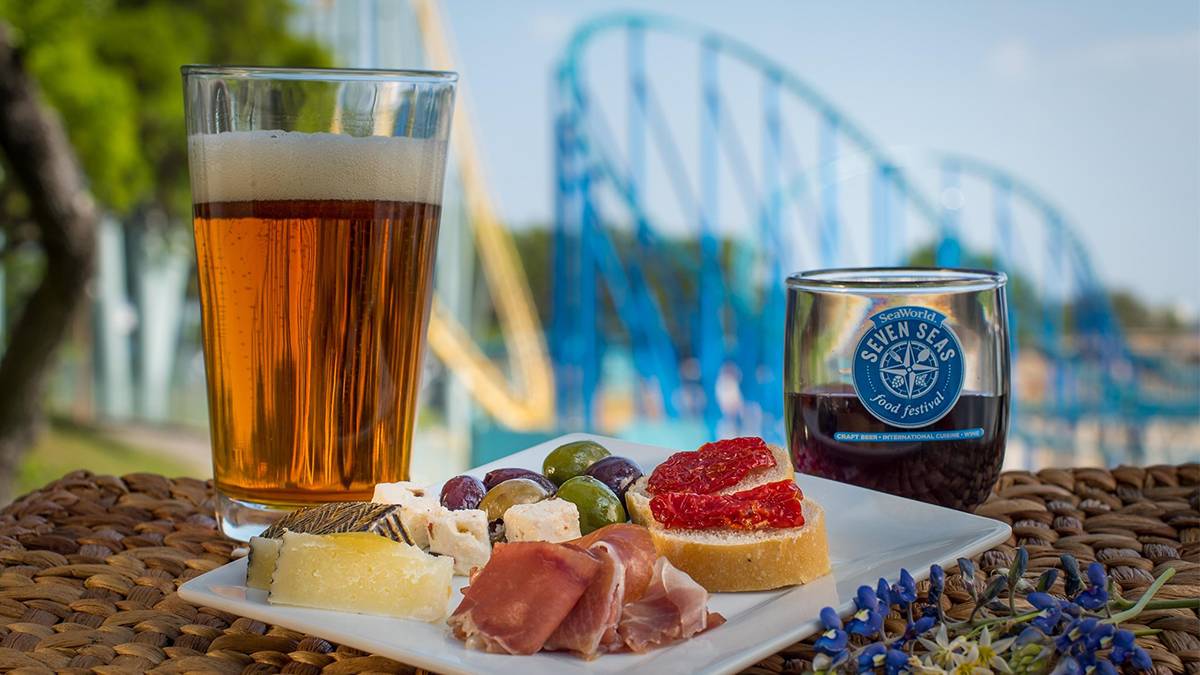 Few things scream epicurean adventures louder than the SeaWorld Seven Seas Food Festival. From Mexican to Korean food, this gastronomic experience is the ultimate celebration of flavor and culture!
Taking a trip to Alamo City? Time your visit during the Seven Seas Food Festival where scrumptious delicacies plus entertainment and surprises abound. This SeaWorld event makes it easier for everyone to get a taste of Italy, Mexico, Korea, and Brazil's ever-famous dining scene.
Plus, there will be live concerts, photo sessions, and animal encounters!
Related Post: San Antonio on a Budget: How to Save BIG With a Go City Pass
So, get ready to throw your diet plans out the window for now because this delicious treat is packed with irresistible bites and sips. Follow along to discover all the fun to be had at SeaWorld Seven Seas Food Festival 2023!
SeaWorld Seven Seas Food Festival San Antonio Tickets
The Seven Seas Food Festival is included with your admission ticket and an annual pass membership.
Nearby Hotels and Lodging
After visiting Seven Seas SeaWorld San Antonio, kick back in style with your closest foodies when you book accommodations at any of these nearby hotels with Tripster:
SeaWorld San Antonio Discount Tickets
After stuffing your face with finger-licking dishes and chugging craft brew, embrace the oceanic vibe at SeaWorld San Antonio. Book these discount tickets with Tripster:
SeaWorld San Antonio Vacation Package
Why limit the fun at SeaWorld San Antonio when Alamo City is bursting with landmarks to explore, from family friendly to thrilling?
Package your theme park admission with these vacation packages for the ultimate Texas trip:
Seven Seas Food Festival Menus and Locations
Brazil: South Atlantic Sea
Brazilian Roast Beef Sandwich (Bauru): Roast beef, dill pickle, tomato, and mozzarella cheese on a crispy roll
Assorted Empanadas: With flavors of Spicy Beef, Chicken, and Spinach
Frozen Blackberry Açaí: Açaí sorbet with fresh mint, and frozen blackberries
Wine: Gascon Malbec and Terrazas Alto Chardonnay
Monkey Around: Monkey Shoulder whiskey, orange juice, almond syrup, lemon juice, and bitters
Hawaii: Pacific Ocean
Huli-Huli Chicken Wings: With Sweet soy sauce, grilled, and comes with tropical slaw
Poke Bowls: Selection of Salmon, Spicy Tofu, and Tuna
Sesame-soy macerated, jalapeño peppers, sticky rice, wakame salad, cucumber, edamame, grape tomato, pickled ginger, and masago
Sorbet: Coconut, Pina Colada, and Pineapple Sorbet
Frozen Hawaiian Pineapple Express: Ocean Organic Hawaiian pineapple vodka, pineapple juice, lemon juice, honey, and mint
Mai Tai: Dark rum, orange juice, Light rum, Grenadine, and Triple Sec
Beer: Longboard Lager, Kona Brewing Co. Big Wave Golden Ale, or Gold Cliff Pineapple IPA
Korea: Pacific Ocean
Bulgogi Bowl: Rice, marinated beef, cucumber, radish, carrots, scallion, mint, cilantro, red chili aioli, and sesame seeds
NEW! Jackfruit Bulgogi Bowl: Rice, marinated jackfruit, radish, carrots, scallion, mint, cilantro, red chili aioli, and sesame seeds
Beef Short Ribs (Galbi): Marinated for 48 hours in a sweet and spicy sauce, then grilled
New! Black Sesame Ice Cream
Soju Sunrise: Jinro Chamisul Classic Soju, Sake, and Orange Juice & Grenadine
Jinro Chamisul Fresh Soju
Jinro Chamisul Grapefruit Soju
Japan: Pacific Ocean
Chicken Gyoza: Chicken dumplings, cabbage slaw with a dipping spicy ginger soy sauce
Sticky Ribs: Roasted pork ribs in a sweet, soy marinade adorned with roasted sesame seeds
Tuna Tataki w/ Ponzu: Yellowfin tuna, lime, sesame, ginger, soy, red chili, spring onion, and baby lettuce
New! Matcha Green Tea Ice Cream
Gekkeikan Zipang Sparkling Sake
Beer: Kirin Ichiban Lager and Sapporo Lager
Melting Snow Cocktail: Sake, Grenadine, Lemon Juice, and Orange Liquere
Jamaica: The Caribbean
Jerk Chicken with Caribbean Cole Slaw: Traditional jerk spiced chicken drumettes, with Caribbean cole slaw and jerk dipping sauce
Jerk Pork White Cheddar - Mac: Pasta and white cheddar cheese stirred together with spicy jerk pork topped with mixed cheddar cheese
Curried Chicken Street Patty: Served in a traditional flaky crust
Spicy Beef Street Patty: Served in a traditional flaky crust
Passion Fruit Custard
Guava Crème Custard
NEW! Rum Raisin Ice Cream
Jamaica Me Crazy: Sailor Jerry spiced rum, orange, cranberry juice, and pineapple
Honey Bee Hurricane: Sailor Jerry spiced rum, passion fruit puree, lemon juice hibiscus syrup, and club soda
Caribbean Rum Runner: Sailor Jerry spiced rum, blackberry brandy, Malibu coconut rum, orange, banana liqueur, and pineapple juice
Beer: Red Stripe Lager
Greece: The Mediterranean Sea
Shawarma with Skhug Sauce: Chicken shawarma served on pita bread with cucumbers and tomatoes
Gyros with Tzatziki Sauce: Mix of beef and lamb on pita bread topped with tomato, sliced onion, and tzatziki sauce
Mini Lamb Burger: Served on a sweet roll with mixed greens and a spicy feta spread
Rizogalo (Greek rice pudding): Arborio rice, sugar, milk, lemon, vanilla, and cinnamon
Baklava: Phyllo dough, nuts with a drizzled honey butter
NEW! Greek Ice Cream: Greek yogurt, balsamo swirl, honey, and almonds
Cocktails:
Goddess Athena: Vodka, Lime Juice, Brown Sugar, Lemon Juice, and Club Soda
New! Sparkling St. Tropez Cocktail: Grey Goose Le Citron Vodka, Prosecco with lemon juice, and St Germain Elderflower Liquere
Fleur De Mer Rose
Italy: The Mediterranean Sea
Italian Meatball Slider: Gourmet meatball cooked in old-style red gravy served on a rustic-style roll with shaved parmesan cheese
Grilled Artisan Flatbread Pizzas
Mediterranean Shrimp and Pesto: Shrimp, garlic, olive oil, feta, red onion, parmesan, roasted red pepper, red pepper flakes, and grape tomatoes
Meaty Italian: Spicy fennel sausage, prosciutto ham, uncured pepperoni, sweet onion, sun-dried tomato, and mozzarella-asiago cheese
New! Quatro Formaggi: Garlic, mozzarella, oil, basil, provolone, ricotta, red chili flakes, and parmesan
Chicken Margherita: Roasted garlic, fresh mozzarella, plum tomato, balsamic reduction, and basil
New! Caramel Chocolate Chip Cannoli Siciliana
New! Tiramisu Gelato
Wine: Riondo Prosecco Rose, Cavaliere d'Oro Gabbiano Chianti Classico, and Cavaliere d'Oro Gabbiano Pinot Grigio
Frozen Espresso Martini: Absolut vanilla vodka, Chameleon cold brew, and Kahlua coffee liquor
Blood Peach Bellini Cocktail: Blood Peach Sorbet topped with Prosecco
Germany
Beer Braised Bratwurst with Caramelized Onions: Served on a pretzel roll
Braised Beef with Cabbage and Spaetzle: Braised beef on buttered egg noodles
Beer Cheese Spaetzle with Sautéed Onions: Egg noodles stirred together with beer cheese sauce and sautéed onions
Apple Strudel with Vanilla Cream: Freshly baked pastry filled with apples topped with a vanilla cream
Jäger Bomb: Jägermeister and Monster energy drink
Lion Lemonade: Hendrick's gin, sparkling water, and lemonade
Beer: Alstadt Lager, Alsatadt Hefeweizen, Spaten Optimizer, and Spaten Lager
France: North Atlantic Sea
Crepes: Gluten-free available upon request
Turkey, Mushroom, Spinach, and Swiss: Turkey breast, crimini mushrooms, spinach, parmesan cream sauce with a swiss cheese
Chocolate-Cherries & Cream: Chocolate crepe filled with cherries, powdered sugar, and vanilla whipped cream
Hazelnut, Banana, and Strawberry: Hazelnut spread with macerated strawberries, fresh bananas, and vanilla whipped cream
NEW! Caramel Apple: Sliced apples, caramel, butter crumble, and vanilla whipped cream
NEW! Chef's Limited Edition Sorbet or Ice Cream
Related Post: What are the Top Things to Do in San Antonio at Night?
Mexico: Gulf of Mexico
Deep Fried Elote con Queso: Deep fried corn on the cobb, queso cotija, mayonnaise, chili powder, and lime
Artisan Street Tacos
Pollo Pibil with Fresh Citrus Salsa: Achiote marinated chicken with fresh citrus salsa
Baja Grilled Shrimp: Red and green cabbage, coriander-lime aioli
Braised Beef: Braised beef, pickled red onion, queso fresco, radish, micro cilantro, and serrano pepper
Sopapillas: Fried sweet dough topped with cinnamon, sugar, and honey
Modelo Especial Beer
Corona Hard Seltzer
Watermelon Frosé: Beso Del Sol pink rose, lemon juice, and watermelon puree
Frozen Watermelon Margarita: Milagro tequila, lime, and watermelon
The Whiskey Barrel
Whiskey Sample Flight
Old Fashion
John Collins
Tennessee Mule
Jack Honey Lemonade
Jack Daniels Tennessee Honey and lemonade
Tipsy Tortuga
Tequila Sample Flight
Tequila Preparada
Barrilitos Cocktail
Note: To enjoy all these goodies, be sure to purchase a sampling lanyard here.
Seven Seas Food Festival Date
The Seven Seas Food Festival runs from March 24, 2023 through May 21, 2023.
Experience the SeaWorld Seven Seas Food Festival at SeaWorld San Antonio
Fortunate enough to be visiting San Antonio from March to May? It's a crime to miss the SeaWorld Seven Seas Food Festival while in the city. Featuring dozens of food vendors, entertainment, photo opportunities, and more, this SeaWorld San Antonio Food Festival is a haven for gastronomes.
Related Post: What are the Top Things to Do in San Antonio at Night?
Savor Asian delicacies, chow down on Mexican classics, or indulge in Hawaiian cuisines. Afterward, try all the drinks you can handle from beer to wine at the Mediterranean Market or Caribbean Market.
Taste adventure and deep dive into various cultures through food and beverages. Get your SeaWorld Seven Seas lanyard now!
Meanwhile, extend your visit and experience more events like Cinco de Mayo and Mardi Gras with a SeaWorld vacation package.
Related Events