The theme park is home to exhilarating rides and rollercoasters, entertaining shows, and animal encounters designed to educate families about our underwater friends and ecosystems. However, like all theme park vacations, a few tips can maximize your experience and lead to lasting memories.
Make the most of your visit with our 14 SeaWorld San Antonio tips.
1. Buy Tickets Online
As with any theme park or family attraction, ticket lines at SeaWorld San Antonio can be exhaustive. During peak travel seasons, you may find yourself sitting in the ticket lines for 30+ minutes. This is time you could have been using to ride roller coasters or learn more about marine animals!
Instead, purchasing your SeaWorld San Antonio tickets online before you go. On top of skipping the ticket line, you'll also take advantage of exclusive offers and discounts only available online.
Once you have your tickets, all you have to do is walk up to the park gate. No waiting in line required!
2. Know What to Wear and Bring
One of the most vital SeaWorld San Antonio tips we can provide is knowing what to wear to the park. While you should plan your attire based off of the weather forecast, it's also imperative to bring sun-blocking clothing items such as a hat and sunglasses.
Temperatures in San Antonio can reach the upper 90s with no problem. Wear clothing that keeps you cool, protected from the sun, and comfortable throughout the day.
In addition, you'll be doing a lot of walking. Skip the flip-flops and sandals and choose a more supportive shoe type such as sneakers or comfortable flats.
Also, certain items are not allowed inside the park, such as straws, outside food and beverages, large bags, and pets. When packing for a day at SeaWorld San Antonio, remember to bring:
A Valid ID
Your Tickets
Wallet/Purse
Extra Cash
Sunblock
Camera
Phone
Phone Charger
3. Budget Money for Parking
Although it may not come as a surprise, SeaWorld San Antonio requires guests to pay for parking. So you're not taken back by the cost, budget money for parking costs when planning your visit. Parking for cars and motorcycles is $21.25 while preferred parking is offered for $25 per vehicle.
4. Visit Aquatica, Too
SeaWorld San Antonio's waterpark, Aquatica, is a must if visiting with kids. The water park is situated right next to SeaWorld for easy access and boasts thrilling waterslides, wave pools, lazy rivers, and so much more.
If you're visiting from far away, spending one day at SeaWorld and the next at Aquatica is a fantastic way to spend your trip.
To save on admissions, purchase either the 2-Park Flex Ticket or the 2-Park, 2-Day ticket. These tickets allow you to visit both parks for one price.
5. Book a Hotel Nearby
While visiting a theme park is exciting for travelers of all ages, it can also be exhausting. Rather than trying to book it back home or all the way to downtown San Antonio for the night, book a hotel near SeaWorld.
Also, if you're planning to visit both SeaWorld San Antonio and Aquatica, booking a hotel nearby makes going to and from the parks a breeze.
And, if you're searching for SeaWorld San Antonio tips on how to save money, a hotel comes in handy! When you bundle your SeaWorld and Aquatica tickets with a hotel, you'll enjoy extra savings on top of your already discounted theme park tickets. It's a win-win!
6. Have a Plan and Use a Park Map
Once inside the park, it can be all too easy to randomly jet off to the nearest animal exhibit or ride.
Having a plan for your day ensures you see it all without becoming exhausted too fast. To start, decide on a theme for the day. If you're visiting with younger kids, spend the day learning about marine life in the various animal exhibits and kiddie rides. Or, if your family is full of adrenaline-junkies, your day should focus on the thrill rides.
Grab a park map and plan your route through the park strategically.
7. Rent a Locker
SeaWorld San Antonio offers locker rentals throughout the park. For families carrying several items or roller coaster fans who want to keep their valuables safe, these lockers come in handy.
Lockers are located at the main entrance as well as outside major rides and attractions. Locker rentals are available for a small fee. If you wish, rent a locker for the whole day for added convenience and peace of mind.
8. Visit the Animal Connections Conservation Center
When you visit SeaWorld San Antonio, make it a point to go to the Animal Connections Conservation Center. Here, you'll meet animals along with their handlers and learn more about the park's conservation, rescue, and rehabilitation efforts for animals and underwater ecosystems alike.
Kids especially love this area of SeaWorld due to the touch tanks and ability to have their questions answered by SeaWorld's animal experts.
9. Experience an Animal Encounter
Speaking of animals…
If you're celebrating a special occasion or want your SeaWorld trip to be special, consider reserving an animal encounter experience. These experiences range from petting penguins to swimming alongside a beluga whale.
Should you wish to engage in one of these encounters, you'll need to book your spot well in advance. In addition, these experiences are additional charges outside of park admission.
10. Relax and Recharge
SeaWorld San Antonio understands a day at the park can be draining, for you and your phone. That's why you'll see Relax and Recharge stations throughout the park.
Kick back and relax while your phone recharges in these exclusive areas.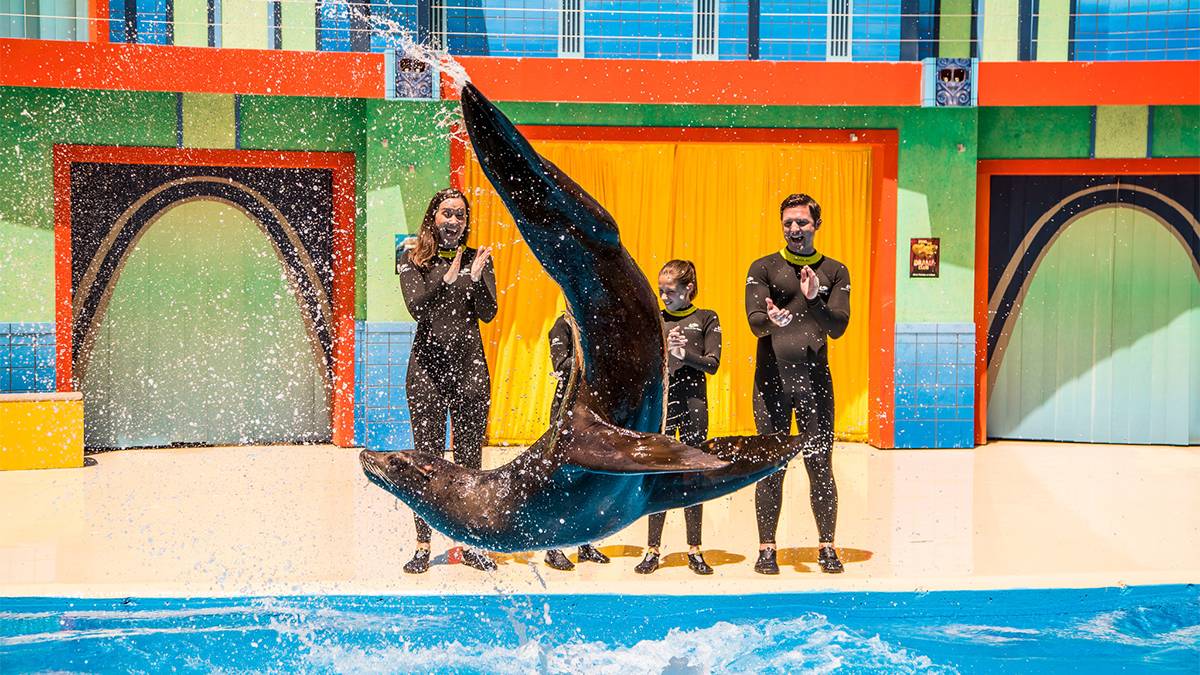 11. See a Show
The shows at SeaWorld are a must. On top of being entertaining, the shows provide guests with a wealth of information about our aquatic friends.
From Sea Lion High to the variety of Sesame Street shows, there's a show for everyone at the park.
One of the coolest SeaWorld San Antonio tips is to arrive early to the show and also stay late. During these time periods, audiences are either treated to a special surprise or have the opportunity to speak one-on-one with the trainers from the show. We recommend arriving early—you never know what surprise is in store!
12. You Will Get Wet
You're visiting a park dedicated to marine animals. Of course, you're going to get wet! Plus, the seats in the Splash Zone are the best.
On top of soaking wet shows, several rides and attractions throughout SeaWorld San Antonio include water features. As a result, you'll want to come prepared.
Wear clothing you don't mind getting wet in and keep your valuables either in a locker or in a secure, plastic bag. This ensures your phone, money, and belongings don't get wet and are safe while you enjoy each ride.
13. Know Heights and Weights Ahead of Time
Parents' know the disappointment all too well. Your child raves on and on about a particular theme park ride only to discover they're too tiny to ride. Cue the waterworks… and not those from Aquatica.
To avoid the tears, one of the top SeaWorld San Antonio tips is to know your family's individual height and weights ahead of time. This allows you to know which rides are safe and which are off-limits during your visit.
14. Consider an All-Day Dining Plan
If you plan to spend the entire day at SeaWorld San Antonio (which we recommend), the All-Day Dining Plan may come in handy.
Since outside food and beverages are not allowed in the park, you'll need to purchase these throughout the day. If you're visiting as a family, snacks and drinks throughout the day, on top of meals, add up! The dining plan helps you save money in the long run by purchasing the dining plan.
The All-Day Dining Plan includes an entrée, a side item or dessert, and a non-alcoholic beverage as often as once every 90 minutes.
Keep Our SeaWorld San Antonio Tips in Mind During Your Trip
Remember to have our SeaWorld San Antonio tips handy for your trip and get your tickets before you go!