June 18, 2023

-

June 25, 2023

Free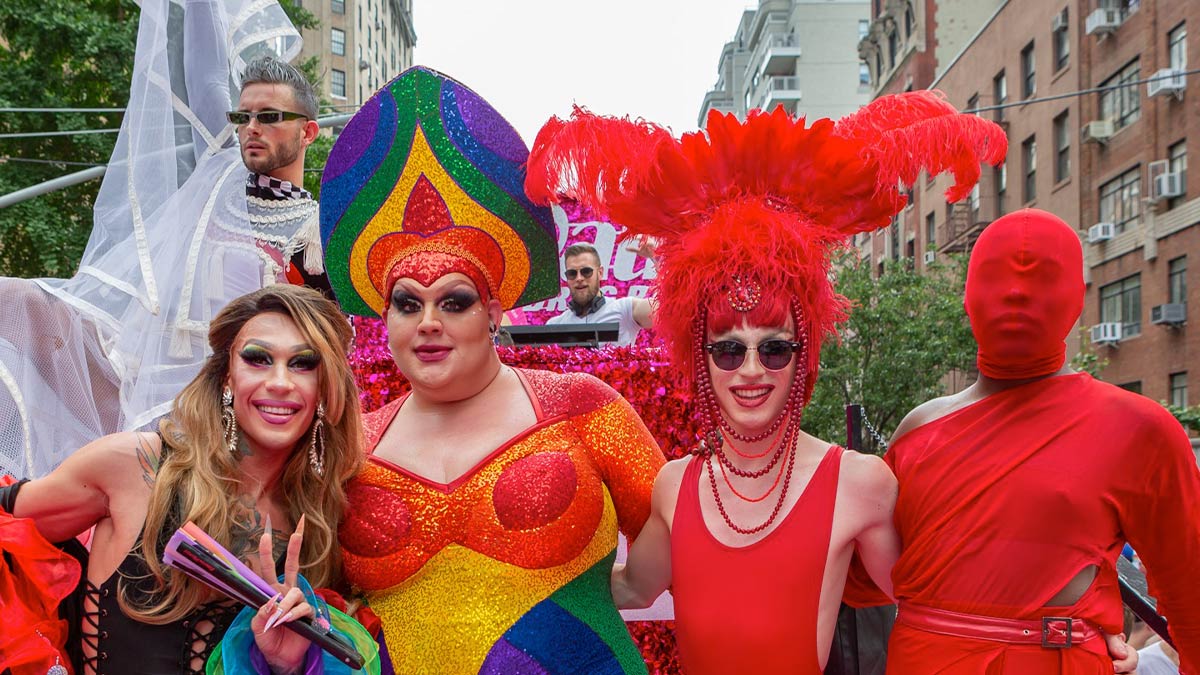 Support LGBTQIA2S+ rights alongside the members of the community, allies, and rainbow-clad activists at the Gay Pride Parade NYC.
The annual Pride Festival New York is back, featuring interactive activities, local exhibitors, outdoor concerts, and more. Anyone can join in the street party or stay tuned for the gathering's broadcast or live streaming on NYC Pride's YouTube and Facebook accounts.
Related Post: NYC Packing List: Everything You Need to Bring to the Big Apple
Come listen to tales of anger, be inspired, and commemorate the birth of the gay rights movement. Follow along as we give you more information about the Gay Pride Parade NYC.
NYC's LGBT Pride Festival Tickets
The Gay Pride Parade NYC is  FREE and open to the public, while some of the others events are ticketed.
Other Attractions in New York City
Discover the rest of bustling New York City. No trip to this buzzing metropolis is complete without exploring these other fun attractions:
Gay Pride March NYC
Year after year, thousands of people hit the streets to show support for the LGBTQIA+ community and their rights. The first March was in 1970 and has since become an annual event during Pride Month.
Join the demonstration and recognize its effort in spreading awareness of and fighting against AIDS, remembering the people we have lost to illness and violence.
We've heard that big personalities will join the event, so don't miss it. Some of the past participants of the 2022 NYC Pride March included Chase Stranglio and Punkie Johnson.
"When is Pride NYC parade?" you may ask. It happens on June 25, 2023, at 12 PM.
Route for the NYC Pride March
The march begins in Manhattan at Fifth Avenue and 25th Street and heads on Fifth Avenue before going West on 8th Street. Then, it crosses over to Sixth Avenue and Christopher Street, passing the Stonewall National Monument.
Pride Week NYC Events
Bliss Days
When: June 25, 2023, at 2 PM
Bliss Days, formerly called Femme Fatale, is a celebration of LGBTQIA+ Womxn. This event features dancers, rotating DJs, pop-up performances, exhibits, and special guest appearances. Join the crowd in showing love, gratitude, and admiration for womxn in the community.
Related Post: 12 of the Best Things to Do in NYC in the Summer
The proceeds of the event go to Pride NYC and events including its free festivals such as The RALLY, Youth Pride, PrideFest, The March, and others.
Tickets start at $31.50.
Pride Island
When: June 25, 2023, at 2 PM
Show off your moves and sing your lungs out at NYC Pride. Each year, Pride Island showcases big names, featuring former performers such as Madonna, Kim Petras, Arianna Grande, Lizzo, and Kylie Minogue. Joining the event not only means having the best time dancing to your favorite songs but also supporting the fundraiser that makes Pride events possible.
For this year's New York Pride Island, expect to see Indie Music award nominee and Billboard #1 Remixer Guy Scheiman (Tel Aviv), and New York City's most popular DJ at Mor Avrahmi (Tel Aviv). Watch out for additional performers.
Tickets start at $139.
Teaze
When: June 24, 2023, at 2 PM
Get ready to dance to lively beats and the hottest music played by a mix of world-class DJs and performers. Take the chance to also enjoy the awaited FOUR Queer party during the event.
The LGBT Festival Teaze tickets start at $27.
PrideFest
The annual PrideFest features film festivals, local exhibitors, tasty bites, and interactive activities. Celebrate pride and fight for equality while enjoying an entire day of fun and entertainment. Located in Greenwich Village.
The Brunch
When: June 18, 2023, at 11:30 AM
One of the best LGBT events NYC, the Brunch is a culinary adventure that also includes a sponsored open bar for VIP tickets. Indulge in Juneteenth food stories and delicious dishes by incredible Black LGBTQIA+ chefs.
Tickets start at $49.50.
The Rally
When: June 17, 2023, at 4:30 PM
Learn more about the situation of the LGBTQIA+ and find out how you can support them moving forward. This Pride in the Park NYC event is your chance to widen your knowledge about the community.
Horse Meat Disco
When: June 25, 2023, at 10 PM
Dance the night away to the music of HORSE MEAT DISCO and Coach Chris. This is one of the free gay events NYC that's worthy of your time.
Alegria Pride 2023
When: June 25, 2023, at 5 PM
This day and night event that will be held at Avant Gardner is bigger and better than ever before. This is a ticketed event.
Reset
When: June 24, 2023, at 5 AM
Embark on a musical trip with Superstar DJ/Producer Cindel. This is a ticketed event.
Oscuro Pride
When: June 24, 2023, at 4 AM
Party to the music of Joshua Ruiz at The Cockpit.
Brutally Proud
When: June 23, 2023, at 10 PM
Dance and feel the strong energy while partying with the crowd.
About the NYC Pride Event
The world-renowned Gay Pride Pride New York started as a one-time commemoration of the Stonewall riots. Last year, it celebrated the 50th anniversary of the Stonewall. 
Now, this event returns for its 26th anniversary, celebrating the identity of the members of the LGBTQIA+ and their achievements. This fair is filled with festivities that will have you singing and dancing. 
NYC LGBT Pride Fest Venue
The Pride Fest takes place in Manhattan, New York. However, the parade begins on 25th Street and ends at 16th Street and 7th Avenue.
Experience Gay Pride Parade NYC
NYC LGBT Pride Festival features spontaneous dance parties, incredible decorations, and extravagant rainbow-colored outfits mixed with political elements. In addition, expect educational activities, an array of vendors, and the hottest music at Pridefest and Pride Island.
Related Post: NYC After Dark: The Top Things to Do in NYC at Night
This annual civil rights event is joined by millions of people who advocate for equality and shine a spotlight on the most amazing contributions of LGBTQIA+ to the community.
Head to the street and participate in the city's annual spectacle with the entire gang. If you're planning on staying in the Big Apple for a while, check out Tripster's New York City vacation packages.  
Related Events