The city is filled with historical buildings and iconic sights. When visiting NYC for the first time, be sure these landmarks are part of your itinerary.
The minute you set foot in New York City, your adventure begins. As one of the greatest cities in the world (and of course, I'm a little biased as a former Northerner), there is so much to see and experience in the Big Apple. You can try a new type of cuisine, see your first Broadway show, and visit the top NYC landmarks all in one vacation.
The Empire State Building
As one of the most iconic NYC landmarks, a trip to the Empire State Building is a must. Be sure to take the elevator all the way to to the top of the building for some remarkable skyline views. All throughout the building, guests can learn about the Empire State Building's rich history and its impact on the city.
The Statue of Liberty
If the Statue of Liberty isn't on your list of NYC landmarks to see, you need to rethink your travel priorities! When you think of New York City, the first thing that comes to mind is the Statue of Liberty. Visitors can choose from several tours that bring guests out to and around the infamous Lady Liberty. Keep in mind that tours fill up quickly, especially during peak season. It is advantageous to reserve your spot for a Statue of Liberty tour as early as possible.
Rockefeller Center
For fans of Saturday Night Live, 30 Rock, or The Tonight Show with Jimmy Fallon, a visit to Rockefeller Center is a priority. While at Rockefeller Center, you can ice skate during the winter months, procure tickets to be part of a live studio audience, or experience the Top of the Rock Observation Deck.
Times Square
Every first-time visitor needs to go to the brightest and boldest of NYC landmarks — Times Square. Filled with a billion lights, over-the-top stores, and more, it's something everyone should experience at least once. A few bits of advice before you go:
Do not take a picture with the costumed characters. Trust me — that's not the real Elmo.
Get a picture on the giant staircase for the best backdrop of Times Square.
Save your money and skip the restaurants in Times Square. The Olive Garden here is no different than the one in your town.
Broadway
First time NYC visitors believe this legendary street only offers iconic plays and musicals. This is false. Broadway is a street that runs the entire length of Manhattan and into the Bronx. This inter-borough street also happens to be home to iconic attractions and other NYC landmarks including:
Multiple Historic Theaters
The Flatiron Building
Times Square
Tom's Restaurant (from Seinfeld)
A stroll down iconic Broadway is worth every minute.
Central Park
Central Park is a notable NYC icon for multiple reasons. First, due to its vast history and sprawling green acres. Secondly, it serves as the backdrop for popular TV shows and Hollywood blockbusters such as:
Law and Order: SVU
August Rush
Eat Pray Love
Little Nicky
Home Alone 2 - Lost in New York
When Harry Met Sally
Breakfast at Tiffany's
The list goes on and on. Many first time visitors believe the myth that the opening credits to the hit TV show, Friends, was filmed at the Cherry Hill Park fountain in Central Park. Unfortunately, the scene was actually filmed at a movie studio lot in Los Angeles. Sorry.
Plus, Central Park is full of awesome activities and sights, such as:
The Central Park Zoo
The Alice in Wonderland Statues
Shakespeare Garden
The Carousel
The Metropolitan Museum of Art
Did you know that New York City is home to the largest art museum in the United States? The Metropolitan Museum of Art (often referred to as "The Met") is one of the top visited museums in the city and showcases works of art by Van Gogh, Pollock, and Renoir, to name a few.
Your tour of NYC landmarks isn't complete without time spent at the Met.
New York Public Library
A quick stroll through the New York Public Library will whisk you away to a world of wonder. With the aisles upon aisles of books and outstanding architecture, it's a book lover's dream come true. Founded in 1895, the New York Public Library al
so boasts extraordinary historical artifacts such as George Washington's original Farewell Address.
St. Patrick's Cathedral
While in Manhattan, make a quick stop at St. Patrick's Cathedral to marvel at this architectural work of art. This magnificent cathedral opened its doors in 1879 and has been an NYC staple ever since. If you so choose, stay for one of the services and experience what makes this church so special.
Bryant Park
Central Park tends to hoard the spotlight when it comes to parks in NYC. However, Bryant Park is one of my favorite parks in the city. This small park in Manhattan is home to small shops, an ice skating rink in the winter, and plenty of free events throughout the year. As one of the lesser known NYC landmarks, Bryant Park is worth a visit.
Wall Street
This famous street is located in Manhattan's financial district and draws an incredible amount of tourists each year. With a vast history, Wall Street is home to the New York Stock Exchange, the Federal Hall National Memorial, and multiple museums. Walking along this 0.7-mile road is quite the experience.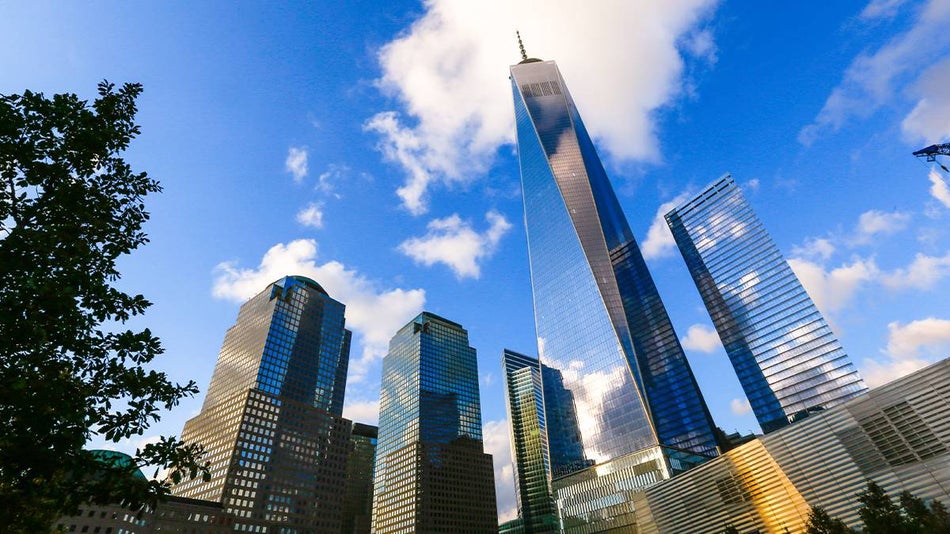 One World Observatory
A trip to NYC would not be complete without paying your respects at One World Observatory and the World Trade Center. One World Observatory honors the residents of New York City who worked hard to pick up the pieces and bounce back after the horrific attacks on 9/11. A visit to this NYC landmark is appropriate for all ages and is a great learning experience.
American Museum of Natural History
Fans of Ben Stiller and "Night at the Museum" (and fans of museums, in general) should race over to the American Museum of Natural History. You'll be greeted by a gigantic dinosaur skeleton, a 94-foot-long model of a blue whale, and so much more. When it comes to visiting NYC landmarks, the American Museum of Natural History is one of my favorites.
Keep in mind that with so much to see and experience, it's easy to spend an entire day at this iconic museum. Likewise, touring the museum at night is a special event. Whichever you choose, make sure you budget enough time in your itinerary to get the full museum experience! Also, due to the large size of the museum, it's easy to get lost. (Been there, done that). It is best to keep an eye on children and wandering family members at all times.
Grand Central Terminal
If you're taking a train into the city, you'll start your tour of NYC landmarks at Grand Central Terminal. The first thing I tell visitors to do is to look at the details throughout the terminal. At Grand Central Terminal, you are surrounded by amazing artwork and architecture, from the ceiling to the floor.
The terminal also boasts a wide variety of restaurants, shops, events, and more. The dining concourse and main platform can be crowded so plan your visit or trip through Grand Central Terminal accordingly.
Visit the Greatest NYC Landmarks During Your Trip
Although many NYC landmarks are free for visitors, most require guests to pay for admission. If you're looking to save money and make the most of your first time in NYC, trust Tripster New York City for discounted tickets and hotel rooms.