March 20, 2023 @ 8:00 am

-

June 20, 2023 @ 10:00 pm

CDT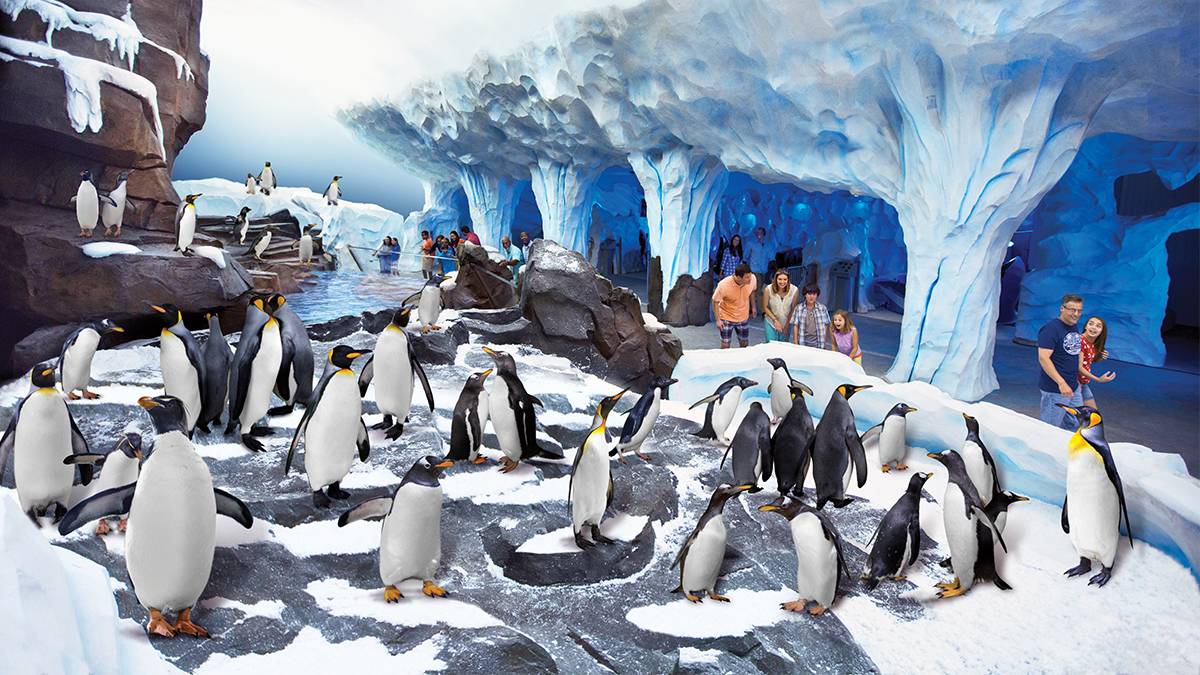 Bundle up! Arctic animals in imminent danger need you to lead them to safety on the all-new Arctic Rescue – the longest and fastest straddle coaster coming to SeaWorld San Diego this spring! Don't miss this new SeaWorld ride San Diego.
The wind is biting, the tracks are steep, and the animals need to be rescued. Join the mission and feel the thrill of SeaWorld's newest ride! Don't forget to hop on with your little ones to journey to a frozen wonderland where you'll learn more about Arctic animals and climate change.
The snowmobile-style straddle seats will take you through the Arctic at speeds up to 40 miles per hour. Encounter three exhilarating launches along the 2,800 feet of track! Every ride holds 16 riders who meet the 48-inch height requirement.
Follow along to get an inside look at the new SeaWorld ride San Diego -- the theme park's coolest coaster addition!
SeaWorld San Diego Arctic Rescue Admission
Before enjoying the chills and thrills of the San Diego Arctic Rescue, make sure to get your annual pass first. This treats you to exclusive access to the ALL-NEW Arctic Rescue in 2023 before it opens to the public!
Of course, annual pass members are also spoiled with perks all year long like unlimited visits, big discounts, free parking, free guest tickets, and exclusive offers. Plus, you'll get first access to other SeaWorld San Diego new rides.
Email, call, or chat on SeaWorld's website with any questions.
SeaWorld San Diego Discount Tickets
Soak in aquatic-infused fun while at SeaWorld. Score these discount tickets from Tripster to enjoy your underwater-inspired trip even more:
About Arctic Rescue
Featuring an indoor launch station where riders will kick off their chilling rescue journey, Arctic Rescue is an immersive addition to SeaWorld's impressive and thrilling ride portfolio.
Serving as the quickest and longest straddle attraction on the West Coast, the ride reaches speeds of 40 miles per hour and features 2,800 feet of track.
While its features are outstanding, the idea behind the ride is even more remarkable. Arctic Rescue is inspired by the brave efforts of the SeaWorld Rescue Team and their commitment to rescuing animals in need.
Hence, the new ride is included in the Wild Arctic area exhibit that shelters seals, walruses, belugas, and more species affected by sea loss. The attraction brought to you by 2022 SeaWorld Parks Entertainment provides rush and thrill, but also awareness of the condition of the Arctic and its many animals.
SeaWorld San Diego Vacation Packages
Attractions abound on every corner in San Diego. For travelers who want to see the city's finest and are serious about saving money, secure these vacation packages.
SeaWorld San Diego Other Rides
You can't try the SeaWorld San Diego new ride until spring 2023, but it doesn't mean you can't have fun while at the park! The aquatic wonder offers many impressive and adrenaline-inducing rides that will keep you busy until then.
Buckle up for these sought-after rides at SeaWorld San Diego:
Electric Eel
Electric Eel is another new ride at SeaWorld San Diego that's only for the brave! This 853-foot ride invites guests who are ready to be dropped from a 150-foot height and get boosted to 60 miles per hour. There's a 54-inch height requirement for this electrifying attraction.
Emperor
Swing and plummet over 90 degrees into a plunge while aboard the only floorless dive coaster in California.
Manta
Spin, fly, and skim like a manta ray on this thrilling roller coaster. Riders are in for two thrilling launches that will send them soaring to a 113-foot drop with a speed of 56 mph while in a forward-facing flying position. Find yourself soaring and diving in the spirit of world's largest ray.
Tidal Twister
Tidal Twister, the first ride of its kind, offers a breathtaking experience that shows the wonder and power of the ocean.
Hop in and feel the rapid turns with upside-down twists and 30 mph acceleration that give you a sense of riding a tide. This dueling roller coaster only requires a 48-inch height requirement, making it perfect for brave kiddos and families.
Journey to Atlantis
Enter a lost civilization and discover its secrets while on an exciting flume ride. Like other San Diego SeaWorld rides, Journey to Atlantis is a blast. It includes splashing thrills, dark passageways, and an exhilarating plunge.
Tentacle Twirl
SeaWorld upgrades your usual backyard swing into a bright jellyfish-themed ride that lets you touch the skies. Get ready for some swinging, lifting, and rotating while in the air. At a low-thrill ride level, Tentacle Twirl appeals to little tots and families.
Elmo's Flying Fish
Elmo's Flying Fish is one of the SeaWorld San Diego rides that little kids can handle. Gather your brave kiddos and swim up and down through a colorful ocean while aboard the fins of an Elmo fish. Can't get enough of Elmo? Drop by TM 2022 Sesame Workshop.
Sea Dragon Drop
Take the little tots for some flying and plummeting fun on a shot-n-drop tower at Sea Dragon Drop. Guests who are 36 inches tall don't need a companion if they can walk without assistance.
Aqua Scout
Try to dodge the six mini-submarines that constantly bump and spin around. This ride is one of the best SeaWorld rides San Diego for families looking for a low-thrill experience.
San Diego Arctic Rescue Location
The launch of Arctic Rescue is located at 500 SeaWorld Drive, San Diego, CA, 92109.
Nearby Hotels and Lodging
When it's time to rest after a day of marine adventures, make sure to book a nearby hotel that offers a fantastic stay for a steal from Tripster:
Experience Arctic Rescue at San Diego
The new SeaWorld San Diego Arctic Rescue will finally open in spring 2023, and we're counting down the days until it's ready to make its debut.
Grab your thickest sweater and get ready for a cold quest throughout the Arctic to aid animals in need of your help! Be one of the brave rescuers who will bring these creatures to safety while on a snowmobile-style ride that features three launches rapidly at 34, 38, and 40 mph along a track that never exceeds 30 feet off the ground.
Related Post: 10 Free Things to Do in San Diego at Night
On top of providing an adrenaline rush to all guests, this multi-media family launch coaster ride promotes awareness of climate change and how it affects the animals in the Arctic.
Get your annual pass as early as now to be one of the first to try the highly anticipated SeaWorld new ride San Diego addition! Additionally, turn the trip into a full vacation with a SeaWorld vacation package.
Related Events