April 28, 2023 @ 8:00 am

-

May 19, 2023 @ 9:00 pm

EDT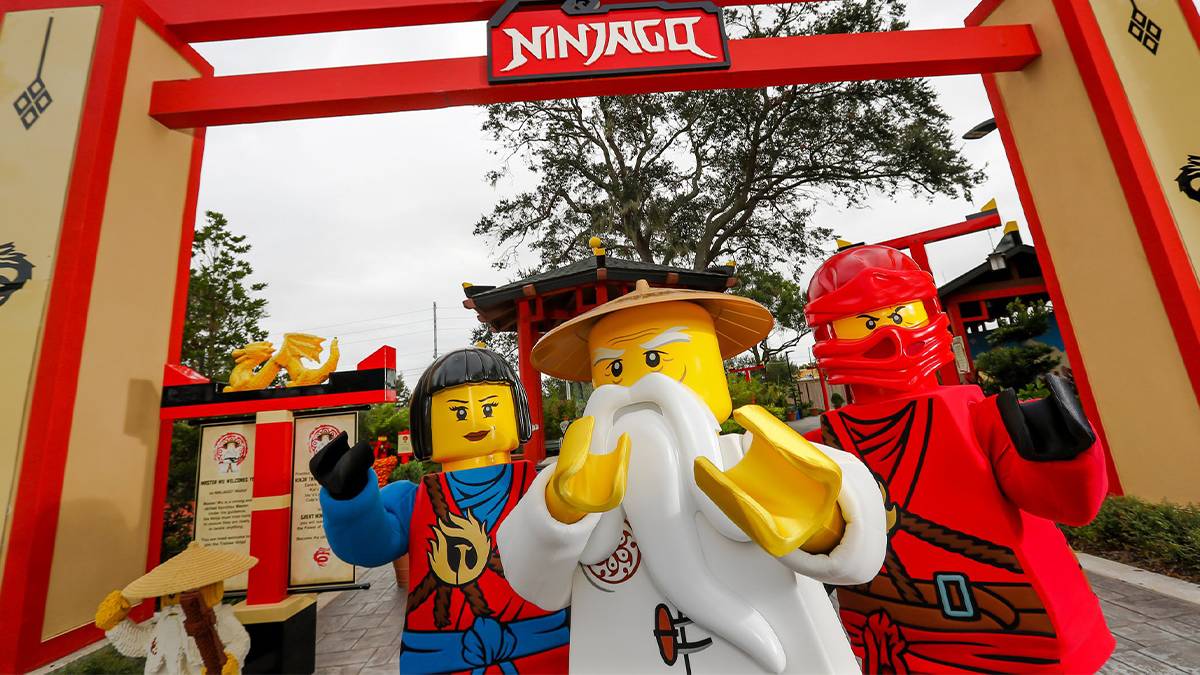 Do you know what's coming up? LEGO NINJAGO Days LEGOLAND Florida! Show off your skills and take part in exclusive activities that will push you to become the "Ninja."
Related Post: Ultimate Guide to LEGOLAND® Florida Coupons, Discounts, and Savings
A series of incredible challenges are waiting for you to test and improve your elemental powers. Kick off the fun by entering a martial arts kingdom with outdoor and hands-on activities.
Then, meet and impress beloved NINJAGO Ninja characters like Kai, Master Wu, and Nya as you show off your moves. After all the happenings, fuel up by eating delicious treats and snacks.
Follow along to get the inside scoop on NINJAGO Days LEGOLAND Florida.
LEGO NINJAGO Days Tickets
All of your LEGO NINJAGO Days activities are included with LEGOLAND Florida tickets.
LEGOLAND Florida Discount Tickets
Just like at LEGOLAND California Resort, it's easy and affordable to build a day or two of bricktastic experience at LEGOLAND Florida.
Book these discount tickets with Tripster to enjoy the park without spending all your dough.
Package Your LEGOLAND Florida Tickets
Don't stop your adventures at LEGOLAND, as there are numerous places to explore in Florida. Bundle your tickets with other Orlando fun and hotels:
LEGO NINJAGO World Activities
The secret is out! LEGOLAND Florida Ninjago Days is coming back soon, and everyone is invited to join the celebration! Snap pictures of LEGO NINJAGO characters, or become a full-blown ninja at the LEGO NINJAGO Training Camp.
Be on the lookout for more surprises, bigger play areas, and more adventures at this exclusive event! While waiting, enjoy some activities at LEGOLAND Ninja World first.
Here are some of the best attractions and activities:
Character Sightings
Take Ninjago characters pictures during your visit. Your favorite Ninjago friends are always happy to strike a pose with you, so keep your cameras ready.
Shows and Entertainment
Treat your senses to a NINJAGO show LEGOLAND when you make your way to this brick-tacular oasis. Witness world-class performers and artists destroy the stage with their powerful numbers at Ceremony of the Elements.
Thanks to incredible performances, you might find yourself humming even after the show and when you're at the LEGOLAND hotel.
LEGOLAND Ninjago Training Camp
The Lego Ninjago Training Camp is open to all guests. Don't worry, as the area was built with disability inclusivity. The elevated platforms are wheelchair accessible too.
LEGO NINJAGO The Ride
Want to become a ninja? Then, make sure you have the speed to be one. Test your ninja hands by shooting animated fireballs and lighting at this ride. The faster, the better!
LEGO NINJAGO Dates and Details
The dates for LEGOLAND Florida NINJAGO Days 2023 have not yet been released. We will update this page with more information as it becomes available.
LEGOLAND NINJAGO Days Florida Venue
The event is located at One LEGOLAND Way Winter Haven, FL 33884.
Experience LEGO NINJAGO Days LEGOLAND Florida
Release your inner ninja at LEGO NINJAGO Days! Hang out with your favorite NINJAGO LEGO characters such as Kai, Nya, and Master Wu, take part in all the action from the Golden Ninja Scavenger Hunt to LEGO building, or keep the adrenaline pumping when you try rides, shows, and attractions.
Those looking for creative activities can build their Serpentine Build or contribute to a model of Mountaintop Ninjago Monastery.
Related Post: Insider's Guide to LEGOLAND® Florida
Of course, you can get your own LEGO NINJAGO LEGO figures and take post-worthy pics at the event. Just like the LEGOLAND New York edition, this annual fair is a chance to get exclusive sets and interact with the big LEGO NINJAGO names.
To enjoy all of the activities, be sure to get your LEGOLAND Florida tickets today. LEGOLAND, which is a part of the Merlin Group, also features Ninjago Weekends Activities, so book your tickets to be a part of the celebration.
Also, you can make a vacation out of it with a LEGOLAND Florida vacation package!
Related Events