June 24, 2023 @ 8:00 am

-

July 9, 2023 @ 5:00 pm

CDT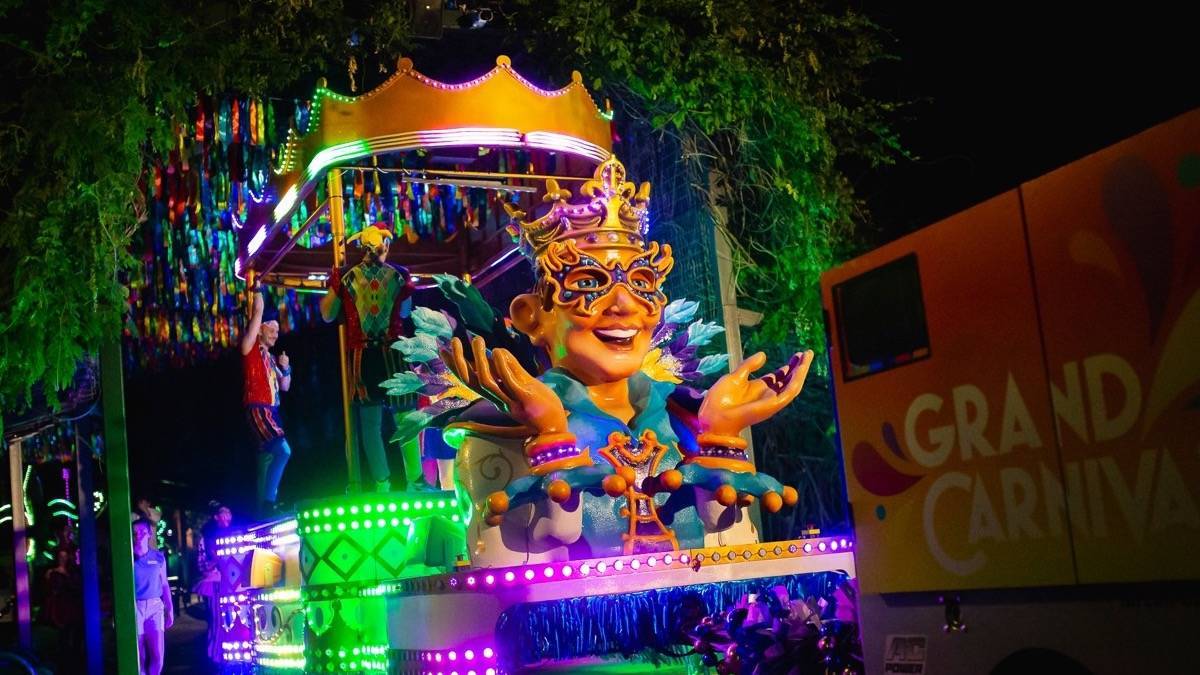 Raise a toast for the return of Grand Carnivale, a larger-than-life festival complete with colorful sights, pulsing rhythms, delicious offerings, and a spectacular parade!
Carowinds' most awaited event is back, so prepare for an exciting, global adventure with the entire family. Taste flavorful dishes from around the world, treat your senses to lively sights and sounds, and open your minds to new traditions. This international fair is guaranteed to give you the best time.
Follow along as we spill the beans about Grand Carnivale at Carowinds.
Grand Carnivale Tickets
Admission is included with your daily tickets and season pass.
Nearby Hotels and Lodging
Rest your head after a day or night of dancing, eating, and having a blast at the Grand Carnivale Carowinds. Book any of these nearby hotels from Tripster for the ultimate savings:
Other Attractions in North Carolina
Take the chance to experience North Carolina's vibrant entertainment scene, plus its endless lists of outdoor and indoor activities after partying at the Carowinds Grand Carnivale. Kick off your adventure with these fun area attractions:
Grand Carnivale Event Highlights
Crafts and Games
Build lasting memories with your kiddos while playing carnival-style games from ring toss to Spin the Wheel. Fun prizes await the players, so drop by the fun-filled game booths and test your luck. Afterwards, create creative crafts like a crown, noisemaker, or lei.
Related Post: Carowinds Theme Park: Everything You Need to Know
Little ones can wear their work of art to the Spectacle of Color Parade and the block party to impress the King and Queen of the Carnivale with their style.
Scrumptious International Eats
Embark on a culinary trip around the globe while at Carowinds Carnivale. Sample a dozen tasty creations from different countries, including China, Germany, France, and more. Of course, there will be alcoholic and non-alcoholic beverages to keep you refreshed. See some of the international food that will be available during the fair.
Asian Dishes
Rice Kheer – India
Chicken Tikka Masala – India
Spicy Shrimp Udon – China
Char Siu Pork Belly – China
Orange Blossom Drink – China
European Food
Lemon Olive Oil Sponge Cake – Spain
Olive Medley – Spain
Paella - Spain
Raclette – France
Pear & Brie Croissant – France
Pretzel Bites – Germany
Currywurst – Germany
Brown Butter Sage Tortellini – Italy
Crostoli Di Carnevale – Italy
The Spectacle Color of Parade
It's time to witness the awaited Spectacle Color of Parade! Be mesmerized by the massive, extravagant floats, talented street performers, and lively sounds. There are stops where visitors can enjoy moments of singing and dancing along the parade route. Make sure to soak in the electrifying energy of the procession while waving to the Grand Carnivale King and Queen.
Grand Carnivale Carowinds Date and Time
The event runs from June 24, 2023, through July 9, 2023.
Grand Carnivale Venue
Located at 14523 Carowinds Blvd, Charlotte, NC 28273.
Experience Grand Carnivale at Carowinds
Turn your Charlotte trip into a fun family adventure at the Carowinds' Grand Carnivale. With kid-friendly activities, arts and crafts programs, and an extravagant parade, this festival is worthy of your time.
Related Post: 12 of the Best Totally Free Things to Do in Charlotte
While you're enjoying the event and bonding with your kiddos, you'll surely need to take a break to fuel up on some of the yummiest offerings from around the world. Chow down Vada Pav from India, nosh Pretzel Bites from Germany, and savor Paella from Spain.
Don't miss the one-of-a-kind celebration. Get your tickets now!