May 26, 2023 @ 8:00 am

-

September 4, 2023 @ 5:00 pm

CDT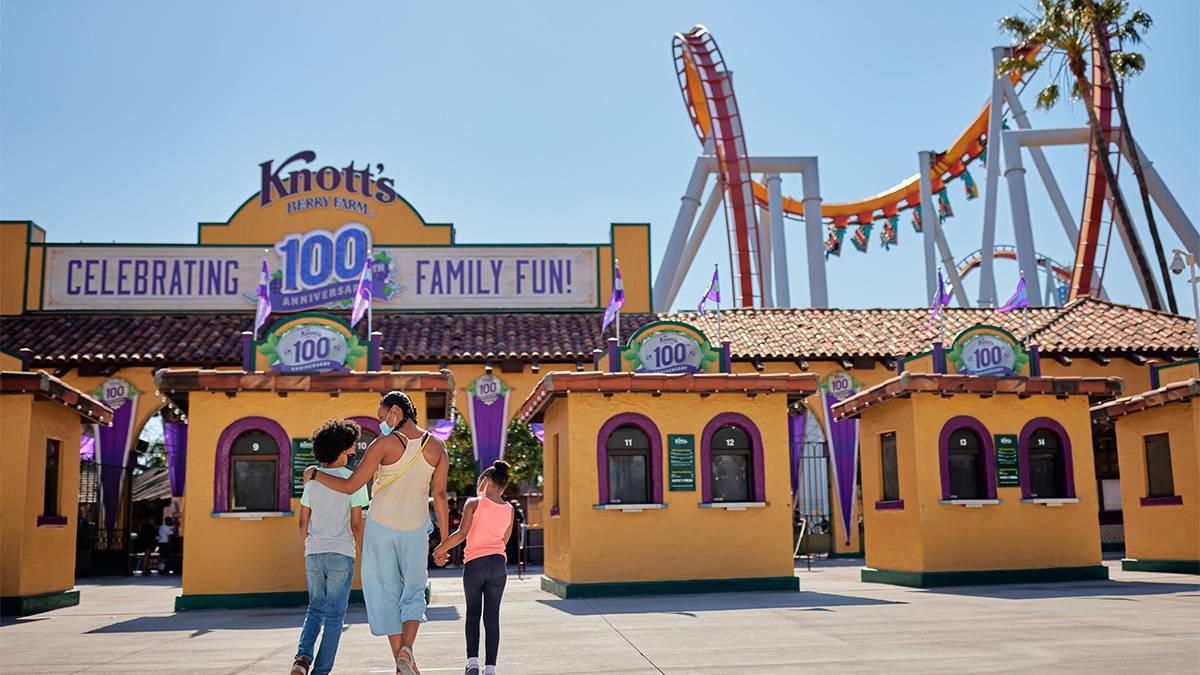 Saddle up and embark on your own Wild Old West adventure at Ghost Town Knott's Berry Farm!
Take a step back in time and get ready for an evening you'll remember for years at Knott's Berry Farm Ghost Town Alive! This long-awaited attraction makes its annual return with more surprises than ever before.
Play a character in the constantly evolving storyline, in which you can be a part of the Mayfield gang of bandits or be a hero and help save the day alongside other fearless cowboys or cowgirls.
Be sure to check out all the happenings and events throughout the park, including live shows and treasure-hunting games. Of course, there will be food vendors serving Spanish bites and sips in addition to arts and crafts booths.
Related Post: Knott's Berry Farm Summer Nights: 2023 In-Depth Guide
Follow along as we share all the excitement to be had at Ghost Town Knott's Berry Farm.
Knott's Berry Farm Ghost Town Tickets
Ghost Town Knotts Berry Farm is included with daily admission or a season pass.
Nearby Hotels and Lodging
Relax after a day of thrill rides and interactive cowboy and cowgirl experiences at Knott's Berry Farm. Book any of these cozy hotels with Tripster:
Other Attractions in Los Angeles
The fun never stops in Los Angeles. From strolling the star-studded Walk of Fame to checking out the city's popular theme parks, there are endless things to do in LA.
Soak up its sunny weather and discover the city through these other fun area attractions:
Ghost Town Alive! Events and Attractions
Be the star of this unpredictable and changing storyline in Calico Knott's Ghost Town. Every guest has the freedom to pick and play a different character from small to big. You can become a deputy and protect the town from the bandits or join the Mudbuck gang and rob a bank.
Find yourself having the best time unlocking secret missions, solving mind-bending puzzles, and interacting with other actors. To level up the experience and immerse yourself into the show even, dress up as your characters.
Want to be a part of the adventure but don't want to take on a big role? No worries, as you can still join the Wild West era by playing as the town gossip or a simple citizen of Calico who offers support and help to characters looking for certain directions and treasure maps.
You can be anything here! Be sure to roam throughout Calico town and visit all these can't-miss attractions:
The Blacksmith
While it isn't a new attraction in Ghost Town Alive!, The Blacksmith draws large crowds every year. This comes as no surprise, as it allows guests to take part by learning more about ironwork and talking to the artists.
See the actual process and find out how metal is created and formed to produce horseshoes, tools, and even branding irons. The best part? You can take home a handcrafted horseshoe or other types of metal art for a nominal fee.
The Post Office
The Post Office is the place to be if you want to hang out with the postmasters, learn Morse code, or read the latest in the town newspaper: the Calico Gazette. It's one location where guests can talk or take a picture with the cast of the show. You might meet and chat with Miss Audrey Morgan, the town reporter, while here.
The Livery Stable
Visiting with your little animal lovers? Make them the happiest kids ever by bringing them to the Livery Stable. This attraction features live animals from horses to donkeys.
Related Post: Famous Places to Eat in Los Angeles - 15 Incredible Dining Experiences
Plus, there will be exhibits of livestock and old-fashioned farm accessories that guests can look at when exploring the Knott's Ghost Town Alive!
The Bird Cage Theater
Witness the incredible performance of Miss Cameo Kate at this theater. You'll surely be humming and swaying even after the show.
The Election
The adventure leads to an election in which any guest can vote, no matter their age or background. Choose between the present Mayor Parnell or the newcomer Clay Mayfield, and whoever wins will be proclaimed the mayor.
The Hoedown
Everything ends at the big Calico Hoedown, which is where the old Calico Stage stood. Celebrate the election of the new mayor by singing along to live music and dancing with your gang! This is one party you'll never forget.
Ghost Town Knott's Berry Details
Ghost Town Alive is part of Knott's Summer Nights, a nighttime event that features a live concert series, DJs, a dance floor, and more awesome entertainment. Last year, the award-winning Western experience returned to Knott's for the Founder's Day celebration, which made the fair extra special.
We've been hearing that some of its past performers, including Yo Gabba Gabba's DJ Lack Rock, will come back to kick off a fun summer season. We will update this page about the other artists joining in on the fun for this year's edition.
Ghost Town Knott's Berry Farm Venue
Located at 8039 Beach Blvd. Buena Park, CA 90620.
Ghost Town Knott's Berry Farm Time and Date
Summer days at Knott's run from May 26, 2023, through September 4, 2023. "When does Ghost Town Alive end?" you may wonder. Ghost Town Alive starts at 10 AM and concludes with the Hoedown at 5:30 PM.
Experience Ghost Town Alive Knott's Berry Farm
Dust off your cowboy or cowgirl boots as the highly interactive Ghost Town Alive! is back. The moment you enter Calico, you'll be amazed by the revelry and elaborate props that will have you wondering if you're really at Knott's Berry Farm or another world entirely.
Related Post: 5 of the Best Thrill Rides at Knott's Berry Farm
There are many ways to enjoy the experience, from becoming a part of the story by playing a character or just being a simple bystander. You can be involved as much or as little as you want!
Witness the thrilling encounter of Mad Bucks and The Mayfield gang over by the Town Hall, drop by the school house and greet its dedicated teachers Nell Elliott and Fluke Mayfield, or enter the old-time shopping establishments throughout the park.
This is one spectacle you can't experience anywhere else! Get your tickets now. Additionally, you can get season passes to experience the park's other seasonal events, like Knott's Merry Farm.
Related Events