December 31, 2022 @ 9:00 pm

-

January 1, 2023 @ 12:30 am

CST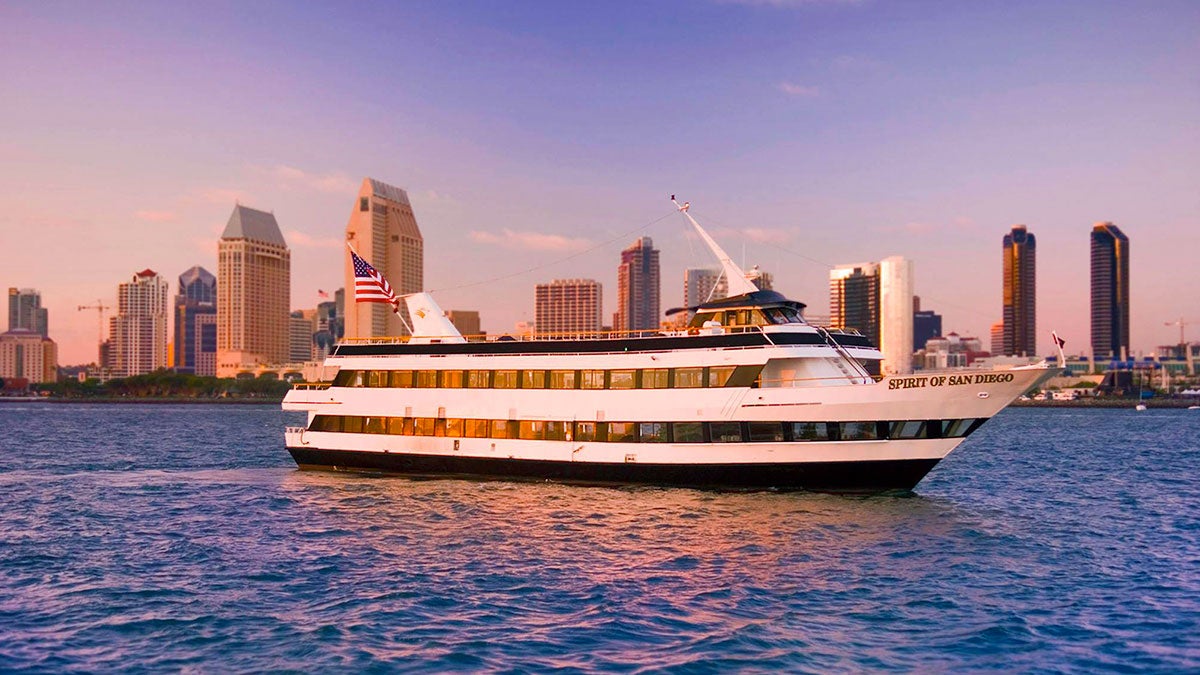 Stunning views, an exquisite dinner, and unbeatable entertainment under the stars all come together to make you feel extra celebratory this New Year's Eve. Forget the usual mainland parties and kick off the upcoming year on a luxurious yacht!
Whether you've accomplished your resolutions or not, give 2022 a proper send-off. There's no better way to do so than an opulent New Year's Eve bash on the waters of America's Finest City. Hop aboard Flagship New Year's Eve Cruise to catch the spirit of San Diego and get the party started!
Follow along to learn how you can count down the final minutes of the year on a San Diego Flagship New Year's Eve cruise.
Related Post: Insider's Guide to Flagship Harbor Cruises San Diego
San Diego Flagship New Year's Eve Dinner Cruise Tickets
Adults (Ages 21 and above): $150
Click here to purchase your tickets.
San Diego Flagship New Year's Eve Dinner Cruise Menu
New Year's Eve Dinner
1st Course
Scallop Crudo [DF] [GF]
Sea Scallop, Crispy Leek, Pickled Turnip, Tangerine Oil
2nd Course
Cheese Course [GF]
Fresh Burrata Drizzled with Tomato Jam Vinaigrette, Manchego, and Prosciutto with Basil Oil
3rd Course
Surf & Turf Duet [GF]
Grilled Grass-Fed New York Steak with Oregano, Smoked Wild Mushroom, Garlic-Chive Duchess Potato, Jumbo Shrimp Scampi, and French Beans with Artichoke Demi-Glace
4th Course
Dessert [V]
Bosc Pear, Salted Caramel Bread Pudding, and Brandied Cherries
Vegetarian Menu
1st Course
Mushroom Crudo [DF] [GF] [Vegan]
Marinated King Oyster Mushroom with Tangerine Oil, Pickled Turnip, Crispy Leek
2nd Course
Salad Course [DF] [GF] [Vegan]
Little Lettuce Drizzled with Tomato Jam Vinaigrette, Basil Oil, and Micro Amaranth
3rd Course
Entrée [DF] [GF] [Vegan]
Grilled Rosa Bianca Eggplant with Roasted Parsnip, French Beans, Globe Artichoke Demi-Glace, Garlic-Chive Duchess Potato
4th Course
Dessert [DF] [GF] [Vegan]
Brandied Cherries, Cinnamon Poached Bosc Pear
San Diego New Year's Eve Route
The cruise covers the North and South Bay route, giving you the chance to indulge in the following landmarks:
North: Star of India, Maritime Museum, Shelter Island, Harbor Island, and Naval Air Station
South: U.S.S. Midway Aircraft Carrier, Coronado waterfront, U.S. Navy Surface Fleet, Naval Amphibious Base Coronado, and Coronado Bay Bridge
San Diego Flagship New Year's Eve Dinner Cruise Time
Flagship Cruises New Year's Eve take place from 9 p.m. to 12:30 a.m. Please arrive 30 minutes before the boarding time.
About Flagship Cruises San Diego
Flagship Cruises is a yacht charter and event company. Be it a romantic date, holiday celebration, or "just because" day, Flagship's finest yachts make ideal settings for all kinds of occasions.
See San Diego's best while indulging in the perfect weather, calm waves, and ocean breeze. Plus, the food here is tasty enough to make your mouth water and leave you wanting more. Whether you're going on a private charter or a brunch cruise, you'll have a blast.
Can't-Miss Flagship Cruises San Diego
Bon voyage! Flagship offers all kinds of cruises to celebrate your anniversary, birthday, corporate event, or whatever type of celebration without a hitch. Book any of these cruises to have the experience of a lifetime without draining your vacation budget:
Premium Dinner Cruise by Flagship – SAVE up to $13.90
With tasty local food and spectacular views, the Premium Flagship Dinner Cruise is hard to beat. Feast on a gourmet meal, dance while breathing in fresh air, and delight in the city's illuminated skyline during the 2.5-hour cruise.
The luxury yacht sparkles in every corner, making it easier for you to capture those post-worthy shots.
San Diego Harbor Tours by Flagship – SAVE up to $3.00
Who's ready to make their way through San Diego harbor? This cruise is perfect if you're a sucker for scenic views and great stories.
During the tour, sail alongside the cutest sea lions, learn more about the city's historic landmarks, and laugh as the expert guide entertains you with fun facts and jokes about the city. You can book the North, South, or Full Bay Route.
Hops on the Harbor Beer Pairing Dinner Cruise by Flagship – SAVE up to $13.01
Feel the cold wind on your face while drinking the best local brew in the city. The Flagship Dinner Cruise San Diego features dinner, beer pairings, and incredible waterfront views.
Take the chance to unwind and relish a special dinner menu, featuring slow-cooked prime rib complemented with a glass of complimentary champagne. Toast to a perfect night!
With a gourmet dinner cruise meal made from fresh ingredients and breathtaking scenery, who wouldn't want to hop aboard this fan-favorite San Diego dinner cruise Flagship?
Want to complete your San Diego experience by seeing its gentle giants? Book this whale-watching tour that lets you cruise together with humpbacks, fin whales, and other marine creatures. This trip is perfect for tourists traveling with their little whale enthusiasts.
Other Attractions in San Diego
Smart travelers know where they'll be when craving indoor attractions, theme parks, or outdoor escapes. San Diego, of course! No matter which kind of vacation you're dreaming of, you can't go wrong in America's Finest City.
Book these discount vacation packages with Tripster now to try thrilling rides, wander throughout the city, or ride a ferry. The minute you step foot in the city, you'll understand why so many people flock here yearly from near and far – 35 million tourists to be exact!
Nearby Hotels & Lodgings
Vacations aren't complete without a relaxing hotel experience. Before reveling in San Diego's landmarks and iconic spots, make reservations at any of these hotels. Booking early saves you money and promises you a worry-free retreat.
Experience San Diego Flagship New Year's Eve
Groove under the stars, dine with your loved ones, and usher in the beautiful new year ahead. San Diego Flagship New Year's Eve lets you enjoy the night in the middle of the San Diego Bay with a tasty drink in hand. Plus, nothing beats the city's sparkling skyline!
Keep yourself occupied before the big countdown by taking in the scenic water view and feasting on freshly prepared meals. Then, capture that perfect photo that will flood your phone with likes.
Related Post: Ultimate Guide to Flagship Cruises San Diego Coupons, Discounts, and Deals
Since this annual tradition takes New Year's Eve seriously, you can expect live entertainment, overflowing drinks, and an ecstatic spirit that make the celebration more unforgettable.
So, gather your best crew and enjoy all the thrills and excitement you possibly can. Book your tickets now and make your way into 2023 in style!
Related Events