April 22, 2023 @ 11:00 am

-

7:00 pm

PDT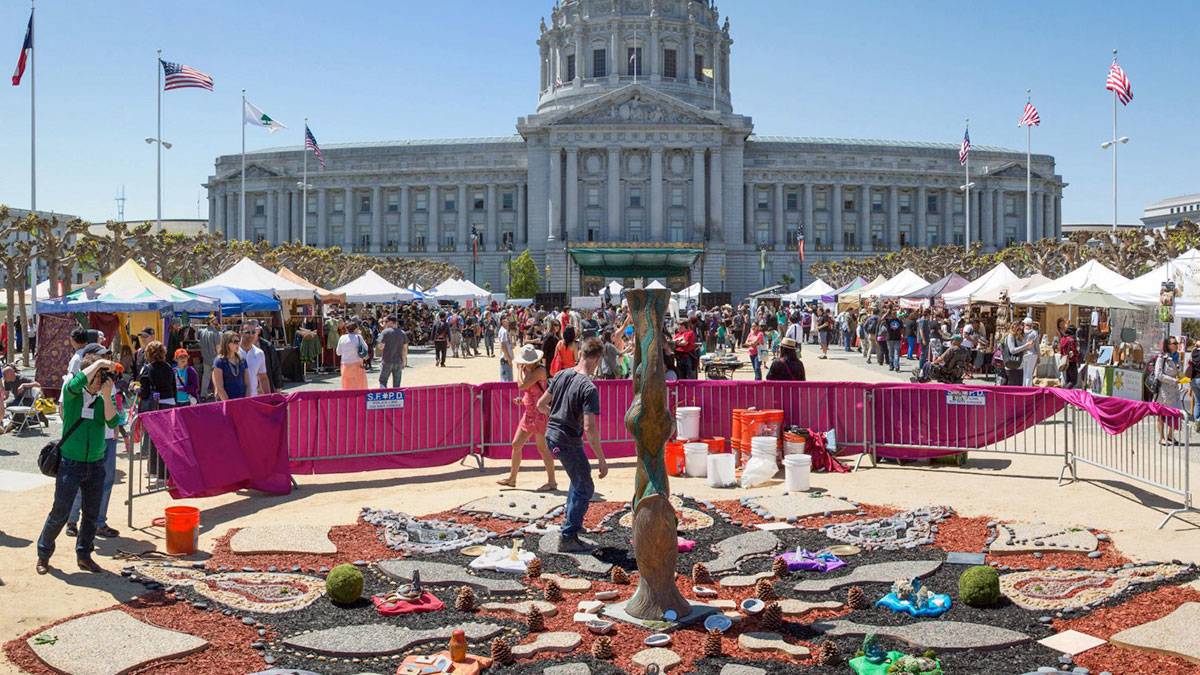 Honor our planet in the most fun way at Earth Day San Francisco's memorable, eco-friendly festival. Gather the entire family and be a part of the joyous event that both inspires and builds environmental awareness! Earth Day SF is a can't-miss spectacle.
Celebrate Mother Earth at this event where live music, art, and educational activities abound. Guests get to sample vegan food, listen to keynote speakers, and learn more about habitat restoration. This annual Earth Day celebration invites everyone to laugh, play, and get involved. 
Related Post: 12 San Francisco Hidden Gems You Don't Want to Miss
Follow along to discover the endless activities at Earth Day SF.
San Francisco Earth Day Tickets
Earth Day San Francisco 2023 is free of charge. However, a donation to the Green City Project, an organization that promotes community-based ecological activities, is greatly valued.
Other Attractions in San Francisco
From breathtaking views to world-renowned dining scenes, the Bay Area is exploding with limitless fun. Encounter the stunning Golden Gate Bridge and, of course, taste the city's famous sourdough bread!
Embark on a quest to see some of the city's treasures with these deals:
Earth Day Events San Francisco Highlights
Live Music
Make your way to the Main Stage for live performances all day long. Many local and national musicians will join the celebration to entertain the crowd and captivate a large audience. Rock and dance alongside Zydeco, Psychedelic, Rock, and Global beats.
The complete lineup will be released soon. In the meantime, we're hoping to see the festival's past performers including The Sunshine Garcia Band and Asher Belsky.
Engaging Conferences
Just like Earth Day Marin in Mill Valley, San Francisco Earth Day spreads environmental awareness through discussions.
Join powerful conferences that promote community engagement and offer solution-based activities for the betterment of our planet. Take the chance to meet and listen to these distinguished keynote speakers:
Cheryl H Zuur – The Ukraine Solidarity Network
Deanna Wulff – Director of Unite The Parks
Monalisa Wallace – Activist, local business owner
Adam Savage – Co-host of MythBusters
State Senator Mark Leno – 11th District
Bill McKibben – Author, Educator, Founder of the 350.org movement
Dolores Huerta – Labor Leader/founder of the Farm Workers movement
Kevin Danaher – Co-founder of Global Exchange, Fair Trade USA, and the original Green Festival
Leila Salazar – Executive Director at Amazon Watch
More keynote speakers will join the festival, so stay tuned for updates. The presentations will be in the County Fair Building in Golden Gate Park.
Sustainable Chef Zone Classes
One of the best Earth Day events Bay area is Chef Zone. Learn the recipes of some of the healthiest dishes from local celebrity chefs, sample delicious organic and vegan eats, and find out about available sustainable choices.
Afterward, listen to speakers as they share the best practices and steps to fight toxicity in water and food at this chef showcase.
Related Post: 13 San Francisco Vacation Mistakes to Avoid
Some of the past chefs from last year's event, which fell on Saturday, April 23, 2022, include Tamiko Garner, Reina Montenegro, Nina Curtis, Jillian Love, Stephanie Bosco, and more.
Green Mobility Zone
Find out why electric vehicles like E-bikes and skateboards matter and how they can promote the environment. The festival introduces and shares innovative options for transit and commuting. 
Workshops
Visitors can make the most of the celebration and understand the value of Earth Day by joining the various workshops. 
Earth Day SF educates, informs, and inspires through interactive workshops and hands-on activities. Choose among 'Build A Bike', Greywater Systems, Aquaponics, and an Earth Day T-Shirt silk screening workshop. Better yet, come early and try them all.
There are different kinds of activities geared toward little ones at this family friendly street fair, such as meditation classes, recycling classes, arts and crafts, and more. It's never too early to teach children how to care for the environment.
Earth Day San Francisco Date and Location
Earth Day San Francisco happens on Saturday, April 22, 2023 from 11:00 AM to 7: 00 PM. Located at Golden Gate Park, County Fair Building, 1199 9th Avenue at Lincoln Way.
Celebrate Earth Day SF in the San Francisco Bay Area
Protecting and caring for our planet is more urgent than ever. This April, make your way to San Francisco and join the 53rd anniversary of Earth Day SF, a festival that celebrates our planet through live music, good food, multi-cultural arts, discussions, and more.
This event invites everyone to have a blast and support the green revolution.
Related Post: 21 Unforgettable Romantic Things to Do in San Francisco for Couples
From insightful talks and environmentally-focused conferences to live music and interactive workshops, the annual Earth Day San Francisco is chock-full of exciting activities for all ages. Save the dates for this meaningful event.
Meanwhile, you can turn your visit into a full-on family vacation with a San Francisco Vacation Package.
Related Events