March 11, 2023 @ 12:00 am

-

March 19, 2023 @ 11:59 pm

EST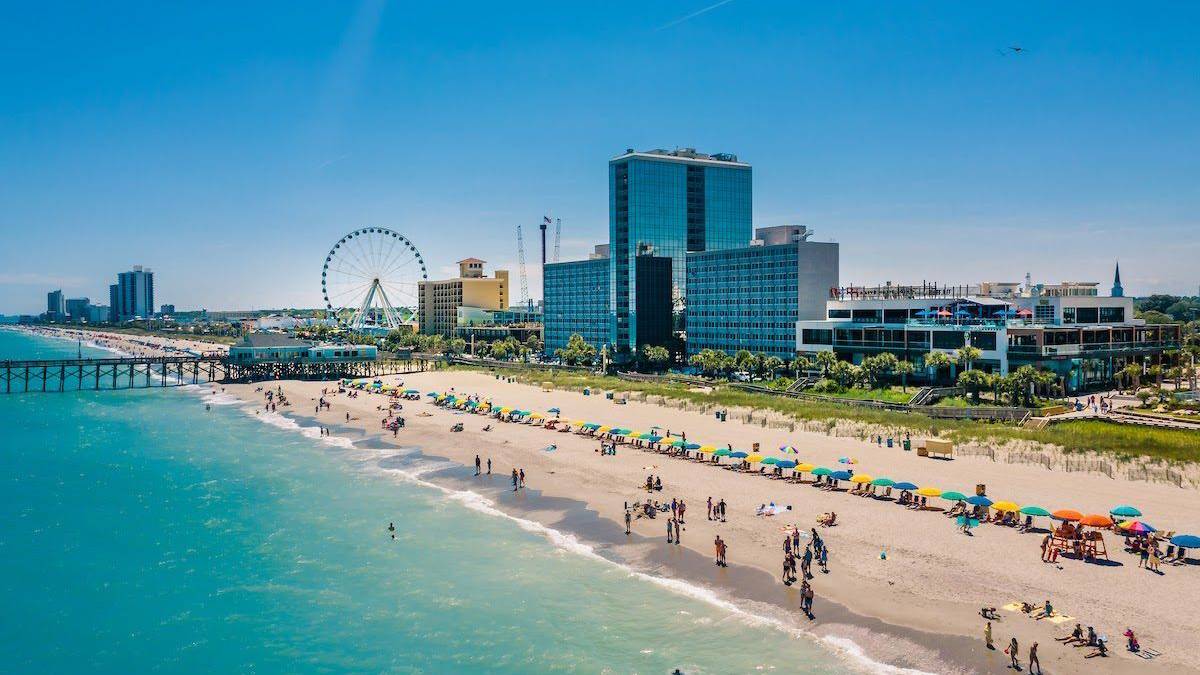 Experience Southern kindness and hospitality at its finest at the 62nd CanAm Myrtle Beach 2023 Festival!
Myrtle Beach will once again roll out the red carpet to Canadian tourists looking for a sunny escape this spring break. The tropical oasis features all kinds of entertainment, from endless concerts to sporting competitions, beach activities, and more throughout the celebration.
Splash in the water, chow down on local delicacies, or simply relax and enjoy the sunshine on the warm beach.
Related Post: 23 Unforgettable Romantic Things to Do in Myrtle Beach for Couples
Follow along as we spill all the things you need to know about the CanAm Myrtle Beach 2023 Festival.
Can-Am Festival Tickets
The Can Am Festival 2023 is free and open to the public.
Nearby Hotels and Lodging
Upgrade your sun-drenched getaway when you book a relaxing room just minutes away from the beach. Staying at a hotel means having the chance to revel in more Myrtle Beach happenings. No more long drives or the hassle of commutes!
Wanting to experience Myrtle Beach events next 3 days? Book the best home base for embracing every activity at the beach with Tripster:
Other Attractions in Myrtle Beach
Good news for travelers! Myrtle Beach is brimming with tons of attractions, so book these vacation packages from Tripster to complete your bucket list:
About Can Am Festival
Considered the first international South Carolina celebration, Canadian American Days was created to welcome Canadian families and travelers on spring break. Each year, the city features a myriad of North Myrtle Beach events and activities on the balmy coasts of the South Carolina Grand Strand.
From live concerts to bungee jumping, there are endless ways to enjoy Canadian American Days.
Can Am Myrtle Beach SC Festival Events
CANAM Grand Nationals
Hit the beach and get ready to enter the cheerleading world during the CANAM Grand Nationals! Participating teams will make their way to Myrtle Beach in hopes of bagging top awards, bids to the Summit, large bids, 600 points for The League, and more.
Free Attractions
Trying to tighten the budget strings while in Myrtle Beach? No worries, as you can still make the most of your trip when you take advantage of Can-Am free activities.
Some of the free activities include a food and craft market, a wine garden, a vintage baseball challenge, a kite festival, and a speedster challenge at the Myrtle Beach convention center.
We'll update this page with more information regarding the events in Myrtle Beach in the succeeding days.
Can Am Festival Discounts and Coupons
Save more moolah on your next CanAm days Myrtle Beach celebration with a wide variety of discounts and coupons during the entire event. Choose from a selection of deals, including:
Amusements & Attractions Coupons
Restaurant Coupons
Fishing & Watersports
Golf Coupons
Shopping Coupons
Theaters, Dinner Shows, and Live Entertainment Coupons
Can Am Festival Dates
The Can Am Days Myrtle Beach start on March 11, 2023, running through March 19, 2023. Check back later for a Can-Am Festival Myrtle Beach 2023 schedule.
Experience the CanAm Myrtle Beach 2023 Festival
Exhilarating live performances, delectable bites, and free amusements. Need we say more? Whether you're at Myrtle Beach for spring break or just a quick trip, you'll get to delight in all these things and more at Can Am Days.
Celebrating its 62nd anniversary, the event is a Myrtle Beach South Carolina staple. It's a blast for everyone from locals to Canadians!
Fill your belly with local dishes and seafood, get your adrenaline pumping with bungee jumping and diving, or go on a cruise to see the area's breathtaking skyline at one of Myrtle Beach's seasonal events.
Related Post: The Top 10 Things to Do for Kids in Myrtle Beach
Plus, you'll get to deep dive into the rich history of Canada and Myrtle Beach, including its good relationship, during your visit. You'll experience Southern hospitality at its finest here!
So, what are you waiting for? Pack your swimsuits now, as things are about to get wet 'n' wild at Myrtle Beach this spring. While you're at it, extend your time in this oasis and experience more Myrtle Beach events by booking a vacation package.
Related Events