When it rains during your vacation, it can be a total bummer.
Save yourself from the rainy day blues by enjoying some of Myrtle Beach's indoor attractions, shows and other things to do. These things to do in Myrtle Beach on a rainy day are guaranteed to brighten up your day.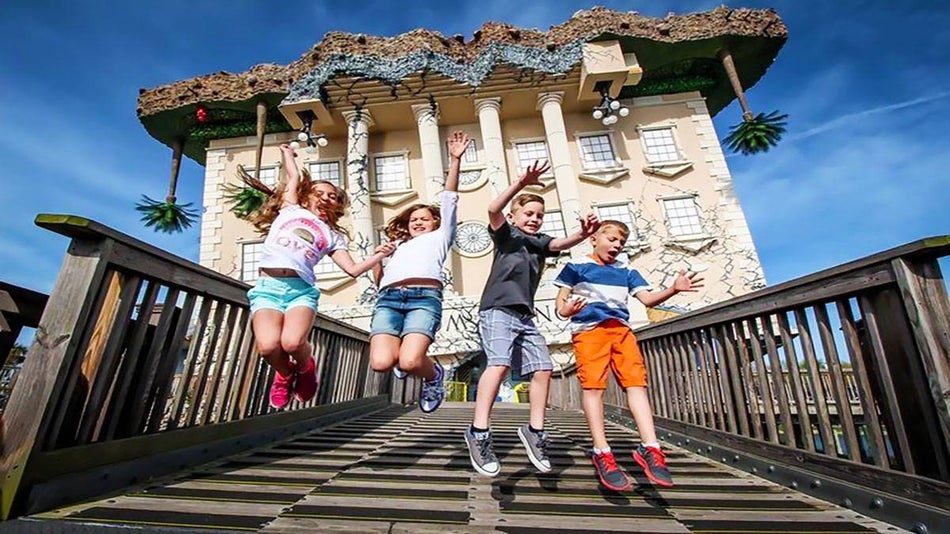 10 Ways to Play on a Rainy Day in Myrtle Beach
1) WonderWorks
There is over 50,000 square feet of indoor interactive fun at WonderWorks.
The hands-on nature of the attraction is super engaging. Kids and adults alike get a kick out of the activities below:
Be blown away by 74mph hurricane-force winds
Maneuver the controls of a NASA spacecraft to land the shuttle
Lie on a bed of 3,500 nails
Fly a fighter jet simulator
Ride your own roller coaster
Play virtual sports
2) Children's Museum of South Carolina
The Children's Museum is one of the top things to do in Myrtle Beach on a Rainy Day for families. It's a true hidden gem, serving locals and visitors alike.
Their indoor playground invites kids to explore in a safe, creative environment with interactives including:
USS Kids-A-Float, devoted to boat safety
South Carolina Fossil Hunt, where kids can play paleontologist and dig for fossils
3) Myrtle Beach Shows
When it's raining in Myrtle Beach, go inside for a show. There's some serious talent in Myrtle Beach.
Related Post: The Ultimate Guide to Myrtle Beach Spring Break Ideas for Families
Plus, the shows stay modern with their music and dance so even teenagers won't turn their nose up at the entertainment. A few Tripster Myrtle Beach favorites are:
4) Ripley's Aquarium
When looking for things to do in Myrtle Beach on a rainy day, don't overlook Ripley's Aquarium. Here, you can take to the seas and discover exhibits dedicated to the Amazon, stingrays, sharks, coral reefs and more. The underwater glide tunnel is by far the coolest exhibit, as it's super immersive. With over 85,000 square feet to explore, you can spend a couple of hours diving into it all.
5) Hollywood Wax Museum 
The Hollywood Wax Museum is where you become a star! It's the perfect place to strike a pose with uncanny replicas of top stars. Be sure to bring your A-Game as you'll be starring alongside the likes of Robert DeNiro, Tom Hanks, Julia Roberts, Robert Downey, Jr. and more. Kids love to interact with the props while getting their pose on with their favorite characters and actors. And don't worry--you'll think it's fun too!
6) Franklin G. Burroughs-Simeon B. Chapin Art Museum
Spend some time at one of the Carolina's finest visual arts museums. Housed in a 1924 converted beach cottage on the ocean, the Art Museum offers six to eight contemporary visual art exhibits annually, a permanent collection of regional artwork and historical maps, and a fine arts resource library.
7) Indoor Water Parks
Myrtle Beach resorts have some of the best aquatic amenities anywhere. I'm fairly certain the hotels compete with each other to see who can build the absolute best indoor water parks.
The clear winner: you. Resorts with amazing indoor water parks include:
8) Ripley's Believe It or Not Attractions
In Myrtle Beach, there's a whole block dedicated to Ripley's Attractions. Hop into the Odditorium to browse the strange and bizarre. Then, see if you can handle the scares of Ripley's Haunted Adventure. (I can't!). Up next, ride Ripley's Moving Theater for a surreal 5D experience. When you add these things to do in Myrtle Beach on a rainy day to your plans, you'll stay busy for hours.
9) Myrtle Beach Shopping
Indoor malls, anyone? They were made for days like this. In Myrtle Beach, there's a wide range of places to shop. From outlet malls to boutiques and craft malls, they've got you covered. The options below are prime places to go for a little shopping therapy:
Coastal Grand Mall
Tanger Outlets
Everything Under the Sun Flea Market
Myrtle Beach Mall
10) Relax!
Hey, it's a vacation. You don't always have to be doing something. Take it easy by curling up with a good book. Or, simply sit and watch the rain dance on the ocean from your hotel balcony. It may be raining on your parade, but's it's also kind of beautiful (as long as it only lasts a day!).
Even More Things to Do in Myrtle Beach on a Rainy Day
These are just a few of the rainy day activities you can do in Myrtle Beach. Many more museums, attractions, and shows can make your day at the beach, even if it's rainy, a good one! Browse the full selection of things to do at Tripster Myrtle Beach.