Myrtle Beach is located in the beautiful Grand Strand area, a 60-mile stretch of sandy beaches along the pristine Atlantic Ocean. The city offers visitors lots of things to do in Myrtle Beach, including Myrtle Beach shows and engaging attractions like the Ripley's Aquarium of Myrtle Beach. Plus, there are plenty of free things to do in Myrtle Beach that are fun for the whole family.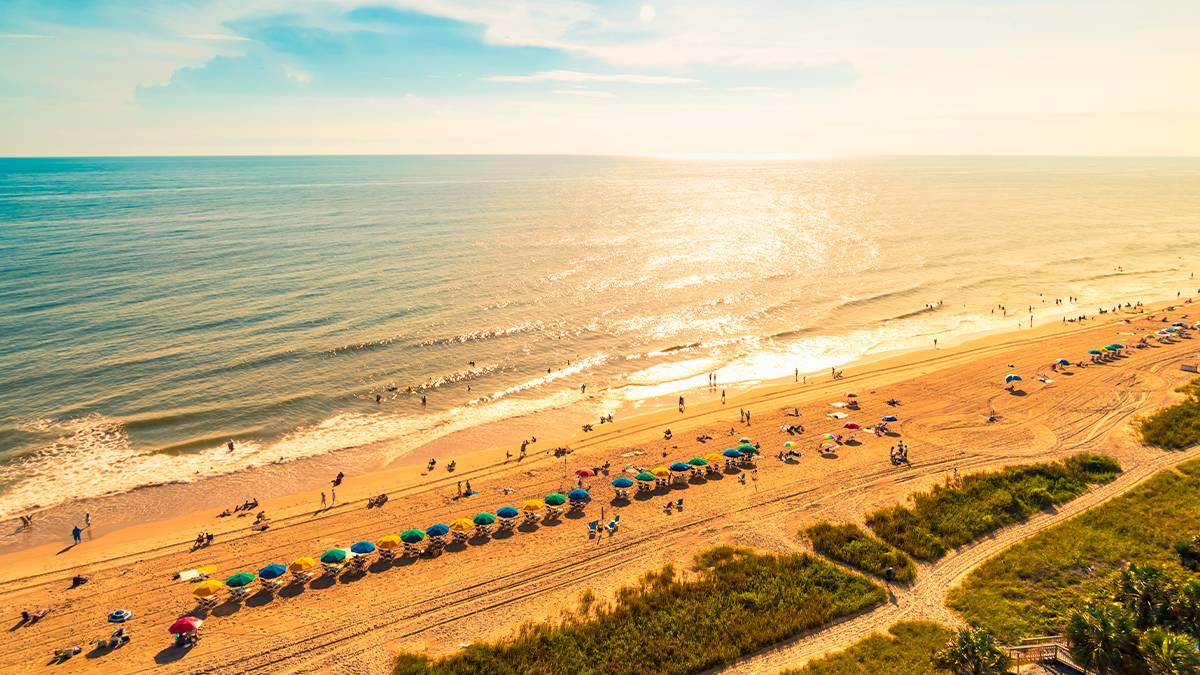 1) The Beach
Myrtle Beach's biggest attraction is, of course, the ocean. Families enjoy spending time on the soft, sandy beaches where swimming, sunning and water sports are the norm. Be sure to pack your own beach towels, blankets and chairs to avoid the cost of rentals. Many oceanfront hotels in Myrtle Beach also provide guests beach towels free of charge.
2) Myrtle Beach Festivals
The area hosts a variety of free festivals throughout the year. The Beach Blast Music Festival and Mayfest on Main kicks off the summer season. Beach, Boogie & BBQ Festival serves as the annual finale to summer and features great food and entertainment. Other festivals include the Canadian-American Days Festival and the World Famous Blue Crab Festival, among many others. Be sure to double check the festival schedule for your upcoming Myrtle Beach vacation.
3) Broadway at the Beach
This 360-acre outdoor entertainment and shopping complex is located in the heart of Myrtle Beach and offers a variety of things to do for Myrtle Beach visitors. During the summer months, Broadway hosts a Summer Fireworks Extravaganza, a free concert event featured every Tuesday night. Festivals celebrating the holidays, street performers and regional festivals can also be found at Broadway at the Beach throughout the year.
4) Murrells Inlet Marsh Walk
As far as free things to do in Myrtle Beach go, this one is a hidden gem! A stroll along the Murrells Inlet Marsh Walk is a great way to experience nature in Myrtle Beach. Murrells Inlet is a historic village, and the Marsh Walk provides visitors great views of the saltwater marsh, birds, and beautiful scenery. Dotted along the Marsh Walk are delicious cafes and restaurants, ideal for a scenic lunch or dinner.
5) Garden City Beach Pier
The Pier at Garden City Beach is free to walk. Plus, during the summer season, The Pier hosts free concerts and live bands. If you can spare a little bit of cash, there are two full-service bars and a cafe serving breakfast, lunch and dinner items. That's not all the pier has to offer, though. There's also an arcade! Plus, fishing off the pier is a popular pastime. Check out the pier's fishing report to see if they're biting while you're in town.
6) Burroughs and Chapin Art Museum
Considered the Grand Strand's home for contemporary visual art in all mediums since 1977, the Burroughs and Chapin Art Museum has been a showcase for living Southern artists that include Myrtle Beach's own Alex Powers, Dixie Dugan, and Ouida Salvo.
Housed in a restored 1920s beach cottage with signature green-striped awnings and picturesque tea porch, the Museum has 10 galleries with visual art exhibitions changing throughout the year. The museum is open Tuesday through Saturday, from 10:00 am - 4:00 pm and Sundays from 1:00 pm to 4:00 pm. For art lovers, this activity is one of the best free things to do in Myrtle Beach!
7) Barefoot Landing
This recreated fishing village is an exciting entertainment complex offering dining and shopping. Located around a 27-acre lake, many migratory waterfowl, exotic fish, and wildlife make Barefoot Landing their home. They also host a variety of festivals and events throughout the year, including ones that celebrate the seasons, holidays, food and coastal Carolina. The area also hosts massive fireworks displays throughout the year for extra free fun.
8) South Carolina Hall of Fame
The South Carolina Hall of Fame is a free museum showcasing famous South Carolinians, including Dizzy Gillespie. In addition, the museum honors eight signers of the Declaration of Independence who hailed from South Carolina as well as Nobel Peace winner. The Official South Carolina Hall of Fame is located on the first floor of the Myrtle Beach Convention Center, at 21st Avenue North & Oak Street. Other notable inductees include baseball player, Bobby Richardson, Major General Andrew Jackson, and advocate, Marian Wright Edelman.
9) Myrtle Beach Fishing Piers
You can't talk about free things to do in Myrtle Beach without mentioning the local fishing piers. In total, there are six piers along the beach that are great for fishing. There is no charge to go on most of the piers, but there is a slight fee to fish from any of the Myrtle Beach Piers. Some favorites include Second Avenue Pier and Cherry Grove Fishing Pier.
10) Ocean Boulevard's Hot Summer Nights
Ocean Boulevard hosts Hot Summer Nights each June through August on the Oceanfront Boardwalk on Ocean Boulevard. Each night includes a variety of concerts, fireworks displays, street performers, balloon artists, face painting, stilt-walkers, jugglers and tons of kid-friendly fun including inflatable jumping rooms. Plus, it's all absolutely free. You won't have to spend a dime to enjoy this Myrtle Beach entertainment!
11) Market Common
Each year, the Market Common hosts multiple free events including Movies under the Stars, festivals, and more. On Thursdays during the summer, enjoy live music in the gazebos on Howard and Reed Avenues. Complimentary carriage rides through the scenic streets are also available. Other free events throughout the year include pictures with Santa and Halloween trick-or-treating, too.
12) The Boardwalk
The boardwalk runs along Myrtle Beach's oceanfront business district from the Second Avenue Pier to the 14th Avenue Pier. It's a great place to people watch, enjoy ocean views and balmy ocean breezes. Also, when the sun goes down you can gaze at the illuminated oceanfront Myrtle Beach SkyWheel as it spins riders on an enjoyable sightseeing trip.
14) Vereen Memorial Historical Gardens
Just north of Myrtle Beach, in the town of Little River, you'll find Vereen Memorial Historical Gardens. This 115-acre park and designated wildlife refuge features trails, boardwalks over salt marshes, a Civil War Cemetery, views of the Intracoastal Waterway and more. There are excellent photo opportunities here too, and the cost is absolutely free.
15) Hopsewee Plantation
Step back in time at the Hopsewee Plantation, an 18th-century rice plantation teeming with history. Located on the North Santee River in historic Georgetown, the plantation was the birthplace of Thomas Lynch Jr., a signer of the Declaration of Independence. Do know that tours require advance registration and purchased admission. The plantation is also open from Tuesday to Saturday each week with limited availability in the winter months.
See How Easy a Budget Vacation in Myrtle Beach Can Be
With 15 free things to do in Myrtle Beach, vacationers can have a fun, free and memorable trip to the Grand Strand in South Carolina. Book your Myrtle Beach vacation today to experience the sun and fun available.