Spellbinding Blue Ridge Mountain vistas, swaths of vibrantly colored mum flowers, and a healthy helping of history. Head to the Tar Heel State, to enjoy an enchanting Biltmore Thanksgiving.
Follow along to uncover the best ways to celebrate Thanksgiving at the Biltmore in 2022.
From where to make reservations for a mouthwatering Thanksgiving feast to what tours are available of America's largest home, our guide to Thanksgiving at the Biltmore has got you covered. 
Revel in moments of quiet tranquility as you tackle miles of mountain trails, or unleash your inner epicurean when you devour a traditional meal of turkey and stuffing.
Savor sips of Pinot Noir at the winery, or give thanks to the unparalleled taste of George Vanderbilt when you participate in an immersive house tour.
Ready to kick off your holiday celebrations in this charming 250-room castle? Read on…
Thanksgiving in Asheville NC
Typically, North Carolina achieves peak fall foliage by the end of October and early November. However, this doesn't mean you should strike a Thanksgiving Biltmore experience from your itinerary. Turkey Day in Asheville means clear, cool, crispy weather, making it the ideal time to explore the great outdoors.
Be sure to pack a light winter jacket and plenty of cozy cable knit sweaters, as temperature highs will hover around 58 degrees and hit lows of 38 degrees. Enjoy rooftop tours, guided bike rides, hikes, and more when you commemorate Thanksgiving in Asheville. 
From brewery visits to high-flying helicopter tours, there is unlimited excitement to discover. Capture rugged mountain scenery, waterfalls, and wildlife with a professional photography experience. Or, make a pit stop in Raleigh for a picnic at Pullen Park, and attempt to snag tickets to the Holiday Express.* Don't forget to carve out ample time at the Biltmore House.
Located in the Asheville area, this US landmark sits on 8,000 acres of exquisitely kept grounds. Treat yourself to an elegant and unconventional Thanksgiving when you explore this emblem of American wealth and power. Unearth the fascinating legacy behind the luxurious domicile of George and Edith Vanderbilt through displays of vintage clothing, accessories, art, furniture, and more.
*Holiday Express event is currently unconfirmed for 2022
Biltmore Thanksgiving 2022
Made the decision to spend Thanksgiving Day surrounded by the majesty of the Blue Ridge Mountains? Before you dig into the Thanksgiving Meal of your dreams, you'll be delighted to observe the lush botanical life in the conservatory gardens or gander at Vanderbilt's esteemed art collection.
From the breathtaking Banquet Hall featuring 70-foot ceilings to original works by Renoir, there are endless gems to admire. Take your Turkey weekend plans up a notch when you decide to stay onsite and indulge in accommodations at the Inn, Village Hotel, or Cottage.
Create even more unforgettable memories when you purchase a special overnight package. Guests can indulge in a Thanksgiving Traditions package from November 20–26th, 2022. This special bundle includes daily breakfast at the Village Social, a plated multi-course Thanksgiving meal at Village Social or Bistro, and unlimited access to the estate gardens and grounds. To pursue the full array of accommodation packages and special offers, click here.
Biltmore Thanksgiving Dinner 2022
Whether you are craving a well-mixed cocktail or the soothing sounds of Christmas carols, restaurants on the Biltmore Estate bring plenty of festive flair to Thanksgiving dining. Biltmore property guests can give thanks in the Dining Room or the Vanderbilt Room. While those staying offsite can savor cider-glazed turkey, stuffing, and more at a variety of Biltmore Estate Restaurants.
Stomach already rumbling? For a full rundown of dining at Biltmore on Thanksgiving, read on:
Psst..looking to surround yourself with more of Asheville's sublime natural beauty and Southern charm? Round out your North Carolina adventure when you add even more Asheville Things to Do to your list!
Biltmore House Dining Room
Fine china, crystal, and white tablecloths. Yes, please! Those on the lookout for a fine dining experience at Biltmore need only head to the Dining Room. While all the food at Biltmore is above reproach, come November 24th,* their four-star eatery pulls out all the stops.
This over-the-top feast is only available to guests of the Inn or Cottage and promises a delicious four-course supper in an enticing atmosphere. Don't forget to document the resplendent fireplace in the Library Lounge at Biltmore or sing along to the live holiday music. 
*Depending on your accommodations, you can choose to book the Thanksgiving Harvest Celebration anywhere from November 20th through November 28th. Please call 828-225-1699 for more information. 
Vanderbilt Room (The Inn)
Those who book the Inn's Thanksgiving Package can dine on a Thanksgiving Buffet Dinner in 2022 from 4:00  to 8:00 p.m. Guests will be mesmerized by the celebratory atmosphere, unique decorations, and of course, traditional Turkey Day fare. For more information on this bountiful supper package, call 866-336-1245.
The Village Social and Bistro
Biltmore Hotel guests can take their pick of a mouthwatering Multi-Course Thanksgiving plated meal at Village Social or Bistro. Enjoy creative spins on traditional Turkey Day favorites as you leave the cooking to the experts.
Curious about the farm fresh ingredients and inspired preparation of the Bistro? Take a gander at the regular Bistro at Biltmore Estate Winery menu here. The Village Social will be serving a normal menu with modified Thanksgiving items. 
Need comfy accommodations for your post-Turkey Day nap? Sprawl out in a cozy cabin or quaint inn when you book any of Asheville Hotels.
Cedric's Tavern
Not staying on the Biltmore grounds, but still don't feel like turning on that oven? Then, give gratitude for the homespun menu of holiday favorites at Cedric's Tavern. Non-overnight visitors can tuck into a sublime three-course meal here or order a la carte off the menu.
Moan over mouthfuls of maple cheesecake and cornbread stuffing.*  We suggest you call ahead at 828-225-1320 as Biltmore Dinner reservations are in high demand. 
*Based on the previous year's menus, food items are subject to change.
Christmas at Biltmore
Here those jingle bells? Santa's coming to Biltmore, and there's no better way to welcome in the Happiest Season than with a visit to America's most beloved estate. Watch your loved ones eye's light up with glee as they admire thousands of twinkling lights and crimson Poinsettia trees that adorn the property.
Garlands, ribbons, bespoke ornaments, and an entire floral department create an enchanting atmosphere. Since 1895, the Vanderbilt House has been home to a resplendent Christmas tree. Today, visitors from all over the world can participate in one of two unique Christmas events:
Christmas at Biltmore Daytime Celebration
From November 4th through January 8th, 2022, escape to a winter wonderland of tinsel, trees, and wreaths. The Christmas at Biltmore Daytime Celebration is the ideal entry into holiday cheer. Stroll from the Biltmore House to Antler Hill Village as you take in glittering ornaments, the fresh scent of evergreens, and sumptuous seasonal flavors. Excite your palate with the perfect wine pairing, or behold the mahogany and red sofas of George's glorious library.
Angling to inject your holly jolly plans with some romance? Consult our guide to the most Unforgettable Romantic Things to Do in Asheville, NC, for Couples for some date night magic. 
Candlelight Christmas Evenings
More of a night owl? Whet your appetite for the Christmas season when you reserved your spot with the Biltmore's Candlelight Christmas Evenings. As the day melts into dusk, guests will be rewarded with a riot of lights, candles, and festive displays. Gaze in awe at a towering Norway spruce, or warm your hands from the fireplace's glowing embers.
Snap a photo in front of the estate's iconic lions, or stroll through the illuminated tunnel that goes from Antler Village to the winery.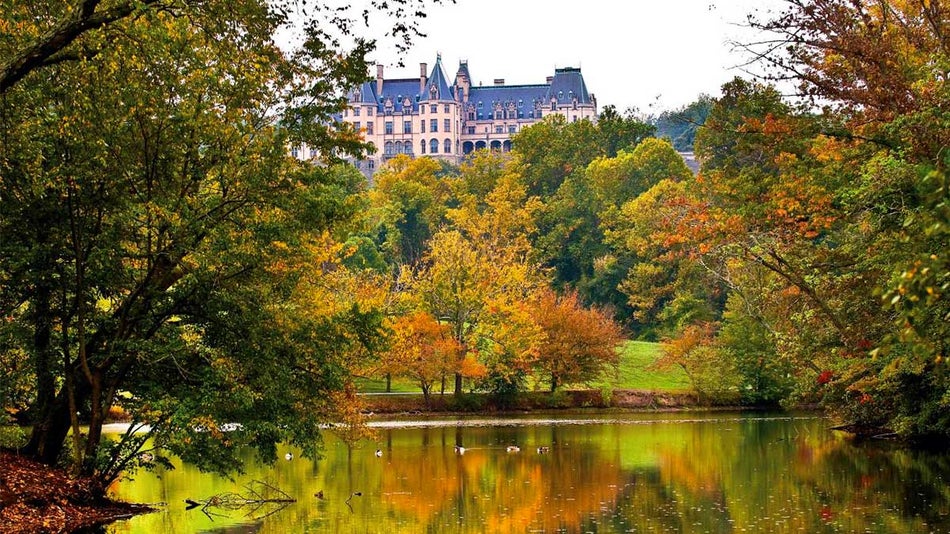 Showstopping gardens awash in autumn splendor, a leisurely stroll along the sparkling French Broad River, and curling up with a piping hot cup of cocoa. November at the Biltmore Estate conjures up all the fall feels.
From admiring the legendary landscape design of Frederick Law Olmsted to enjoying a buttery Biltmore Chardonnay at the wine bar, travelers of all ilks will find much to celebrate on Thanksgiving.
Dine on a menu inspired by popular dishes of 1904, or return after nightfall to witness the ravishing lights and decorations of a Candlelit Christmas.
However you commemorate your day of family, friends, and gratitude, the Biltmore Estate makes the perfect Thanksgiving 2022 escape.
Tell us, What Are Your Top Biltmore Thanksgiving Activities?
Did we miss any of your favorite Biltmore Thanksgiving traditions?
Leave us a comment below!