Come autumn, vivid hues of ochre, crimson, and rust accent the rugged peaks of the Blue Ridge Mountains. Asheville NC's natural beauty is in full display, and nowhere is this majestic scenery more present than America's Largest Home. 
Follow along as we outline why fall at the Biltmore Estate is the very best.
The harvest season not only ushers in transfixing fall foliage, but a wealth of exhilarating outdoor activities and spirited events. 
Sip on spiced apple cider as you tackle over 20 miles of hiking trails, or enjoy a self-guided tour of Vanderbilt's massive home. 
Meander through 8,000 acres of lush gardens, award-winning wine tastings, and an immersive Renaissance experience.
From awe-inspiring architecture to romantic carriage rides, there's a reason over a million visitors flock to the Biltmore Estate each year.
Ready to revel in the history, heritage, and artistry of the Biltmore Estate in the Fall? Read on… 
About Biltmore Estate in Fall
Wondering just what is so special about the Biltmore Estate in October? While this luxurious property is a treat to visit any time of year, the cozy season brings extra charm to this National Historic Landmark. For the uninformed, the Biltmore Estate is America's largest private residence and the former domicile of the Vanderbilt family.
Completed in 1895, the estate was born out of George Vanderbilt's deep love of North Carolina's rustic scenery. His French Renaissance-inspired chateau contains gardens designed by Frederick Law Olmsted and over 200 rooms. Today, visitors from all over the world can delight in over three floors of the mansion's artifacts, accessories, furniture, and art. 
Psst.. are you looking for even more awesome Asheville activities? From heart-pumping e-bike tours to aerial adventures, Tripster provides a plethora of attractions. 
Biltmore in October
Biltmore in October is extra special, as guests can enjoy hundreds of colorful chrysanthemums and salvias decorating the walled garden beds. The end of the month ushers in peak foliage changes at the Biltmore, many of which can be observed from the dazzling views afforded by the Rooftop Tour.
Soak in the changing leaves of Birch, Red Maple, and Oak trees as you admire a behind-the-scenes look at the construction of the Biltmore House. Then, Polish up your nature photography skills, plan an epic hike, or unwind with an elegant wine tasting. The bounty of Biltmore in the fall knows no bounds.
Looking for even more fall foliage? Check out Smoky Mountains Fall: An In-Depth Guide and leaf peep like a pro!
Biltmore House Admission
Ready to relish autumn with the Biltmore? Before you can take in the lavish art and antique furnishings of America's Largest Home, you'll need to purchase tickets. Securing your tickets online ahead of time guarantees a reservation on the day of your visit and saves you $5 per ticket. Fall visitors can choose from an array of ticket options, including:
An Audio Guided Visit
Audio Guided Visit Plus
Expert Guided Visit Plus
Please note that all admission tickets allow you access to:
Audio-guided visit of the Biltmore House

8,000 Acres of Gardens and Grounds

The Antler Hill Village & Winery

A complimentary wine tasting n 

And complimentary parking
Biltmore ticket prices fluctuate seasonally. But, you can expect to spend approximately $270 on entry for two adults and one child. 
Feeling the Biltmore love? If you want to appreciate the stunning scenery of this Blue Ridge Mountain estate year-round, you can always opt for a Biltmore House Annual Pass. Besides enjoying the splendor of the gardens, grounds, and house through every season, pass holders will receive exclusive perks and benefits such as:
Discounts on food, lodging, and shopping

Discounted tour activities

Year-round ticket discount for your guests

Special savings on holiday events

And more!
Falling hard for the stunning shades of Fall? Capture Asheville's breathtaking scenery for years to come when you book an Asheville Photo Tour.

Biltmore Estate Fall Activities
Antler Hill Village
Lush rolling hills, immersive craftsmen demonstrations, and a rich agricultural legacy come together at Antler Hill Village. Complete your day of Biltmore history with a visit to Vanderbilt's former social epicenter.
Named after the ridge above the village, this sprawling oasis features tons of fuzzy farm creatures, winding paths, retail options, and an award-winning winery. Pall around with petite piglets, learn about blacksmithing or let the kids climb all over the Pisgah Playground. 
Complimentary Wine Tastings
Got wine on your mind? Make the most of your Biltmore daytime ticket or annual pass when you reserve a spot for a complimentary wine tasting.* Enjoy a self-guided tour of Biltmore's working winery before you wind down with a glass of red or rose. Raise a glass in the main tasting room, or feast on charcuterie and locally made truffles while sitting al fresco. Pick up a bottle or two of Pinot Noir to bring home, or indulge in a romantic rendezvous with a Red Wine & Chocolate Tasting. 
*Please be aware that wine tasting is an extremely popular activity, and tasting spots fill up quickly. We highly recommend you reserve your tasting spot ahead of your visit.
Working up an appetite? Soak up all that world-class vino with an Instagram-worthy meal when you try out any of our favorite Asheville Foodie spots. 
Horseback Riding 
Giddy up! Take in the cornucopia of fall foliage from atop your noble steed when participating in a thrilling guided trail or horse-drawn carriage ride. Travel like the lords and ladies of the past when you book a 30 or 60-minute carriage ride. An ideal way to see the grounds in all their fall glory, your 12 or 6-person wagonette tour will afford you searing mountain and house views.
Yearning for a more exhilarating outdoor adventure? Saddle up and participate in a private or group trail ride. Trot and canter through the verdant forests and tree-strewn paths of the estate on your western-style guided ride.
Hiking and Biking 
Grab those hiking boots and stock up on gorp because it's time to hit those trails! Let the endorphins flow as you trek through over 20 miles of woodlands, meadows, and more. Fall is the perfect time to savor some Blue Mountain and French Broad River scenery.
Pick up a complimentary map from the Bike Barn and Outdoor Adventure Center, and opt to tackle any number of hikes. Perennial favorites include the Westover, Deer Park, and Farm Trails. Traveling with cyclists in tow? Biltmore delivers a variety of guided bike rides too. Reconnect with the area's natural beauty, vineyards, and pastures via mountain, tandem, or e-bike. 
Put those quads to work and log even more cycling time when you explore Asheville's most iconic sights by bike. The Downtown Asheville Electric Bike Tour is an ideal way to tackle the architecture, scenery, and charming neighborhoods of this North Carolina hotspot. 
Farmyard Visits
Return to a simpler way of life when you stop by the pastoral oasis that is Antler Hill Farm. Visitors of all ages won't help but be charmed by the cuddly residents of the Biltmore farm.
Included in your general admission ticket, this heartwarming tour allows little ones to learn how farm animals served the historic estate back in the day. So gather round, as your friendly farmer allows tykes to pet baby goats, chickens, and more. Animals such as lambs, calves, hens, and draft horses all served integral roles in the estate's day-to-day function.
Biltmore Fall Events
Live Music at the Bandstand
Usher in the weekend with the dulcet tones of Antler's Hill Village's best jazz, pop, swing, and rock duos with Live Music at the Bandstand. This annual all-weather event takes place every Friday, Saturday, and Sunday afternoon from now through the end of October.
Groove along to the band's musical stylings from 4 to 8 pm each night. These 45-minute sets are the perfect way to conclude your day of Biltmore fun. Cuddle up on a blanket, sip an ice-cold beverage, or treat yourself to some creamy ice cream. 
Biltmore Gardens Railway – Wonders of the World
Travel around the world without ever leaving the confines of North Carolina when you participate in this one-of-a-kind attraction. The Biltmore Gardens Railway is a family-friendly seasonal event that invites you to witness the artistry, creativity, and craftsmanship of model trains.
From September through February 2023, explore Vanderbilt's love of travel and foreign culture as you take in miniature displays of iconic landmarks. Spot the Taj Mahal, the leaning Tower of Pisa, and more, all crafted from natural elements such as leaves, bark, and twigs. 
Take to the skies above with Scenic Helicopter Tours! Observe scenic forests, Looking Glass Rock, the Florence Nature Preserve, and more.
Leonardo da Vinci – 500 Years of Genius
Inject your Biltmore stay with some of the romance of the Renaissance when you attend the world's most detailed and comprehensive Da Vinci experience. Leonardo da Vinci – 500 Years of Genius is a limited-time event that puts you in the middle of one of the most brilliant minds of all time. Walk through multiple rooms of full-scale drawings, paintings, models, and more.
From the last supper to sketches of the Vitruvian Man, this groundbreaking exhibition will challenge your beliefs and expectations of the artist's most famous masterpieces. Hosted in Amherst at Deerpark®, the Biltmore suggests allotting 45 minutes to fully appreciate the exhibition space. 
Looking to further complement your Biltmore stay? Extend your time in this charming mountain community with a stay at the Village Hotel. 
Trying to plan your Asheville getaway without breaking the bank? Take a look at some of the best free things to do in this scenic travel destination.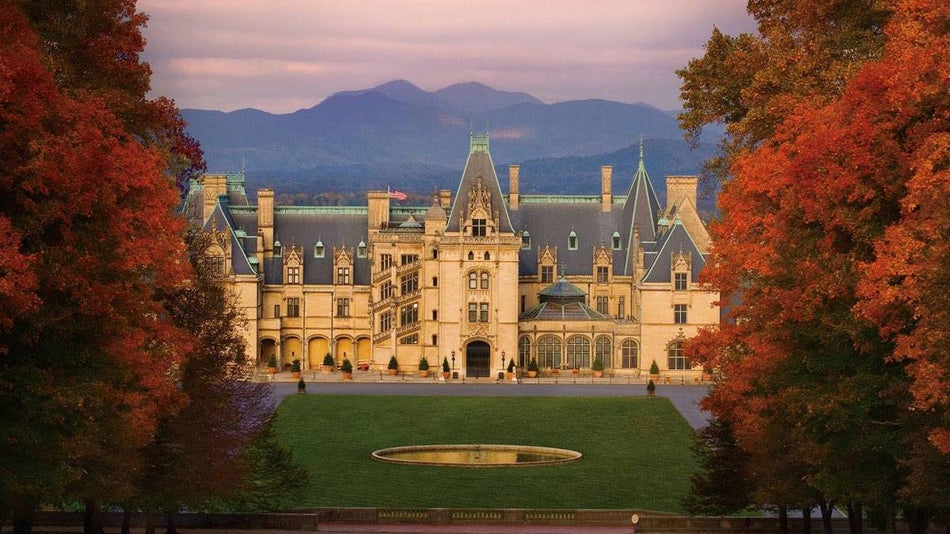 A lasting homage to one of America's wealthiest families, the Biltmore Estate has been inspiring, educating, and entertaining visitors for over 120 years.
Nestled in the rugged foothills of the Blue Ridge Mountains of the Tar Heel Estate, this massive property serves as a testament to the grandeur of the gilded age.
In addition to the kaleidoscope of colors offered up by mother nature every fall, the harvest season brings extra charm and attractions to the Biltmore home.
Inhale fresh mountain air as you bike past flourishing agricultural fields and the French Broad River, or soak in some afternoon sun and spirited swing music at the Bandstand.
Dive into the genius of the inventor, sculptor, and master artist Leonardo Da Vinci. Or prepare yourself for rare photo opportunities and breathtaking views with a rooftop tour. 
There's no wrong way to celebrate the beauty of autumn at the Biltmore.
Tell us, What are Your Favorite Fall Things to Do at the Biltmore?
Did we miss any of your Biltmore must-sees? 
Leave us a comment below!