Find out where you should spend the day exploring life under the sea with our North Shore guide.
Stretching from Kaena Point to Kahuku Point, the North Shore of Oahu is 17 miles of pristine beachfront access.  Popular for surfers, sunbathers and swimmers, the beaches of the North Shore are some of the best of the island.  You can also find spectacular snorkeling in Oahu on the North Shore.
The Best Snorkeling Beaches on Oahu's North Shore include:
Shark's Cove
Pupukea, Oahu
Part of Pupukea Beach Park, Shark's Cove is a lava-rock beach with unique underwater rock formations and diverse marine life. Tropical colorful fish and sea turtles are the cove's constant inhabitants. Harmless white-tipped reef sharks may also be spotted just outside the cove.
Malaekahana Beach
Kahuku, Oahu
Malaekahana Beach is popular for snorkeling in Oahu as the Waters here are calm and shallow, creating a great environment for snorkeling.  Green sea turtles are often seen along this coastline and Goat Island, just offshore, is a protected seabird sanctuary.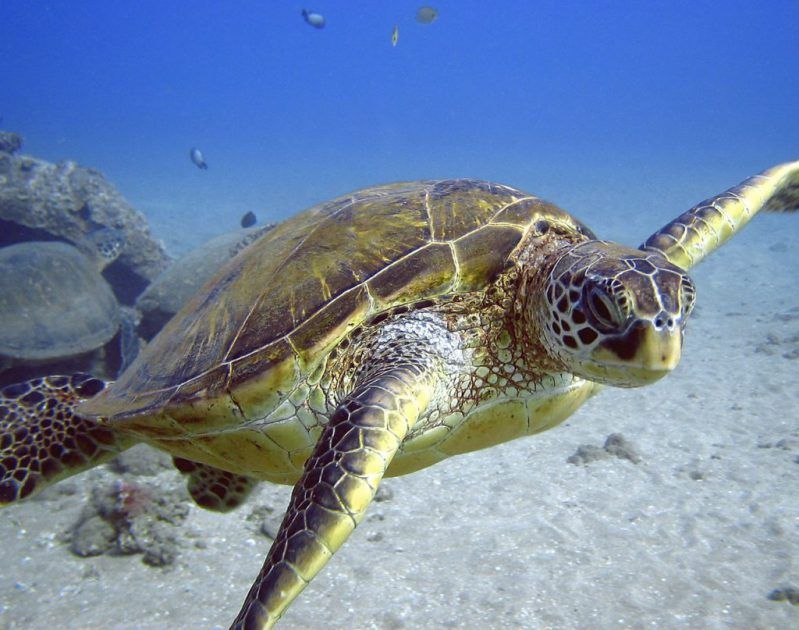 Turtle Bay
Kahuku, Oahu
The bay is named after a large number of green sea turtles that inhabit the area.  There is a reef in the nearshore waters and the area also has numerous rock formations.  This beach also has quite a few humuhumunukunukuapuaa, the famous former Hawaii state fish.
Waimea Bay
Pupukea, Oahu
A popular surfing spot, Waimea Bay also has crystal clear waters perfect for snorkeling – during the summer months at least.  Rock formations on either side of the bay are havens for marine life.  Even dolphins can be spotted here.
Mokuleia Beach Park
Waialua, Oahu
This is a great place for the beginning snorkel up to the intermediate level. Shallow waters and a long flat reef provide unlimited snorkeling and the sandy beach is a relaxing place to soak up some sun. Grab your snorkel equipment and get ready for the time of your life!
Make Time for Snorkeling in Oahu
Snorkeling in Oahu is a must-do vacation activity. Grab some a mask and finds, and get ready to dive into the underwater world of the North Shore.