Towering glaciers, acres upon acres of evergreens, and unparalleled wildlife viewing. A journey to the Last Frontier is on almost everyone's bucket list. However, planning a family trip to this rough and rugged outpost requires some due diligence.
Follow along to discover everything you need to know before you go on your Alaska family vacation.
From thrilling sled dog rides to one-of-a-kind flightseeing tours of Denali National Park, kids of all ages will be enthralled by the enchantment of an Alaska family vacation.
Spot majestic fjords in the Kenai Peninsula or get up close to a barking sea lion at the Sealife center; whether your tikes are more into active pursuits or wildlife conservation, there's no denying the appeal of a family vacation to Alaska.
Ready to discover the secrets to the best Alaska vacation for families? Read on…
Alaskan Family Vacations
Just like your very own family, Alaska family vacations come in all shapes and sizes. If you are struggling with where to begin when it comes to scheduling your very own Alaska family vacation itinerary, it helps to consider the age and interests of your children.
For example, younger tots will probably be less inclined to tackle serious hikes and snowshoeing but will probably be in heaven to meet a real-life sled dog! From salmon fishing to soaring helicopter tours and more, our guide will outline the top Alaska family vacation ideas for you to choose from:
Alaska Family Vacation Packages
Hoping to not go into the red when visiting Alaska? This land of snow, ice, and the big five may seem like a rustic reprieve, but that doesn't mean family vacations here come cheap. If you are searching for an Alaska family vacation on a budget, Alaska vacation packages for families may be a great idea.
Many times vacation providers will offer discounts for children, and these all-inclusive packages can even be tailored to your specific interests. Whether you are into wildlife, glaciers, horseback riding, or Alaska family fishing vacation packages, there are plenty of options to peruse:
Alaska Family-Friendly Activities
Alaska Wildlife Conservation Center
Animal lovers of all ages will be in heaven as they explore 190 acres of this non-profit wildlife center. Many of the bears, bison, wolves, and reindeer that live at the Alaska Wildlife Conservation Center have been orphaned. Stroll through the scenic 1.5-mile loop with your kiddies by foot or car. For some extra special educational entertainment, download the Actionbound app and take part in the center's interactive scavenger hunt.
Dog Sledding in Alaska
Mush! Is there anything more iconic than rushing through snow banks on a dog sled? Give your kids the ride of a lifetime when you reserve a Summer Dog Sledding Adventure in Willow, Alaska. Pretend you are racing in your very own Iditarod (sans puffer jacket) when you experience this 1.5-hour tour.
Cuddle up with champion dogs, tour the dog kennel, snack on cookies, and sneak peeks of Denali. Learn all about the history of Alaska's official state sport from the experts themselves. Culminate your four-pawed outing with your very own ride on a private dog sled.
Alaska Sealife Center
Besides caribou, moose, wolves, and grizzly bears, Alaska is also home to an outstanding number of marine mammals.
When you head to the Alaska Sealife Center, dive under the sea without sustaining a single splash. Equal parts educational and fun, Alaska's only marine mammal rehab and rescue center is home to a number of species, including seals, sea lions, starfish, crabs, eels, and puffins.
Sitka National Historic Park
Totem poles, indigenous Alaska culture, and verdant forest trails come together at Sitka National Historic Park. Little ones can explore the park as a Junior Ranger as they learn about the significance of towering totems and the Battle Sitka. Be sure to kick off your visit at the visitors center to observe exhibits about traditional Tlingít life and see drums, robes, and other ceremonial objects.
Kenai Fjords National Park Cruise
Anchors away for an incredible aquatic escape. Discover the unparalleled beauty and natural diversity of the Kenai Peninsula National Historic Parks with a Kenai Fjords National Park Cruise. Spend six hours cruising past stunning tidewater glaciers, mountains, and more.
Listen up as your onboard guide regales you with narration and occupies your children with immersive activities. Have those binoculars and cameras ready, as this tour offers the ideal opportunity to spot orca whales, humpback whales, Steller sea lions, harbor seals, puffins, eagles, and many species of seabirds.
Kachemak Bay Tour
Frolicking sea otters, soaring bald eagles, and porpoises, oh my! Set aside a half day for wildlife and Last Frontier exploration with the Best of the Bay tour. Kachemak is known for its rich marine biodiversity and archeological significance. Spend 3.5 hours sailing past Gull Island, old homesteaders' cabins, fjords, and more. Spot magnificent volcanoes, humpback whales, minke, and orcas as you uncover the secrets of the Bay's wild terrain.
Denali Summit Flight with Glacier Landing
No trip to the 49th state is complete without a stop to Denali. Delight in an incredible expedition over 20,000 feet in the air with your Denali Summit Flight with Glacier Landing. Famous for being America's highest summit, this 1.5-hour tour will leave you breathless with its iconic scenery and landscapes.
Known as the greatest mountain flight in the world, this helicopter journey delivers an unprecedented way to view the most remote regions of the park. Your knowledgeable pilot will pepper your tour with commentary associated with the complex geography and significance of the region. For even more Denali discoveries, check out the full array of Talkeetna Air Taxi tours.
Alaska Winter Hiking Tours
Brave enough to visit Alaska in winter? Those with ice running through their veins will be swept away by the barren beauty of this epic land come winter. Alaska Winter Hiking Tours delivers a 3 to 5-hour hiking tour ideal for active children. Savor the sights of Eagle River, frozen Barbara Falls, and the American Dipper.
Conquer either the Winter Falls or the Valley and Forest Hike as you glean a first-hand look at boreal forests, ice bridges, and local wildlife.
Alaska Summer Hiking Tours
Not so keen on long johns and thermals? Skip out on the shivering and savor hours of daylight when you save up your stamina for Alaska Summer Hiking Tours. Witness the wonder of Chugach State Park as you select from one of three treks. The Alpine Classic trek serves up a challenging trail and 360-degree views of glaciated valleys. Whereas the moderate Summer Valley & Forest trek follows the Eagle River up to Barbara Falls and the streams where salmon can be found spawning.
Traveling with younger tykes in tow? The Flora & Fauna Nature Walk is especially recommended for families. Enjoy a leisurely hike as you observe the park's alpine valleys, lush vegetation, and abundant wildlife.
Alaska Snowshoeing Tours
Step into the footsteps of a real Alaskan when you schedule any of our world-class Alaska Snowshoeing Tours. This four-thousand-year-old pastime has long been considered one of the best ways to transport yourself through mounds of fluffy snow. Revel in the wintery sights of Chugach State Park and Glen Alps in a whole new way when you opt for either the Beginners or Advanced Tour.
Families with little ones will be impressed by the Beginner's Tour, which teaches you how to walk on these specialized shoes and includes a 2-mile sightseeing trip to South Fork Campbell Creek Valley. Relish photo opportunities at the magnificent South Fork Campbell Creek valley, as well as sights of moose, birds, and more. For a true challenge, intrepid travelers can select the 6-mile advanced route.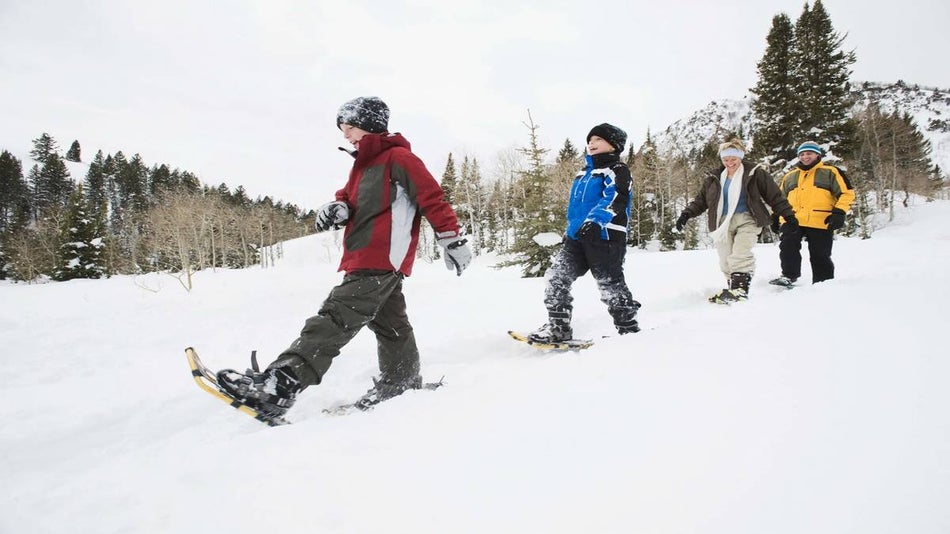 It is said that Alaska's moniker comes from the Aleut word 'Aleyska,' which signifies 'Great Land.' Indeed, nothing can quite compare you for the desolate beauty and untamed nature of the Last Frontier.
From towering totem poles adorned with color and intricate carvings to the heart-pounding thrill of seeing a Grizzly Bear catching salmon, there is nothing like a family vacation in Alaska.
Admire frozen waterfalls and glaciated valleys on an exhilarating hike through Chugach State Park, or attempt to snowshoe your way through the terrain of Glen Alps.
Observe orcas and whales in their natural habitat, or catch your own dinner on a family Alaska fishing vacation.
Can't wait to tour the most northwest extremity of North America? Set forth on your family's very own Alaskan adventure today!
Tell us, What Are Your Favorite Alaska Vacations For Families?
Did we miss any of the best activities for Alaskan vacations for families?
Leave us your suggestions in the comments below!