Discover this attraction's history, legend and claims to fame with our rundown of intriguing Silver Dollar City facts.
Silver Dollar City, a Midwest theme park set in the 1880s, welcomes millions of visitors to Branson each year. Families from across the United States flock here for thrilling rides, entertaining shows, delicious food and so much more! Read on to find out the most interesting Silver Dollar City facts.
They may know they can't wait to ride Outlaw Run, but they only graze the surface of what there really is to know about Silver Dollar City in Branson, Mo.
It All Started with a Hole in the Ground
It's not every day a theme park is born from a hole in the ground, but at Silver Dollar City, that's exactly what happened. Marvel Cave, an enormous cavern, was first explored by Osage Indians in the 1500s.
Then, it was mined by a group of Union Civil War veterans in the 1880s. Once word spread of this natural wonder, mining expert William Henry Lynch opened the cave for public tours in 1894.
Finally, Hugo and Mary Herschend, founders of Silver Dollar City, signed a 99-year lease on the cave in 1950. They began implementing the initial phases of the 1880s mining town, which included demonstrating craftsmen, and the idea behind Silver Dollar City was born.
Coining a Name
One of the Silver Dollar City facts many people are curious about is how the park got its name. The answer may surprise you! It all began with a promotional idea.
When the park first opened in 1960, it gave out silver dollars for change. As a result, word-of-mouth exposure was rampant. Visitors who returned home would remark on their visit to "Silver Dollar City," and the name stuck.
It Takes a Village, an Ozark Village
The park was initially modeled after an 1880s Ozark Village. Accordingly, the town had a blacksmith shop, general store, ice cream parlor, doll shop, two authentic log structures, and the Wilderness Church.
The attraction did have strolling entertainers, as well as a show, themed after the Hatfield and McCoy Feud. However, no rides were available at that time.
A theme park without rides? Silver Dollar City facts don't get more unusual than that!
What was the First Ride at Silver Dollar City?
Speaking of SDC rides, the very first ride at Silver Dollar City was the Frisco Silver Dollar Line. This steam train ride, which opened in 1962, remains largely the same today as it did then. Riders are treated to a leisurely, scenic 20-minute ride through the Ozarks.
Of course, some pesky, no-good robbers always seem to lurk in those woods. The faithful conductor, though, continues to save passengers 50 years and counting. So, don't fret—this is a safe ride!
The World's Most Daring Wooden Coaster
Die-hard Silver Dollar City fans already know Outlaw Run is one of the park's greatest thrill rides. However, they might not know this attraction is truly groundbreaking.
In fact, Outlaw Run is the world's most daring wooden coaster. Why so? Because it includes the world's first and only double barrel roll on a wooden coaster; it's the only wooden coaster to twist upside down and is the world's steepest wood coaster with a drop of more than 16 stories!
Other Silver Dollar City Roller Coasters and Water Rides
For even more twisty adrenaline rushed fun, hop on Time Traveler at Silver Dollar City. As one of their newest rides, it reaches speeds of 50 miles per hour, a height of 100 feet, and will leave you breathless.
Have you been to the Ozarks in the middle of summer? It is a sizzling season. Thankfully, Silver Dollar City is also home to a plethora of water rides to help cool you off. Hop on the Log Ride at Silver Dollar City, fondly called "Mystic River Falls" it winds its way through river rapids and has a 45-foot drop at the end that will leave you soaked!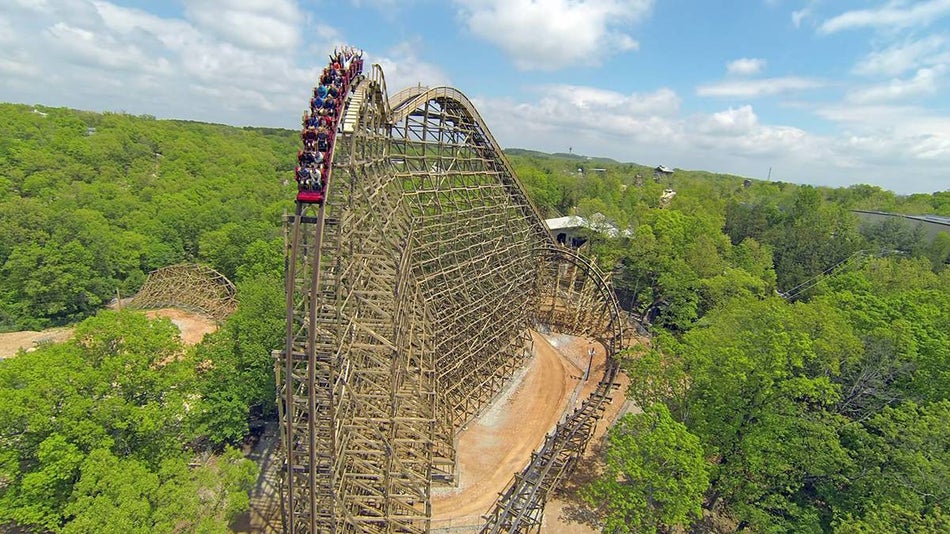 Silver Dollar City Loves Christmas
When one thinks of massive holiday light displays, Silver Dollar City in Branson, Missouri may not be the first attraction to cross your mind. I've got news for you: that needs to change! This premier Midwest theme park loves Christmas and celebrates it with an all-out, one-of-a-kind spectacle that truly dazzles.
First of all, there's the glow of over five million lights. Secondly, there are over 1,000 decorated Christmas trees. Thirdly, there are two Broadway-style shows included free with park admission.
As if that's not enough, there's also 5-Story Special Effects Christmas Tree, Holly Jolly Christmas Light Parade featuring Rudolph The Red-Nosed Reindeer & Friends, and dozens of stores ideal for holiday shopping. However, keep in mind that Silver Dollar City is not open on Christmas Eve or Christmas Day. Seasonally, Silver Dollar City, Missouri closes from the beginning of January through the beginning of March.
It's no wonder Good Morning America has named Silver Dollar City "A Top 5 Spot To Light Up The Holidays!"
Demonstrating Craftsmen Central to Park's Purpose
Demonstrating craftsmen have long been an integral part of Silver Dollar City in Missouri. The park held its first craft festival in 1963. During which, 19 craftsmen showcased woodworking, weaving, blacksmithing, glass blowing, and other unique trades.
The demonstrating craftsmen were such a hit, the owners decided to make them residents of the park year-round. Today, there are over 100 demonstrating craftsmen on the park at any given time.
The Food is a Main Attraction
Many times, theme park food gets fairly lukewarm reviews. Luckily, that's not the case at this Silver Dollar amusement park. When it comes to Silver Dollar City facts, there's one no one can argue with—their food is delicious!
In particular, you've got to try the Lumbercamp Falls Skillet; their melt-in-your-mouth funnel cakes; and the made-on-site taffy with flavors ranging from watermelon to butterscotch and so much more. Seriously, you could make a day at this park just eating!
You Can Say "I Do" at the Park
Remember the Wilderness Church mentioned earlier? It was one of the original Ozark Village buildings and is still a prominent part of the park today. Visitors love the church so much, many wanted to get married here.
So, the park agreed! Now, they host over 100 weddings a year. Be on the lookout for a bride riding roller coasters in her wedding gown. Hey, it could happen!
Silver Dollar City has its Own Resort
Why let the Silver Dollar City experience end at the park? Reserve a cabin at the Wilderness Resort to continue the authentic, all-American, outdoorsy experience.
These cabins are outfitted with the latest creature comforts, while also providing a nice respite from the everyday hustle and bustle. Gather round a campfire for smores, gaze at the star-filled skies, and sleep soundly in your Pioneer-inspired yet modern-day cabin.
The resort gets bonus points for its free shuttle to Silver Dollar City!
Did You Know These 10 Silver Dollar City Facts?
Of course, there is always more to learn about Silver Dollar City. And the best way to do so is by experiencing it firsthand. Purchase your Silver Dollar City tickets from Tripster and start planning your vacation in the Ozark Mountains today.
Have Any Interesting Silver Dollar City Facts to Add?
Let us know in the comments below!