No matter when you visit, you'll want to explore the surf and sand of San Diego beaches.
Located in sunny Southern California, San Diego is widely known for its majestic beaches. Year-round mild temperatures coupled with endless sunshine make the 70 miles of coastline a true treasure.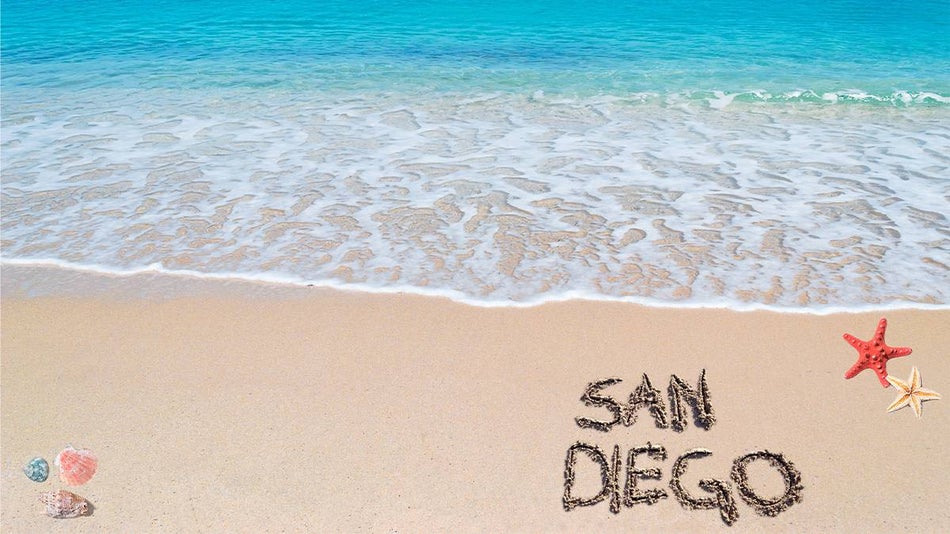 There are a number of beaches dotting the San Diego coastline, and their offerings are as varied as the towns built around them. Reefs, rocky cliffs, tide pools, and sandy beaches are just a few of the landscapes you'll discover. No matter which beach you visit, stay for the sunset!
Grab your sunscreen, a beach towel and dive into an ocean of fun at one of these beaches.
San Diego Beaches
Coronado Beach
902 Ocean Blvd
Coronado, CA
A fantastic family beach due to the calm waters, this park is also dog-friendly and the perfect place to stroll the beach.
Ocean Beach
1950 Abbott St
San Diego, CA
Surfers flock to this beach, as do dog owners as it is one of the only beaches where your dog can roam freely – leash free.
Imperial Beach
2 Elder Ave
Imperial Beach, CA
Located a half-hour north of San Diego, this beach is great for swimming and building sand sculptures.
Mission Bay Park
2688 East Mission Bay Drive
San Diego, CA
Mission Bay Park is a veritable playground stretching over 4,200 acres. There are 27 miles of bay front and is a popular place for watersports.
Bonita Cove
1100 W Mission Bay Dr
San Diego, CA
Enclosed within Mission Bay Park, families like Bonita Cove for its tranquil waters and grassy picnic areas.
Mission Beach
Mission Blvd & Ventura Place
San Diego, CA
Usually bustling with activity, people watching and volleyball are two popular activities. Extending from Belmont Park to the south end of West Mission Bay Drive, parking can be difficult to find but is worth the hassle.
Pacific Beach
974 Thomas Ave
San Diego, CA
Another busy beach, Pacific Beach is located along Ocean Front Walk. Surfing is popular here, especially at Tourmaline Surfing Park which prohibits swimming. Lifeguards are always on duty here, which adds an extra level of safety.
Windansea Beach
6800 Neptune Pl
San Diego, CA
Although not ideal for swimming, it is a beautiful stretch of beach worth exploring. It also offers excellent surfing conditions.
Children's Pool
850 Coast Blvd
La Jolla, San Diego, CA
You can swim at Children's Pool but the real attraction is the harbor seal population. You can easily spot dozens soaking up the California sun from fall to spring.
La Jolla Cove
1100 Coast Blvd
La Jolla, CA
A beautiful setting and calm, protected waters make this a haven for snorkeling and scuba diving. Visit to explore the unique Underwater Park, home to deep canyons, tidal pools, and artificial reefs.
La Jolla Shores/Beach
8200 Camino Del Oro
La Jolla, CA
Postcard perfect, the setting of La Jolla Shores brings the crowds. Activities here include jogging, swimming, kayaking, scuba diving and surfing. Plus, you can easily spot seals sunbathing at this beach.
Black's Beach
2800 Torrey Pines Scenic Dr
La Jolla, CA
Secluded and good for swimming and surfing, Black's Beach is most notable for its nude bathing. Even though it's technically illegal, don't' be surprised by the nudity if you decide to stop by.
Torrey Pines Beach12600 N Torrey Pines Rd
San Diego, CA
Combining the great outdoors with a seaside experience, Torrey Pines is rarely has a crowd and is a fantastic for beach walking.
Del Mar Beach
1700 Coast Blvd
Del Mar, CA
Grassy cliffs and a playground area highlight this beach, located 15 miles from downtown San Diego.
All of these San Diego beaches are open to the public. So, grab your swimsuit and beach bag and great ready for fun and sun in Southern California.