Southern charm, Appalachian adventure, and plenty of family fun await those lucky enough to spend time in Eastern Tennessee. Make the most of your Great Smoky Mountain sojourn when you spend a day exploring WonderWorks Pigeon Forge. 
Follow along as we explain every last coupon, deal, and discount for WonderWorks Pigeon Forge.
This awesome amusement park for the mind is overflowing with 100 hands on exhibits designed to delight little minds. 
Swing like Tarzan on the indoor ropes challenge, compete in an action-packed game of Laser Tag, or become your own human lightning rod.
Get your fill of educational entertainment without breaking the bank when visiting WonderWorks Museum Pigeon Forge today.
WonderWorks Discount Tickets Pigeon Forge
Can't wait to get a jump on the Jurassic-filled XD 4D simulations or strap into a life-size EVA space suit? Don't waste any more time searching the internet for WonderWorks discount tickets. Pre-purchase your WonderWorks tickets ahead of time to save both valuable time and money.
Traveling with a very tiny wunderkind in tow? You'll be pleased to know that children under three can enter WonderWorks Pigeon Forge for free even without discount WonderWorks tickets.
WonderWorks Pigeon Forge Special Packages
Searching out additional attractions in Pigeon Forge TN coupons and deals? Search no more!
Dinner shows, country music, and riveting history all come together in Pigeon Forge, Tennessee.
Embrace the down-home charm of this majestic mountain oasis when you bundle your WonderWorks tickets with any number of riveting Pigeon Forge attractions:
Dollywood's Splash Country & WonderWorks Ticket Combo - Save up to 6%
WonderWorks Vacation Package - Save up to 17%
WonderWorks & Titanic Museum Ticket Combo - Save up to 7%
Discounts to WonderWorks Pigeon Forge
Hello, there, smart saver! Listen up because we've done the legwork to discover the best discounts codes, deals, and WonderWorks Pigeon Forge Tennessee coupons.
WonderWorks Military Discount
Men and women of the military, did you know you are entitled to a military discount? WonderWorks military discount Pigeon Forge is a thing and we're here for it! Present a military ID at the box office and you'll receive a special discount off your admission tickets.
WonderWorks Group Discounts
The more, the merrier! WonderWorks Pigeon Forge considers any gathering of 15 people or more a group. Spread the exhilaration and education of a WonderWorks visit when you plan your next group outing. WonderWorks is happy to accommodate student groups, virtual labs, girl and boy scouts, tour operators, and more. 
Both Girl and Boy Scout troops can score significant savings when they reserve scout packages for troops of 10 or more year-round. These special packages include entry to all WonderWorks exhibits, an indoor ropes course, a scavenger hunt, and a participation patch for each scout. 
Ready to put the 'WOW' in your next corporate event? Harness that brainpower and perfect your laser tag aim when you host your next team-building event with WonderWorks. With tons of terrific packages to choose from, including fully catered options, you'll be making it rain in savings and sizzling scavenger hunts. 
WonderWorks Discount Codes
Looking to reign in that vacation budget but don't have a WonderWorks coupon code Pigeon Forge? WonderWorks coupons Pigeon Forge are no longer needed. Set aside that change for a Dolly Parton Stampede Dinner Show or spin on the Great Smoky Mountain Wheel when you utilize the following codes:
Take advantage of the WonderWorks local discount! Local residents of Sevier, Cocke, Knox, Blount & Jefferson County can simply text "wonderworks" to 73028 to receive the best discount information.* Non-local residents can stay in the loop on all the latest deals by filling out the following form and receiving $2 off their ticket purchase. No need for a WonderWorks Pigeon Forge coupon!
*You will receive 2 Msgs/Month. Reply STOP to cancel the messages or HELP for help. Message and data rates may apply.
WonderWorks Pigeon Forge Coupons and Discounts
Clipping home coupons may be a thing of the past, but passionate penny pinchers know that frugality always wins. We know Pigeon Forge attraction coupons are a top Google search. Those with Smoky Mountain Coupon Books or Pigeon Forge coupon books can pocket a Pigeon Forge Coupon worth $2 in savings or you can purchase your WonderWorks Pigeon Forge discount tickets with Tripster.
No need to look for a coupon code for WonderWorks Pigeon Forge! Nor is there a need to keep searching for coupons for WonderWorks Pigeon Forge TN.
About WonderWorks Pigeon Forge
Wondering what all the WonderWorks fuss is about? If you've never visited this upside-down edifice of kid-friendly fun, you're in for a real treat! Wander through over 35,000 square feet of scintillating exhibits, experiments, and rides. 
Feel the tremendous power of Category I hurricane winds, or test your mettle by lying on a bed of 3,500 nails. Every attraction here will fan the flames of creativity, ingenuity, and imagination. With six wondrous zones to explore, plus an indoor ropes course, virtual roller coaster, and laser tag arena, we recommend spending at least 3 hours at WonderWorks. 
Local legend suggests that WonderWorks was once a top-secret laboratory located in the Bermuda Triangle. One day after an experiment went horribly wrong, the lab was whisked away to Pigeon Forge, TN, where it landed upside down.
To make sense of this tipsy topsy world, you'll need to pass through the inversion tunnel and realign yourself! Then, once you're right-side-up, you'll be ready to begin your world-class adventure*…
*While WonderWorks Pigeon Forge contains many magnificent exhibits and visiting attractions, we regret to inform you that after a decade of enchantment, Terry Evanswood's Wonders of Magic Show has permanently closed. 
Verdant hardwood forests, rugged Blue Ridge Mountain range beauty, and plenty of deep-fried Southern fare are all integral parts of any Pigeon Forge getaway. 
However, in addition to an abundance of outdoor adventure, this nirvana of Smoky Mountain magic delivers indoor excitement too.
Set forth on a thrilling interactive escape when you spend the day with WonderWorks Pigeon Forge. From ice water Titanic challenges to the World's Largest Indoor Ropes course, this incredible amusement park offers up enough entertainment for the whole family.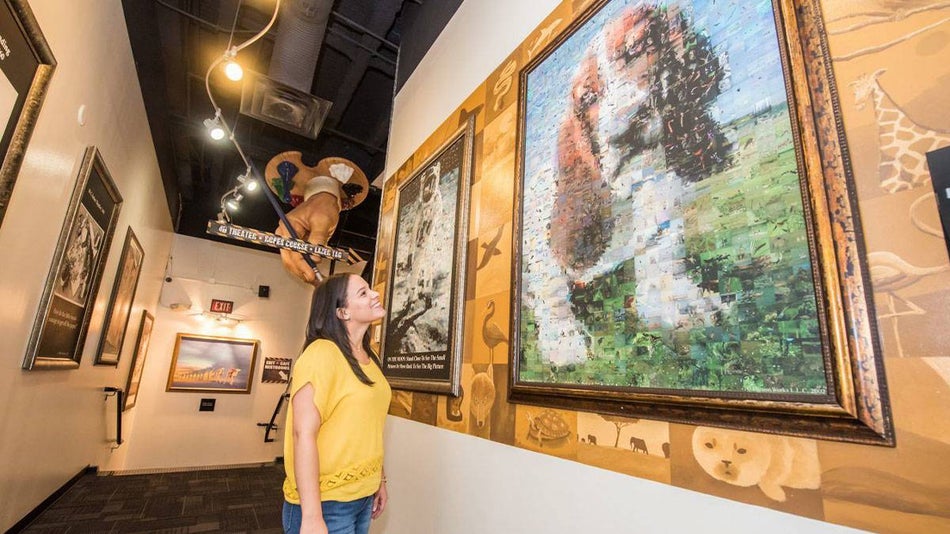 Want to know what others think about WonderWorks Pigeon Forge? Check out recent WonderWorks Pigeon Forge reviews.
Embrace the magnitude of a 5.3 earthquake, or use your imagination to create your own jungle safari landscape. 
Equal parts exhilaration and education, WonderWorks is a welcome stop on any Pigeon Forge tour. Enjoy the best discounts and savings when you discover all the great Wonderworks TN coupons and deals with Tripster!
Do You Have Any WonderWorks Pigeon Forge Ticket Discounts to Share? 
Leave us a comment below!