Ice cold glasses of sweet tea, an urban canopy of flowering dogwoods, and a vibrant street art scene are just a few of the small gems that make Atlanta the romantic crown jewel of Georgia.
With world-class nightlife, a blossoming food scene, and warm weather to spare, it's no wonder Atlanta is the romantic rendezvous of the South.
From finger-licking good BBQ to spotting sea lions at the Aquarium, there are so many ways to pump up the romance in the 'Big Peach.' Stroll around Centennial Olympic Park, revel in the courage of the Civil Rights Movement, or sip bold bodied reds in Northern Georgia. 
However you and your sweet peach choose to spend your romantic couple's vacation, Atlanta is the place to be.
Most Romantic Atlanta Hotels
Whether you're getting cheeky beneath the sheets or staring into each other's eyes over the romantic Atlanta skyline, accommodations in A-town bring their romantic A-game. Kick-off your romantic Atlanta getaway in a cocoon of modern elegance, or keep things quirky in a quaint BnB:
The Georgian Terrace Hotel
Equal parts charm and glamor, this old school hotel has hosted the likes of Walt Disney and the cast of Gone With the Wind. Meanwhile, relax in one of their many classically appointed luxury suites or plush penthouses featuring fine linens, stylish furnishings, and generous closets.
Waldorf Astoria Atlanta Buckhead
Classic 5 star luxury in one of the City's most affluent areas makes for an unspeakably romantic escape. This elevated upscale hotel enjoys designer bathrooms, opulent interiors, and sumptuous amenities. 
Hotel Clermont
Vintage vibes and a darkly moody interior make any stay at the boutique Hotel Clermont rich with romance. Get closer to your lover in a clawfoot tub, or stroll around the quaintly hip Poncey-Highland neighborhood. Finally, head to their impressive rooftop for a nightcap.
Stonehurst Place Bed and Breakfast
A former midtown 19th-century mansion that has been lovingly restored into a B&B, Stonehurst screams 'couples getaway.' Retreat from the world when you enter your luxurious suite, complete with a four-poster bed, fireplace, and marble bathroom. 
Most Romantic Restaurants
The 'Big A' may have made a name for herself as the home of fried chicken, dumplings, and Buttermilk pie, but the City's explosive culinary scene has evolved far beyond Southern comforts. Therefore, but sure to Indulge your sweetheart at any of the most romantic restaurants in Atlanta:
Sundial Restaurant + Bar
Come for the view, stay for the food! Perched above the Westin's Peachtree plaza, Is this tri-level dining room and cocktail lounge boasts unparalleled 360-degree views of the City's skyline. Stuff yourself full of sumptuous farm-to-table cuisine, including fried green tomato and lobster salad, BBQ' Pork Tomahawk', and pan-seared sea bass. 
King + Duke
Is there anything sexier than a crackling fire? Embrace your caveman past at the lauded King + Duke, where everything centers around their 24-foot open hearth. All their food is cooked over an open flame, and you'll want to savor every morsel of gulf shrimp, Georgia apples, and Smokebox half chicken.
Sotto Sotto
Try to keep your cool as you sip Chianti and trade bites of smoked burrata and their signature Tortelli di Michelangelo. Besides being named one of the Best Italian restaurants in the US by the NY Post, Sotto Sotto is a frequent haunt of celebrities. 
Most Instagrammable Spots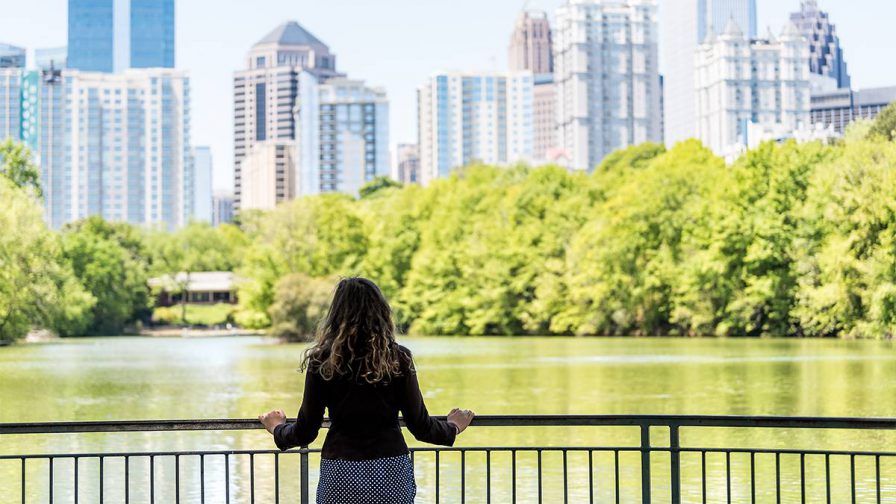 Instagram husbands, wives, and partners relax! We've taken the guesswork out of compiling Atlanta's most romantic spots to bring you the most blissful couples' vacation pics yet:
Piedmont Park - an urban oasis located in downtown Atlanta. This famed park features almost 200 acres of photogenic sights, including the Midtown Reflection, the Meadow at Piedmont, and the Dockside.

Skyview Atlanta - snap some social media-worthy snaps in front of this romantical luxe Ferris wheel, which features 42 private gondolas.

Ponce City Market - yes, there are delicious eats inside and various food and retail vendors. Meanwhile, some romantic Atlanta photo ops are made outside the brick building facade.
Best Picnic Spots
Sometimes all you need to spark up that romance is a quiet park, a basket of snacks, and a chilled bottle of rose.
Throw it back to the early days of courtship when you and your cutie park it at any of Atlanta's best picnic spots:
Iris Garden & Pond At Winn Park

Piedmont Park

Old Fourth Ward Park

Alpharetta town square green
Romantic Sightseeing Tours
90 Minute Trolley Tour in Atlanta
Clang, clang, clang went the trolley, and zing, zing, zing will go your heartstrings on this charming tour of the capital of the South. So grab your lover's hand and prime yourself for an afternoon of sights, scenery, and more when you board your 90 Minute Trolley Tour in Atlanta.
Never was there a sweeter way to see the most famous landmarks of the 'City of trees' than a fully narrated ride aboard the Peachtree Trolley.
Get the lay of the tree-covered land and embrace Atlanta's rich cultural history as you visit:
Centennial Olympic Park

Oakland Cemetery

Martin Luther King Jr. National Historic Site

Margaret Mitchell House

Georgia Institute of Technology

Inman & Ansley Park

The Woodruff Arts Center

Mercedes Benz Stadium

The Georgia State Capitol

And Piedmont Park
Atlanta Highlights Private Tour
Spoil your sugarplum with the gift of privacy when you reserve an extra special Atlanta Highlights Private Tour. 
An ideal sightseeing tour for A-town newbies, this intimate 3-hour private drive leaves the chauffeuring to the experts and lets you and your loved one relax and soak in Atlanta's highlights.
During your tour, snap photos of such places of interest as the Fox Theater, the Jimmy Carter Library and Museum, Buckhead, and Ponce City Market.
Film buffs should be on high alert as they will surely recognize the stately Swan House, which served as President Snow's sprawling estate in the Hunger Games series. 
Roundabout Atlanta Sightseeing City Tour
Are you and your better half working within some tight time constraints? Then, don't sacrifice a smidge of sightseeing magic when you condense your exploration of the Big Peach into a 4-hour Roundabout Atlanta Sightseeing City Tour.
Absorb insider insights, historical and cultural sites, incredible city skyline views, and palatial Southern mansions on this fully immersive group tour experience.
Meanwhile, your diverse tour trajectory will take you all over the City from the downtown core to Buckhead and midtown.
Witness Atlanta history in motion as you snap selfies and absorb knowledge at the following hot spots:
Atlantic Station

Underground Atlanta

Martin Luther King Jr. National Historic Site

Sweet Auburn

Atlanta Olympic Cauldron Tower

And more!
Art & Cultural Tours
Private Stranger Things "The Upside Down" Film Locations Tour in Atlanta
Reward your favorite 'mouth breather' with an unforgettable journey to the Upside Down.
Your paranormal-loving paramour will freak out over a ticket to the Private Stranger Things "The Upside Down" Film Locations Tour in Atlanta.
Squeeze as much Stranger Things filming trivia, locations, and fun facts as you can on this premier 3-hour tour. Then, sit back and relax in the comfort of your luxury vehicle as your expert guide regales you with fascinating filming stories and behind-the-scenes info.
Scope out such famed Stranger Things scenic locations as the Wheeler's Hawkins, Indiana neighborhood, Hawkins Middle School, the Public Pool, and the final resting place of the Mindflayer.
Mega fans of the cult hit will be thrilled to sneak a peek at Brimborn Steelworks, the famed studio where most of the show is filmed. 
Private Atlanta History Tour From Civil War to Civil Rights
Martin Luther King Jr once said that "hate cannot drive out hate, only love can do that." In the spirit of honoring the great King and spreading less hate and more love, educate yourself and your significant other on Atlanta's history, heartbreak, and triumph.
Your Private Atlanta History Tour From Civil War to Civil Rights is a comprehensive look at the City in the past, present, and future.
This 3-hour engaging tour alternates between walking and riding to bring you on a rollicking journey of Atlanta's role from a Civil War battlefield to the birthplace of the Civil Rights Movement and more.
Learn the importance of the Stacks at Fulton Cotton Mill, pay your respects at Oakland Cemetery, and sample farm-fresh produce at the Sweet Auburn Curb Market. 
Art on the Streets: Private Atlanta Public and Street Art Tour
Love and art is one holy alliance we can rally behind! So enchant and impress your creatively inclined cuddle bug with a memorable street art adventure in A-town.
Art on the Streets: Private Atlanta Public and Street Art Tour is a 3-hour enthralling escapade that showcases the creativity and diversity of the public contemporary art scene.
Absorb the dynamic colors, energy, and inner meanings behind the City's best street art as you bypass murals, graffiti, monuments, and sculptures.
Have your camera handy, as you'll be dying to document the Bohemian center of the southeast. During your tour, you'll view the thriving artistic communities and the statuesque pieces peppering the Central Commercial District.
Are you craving a bit more of a one on one artistic interlude? Then, feel free to book a private walking tour for a more personalized experience.
Food Tours
2-Hour Food, History, and Street Art Tour of Ponce City Market
Taste your way through a variety of diverse cuisines without ever leaving the Big Peach on your 2-Hour Food, History, and Street Art Tour of Ponce City Market. 
Chowdown with your honey on this flavor-filled epicurean escapade. Your local guide and resident foodie will take you on a handheld journey through the famed Ponce City Market.
Follow your nose and stomach as you sample everything from Cuban sandwiches to burgers and Indian cuisine, all created by some of the City's best chefs. 
As you munch your way to nirvana, learn all about the market's intriguing architectural past as it was once the historic Sears, Roebuck, & Co. building. 
Conclude your hearty tour with a brisk walk on the Atlanta Beltline's Eastside Trail. Then return to the market for round two tastings and a complimentary beer and cocktail sample.
Romantic Flavors of Atlanta Food Tour
Fiending for a fanciful foodie experience with your forever love? Eat your way through Atlanta's romantic food scene when you reserve a spot on the Flavors of Atlanta Food Tour.
Feast like a local on this 3-hour intimate food tour that mashes together the tastes of A-town with history and culture.
Grits, fried green tomatoes, and burgers, oh my! Come with an empty belly, as this hearty tour is sure to fill your appetite. Savor a diverse variety of ethnic cuisines that add up to a four-course meal, all paired with unique craft cocktails.
No tourist traps here! This walking tour will let you sample local favorites as well as hidden gems as you make delicious stops at:
T

he Margaret Mitchell House

The Federal Reserve Bank of Atlanta

St Mark's United Methodist Church
2.5-Hour History and Food Tour in Atlanta
Mouthfuls of succulent Southern delicacies, striking Victorian Homes, and a whole lot of Civil War history are what's on the menu on your 2.5-Hour History and Food Tour in Atlanta.
Put your passion on full blast when you and your partner spend an afternoon devouring eight food tastings and one alcoholic beverage from three delectable locally-owned restaurants. With an emphasis on the style and seasonings of the South, this enthralling walking tour expertly pairs great eats with captivating A-town history.
Traverse charming Grant Park, taste a swoon-worthy pork belly toast, and visit Margaret Mitchell's grave all on this sensational sojourn.
More tantalizing tour highlights include nibbles and visits at:
Six Feet Under Pub & Fish House - mouthwatering shrimp, grits, fried catfish, and okra with a cucumber wasabi soy sauce here will leave you speechless.

Oakland Cemetery - Atlanta's oldest Victorian cemetery with a deep Civil War connection.

Fire Pit Pizza Tavern - sip on the prettiest pink cocktail made from Juniper berries.

The Little Tart Bakeshop - end your tour on a sweet note with the City's best chocolate chip cookie and a beautiful apple cheddar turnover. 
Beer, Wine, and Romantic Nightlife
North Georgia Wine Country Tour from Atlanta
Lush verdant rolling hills, a fruity glass of Syrah in hand, and the old-school European charm of Bavaria make for a day of wine-soaked wonder. During your time, sip up to 13 wines with your love on the North Georgia Wine Country Tour from Atlanta. 
This 9.5-hour full-day tour offers a welcome reprieve from city life as you are whisked away to the tranquil vineyards of North Georgia. 
Cheers with cheeky Chardonnay as you soak up the unspoiled beauty of this rural and rustic area. 
Sample vineyard visits include stops at:
Serenity Cellars

CeNita Vineyards and Winery

Cottage Vineyard and Winery
Finally, round out your day of imbibing with a charming visit to the Bavarian-inspired hamlet of Helen. Your group will then be given free rein to dine, shop, or continue drinking.
*Vineyard stop locations are subject to change based on availability.
Atlanta Brew Bus Tour
Bewitching brews and an exclusive behind-the-scenes look at Atlanta's craft brewing culture make the Atlanta Brew Bus Tour a can't miss activity for any ale-inclined couple.
Knockback a pint (or two) on this fully inclusive 5-hour brewery tour. Meanwhile, cruise around in style on your chauffeured air-conditioned bus as you make your way through Atlanta's best breweries.
Get a crash course in beer education as your beer-loving guide avails you to the dirty details of hops, malts, and brewers between each sip.
Finally, commence your suds-filled journey at the South's largest brewery, SweetWater, where you'll sample a flight and grab a tour. 
Next, make your way to Monday Night Brewing and the Atlanta Brewing Company for more pints and yummy snacks. 
Romantic Atlanta Nightlife Tour by Luxury Car
Someone call Mr. Timberlake as it looks like you and your significant other are bringing sexy back on your sensual after dark Private Atlanta Nightlife Tour by Luxury Car.
As the sun sets on Hotlanta, the nightlife begins to smolder! So don't skip out on a moment of evening excitement when you are your sweet thing spend 1.5 hours discovering the City's nocturnal fun.
Meanwhile, drive around the Big Peach like the A-lister. You are in a comfortable luxury vehicle as your knowledgeable guide takes you to the best bars, clubs, and live music venues.
Strap on those heels and dress in your finest as you make thrilling stops at:
SKYVIEW Atlanta

Underground Atlanta

Sweet Auburn

Inman Park

Little Five Points

Ponce City Market

And Krog Street Tunnel
Unique Experiences
Illuminarium Atlanta
Embark on an exhilarating travel journey like no other when you and your better half book with Illuminarium Atlanta. Transport yourselves to a world of imagination, wonder, and creativity during this whole sensory experience.
Choose to go WILD and be whisked away to the plains of Africa. During your visit, you will come face-to-face with the world's most exotic animals in their natural habitats. Feel the heat of the Kenyan sun, watch majestic elephants quench their thirst at a nearby watering hole. Then, gaze up at a never-ending blanket of twinkling stars.
This unique and cinematic event is brought to fruition through 4K laser projection, 3D audio, in-floor vibration, and scent.
Post sizzling safari, complete your night with a drink from the on-site bar. 
Georgia Aquarium
Dive into a watery world of aquatic adventure at the Georgia Aquarium. You and your marine-motivated muffin will be in heaven as you discover over 10,000 animals at the world's second-largest Aquarium. 
Schools of tropical fishes, playful penguins, and frolicking sea otters set the stage for an abundance of creature cuteness. Try to keep your cool in the Cold Water Quest. Or, put your fear to the test with the newest gallery, Sharks! Predators of the Deep.
Be sure to budget some time for their many interactive exhibits, shows, and programs, including the dynamic Dolphin Presentation.
Romantic tour in Atlanta
Ou la la, fire up that fairytale romance and appeal to your sugar's softer side on a premier Romantic Tour in Atlanta.
More special and longer-lasting than a dozen roses, this 2-hour intimate tour is the perfect homage to all things amor.
Hopeless romantics will have heart-shaped googly eyes as they visit the sweetest places in Atlanta. 
Meanwhile, uncover the culture of festivals that make their home here.
Your love-obsessed local guide will spill all of the tea on where to have the most enchanting date. Meanwhile, staging a sexy couples photo, and more.
Listen up as you will also learn the heartwarming and sometimes tragic history of love lost and found in Atlanta.
An impressive musical heritage rooted in soul, laidback Southern charm. Along with a bevy of green spaces with cedars, maples, and dogwoods. Atlanta is genuinely a romantic locale to visit year-round.
Couples from all over the world congregate at this 'jewel of Georgia.' From bites of down-home cuisine, immersive installation experiences, and unforgettable Civil Rights history. There is something for all to enjoy. 
Spend a starry-eyed evening soaking in the cityscape from SKYVIEW. Then, electrify your taste buds with exotic Indian food from Ponce City Market. 
However you decide to conquer Atlanta, it's sure to crank up the heat for any romantic rendezvous.
What Did We Miss? What Other Romantic Things Have You Found to Do in Atlanta?
Let us know in the comments below!