It's the perfect place to play this spring, as there are endless things to do. From character-filled daydreams at Disney World to adventure-themed thrills at Universal Orlando Resort, attractions cater to families with kids of all ages. Need a nudge to get your spring break started? Read on to find things to do during an Orlando Spring Break.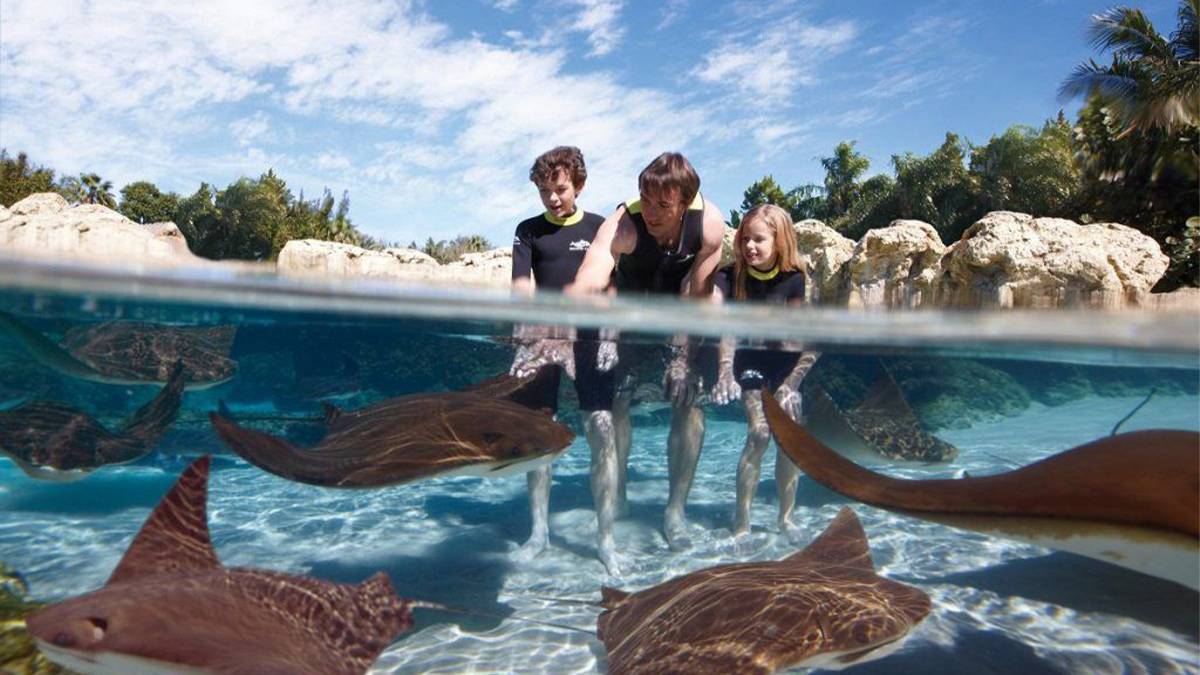 Make a Splash at Orlando Water Parks
Nothing breaks the winter blues better than a day splashing under the Orlando sun. Kick off your snow boots, slip into some flip flops, and bask in the refreshing excitement of Orlando water parks. The choice is yours really, with five aquatic attractions available.
Aquatica is the perfect choice for families seeking both wild and mild thrills, while Discovery Cove puts you thisclose with manta rays, exotic birds, dolphins, and even otters.
Want to learn how to surf? Try the ultimate indoor wave at Fantasy Surf.
Don't forget about Disney's Blizzard Beach either. With tickets starting at $69, it's more affordable than you may think.
See What's in Bloom at Epcot International Flower & Garden Festival
In the past, Epcot was thought to be the adult side of Walt Disney World. With a focus on global attractions and culinary delights, it's easy to see why. However, Epcot appeals to kids too. This is especially true during the International Flower & Garden Festival this spring. This vibrant event features elaborate topiary displays showcasing Disney characters in a splendor of greenery, flowers, and colors. In addition, there are pop-up outdoor kitchens to try and Garden Rocks Concert Series musicians to listen to like Sister Hazel and The Guess Who.
Experience the Wizarding World of Harry Potter
Kids and adults alike are fanatics for all things Harry Potter. At Universal Orlando Resort, immerse yourself in the worlds of Hogsmeade and Diagon Alley. Both bring the Wizarding World of Harry Potter to life. At Hogsmeade, you can explore the iconic Hogwarts Castle, surrounded by the village of Hogsmeade where you can eat at the Three Broomsticks and find your own magical wand at Ollivander's. Plus, you can join Harry Potter and friends on The Forbidden Journey for a thrilling adventure filled with magical creatures, a quidditch match and more. Before you board the ride, you tour through Hogwarts Castle, making your way through the familiar classrooms and corridors of Hogwarts School of Witchcraft and Wizardry.
Hop aboard the Hogwarts Express for a trip to Diagon Alley, the newest area within the Wizarding World of Harry Potter. Traipse through the streets of London, browse through shops for wizard robes and quidditch supplies, dine at the Leaky Cauldron, and then ride the heist-themed Harry Potter and the Escape from Gringotts. Wash it all down with a frothy butterbeer!
Catch Spring Training at ESPN's Wide World of Sports
Are you and your kid's diehard baseball fans? During your Orlando Spring Break, see the action up-close in a spring training game at ESPN's Wide World of Sports. See if your team is on the schedule, which runs through April 25, 2020. It's a great way to see your favorite players up close without having to pay Major League prices. Plus, you'll get the inside, pre-season scoop on your favorite baseball team. Score!
Travel to the Space Coast
Need another Orlando Spring Break idea? One of the great things about Orlando is its easy access to the coast. Travel to the Space Coast, and make a day of it by exploring beaches like Cocoa and Melbourne. Add a visit to nearby Kennedy Space Center to get an inside look at the NASA Space program. It's an extensive attraction that lets parents sneak it a bit of education during their spring break. On top of that, it's interesting too! Stop for lunch in Downtown Titusville, known for its shopping and dining, and if there's time, take a peek at the animals of Brevard Zoo in the Viera/Melbourne area.
Take to the Outdoors
Florida is a known for its man-made theme parks, but there's a whole lot of family fun found outside in Orlando. During your Orlando Spring Break, trek to Wekiva Island to go boating, canoeing, fishing, and kayaking. If you just want to relax and soak up some Florida sunshine, reserve a cabana. It comes equipped with comfy places to lounge, a grill, and a fridge. At Blue Springs State Park you can hike, picnic, swim and even see majestic manatees. Of course, for a little more adventure outside you can opt for an Orlando airboat tour. These high-speed boats put the wind in your hair and place you right in the middle of Florida's Everglades. Be prepared to see an alligator up close!
Get Ready for the Best Orlando Spring Break Yet
These are some of the best things to do on your Orlando Spring Break. From theme park adventures to outdoor escapes, your family is sure to have an epic escape in the Sunny State. Reserve all of your vacation needs, including attraction tickets and hotel rooms, with Tripster Orlando for the guaranteed best rates and insider insight.