February 3, 2023 @ 8:00 am

-

May 7, 2023 @ 10:00 pm

EST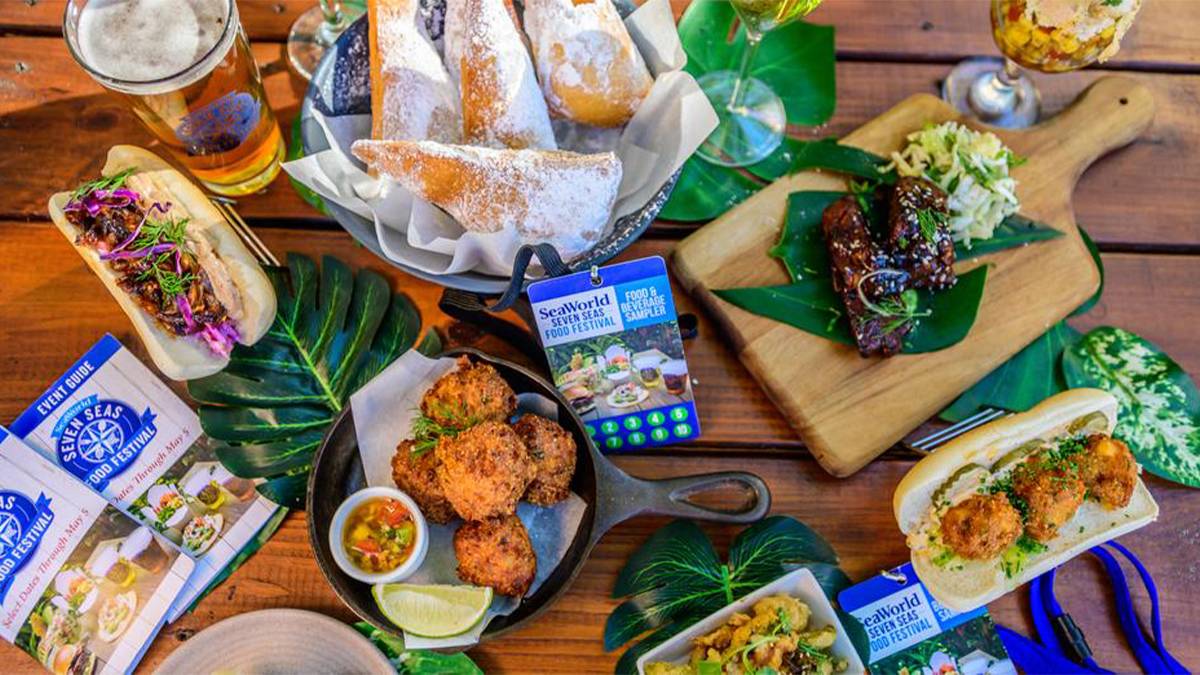 Jet-setting around the world for a culinary adventure is fun, but what if you could experience all the flavors in one place? Head to the SeaWorld Seven Seas Food Festival for a palate-pleasing experience!
With more than 200 signature flavors from all over the world, this festival caters to every taste. Discover diverse eats and a new menu that ranges from Mexican cuisine to Asian fare widens your knowledge of various dishes and cultures.
Of course, there will be curated cocktails, local wine, and craft beers from Orlando and beyond too! Along with tasty bites and sips, deep dive into waves of entertainment and surprises, including SeaWorld Seven Seas Food Festival concerts and shows.
So, gather your fellow foodies and take your tastebuds on a global trip at the SeaWorld Seven Seas Food Festival! Follow along to find out where to start on this taste adventure.
Related Post: Insider's Guide to SeaWorld Orlando
Seven Seas Food Festival Tickets
Most Seven Seas Food Festival events are included with your SeaWorld Orlando general admission or annual pass. Guests can also secure an exclusive pass member sampling lanyard for discounts on food and reserved seating.
Nearby Hotels and Lodgings
Whatever you decide to do in SeaWorld, from filling your belly with delicious noms to trying new rides, it's essential to book a room where you can recharge and rest at the end of the day.
Luckily, the city offers plenty of discount hotels that you can book with Tripster:
Seven Seas Food Festival Packages
To make the most of the SeaWorld Orlando Seven Seas Food Festival 2023, guests can secure event packages that include the following:
Food & drinks - 5-item sampling lanyard for everyone in your group
Hotel accommodations with one FREE night
Unlimited visits to the park for the entire duration of your trip
Reserved show seating
Free parking
Seven Seas Food Festival Date and Time
The SeaWorld Seven Seas Food Festival 2023 dates include Fridays, Saturdays, and Sundays from February 3 to May 7, 2023.
Other Attractions in SeaWorld Orlando
Want to work off that appetite first? Then, keep yourself moving and busy with these other fun attractions.
Rides & Roller Coasters
Thrill ride enthusiasts are in for an unforgettable experience. This aquatic paradise also offers scream-worthy rides and family-friendly attractions!
Live Family-Friendly Presentations & Activities
Enter the exciting world of bottlenose dolphins, ooh and ah at killer whales, and fall in love with California sea lions and otters. These educational and inspiring presentations can be the highlight of your SeaWorld Orlando trip!
Animal Experiences
Connect with your favorite animals like never before during your SeaWorld visit. Take the chance to see how the trainers interact with the animals and explore the many wonders of the sea.
Sesame Street Land™ at SeaWorld Orlando®
Bring the entire family to the most famous neighborhood where you can play with Big Bird, Elmo, Abby, and more. Dance, sing, and try rides around Sesame Street Land. Then, stop by Hooper's Store to land the cutest merch.
Seven Seas Food Festival Concert Lineup
You'll get happier by the minute while bopping along to the hottest tunes played by local bands and artists across the park. SeaWorld Seven Seas Food Festival 2023 concerts entertain crowds with 28 live performances at Bayside Stadium.
The live music line-up for this year's event will be announced soon!
Seven Seas Food Festival Menu
The SeaWorld Seven Seas food festival 2023 menu is yet to be released. For more updates, please visit the park's website, where you can also learn more about SeaWorld Seven Seas Food Festival prices.
Related Post: Ultimate Guide to SeaWorld Orlando: Coupons, Discounts, and Deals
SeaWorld Orlando Discount Tickets and Coupons
After the SeaWorld Orlando Seven Seas Food Festival, splash into marine mania and aquatic adventure without spending all your moolah by booking these discount tickets from Tripster:
SeaWorld Orlando Vacation Packages
Whether you're visiting for a day or a week, delighting in Orlando's theme park scene is a must.
Book these vacation packages from Tripster to get that adrenaline rush and nostalgic fun without busting your budget:
Experience SeaWorld Seven Seas Food Festival in Orlando
Discover the world and its many cultures through global noms and sips at SeaWorld Seven Seas Food Festival 2023! SeaWorld's most appetizing event is back with even more flavors than last year, so save that appetite and set sail on a culinary journey.
Drool over Asian delicacies, Cajun favorites, Mexican food, and more. The event features 280 flavors, to please the foodie in you. Just like before, there are wine and cocktail selections, plus spirits and beer for those of age.
Additionally, live concerts and shows are on the menu at this festival. Check out performances by live bands and artists while sipping drinks and tasting snacks.
What are you waiting for? Get ready to sip, drink, and travel around the globe in the most delicious way. Get your Seven Seas Food Festival SeaWorld tickets now!
Related Events