Worried about navigating Disney World in a wheelchair? Never fear! The Most Magical Place on Earth is accessible. 
If you or someone traveling with you to Walt Disney World Resort uses a wheelchair, you're probably anticipating a lot of extra planning that many don't understand. However, Disney is here to help! The Disney theme parks make using a wheelchair at Disney World a cinch.
When you visit Disney, you can choose to rent a wheelchair or Electric Conveyance Vehicle (ECVs) or bring your own. Determine which option will be best for you -- it's up to you! Using a wheelchair shouldn't hinder you from enjoying all of the enchanting sights and experiences that this wonder-filled theme park has to offer. That's the magic of Disney!
Wondering about the details? Keep reading for everything you need to know about using a wheelchair at Disney World.
About Disney World Wheelchair Rentals
Wheelchair or ECV rentals are available at all four Disney theme parks: Magic Kingdom, Animal Kingdom, EPCOT, and Disney's Hollywood Studios. Furthermore, they are available at Disney Springs.
Pro Tip: Disney World wheelchair rentals are also available at select Disney resort hotels, so check on this before you book your stay. In addition, Disney resorts have accommodations such as wheelchair-accessible bathrooms, ramps, and elevators.
Those who use a wheelchair will have no problem getting around the resort by bus, either. Each bus route is equipped with buses that have lifts for loading wheelchairs or ECVs.
Disability Parking Lots are also available at each of the four main parks. These are located near the main entrances!
Something that makes trips to Disney more memorable for those who use wheelchairs or other mobility devices is that Disney cast members can assist with boarding rides.
The ways in which they can help include offering an arm to steady you, holding your mobility device in one spot, moving it after you've boarded, and returning it to you at the end of the ride. However, keep in mind they are not allowed to push individuals in wheelchairs.
How to Rent a Wheelchair at Disney World
To secure a wheelchair or ECV, you must visit a Disney World wheelchair rental counter. Unfortunately, you cannot make a reservation for wheelchair rentals ahead of time. They are available on a first-come, first-served basis. Due to this, we recommend that you arrive early!
Daily Disney World wheelchair rentals cost $12, while daily ECV rentals cost $50. Those prices are for one full day, even if you switch parks. Before leaving a park, you will have to return the wheelchair or ECV to its original rental location, but you can get a new one at the next park with your rental receipt. You must be at least 18 years of age and bring a photo ID to rent one. 
To save money, length of stay rentals are available. These are multi-day wheelchair rentals. This option allows you to pre-pay for your entire trip and will only cost you $10 a day. To make this purchase, simply visit a Disney wheelchair rental counter at the first park you visit. However, this option may not be available during peak times. 
Pro Tip: Length of stay rentals for ECVs are not available. So, prepare to pay day by day.
There is no deposit required for wheelchair rentals at the Disney theme parks. However, you will have to pay a $100 deposit for wheelchairs at Disney Springs and the water parks.
ECVs require a $20 deposit at the theme parks and a $100 deposit at Disney Springs and the water parks. Simply return your wheelchair or ECV to the rental counter at the end of your visit to receive your deposit back.
Wheelchair-Accessible Rides & Experiences at Disney World
When it comes to wheelchair-accessible rides at Walt Disney World, there are plenty! Whether you're riding on a magic carpet or simply riding in a wheelchair, the Disney parks weave their magic to ensure every guest has an amazing time. 
There are a few different categories of wheelchair and ECV-accessible rides and experiences:
Rides & Experiences That Allow Guests to Stay in Their Wheelchair or ECV
Taking in the magic of Disney can be as simple as staying seated in your wheelchair or ECV! Spare yourself the hassle of getting in and out of your mobility device with any of the following rides or experiences.
At the Magic Kingdom park, set sail on A Pirate's Adventure ~ Treasures of the Seven Seas! Five different missions allow you to help Captain Jack Sparrow in this attraction themed after the famed Pirates of the Caribbean. 
A Celebration of Festival of the Lion King is a heart-stopping show filled with swirling colors at Animal Kingdom. Fans of everyone's favorite animated flick set in the African plains will flock to this spectacle!
A 10-minute film at EPCOT will leave you inspired to protect the planet. Moreover, the Awesome Planet attraction is more than just a film. The scenes are brought to life with in-theater effects such as wind and water!
The AMC Disney Springs 24 Dine-In Theatres at Disney Springs give you the opportunity to feast your eyes on a spectacular blockbuster while feasting on a delectable meal at the same time! This experience will leave you on the edge of your seat.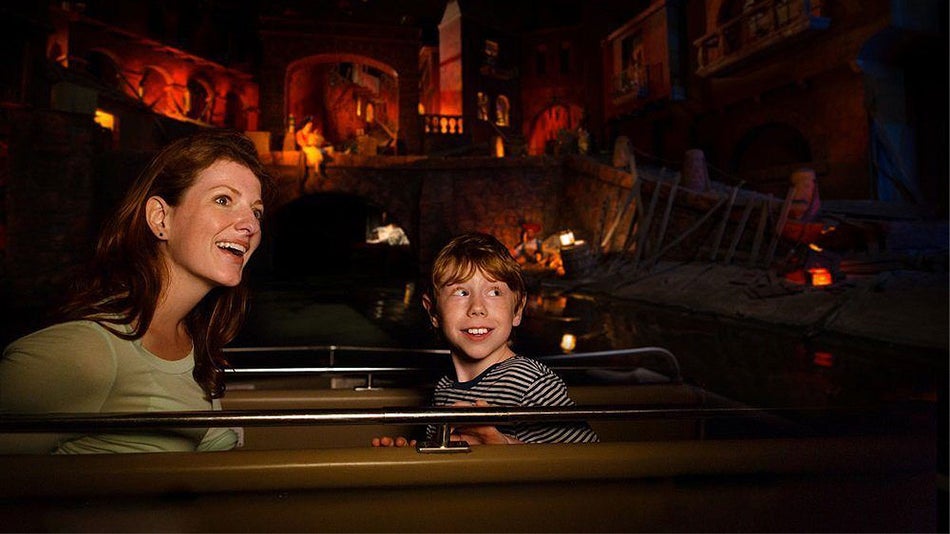 Rides & Experiences That Require Guests to Transfer from Their Wheelchair or ECV
It may take more work, but, if possible, getting out of your wheelchair or ECV for these experiences is entirely worth it! 
The Haunted Mansion at Magic Kingdom is a Disney World staple. This attraction is for the brave among us! Enter if you dare.
Photo Alert: Snap a photo outside before you enter the Haunted Mansion! This classic shot of a recognizable Disney landmark will get all the social media likes.
Hop on Expedition Everest - Legend of the Forbidden Mountain at Animal Kingdom for a true adrenaline rush. Race across the tracks to escape the mythic Yeti!
Soarin' Around the World at EPCOT is a high-flying time that can't be beat. A 180-degree, 80-foot IMAX projection dome makes you feel like you're hang gliding over beautiful landscapes throughout the world! This is one way to make it to all of your dream travel destinations in one day.
Disney's Hollywood Studios is home to Star Wars: Rise of the Resistance, which features multiple ride systems. May the force be with you on your mission!
There are few experiences as classic as a ride on a merry-go-round. Ride a horse or carriage at the Marketplace Carousel at Disney Springs. Don't miss this quintessential activity! 
Rides & Experiences That Require Guests to Walk
If you can get out of your wheelchair or ECV and walk (just a little!), here are some additional rides and experiences for you to enjoy.
Magic Kingdom features the iconic ride, Peter Pan's Flight! Fly with Peter Pan through the sky before descending into Never Land. Second star to the right and straight on 'til morning!
Also, in Magic Kingdom, Tom Sawyer Island celebrates the beloved tales of Mark Twain. To get to the island, you'll take a log raft ride. Once you're there, take a self-guided tour. The island is yours to explore! 
In addition, you can slip 'n' slide down the Bay Slides at Disney's Typhoon Lagoon Water Park. Or, slide down the Summit Plummet at Disney's Blizzard Beach Water Park!
With Our Advice, Using a Wheelchair at Disney World is a Breeze! 
It won't take a magic wand to rent a wheelchair and use it to make your way around the Disney parks! Simply follow our tips, and you'll be on your way to an enchanting time at Walt Disney World. Still have questions? The main Walt Disney World website has answers.
Tripster can help you plan the rest of your trip, too! We're here for you with discounted Disney tickets, hotel deals, and insider advice. 
Do You Have Any Tips to Share?
Leave us a comment below.