Sedona is known for its beautiful vistas, spiritual atmosphere, art scene, and rugged trails.
You can make your trip luxurious at local spas and wineries, or you can simply enjoy the views and stay at a comfortable but affordable hotel. If you're wondering how to vacation in Sedona on a budget, read below to see how you can save.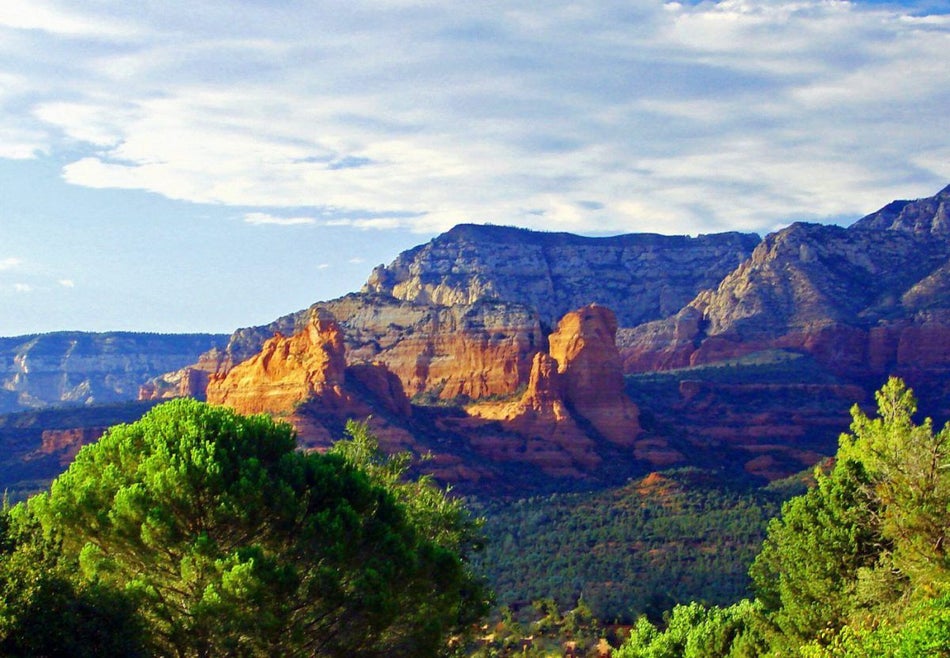 Most Affordable Time to Visit Sedona
Although spring and fall offer the best weather, they also bring more crowds and therefore prices tend to raise. If you're looking for the best time to visit Sedona on a budget, consider visiting during the summer months. Yes, summer anywhere in Arizona can yield high temperatures, but lodging rates tend to be cheaper and many fun events happen during the summer.
On the other hand, note that hiking during this season can be more challenging, so look for ways to cool off like exploring Slide Rock Park's canyon creek beds. In addition, the popular swimming hole, Grasshopper Point, gives guests a chance to cool off as well.
Sedona on a Budget: Best Cheap & Free Activities
You can definitely have a great time in Sedona without breaking the bank. Check out any of these fun but affordable activities:
1) Hiking Trails
Outdoor lovers should take advantage of the beautiful sites the local area has to offer. With more than a dozen hiking trails, Sedona's Red Rock Country is worth exploring with your love. Just make sure to bring a phone, sunscreen, water, food, and navigation devices. Also, if you do plan on coming in the summer time, it may be best to wait for sunset; it'll be cooler, and you'll see incredible views as the sun sets over the canyons.
Some of the area's top-rated hikes include:
Red Rocks Canyon
Oak Creek Canyon
Devil's Bridge Trail
Cathedral Rock
Broken Arrow Trail
Boynton Canyon Trail
Doe Mountain Trail
& So Many More
2) Peruse Art Galleries
Sedona showcases several galleries for art enthusiasts. Sedona's art community presents over 80 galleries and shops in total, which guests can explore on foot. Visitors can use Visit Sedona's Art Walk maps to discover West Sedona's galleries as well as the Uptown and Gallery District's galleries. Moreover, The Tlaquepaque Arts and Crafts Village showcases dozens of specialty shops for couples searching for the perfect souvenirs and home additions.
This renowned arts and crafts village has been a Sedona fixture since the 1970s. Founder Abe Miller built Tlaquepaque (pronounced "T-lockey-pockey"). to reflect the culture of Old Mexico. Its mission is to "showcase gifted artists, artisans, and makers of fine handcrafted goods" while visitors celebrate said work and learn about different cultures. Today, this village remains a colorful community with over 45 distinctive specialty shops and nineteen galleries. Find home decor, jewelry, handcrafted rubs, leather goods, and beyond. Also, couples can find various restaurants within the village once you're done shopping.
3) Stargaze
Because of the city's low light pollution, Sedona is optimal for stargazing. One of the most romantic things to do in Sedona, there are multiple spots to go stargazing throughout the area. Furthermore, we recommend visiting throughout the year except for the late summer months (between early July and late August) because of Arizona's monsoon season. Otherwise, visitors can anticipate fairly cloudless evenings. A few of the best spots include:
Merry-Go-Round Rock along Schnebly Hill Road
Although it's somewhat of a drive, there is a small pullout area near Merry-Go-Round Rock along Schnebly Hill Road where guests can park and walk away from the roadway to gain a great stargazing spot. It's recommended to bring a quality red flashlight to help you see your way in the dark.
Crescent Moon Picnic Site
The Crescent Moon Picnic Site is situated at the end of Red Rock Crossing Road, near the parking lot for the day-use area. There are open parking spots near the trees as well as a few trails you can walk along to find a great vantage point.
The Jordan Observing Area
Located at the Jordan Trailhead, this site sits at the end of West Park Ridge Drive. Although the dirt road can occasionally get washed out or sandy at times, it's usually manageable for most vehicles. At the end of the road, there is a parking area with a big field where you look at the stars.
4) Drive the Red Rock Scenic Byway
Spend some time taking in Sedona's natural beauty by driving the 7.5 mile Red Rock Scenic Byway. Just take exit 298 off of Interstate 17 to travel the byway, where you'll encounter numerous trailheads and scenic overlooks if you wish to stop along the way.
Once you arrive in Sedona, you'll most likely hear about cyclones of energy that come from nearby vortexes. In fact, many believe that all of Sedona is a vortex. Moreover, there are supposedly four primary vortexes throughout the city that each radiate a special tangible energy, marked by rock formations that emit said energy. One of the most popular vortexes to visit is Airport Mesa. However, if you don't believe in them, you can still garner excellent views of the city from this spot in particular.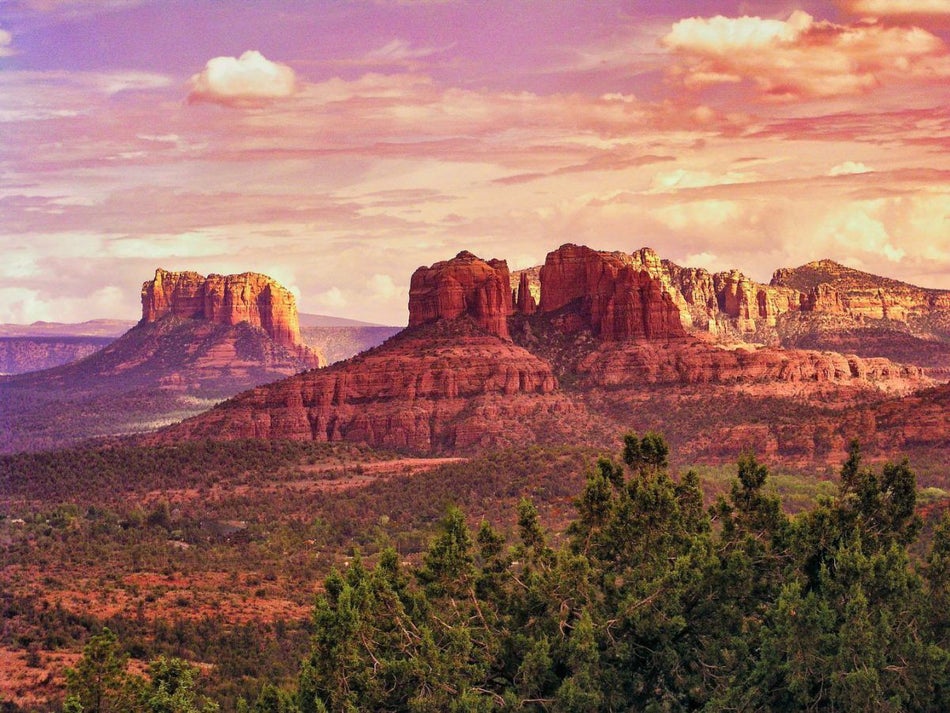 6) Watching Sunsets
Cooler temperatures and awe-inspiring views await you when you drive or hike to local natural areas before sunset. If you're wondering which locations are best for watching a Sedona sunset, we recommend:
Sugarloaf Hill
Airport Mesa
Cathedral Rock
Schnebly Hill Drive/Mogollon Rim
7) Take a Trolley Tour
Sit back and relax on any one of these full narrated trolley tours that wind through gorgeous Sedona. Pass through the Arts Village, Chapel of the Holy Cross, Thunder Mountain, or the Boynton and Fay Canyons. You can pick and choose or experience all:
8) Visit Amitabha Stupa and Peace Park
Known for its new age vibes, Sedona has plenty of areas for peaceful reflection. We suggest taking a trip to the Amitabha Stupa and Peace Park, a prime spot for remaining mindful. This 14-acre oasis features a 36-foot tall Buddhist structure (the Stupa) and a scenic trail lined with trees and prayer flags.
The park suggests visitors walk around the Stupa three times clockwise, keeping a focused intention in mind as you circle. However, guests can also sit and enjoy quiet solitude.
Regardless of your religious affiliation, the Chapel of the Holy Cross' location offers incredible views. Built into the buttes of the canyon along the Red Rock Scenic Byway, this impressive structure blends modern design with the natural elements of the surrounding canyons.
To access the chapel, there is a steep access road. As a result, there is typically an escorted golf cart that transports visitors from the small parking areas to the chapel itself.
Sedona on a Budget: Cheaper Eats
Any of these well-reviewed cheaper dining establishments will keep you full and happy without draining your wallet.
Where to Stay in Sedona on a Budget
Although Sedona is known for luxurious accommodations, visitors can obtain reasonably priced hotel rooms for under $150. Budget-friendly, well-rated hotels in the area include:
Beaver Creek Inn
The Lodge at Cliff Castle Casino
Lux Verde Hotel
Visit Sedona on the Cheap
Do you have favorite, affordable spots and activities in Sedona? Let us know what you plan on doing during your trip.