Searing natural beauty, otherworldly red rock formations, and steep-walled canyons that take your breath away make Sedona a world-class romantic destination beyond reproach.
It is said that God may have created the Grand Canyon, but he lives in Sedona. And can you blame him (or her)? With stunning sandstone arches, scenic overlooks, and ponderosa pine forests, romantic Sedona was designed for couples. Follow along to uncover the 34 most romantic things for couples to do in Sedona AZ.
Try to resist the romantic allure of Sedona's vortexes, art galleries, and rugged wilderness. But, this is one love-struck locale that won't let go.
A romantic getaway to the Sedona area packs a passion-filled punch from thrilling off-road Jeep adventures to dreamy evening stargazing sessions.
Best Hotels in Sedona for Couples
Whether you are celebrating a special anniversary, engagement, or honeymoon, a romantic getaway in Sedona will surely add some sizzle to your relationship.
Level up your romantic rendezvous in Red Rock Country by booking any of our first-rate Sedona Hotels.
From luxurious resorts in Sedona for couples with on-site spas and 18-hole golf courses to more quaint country-style inns, we offer a plethora of accommodation options for every couple's taste and budget.
Get even closer with your paramour when you reserve one of the best resorts in Sedona for couples.
Enjoy an adult quiet pool and live music on select nights at the Hilton Sedona Resort at Bell Rock. Or, act like newlyweds when you sneak into another Sedona couples resort such as Los Abrigados.
As always, reserve your lodgings without hesitation, knowing you are guaranteed our lowest rates.
Romantic Cabins in Sedona AZ
Psst.. want to know Cupid's little secret? Sometimes one of the best couple things to do in Arizona is just to get away from it all. Level up your Sedona Arizona romantic getaway, when you book a picture-perfect cabin for two.
Luxurious and secluded accommodations let you and your lover reconnect stress-free while you revel in the desolate desert scenery. From sprawling homes featuring open-concept kitchens and Viking appliances to hardwood floors and private jacuzzi tubs, romantic cabin rentals in Sedona will sweep you off your feet.
Sedona Couples Spa Packages
Hot Stone massages, invigorating essential oil treatments featuring aromas of lavender and eucalyptus, and soothing Aloe wraps. Every vacation deserves a little bit of TLC, and there's nowhere more tempting to get your 'spa on' than Sedona. Even self-care newbies can agree that one of the best things to do in Sedona is schedule a couple's spa day:
Poco Diablo Resort & Spa

 - in the mood for some devilishly decadent skin and body treatments? Hightail it to Poco Diablo for some unique wellness experiences, including Chakra Balancing Facials, Essential Oil Wraps, and Moroccan Clay Foot Masks.

Amara Resort & Spa

 - no rain in the desert? Not at Amara! Lift your spirits and feel silky smooth from head to toe, when you indulge in their signature Rain Dance Massage featuring lavender, rosemary, and sage oils.

L'Apothecary Spa

 - natural-based therapies and treatments utilizing local, organic ingredients are what's on the menu at L'Auberge's famous spa. Settle in for a full Cottage Immersion and let the spa come to you, or relish the bounty of Sedona with a Desert Flower Massage.
Most Romantic Sedona Restaurants
Come for the Red Rocks, but stay for the food! Mother nature may do some heavy lifting with the awe-inspiring scenery, but our compliments are with the Sedona chefs. Don't miss out on one of the most orgasmic things for couples to do in Sedona AZ. The seamless blending of farm-to-table ingredients, inventive flavor combinations, and international influences make dinner dates here a mouthwatering affair.
Mariposa Latin Inspired Grill
Floor-to-ceiling windows perfectly frame Mariposa's unbeatable view of Sedona and set the stage for romance. Let the top-notch servers take care of you and order with abandon from their tapas-inspired menu. We suggest handmade empanadas, tuna parfait, and exquisite Flores Del Mar.
Dahl & Di Luca Ristorante
Award-winning cuisine, a romantic Mediterranean ambiance, and an extensive wine list make Dahl & Di Luca a go-to for any date night. First, pique your appetite with the warm seafood bruschetta or siciliana cozze, followed by their luscious lasagna or gnocchi. 
L'auberge Restaurant on Oak
Sustainable ingredients, a Conde Nast accreditation, and transcendent views of Oak Creek make L'auberge a certified hit. Book a private dinner at the Creekside Reserve, or indulge in prix-fixe culinary perfection at Cress on Oak. 
Most Instagrammable Spots
Instagram husbands, wives, and partners relax! We've taken the guesswork out of compiling Sedona's most scenic spots to bring you the most romantic couples' vacation pics yet:
Cathedral Rock - for a dramatic sunset photo, head to Cathedral's Rock and document this dynamic ledge.

Devil's Bridge - the largest natural sandstone arch in the Sedona area, is just begging to be memorialized on your Instagram feed. 

Birthing Cave - this undeniably photogenic cave offers ample opportunity for amateur photogs to play around with perspective and angles. 

Tlaquepaque Arts & Shopping Village - modeled after the Tlaquepaque area of Guadalajara, Mexico, this charming plaza is social media clickbait with its beautiful cobblestone walkways and arches, quaint buildings, and bubbling fountains. 

Oak Creek Canyon - this magnificent river gorge is located in Slide Rock State Park and is renowned for its scenic beauty reminiscent of the Grand Canyon. Pack a picnic lunch and enjoy miles of hiking trails, fishing, and recreational areas.
Best Sunset Spots
Sunsets in Sedona will leave you speechless. Between the rugged mountain topography, expansive mesas, and verdant Northern Verde Valley, there is a bevy of locales in which to snuggle up to your sweetie and watch the sun disappear:
Airport Mesa Road

Vultee Arch

Cathedral Rock

Bell Rock

Red Rock Crossing
Romantic Things to Do in Sedona
Hot desert days that fade into cool nights set the scene for a week or weekend full of Sedona romantic activities. From ethereal Sedona stargazing to thrilling helicopter or wine tours, every moment of an Arizona escape is filled with otherwordly wonder.
Verde Canyon Railroad
Choo choo! Throw your courtship back to the days of romantic train travel when you take your turtle dove on a first-class trip aboard the Verde Canyon Railroad.
The clickety-clack of the train's tracks will provide a soothing lullaby as you and your beloved gaze in awe at the spectacular desert scenery accompanying your 4-hour ride through Arizona's backcountry.
Relax in the comfort of your luxury car as train attendants cater to your every whim and provide complimentary hot and cold appetizers. Meanwhile, snake around the searing majestic red-rock canyons on the Southwest's most enchanting train. 
This unique "boutique" train attraction serves up two impressive views for each guest: inside viewing through large panoramic windows and 360-degree views from adjacent open-air viewing cars. 
Diamondback Gulch Jeep Tour
Jump for Jeep joy as you and your better half bolster that bravery and embark on an extreme off-roading adventure.
The Diamondback Gulch Jeep Tour is an exciting way to get up close and personal with Sedona's wide-open rugged terrain and witness world-class views of the western red rock canyons. So climb aboard your open-air Jeep for 2.5 hours of adrenaline-pumping fun as you make your way through Diamondback Gulch. 
Listen up, as your expert natural guide will be outlining the endemic flora, fauna, archeology, and geology that pepper this region. Fans of the old spaghetti westerns will want to keep alert as this area was once a popular filming locale for Hollywood. Similarly, it has inspired much Cowboy folklore and legend.
Scenic Sedona Tour
Fairytale-like formations of red rock and frequent photo opportunities make this introductory tour of Sedona's hidden treasures ideal for any first-time visitor. Prime your partner to uncover the well-loved spots and hidden gems of this Southwestern oasis on your Scenic Sedona Tour.
Observe Oak Creek Canyon, one of the most scenic locations in the US. Meanwhile, peruse shining silver and turquoise Native American jewelry or learn about the mystic powers and spiritual significance of some of Sedona's most sacred sites.
This 2.5-hour sightseeing tour gives you and your love the 411 on Arizona's most romantic city.
Absorb fascinating facts, historical, geological, and archeological musings as you make stops at: 
Airport Mesa

Chapel of the Holy Cross

Tlaquepaque Arts & Shopping Village

Schnebly Hill Road 
Your tour can be fully customized to highlight your interests. So whether you are searching for national geographic-worthy vistas or diving into the art gallery scene, romantic Sedona has you covered.
Sedona Air Tours
Hog Wild Helicopter Tour of Sedona
Up, up, and away! Take your love sky-high on a Hog Wild Helicopter Tour of Sedona. 
Soar thousands of feet in the air and revel in exquisite views not witnessed elsewhere on your 35-minute helicopter excursion. 
Have that camera at the ready, as you'll need to press record on the stunning video and photos captured from your bird's eye point of view. Luckily, your skilled and experienced pilot is an old pro at maneuvering the chopper to obtain that perfect shot. 
With an overload of red rock canyons, mountains, and mysterious vortexes to absorb, you won't want to miss a moment of this heart-pounding flight.
Hog Wild is a deluxe tour experience that features the best of both Bear Wallow, Ancient's Way and showcases Sedona's iconic Red Rocks formations and Western Wilderness Canyons.
Ancient's Way Helicopter Tour of Sedona
Bewitch your beloved with some extraordinary birds-eye views on the Ancient's Way Helicopter Tour of Sedona.
A sublime way to take in Sedona's topography, this 25-minute aerial tour packs a punch with panoramic views of the Secret Canyon, Long Canyon, Boynton Canyon, and the ancient Sinagua Cliff.
Keep snapping pics, as you'll want to create lifelong memories of the scenic Dry Creek area, Cocks Comb, and Doe Mesa. 
Your professional pilot will keep you and your boo on your toes as they regale you with interesting facts, points of interest, and entertaining stories regarding the region. 
Bear Wallow Run Helicopter Tour of Sedona
There is nothing like the distinct beauty of the ravishing Red Rock mountains. Amplify the allure of these mystical formations when you glimpse upon them from above on your Bear Wallow Run Helicopter Tour of Sedona.
Get lovey-dovey with your pumpkin on this thrilling 15-minute helicopter tour that cruises by Cathedral Rock, Bell Rock, and the Chapel of the Holy Cross. 
Revel in the geological splendor of other popular sites, including Snoopy Rock and Bear Wallow Canyon, as your expert aviation guide educates you on the land's fascinating history and legends of lore. 
Sedona Hiking & Stargazing
The Original Sedona UFO and Stargazing Night Tour
For many millions of years, man has been mesmerized by the night skies and the secrets she holds. the time-honored tradition and romance of stargazing when you and your significant other gazes in wonder at the constellations in Sedona.
Your Original Sedona UFO and Stargazing Night Tour takes the mystery out of where and when to spot the most brilliant stars. Keep warm with the provided heaters and pull on your uber-efficient military night vision goggles as you prime yourself to spot millions of stars.
This 1.5 hour guided tour takes you to three superb viewing locations to witness the most astronomical activity.
Bounce between the Fay Canyon area, Cultural Park Place, and the Crystal Magic Psychic Center as you gaze up at the heavens above and try to name the constellations and spot the UFOs. 
Romantic Sedona Stargazing Tour
An inky black night sky, dotted with the most brilliant stars, makes for an evening of astrological amour. Take turns searching for the Milky Way and the Big Dipper on this one-hour Sedona Stargazing Tour.
Meanwhile, snuggle even closer to your sweetie. Then strap on your learning caps and start your stargazing excursion led by professional astronomers. Therefore, take notes as your knowledgeable professors give you the down-low on the planets, stars, and distant galaxies.
This thoroughly hands-on tour also provides high-powered laser pointers, special GPS auto position telescopes, and wide view binoculars. This ensures you can more easily witness close-up views of star clusters and nebulas.
This award-winning tour has been featured in National Geographic and the New York Times, an ideal tour for any space-obsessed duo.
Antelope Canyon and Horseshoe Bend Day Trip from Sedona
Dream-like structures in the boldest red hues await you and your sugar plum on this tour of sacred Navajo land. Fulfill every sensual sandstone fantasy on this 11 hour guided tour of Antelope Canyon and Horseshoe Bend Day Trip from Sedona. 
Jump headfirst into the indigenous culture and the fascinating natural formations of Antelope Canyon and Horseshoe bend with your native Navajo guide.
Both of these areas are renowned for their photogenic allure. Meanwhile, you'll have plenty of opportunities to snap magazine-worthy photos as you complete your 1.5-mile hike to the bend. 
Satisfy your growling stomach with a tasty picnic lunch at Glen Canyon Dam (and some lovely Lake Powell views) before stopping at Cameron Trading Post for a quick souvenir shop.
Sedona Wine & Food Tours
Wine Tour from Sedona to four Verde Valley Vineyards in Luxury Transportation
It is said that the 'heart drinks wine,' so then fill yours with an undeniably romantic Wine Tour from Sedona to four Verde Valley Vineyards in Luxury Transportation. Let the flavors of love bloom on your palate as you spend 5-6 hours touring the best local Sedona wineries in style. 
Kick off your day of vino-fueled frivolity when your luxury tour coach picks you up. Then, make your way to various award-winning wineries where you will taste, sample, and see the production facilities and barrel rooms.*
Savor visits and exclusive discounts on tastings and bottles at any of the vineyards:
Alcantara Vineyards and Winery

Page Springs Cellars

Javelina Leap Vineyard, Winery & Bistro

Oak Creek Vineyards & Winery
Served on sumptuous linens, every wine tour guest will be provided with their own charcuterie tray. Enjoy mouth-watering morsels of French bread, gourmet cheese, hard salami, olive oil with balsamic vinegar, grapes, nuts, and chocolates.
Finally, end your day on a savory note and soak up some of that tasty merlot with a charming picnic lunch. 
**Wine tastings are not included in the tour ticket price. 
Bliss Wine Tours Sedona - Visit 4 Vineyards with AZ's #1 Wine Tour Experience
Bathe in Beaujolais bliss with Bliss Wine Tours Sedona. Elevate your romantic Sedona affair and spoil your sweetie with this luxury wine tour experience. 
Sip away the day as you spend 6-7 hours being purely pampered on this customer-focused wine tour. First, relax, then sit back in comfort as you are chauffeured around four top-tier wineries in your very own Mercedes-Benz Sprinter or stretch limo.
Move at your own speed as you will be spending roughly one hour at each of the following divine wineries and vineyards:
Alcantara Vineyards and Winery

Page Springs Cellars

Javelina Leap Vineyard, Winery & Bistro

Oak Creek Vineyards & Winery
Chuck Wagon Supper & Western Stage Show at Blazin' M Ranch Ticket
Wrangle your favorite cowboy and whisk yourselves away to the wild west for an evening of frontier fun with Chuck Wagon Supper & Western Stage Show at Blazin' M Ranch. Hightail it to the Blazin' M Ranch in Cottonwood for some good old-fashioned riding, roping, and live entertainment.
Wander around a lovingly recreated frontier town featuring museums, shops, vintage tractor rides, a live shooting gallery, ranch critters, and more. Then, settle in for an authentic western-style chuckwagon dinner.
Feast on fluffy homemade biscuits, prickly pear coleslaw, BBQ chicken, and pork ribs. Dinner is followed by a sweet caramel apple crisp for dessert. Finally, move on to the main entertainment course as you and your muffin are treated to an hour of country cowboy stylings, including:
Music

Poetry

Storytelling

Cowboy Comedy 
Unique Experiences
Sedona Vortex Tour by Jeep
Curious about Sedona's mystical side? Then set forth on an afternoon of spiritual adventure on the Sedona Vortex Tour by Jeep.
This 2.5 hour guided tour is the perfect introduction to the world of vortexes, magic, and enlightenment. Your expert guide will outline the powers, history, and beliefs surrounding Sedona's most famous vortexes. Therefore, keep your ears and mind open!
Due to your group's small size, you will have the ability to tailor your tour to your specific interests and passions. So venture forth by Jeep as you make your way to multiple vortexes and discover their powerful connections to Chinese medicine, American Indian lore, and New Age Mysticism.
Private Sedona Vortex Spiritual and Scientific Tour
Is your paramour a proponent of new age mysticism and magic? Then, pique their interest and passion with a Private Sedona Vortex Spiritual and Scientific Tour.
No romantic visit to Sedona is complete without a small dabble in its spiritual scene. Uncover the intrigue and American Indian history behind these sacred sites during your tour.
Did you know vortexes are considered centers of positive energy? This 2.5-hour tour will take you on a journey to three of Sedona's most famous and powerful spots, including:
Sedona Airport Overlook Site

Amitabha Stupa & Peace Park

Long Canyon Trail.
Sedona Spiritual Empowerment Reiki Energy Vortex Tour-Great for Couples!
Align those chakras and tap into a deeper couple's connection on your romantic Sedona Spiritual Empowerment Reiki Energy Vortex Tour.
Release negative energies and surrender to spirituality on this 2 hour guided tour led by your Reiki Master.
During your tour, you'll travel to sites such as:
Amitabha Stupa & Peace Park

Seven Canyons

Thunder Mountain Trailhead
Meanwhile, you'll learn about male and female vortex energies and the Native American medicine wheel.
Rejoice in the bounty of nature's views before concluding your tour with a Chakra reading and gift at the Intuitive Wellness Center.
Small-Group Sedona Photography Workshop with Lunch or Dinner
Calling all shutterbugs! Swoon over your romantic Sedona vacation for years to come when you book a Small-Group Sedona Photography Workshop with Lunch or Dinner. Then, lovingly commemorate your time in Red Rock Country with fridge-worthy photos that will put your phone selfies to shame! 
This half-day photography workshop will have you turning simple snaps into works of art. Master a few easy photography tips and tricks, and be on your way to documenting the landscape of Sedona's desert and cerulean skies.
Before your photography class, you will be tasked with filling out a questionnaire. This ensures your itinerary is ideally suited for your interests and skill level.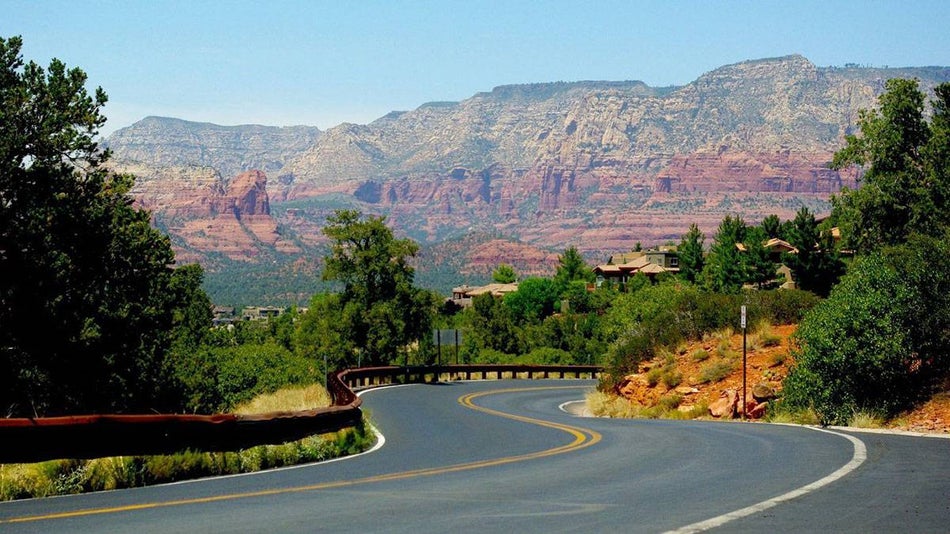 Ruff, rugged, and ravishing, the terrain of Sedona is just begging to be explored. From the giant Saguaro cacti to the mesas of Cathedral Rock, the intoxicating beauty of this land is ever-present. 
Couples will delight in expanding their horizons as they tackle invigorating hikes, vortex visits, and aerial tours.
Whether you and your partner choose to soar the skies or eat finger-licking-good BBQ at a real Western spectacular, the unbridled nature of Sedona is sure to bring romance.  
What Other Things to Do in Sedona for Couples Have You Enjoyed?
Did we miss any of the best Sedona Romantic Things to Do?
Let us know in the comments below!