For most of the country, March may not exactly conjure images of beach days, surfing, and sun-soaked sunsets. However, residents and visitors of 'America's finest city' know that nothing beats a San Diego spring break.
Follow along to unearth the secrets to a sensational San Diego spring break in 2023.
Less busy, and boasting far more temperate weather than the sweltering summer months, spring break provides the ideal opportunity to explore San Diego's staggering natural beauty, unique history, and world-class theme parks and attractions.
Whether you are wondering where to take the kids for spring break or have a hankering for some adults-only time with a side of ocean views, this gem of the Pacific provides it all.
San Diego is a Southern California paradise just begging to be discovered from the end of March through early April.
Seek out sea lions in La Jolla, marvel over cuddly Koalas at the world-renowned Zoo, or step aboard maritime history on the USS Midway Museum.
Spring Break San Diego Hotels
Beach or city vibes? Whether you are looking for family-friendly accommodations that will put you that much closer to Legoland or SeaWorld or would prefer to check out the bustling nightlife in the trendy Gaslamp district, we have several options when it comes to San Diego Hotels and Lodging.
From oceanfront resorts in La Jolla to boutique hotels downtown, you can make your Spring Break reservations without hesitation, knowing you are always guaranteed our lowest rates online. 
Spring in San Diego
Sweet ocean breezes, bricktacular amusement parks, and fewer crowds make San Diego in March a near-perfect time for a spring break vacation. Avoid the swarm of summer tourists as you revel in mild temperatures. Average high temperatures for March in San Diego will hover around 67 degrees with lows of 54 degrees.
Moving into April, you can expect an even more pleasant outdoor ambiance. Weather in San Diego in April is ideal for a comfortable beach day with highs of almost 70 degrees and lows of 56 degrees. However, don't forget to pack a light spring jacket for those nightly Belmont Park boardwalk strolls.
Things to Do in San Diego Spring Break
Still wondering what place to go in San Diego? Stop your endless scrolling for 'spring break family ideas' and 'fun things to do spring break' in SoCal with our guide. We've done hours of research to bring you the ultimate bucket list of where to go and what to do in this coastal city:
Places to Take Kids on Spring Break
La Jolla Beach
While the water of the Pacific ocean might still be a bit nippy come late March, that doesn't mean you have to skip out on the beach fun entirely! La Jolla, also known as the 'jewel of San Diego,' features a rugged coastline full of 300-foot sea cliffs, rocky reefs, secluded coves, and more.
Head to La Jolla shores for a sandy beach experience and perfect your stroke with a day of kayaking or a picturesque beach picnic. Then, closer to downtown La Jolla, head to the Children's Pool to scope out some barking sea lions.
For even more experiences, check out Things to Do in La Jolla California - 9 Must-Try Activities!
Mission Bay
A real-life water-bound playground, Mission Bay is just chock full of exciting aquatic entertainment. Paddle Board, jet ski, or sail the day away as you venture into this 4,600-acre all-ages park.
Head to Santa Clara Point to hit the water and rent a wave runner, or spend some time onshore when you build a beach bonfire on Ski Beach. And, if Fido is accompanying you on your Spring Break shenanigans, be sure to check out the off-leash dog beach on Fiesta Island. 
Pacific Beach
Surfs up! Capture some of that classic Spring Break action when you party it up at Pacific Beach. Often referred to as P.B by locals, this scenic sandy beach features 3 miles of boardwalk, a plethora of beach bars, and some seriously gnarly waves.
Kooks or beginner surfers should head to Tourmaline Surfing Park with their wetsuit in tow, while those searching for more tranquil supervised swimming vibes can park their umbrella at North Pacific Beach. 
Tide Pools
Need a non-swimming activity to occupy your little ones? Introduce them to the wild world of wonder exposed during San Diego's low tide. Tide pools combine equal parts of education and entertainment for a thrilling afternoon of scavenging.
Search underneath the volcanic rocks, sandstone, and more to discover hidden intertidal ecosystems of snails, shore crabs, barnacles, mussels, fish, and octopus. 
Cabrillo National Monument
San Diego's only National Park makes quite a splash with its intriguing mix of scenic bay views, exhilarating hikes, and maritime history. Look out for hermit crabs and anemones in Point Loma's tidal pools, stretch your legs on the 2-mile Bayside Trail, or pray you're lucky enough to catch some Gray Whales migrating from the lighthouse vantage point.
Even if you miss these monumental mammals, you'll be glad to get a glimpse of this towering structure which has been lovingly restored to its 1880's appearance. In addition, history buffs should stop at the military history exhibit to uncover the integral role that Point Loma played in WWI and WWII. 
Belmont Park
Almost a century old, San Diego's most historic amusement park manages to strike the ideal balance between nostalgia and new attractions. Earn rapturous acclaim from your kiddies when you kick off your spring break for kids at Belmont Park. Founded in 1925, this San Diego staple is chockfull of classic rides, attractions, and games. Meander down the boardwalk, or take a refreshing dip in the Plunge San Diego Pool.
Hold on for dear life as you experience the exhilaration of a Zero Gravity free fall, or keep it classic with the Tilt-a-Whirl. If thrill rides aren't your thing you can still spend hours showing off your athleticism on the Rock Wall or dominating a game of laser tag. For a mental workout, try to puzzle out the clues and mysteries of Escapology San Diego.
Once you get your fill of Midway Games, photo booths, and more it's time to relax. Adults will savor the sand between their toes as they suck down an ice-cold Margarita at the Beach House. While tiny ones will be tempted to eat their weight in Dole Soft Serve or Dippin' Dots.
Torrey Pines State Natural Reserve
Wild, untamed, with staggering Pacific Ocean views at every turn, Torrey Pines is a true naturalist's paradise. Gaze in wonder at our nation's rarest pine tree as you meander your way through this 1,750 acre protected reserve.
Hikers of all levels will be in heaven, as the park offers 8 miles of trails at various distances and experience levels. On weekends you can even link up with a free guided tour which leaves from the unique pueblo-style visitor center. 
Fun Things to Do During Spring Break in California
SeaWorld
Come face to face with real-life sharks, dolphins, and more when you spend a day discovering the underwater magic and amusement of SeaWorld. Equal parts aquarium and water park, SeaWorld is an epic escape into our planet's mysterious oceans.
Thrill-seekers should hold tight as they'll want to soar sky-high with Manta or conquer the electrifying twists and turns of the Electric Eel. Waddling penguins, snuggling sea otters, and playful orcas all call SeaWorld home, and daily live educational presentations will help curious kiddos learn more about these creatures.
Feel the slimy skin of a friendly Bat Ray, feed Flipper a few fish, or test your mettle on the brand new dive coaster, the Emperor!
San Diego Zoo
Lions, tigers, and bears, oh my! Travel around the globe, marveling at over 650 species of rare and endangered creatures, when you spend an animal-filled day at the renowned San Diego Zoo.
An over 100-acre urban oasis of exotic flora and fauna, this famous conservation institution has been educating and delighting visitors of all ages for over 100 years.
Take at least a day (or two) to soak in the stately snow leopard, the mysterious fossa, and the fierce Komoda dragons. Then, climb aboard the miniature Balboa Park Train for a four-minute ride, take to the Skyfari to see the park from above, or kick back and relax with an immersive 4-D theater show.
Budding biologists won't want to say bye to Balboa Park until they sneak in a wildlife care specialist talk or catch the predators of the dark continent at Africa Rocks. 
San Diego Zoo Safari Park
Grab those binoculars and get ready for a wildlife-filled adventure when you discover The San Diego Zoo Safari Park. Enjoy an African-themed oasis of 1,800 acres featuring over 2,600 endangered animals. In addition, this sister park to the San Diego Zoo serves up hours and hours of educational entertainment.
Seek out the rare Sumatran tigers at Tiger Trail, then hop aboard the Africa Tram. Or, take to the heavens above when you book an unforgettable hot air balloon safari!
With over five unique safari options, you can watch the animals from the comfort of a safari cart. Or, even spend a fun-filled night camping out at the park!
Legoland California
A land of awesomeness awaits you and the whole family at Legoland, California! First, build the brick-laden masterpiece of your dreams. Then, join your buddies Emmet, Benny, and Metal Beard for an all-new LEGO movie 4-D adventure. Meanwhile, feel your adrenaline pump as you conquer the twists and turns of the Technic coaster.
With over 60 rides and attractions, there's never been a better time to spin, drop, or bounce over to Legoland. And to add a splash of aquatic excitement to your San Diego day, bundle your Legoland tickets with the maritime merriment of the SeaLife Aquarium next door. 
Momentous Monuments & Museums
USS Midway Museum
Don't let that sprinkle of San Diego spring rain ruin your plans! Instead, harness your naval appreciation and hone your US history skills when you visit the longest-serving U.S. Navy aircraft carrier of the 20th century.
The USS Midway Museum allows you to enter a world at sea. Immersing yourself in the lives, loves, and stories of the over 200,000 sailors who defended our nation. See the sailor's bunks, walk through the galley where they ate their meals, and even head to the hangar deck. Enjoy getting your eyes on a real World War II-era R-2800 Twin Wasp engine.
America's future pilots should test their aviation skills on the museum's two flight simulators. Finding out if they have what it takes to be an F/18 pilot!
Balboa Park
Science, history, and stunning biological beauty collide at America's largest urban cultural park. Balboa Park houses over 16 museums, multiple theaters, an abundance of lush gardens and trails.
Fun Fact: Balboa Park is often heralded as the 'Smithsonian of the West.'
Dive into the mystery of hidden gems, fossils, and flesh-eating beetles at the San Diego Natural History Museum. Or put the pedal to the metal at the San Diego Automotive Museum.
Looking for a more laid-back reprieve that will help you achieve your own San Diego serenity? Stroll through the koi ponds and unique stone arrangements of the Japanese Friendship Garden. Or observe the beauty of the Monarch and Swallowtail butterflies in the former nudist colony now known as the Zoro Garden. 
Sensational Sightseeing & Food Tours
Classic Harbor Dinner Cruise
Reserve yourself a slice of fun when you dine underneath the stars while at sea on your Classic Harbor Dinner Cruise. Set sail for a watery 2.5-hour escapade of fine dining, sensational scenic views, live cruise entertainment, and more.
Cheers with your complimentary champagne as you enjoy your gourmet three-course meal made from fresh, local ingredients. 
Tequila, Tacos, and Tombstones Tour
Add some excitement to your culinary exploration of America's Finest City. Combining the tastiness of tacos and tequila with the haunting stories of San Diego's colonial past.
This 2.5-hour tour is pure foodie fantasy. Featuring bites of authentic Mexican tacos, sips of tequila cocktails in Old Town, and hair-raising ghost stories and graveyard visits.
Look out for spooky specters as you stop by the Whaley House. Aptly named America's Most Haunted House by the Travel Channel. Meanwhile, take mental notes as you learn how to make fresh corn tortillas from scratch.
Whale Watching Tour
On a quest to spot the elusive massive mammals of the deep? March may be the tail end of whale watching season, but we highly encourage all San Diego visitors to climb aboard a whale watching cruise. Attempting to grab a glimpse of a Great Gray Whale.
A natural phenomenon like no other. Every year thousands of whales migrate from the Bering Sea to the lagoons of Baja, California. Learn everything there is to know about these gentle giants when you jump aboard a cruise. 
San Diego Harbor Cruise by Flagship
Ahoy matey! Why settle for landlocked sightseeing when you can savor the sublime sights of San Diego Bay from the sea? Join San Diego's longest-running harbor cruise company for a one or 2-hour tour of the city's waterfront sights.
Sail through Seaport Village, Point Loma, Coronado Bay Bridge, the Cabrillo National Monument, and more. Meanwhile, have your camera handy as you'll want to document every moment.
Choose from three professionally live narrated tours ranging from 12-25 miles in length. Finally, don't forget to collect your complimentary souvenir photo!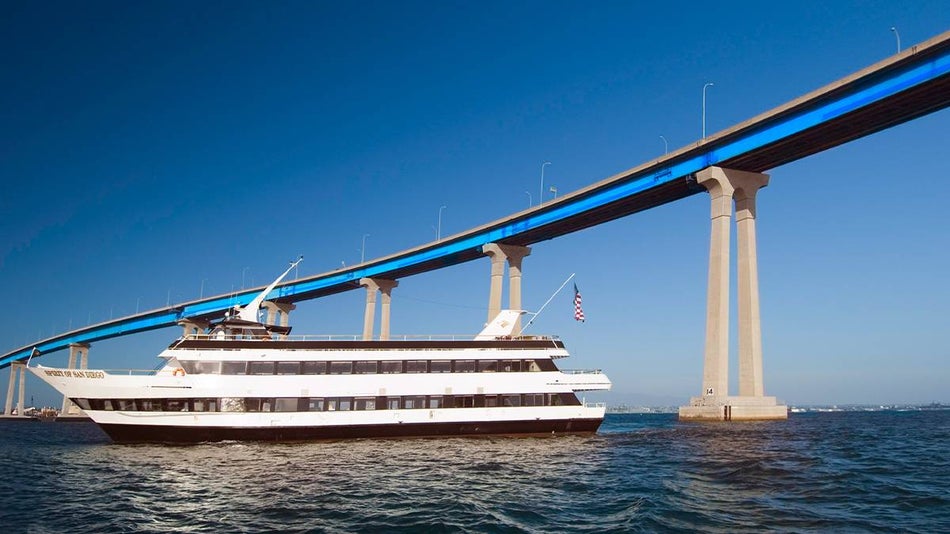 San Diego's less famous but equally apt moniker is the 'City in Motion, and it's easy to see why. Home to both a sparkling Bay and an abundance of wide sandy beaches, both locals and visitors here are always on the move.
The pleasant temperatures of March and April make Spring Break an ideal time to investigate every experience offered.
The many world-class museums and kid-friendly attractions will tantalize those seeking more educational entertainment.
From salt water-filled days jet-skiing around Mission Bay to late-night s'mores and bonfire sessions at Ski Beach.
There are so many ways to experience the natural wonder of Southern California. Add to the mix a spread of tacos, orca encounters, and LEGO journeys, and you may never want to leave.
So stop delaying your dream vacation and book your spring break in San Diego today!
What Spring Break San Diego 2023 Activities Did We Miss?
Let us know in the comments below!