Sixty miles of white sand beaches, swaying palmetto trees, and an abundance of nostalgic boardwalk fun make this serene South Carolina oasis a destination on any water lover's radar.
After a day of ocean-bound delights, head inland to experience the bounty of romantic restaurants in Myrtle Beach. Whether you are craving fresh seafood, oceanfront views, or tableside service, we have the inside scoop on the most romantic restaurants on the Grand Strand. Follow along to discover the 13 best options for fine dining Myrtle Beach.
From the mesmerizing natural beauty of the Lowcountry to searing sunsets at Surfside Pier and tantalizing crab soup, the Grand Strand was genuinely built for romance.
Tempt your lover with live music and a private dinner on the beach in Myrtle Beach. Or ditch the sandals for a tailored jacket when you sneak in fine dining in North Myrtle Beach.
Linger over butter-soaked bites of the fresh catch of the day, or slowly sip on a crisp Sancerre at one of the many upscale restaurants in Myrtle Beach.
With Valentine's Day right around the corner, there's no better time to delight your better half with a romantic dinner for two.
Romantic Myrtle Beach Hotels
Before you and your famished flame can experience the orgasmic pleasure of Myrtle Beach fine dining, you'll need to secure top-notch lodgings. Live in your love bubble just a little bit longer when you reserve any of our excellent Myrtle Beach Hotels and Resorts.
Kick back in a homey oceanfront condo, or appreciate the full-service amenities at a high-rise beach resort before you venture out for your romantic dinner in Myrtle Beach.
Wherever you decide to lounge with your lover, or get dolled up for the fancy restaurants in Myrtle Beach, make your booking without hesitation, knowing you are always guaranteed our lowest rates online.
Looking to amp up your coastal courtship? Read Things to Do for Couples in Myrtle Beach: 23 Romantic Date Ideas!
Romantic Places to Eat in Myrtle Beach
Well-seasoned foodies and culinary newbies alike will be fawning over the variety of nice restaurants in Myrtle Beach. Inject some sea salt-scented spontaneity into date night with a romantic dinner on the beach in Myrtle Beach. Or, assuage your need for stone crabs at surf and turf at a beloved steakhouse eatery.
From vino-soaked suppers to casual cocktails by Murrells Inlet, every couple will be swept away by the scenery, ambiance, and flavors of the Myrtle Beach area.
Sea Captain's House
Aye, Aye, Sea Captain! Sail full speed ahead when you and your seaworthy companion heed the orders of the sea and dine on fresh seafood galore.
One of Myrtle Beach's most lauded seafood restaurants, this charming cottage was originally built over 90 years ago as a beach getaway. 
Today the Sea Captain's House serves up warm Southern Hospitality, swoon-worthy oceanfront views, and the most delectable seafood and Southern-inspired cuisine.
Grab a table underneath the wrought white iron candelabra and toast to your date night with a frosty mojito or glass of wine. Then, devour everyone's favorite bacon-wrapped scallops or broiled crab cakes topped with homemade remoulade. 
Notable mains include the Captain's signature dishes such as traditional shrimp and grits or spicy, saucy Jambalaya.
For an even more romantic evening, be sure to grab your drinks' al fresco' and wander out to the patio for winsome piano music and panoramic vistas.
The Library 
No late fees or dusty bookshelves found here! The Library is one of the best fine dining restaurants in the Grand Strand, complete with tableside service.
Treat your honey to a distinguished dining experience when you secure a special reservation at the Library. Enter an impeccable word of first-class service, wine pairings, and elevated French and American fare.
For almost 50 years, the Library has served as the perfect backdrop for cultured couples seeking a unique Grand Strand dining experience. 
Revel in the moody, dimly lit, intimate ambiance as you tuck into a lobster cocktail and beef carpaccio. Then, draw out your delectable dinner even longer as you linger over bites of steak Diane, Duck L' Orange, and more.
Peruse their wine list for that perfect bottle, or reserve their special secluded wine cellar for even more privacy. 
Aspen Grille
While the Aspen Grille's moniker may conjure up images of Swiss Chalets and apres ski cocktails, the cuisine here is a homage to the bounty of the Lowcountry.
Carve out an hour or two to chow down on the Carolina's finest flavors with your cutie when you dine at Aspen Grille on North Kings Highway.
White tablecloths, vibrant marine-themed art, and live music come together to create a romantic setting for an intimate interlude.
Refresh your palate with a glass or two of Merlot or opt for a cooling 'Cucumbertini' featuring Ketel One vodka, ginger, mint, and lime.
Steak and seafood reign supreme here, and we love kicking off our romantic dinner with an order of oysters or seared Yellowfin Ahi Tuna Loin.
Aspen prides itself on only serving the best USDA steak, and their 6 or 8-oz Filet Mignon is truly a showstopper. 
For a sea-based entree, the local Panko Crusted North Carolina Mountain Trout with spicy Moroccan Hoppin' Jon, applewood smoked Bacon, and ginger-scented basmati rice always hits the spot. 
Croissants Bistro and Bakery
Luscious layers of buttery, flaky and tender pastry. Is there anything better than a fresh croissant? Share the special je ne sais quoi of butter and flour with your favorite Francophile when you stop by Croissants Bistro and Bakery.
With two convenient locations, you'll never be too far from their European bistro-like ambiance, bright outdoor patio setting, or fresh local dishes.
For over 25 years, Croissants has churned out creative plates, custom cakes, and breakfast favorites for the Grand Strand community.
Treat yourself and your partner to a classic Mimosa while you soak in their delightful Southern tea party-inspired decor and share an order of fried green tomatoes.
Go 50/50 on both sweet and savory when you order their famous Southern eggs benedict and Bananas Foster French Toast, made with homemade challah bread, to share.
Don't forget to grab a few sweet treats like their salted caramel brownie or brightly colored macarons for the road.
New York Prime
If your sweetie's version of date night is synonymous with steak, you must swing by New York Prime for your special occasion supper.
An elegant steakhouse with a classic supper club vibe, New York Prime's Myrtle Beach location is absolute USDA-certified carnivore heaven.
Locals and visitors alike have flocked to Prime for over 25 years to partake in their award-winning steaks and exceptional service.
Hold hands with your honey as you waltz into the spacious and light-filled dining room. Scan their diverse international wine list, or keep things simple with a timeless Negroni or French 75.
Indulge in a seafood platter, or if you're lucky enough to be visiting in season, share some Florida Stone Crabs.
Signature dishes, of course, include steak, and whether you opt for a Petite Filet or perfect for two 40 oz Porterhouse, it will be expertly broiled to juicy, tender perfection. 
21 Main
A Southern Plantation like resort setting studded by Palmettos sets the stage for romance at 21 Main. Embrace the charm of life below the Mason Dixon line when you celebrate any romantic occasion or Valentine's Day with 21 Main.
Nestled in North Myrtle Beach, 21 Main is the go-to for Seafood and Dry-Aged beef served in a luxurious setting.
Garnering numerous awards, including Wine Spectator's Award of Excellence and Diner's Choice. A meal at 21 Main is overflowing with Southern sophistication and exemplary service.
Contemporary flavors and traditional techniques come crashing together in their inventive menu. Featuring such delights as Calamari Fritti with tarragon aioli, Prime Tomahawk Ribeye, and pan-seared U-8 Scallops.
SeaBlue
Modern, minimalist, and seriously sexy, SeaBlue's blue-hued and dimly lit interior may have you thinking more 'nightclub' than a restaurant. However, this Grand Strand favorite delivers some of the best seafood in North Myrtle Beach.
A true culinary adventure from start to finish. A supper at SeaBlue highlights the very best of contemporary American cuisine and French cooking technique.
Celebrate any anniversary, engagement, or amorous affair with a glass of Syrah or Shiraz from their award-winning wine list. Or splurge for a whole bottle.
Get some greens in with their perfectly charred caesar salad. Or, indulge in a Myrtle Beach classic crab cake dusted in Old Bay.
Feast on the superb Magret de Canard duck breast. It's stuffed with wild game sausage, rubbed with a cocoa chili rub, and then drizzled with a black currant reduction. We strongly suggest you opt for the skillet truffle macaroni and cheese to share.
The Melting Pot
We don't know about you, but melted cheese is our love language. So drive up the desire at your date night when you fondue it up at The Melting Pot.
Cheers to cupid as you dip your way to Gruyère and lobster tail-filled heaven at this renowned national eatery. Hungry couples can choose from a four-course dining experience. Or, an even more extravagant 'Big Night Out Dinner for Two.' 
However you opt to fondue, prime your tastebuds for tons of deliciousness. Enjoy cheesy Bacon and Brie, cast-iron cooked premium Filet Mignon. For dessert, try the creamy Cookies' n Cream Marshmallow Dream dip. 
Greg Norman Australian Grille
Head down under for a taste of the Australian Outback when you hightail it to the award-winning Greg Norman Australian Grille. The Grille (named and operated by the famous golfer) is an upscale oasis of laid-back Aussie charm and culinary creation.
Located right at Barefoot Landing, the sweeping waterfront views are reminiscent of the finest Sydney Harbor restaurants. 
Delve inside the restaurant's interior and revel in the finest leather, wood, and artisanal Aboriginal decor and artwork. They even have a full-length mural of Ayers Rock.
Salute to the health and wealth when you select a bottle of vino from the impressive 'Captain's List' of specialty bottles. Or, take a gander at their lengthy bourbon, scotch, and whiskey offerings.
The food is exotic, bold, and bursting with an Australian flavor. Sample kangaroo braised in bacon confit, fruit salsa, curried peanuts, and drizzled with house balsamic glaze before moving on to some USDA prime Rib Eye or Australian ostrich. 
WaterScapes Restaurant at the Marina Inn
Watercolor-like sunsets in the most vivid orange, red, and purple hues, live music, and serene intercoastal scenery make for an unforgettable evening at Waterscapes Restaurant.
Grab your beach bunny and schedule an enchanting excursion of boat-watching and romantic dining when you chow down at the best patio in the Grand Strand.
WaterScapes is located at the new Grand Dunes Marina and offers ample opportunity for an alluring ambiance. Boasting a spacious outdoor patio, live music series, and breathtaking Intracoastal Waterway views.
Salivate over the freshest seafood as you order tuna poke bowls, clams and sausage, and seafood paella. Or inquire about daily specials for a unique treat.
For a filling main, their braised short rib with roasted mushrooms. Along with pappardelle, parmesan cheese, and fresh herbs is a carb lover's dream come true. 
Thoroughbreds Chophouse
Sure a dozen roses and chocolates are great, but a premium steak dinner, now that's real romance! 
Unlike any other restaurant on the Grand Strand, Thoroughbreds Chophouse has delivered unrivaled steak, seafood, and service for nearly 30 years. Locally owned and operated, dining with your boo at Thoroughbreds is a thoroughly enjoyable experience.
Wander through the illustrious dining room done up in shades of cream, mahogany, and exposed brick. Meanwhile, peeking at the oil paintings of famous equestrian champions decorating their walls.
Ideal for any special romantic occasion, private rooms can be booked here on request. The Thoroughbreds' staff will go above and beyond to make your night one to remember.
Sip a 'Southern Belle' martini. Or perhaps pop a bottle of bubbly before sharing escargot and calamari.
Next, prepare yourselves for the over-the-top drama of the Chateaubriand Bouquetiere for two. It's a specially seasoned 20 oz. center-cut filet mignon carved and cooked tableside by your server.
Gulfstream Cafe
Postcard views, coastal cuisine, and Southern charm make the Gulfstream Cafe a sought-after destination.
A Garden City institution that boasts two waterfront views (Murrell's Inlet and the Atlantic Ocean.) The Gulfstream is the ideal locale to kick back with a cocktail or indulge in a full-out Low Country feast.
Head on up to the rooftop deck to document some Instagram-worthy vistas. Then load up on hush puppies, their signature She-Crab soup, and jumbo lump crab cakes.
Splurge for your sugar when you opt for a chilled seafood platter or the traditional Low Country Boil. 
Wicked Tuna
Feeling a bit naughty? Tempt your better half with a rollicking good time when you hightail it to Wicked Tuna. With locations in both Murrells Inlet and Myrtle Beach, this seafood establishment delivers a premier waterfront dining experience wherever you are staying.
Founded on a unique 'hook to plate' philosophy, Wicked Tuna prides itself on their obsession with fresh ingredients, handmade cocktails, and top-grade beef. Food lovers of all ilks congregate here for great MarshWalk views, steaks, and sushi.
Gather with a group for an epic double date as you dive into their happy hour menu, or swing by later for a laid-back supper.
Snack on mouthwatering shareables such as wicked tempura shrimp, Oysters Rockafeller, or a velvety smooth hummus plate served with herbaceous rosemary pretzels.
Save some room for your main, as you won't want to miss the show-stopping flavor profile of the pan-seared local fresh catch sautéed in house-made piccata sauce or the decadent crab stuffed jumbo shrimp. More in the mood for maki? Tuck into a plate of yellowtail, salmon, or avocado rolls.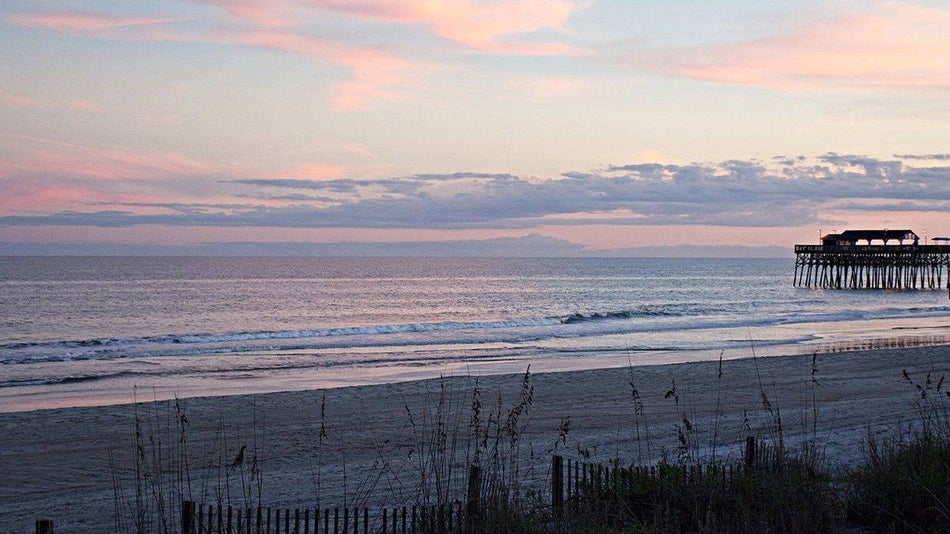 Long walks on Pawleys Island, swimming with Sea Turtles, and hitting a hole-in-one at mini-golf. Romantic weekends in Myrtle Beach were built for adventurous duos.
Spend all day basking in the golden rays and riding the Skywheel with your partner. But come sunset, make time for drinks, romance, and a fancy dinner in Myrtle Beach.
Spark up your amor with seaside vistas, crave-worthy crab cakes, and tableside service at any of the Grand Strand's finest establishments.
Whatever you are looking to celebrate, Myrtle Beach's most romantic restaurants have got you covered.
Do You Have a Favorite Romantic Restaurant in Myrtle Beach?
Did we miss any of the best romantic Myrtle Beach Restaurants?
Let us know in the comments below!