After a long day of traveling and exploring the Smoky Mountains, there's nothing better than lounging poolside.
At the top Pigeon Forge hotels with indoor pool, you can relax or go for a swim no matter the weather or time of day.
If having access to an indoor pool is a priority on your vacation, reserve a room at any of these seven Pigeon Forge hotels.
7 Top Pigeon Forge Hotels with an Indoor Pool
1. Willow Brook Lodge
Conveniently located near the LeConte Event Center, Willow Brook Lodge offers guests a variety of amenities. Take advantage of the in-room refrigerator, microwave, and coffee maker at your leisure. When it's time for some fun, check out the indoor pool as well as the outdoor pool with a 75-foot water slide! Guests of Willow Brook Lodge are also treated to free WiFi access and a complimentary deluxe breakfast served fresh each morning.
2. Spirit of the Smokies Condo Lodge
If condo accommodations better fit your travel preferences, look no further than the Spirit of the Smokies Condo Lodge. Much like the other Pigeon Forge hotels with indoor pool, the lodge boasts multiple aquatic amenities including an outdoor pool, kiddie pool, and water slide. Other hotel conveniences include flat-screen TVs, free WiFi access, and a large arcade for the kids (or kids at heart.) The hotel also is a quick half-mile from the iconic Titanic Museum in Pigeon Forge.
3. Park Tower Inn
Travelers interested in Pigeon Forge accommodations that fit their budget will enjoy the Park Tower Inn. Offering affordable nightly rates, the Park Tower Inn is home to amenities such as a lazy river, indoor and outdoor swimming pools, and a delicious complimentary breakfast. While you're poolside, be sure to take advantage of the free WiFi access too. Plus, with the hotel's location, guests are situated near several Pigeon Forge trolley stops for the ultimate vacation convenience.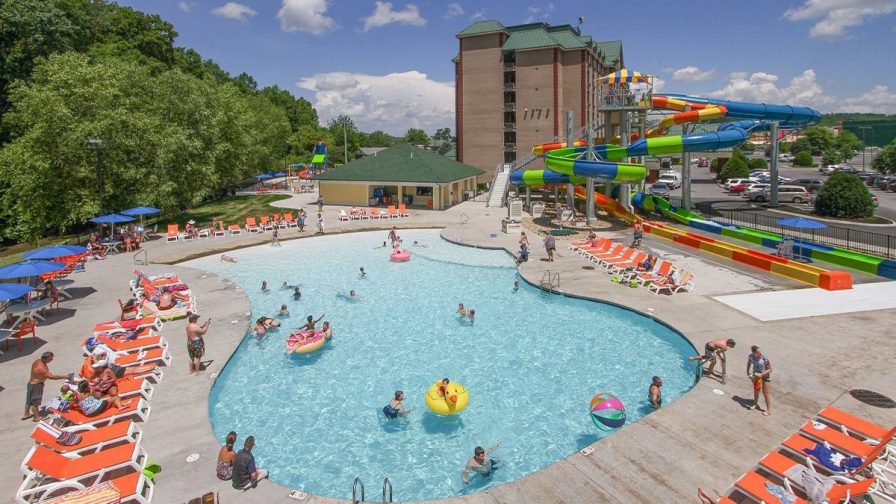 4. Country Cascades Waterpark Resort
If you take your indoor pool fun seriously, there's no better place in the Smoky Mountains than Country Cascades Waterpark Resort. The resort boasts an indoor and outdoor waterpark complex complete with water slides, splash pads, hot tubs, and even a poolside snack shack. In addition to the aquatic amenities, Country Cascades Waterpark Resort provides guests with a fitness center, breakfast buffet, and free WiFi. The resort is also just a half mile from the Comedy Barn and the Island.
5. The Resort at Governor's Crossing
Over in Sevierville, the Resort at Governor's Crossing also has a wealth of aquatic fun and vacation amenities. The resort is home to a climate-controlled indoor water park with massive water slides, a gigantic pool, kids activities and more. Guests can choose from 1, 2, and 3-bedroom condos for the ultimate comfort and in-room amenities such as fully-equipped kitchens, washers and dryers, and more. And, if the weather is great, visit the resort's on-site mini-golf course for extra fun.
6. Dollywood's DreamMore Resort
Searching for Pigeon Forge hotels with indoor pool near Dollywood? Look no further than Dollywood's DreamMore Resort. On top of being seconds away from the South's favorite theme park, Dollywood, guests receive access to the resort's luxurious indoor and outdoor pool spaces, as well as hot tubs. Other amenities include complimentary transportation to the theme park, free WiFi, kids activities, a 24/7 fitness center, and multiple onsite dining options.
7. RiverStone Resort & Spa
Conveniently located on Dollywood Lane, the RiverStone Resort & Spa offers a multitude of accommodation choices along with amenities for all types of travelers. On top of the indoor/outdoor pool complex with a lazy river, guests can also visit the day spa for a variety of treatments and services. The resort also provides kids with a variety of activities from the playground to the Little Pigeon River. Other amenities include free WiFi, a sun deck, a fitness center, and sauna.
How to Save on Pigeon Forge Hotels with Indoor Pool
Interested in saving money on your choice of Pigeon Forge hotel or resort with an indoor pool? Of course, you are. Follow these quick tips for extra discounts!
Bundle it!
While it may be nice to kick back and relax all day by the pool, you have to get out and explore Pigeon Forge. This means booking tickets for shows, attractions, tours, and activities in the area. Add one of the Pigeon Forge hotels with indoor pool to your order and discover how much more you can save on your vacation.
It's simple!
Tickets + Hotel = Extra Savings
Vacation in the Off-Season
The beauty of an indoor pool is the ability to use it all year long. With this in mind, consider visiting the Smoky Mountains during the off-season when tourist crowds and hotel rates are at their lowest. The best time to visit Pigeon Forge tends to be the spring and fall seasons.
No matter which of the Pigeon Forge hotels with indoor pool you choose to stay at, you're in for a splashing good time on your Smoky Mountains vacation.