Turquoise waters, sandy North Shore beaches, and yummy macadamia nut treats. Is there anything more enticing than the island of Oahu? Revel in the awe-inspiring beauty of the Waimea Valley, Pali Lookout, and more when you book an Oahu full island tour.
Follow along as we spill everything you need to know about the Oahu Circle Island Tour.
Sample Hawaii's world-famous dole whip, swoon over the Valley of the Temples or check out the curious islet formation of Chinaman's Hat. 
The Grand Circle Island Tour Oahu is chock full of natural marvels, local delicacies, and Aloha charm. 
Scope out gnarly surfers, try the freshest produce from a local fruit stand, or peer into the Diamond Head Crater. 
Ready to experience the best Oahu Circle Island Tour? Read on…
Hawaii Oahu Island Tours Discount Tickets
Ready to experience Oahu like a local? Before you can kick off your exclusive Oahu adventure, you'll need to buy your Oahu Circle Island Discount tickets.
Pre-purchasing your tickets ahead of time is the best way to ensure you can take in Oahu on the day of your choosing. Choose from adult and/or child tickets (ages 4-11):
Oahu Grand Circle Island Tour tickets 
The Ultimate Circle Island: Beauty and the Feast
*Please note that children under the age of 3 can enjoy most tours for free
About Oahu Grand Circle Island Tour
Ruby red hibiscus flowers, golden pineapples, and miles of sandy beach make up the island oasis of Oahu. Take in the famous North Shore, the Dole plantation, and more at your own pace when you reserve a small group Oahu Circle Island Tour.
Oahu island tours offer the perfect marriage of Polynesian culture and natural enchantment. If you only have 24 hours to spend in the Gathering Place, Oahu Island Tours from Waikiki are the ideal way to uncover Hawaii's most scenic sights. 
Psst.. looking for a more aerial adventure? Then, take to the skies above when you try any of our exhilarating Oahu Helicopter Tours. 
Catch a glimpse of the Halona Blowhole, a volcanic lava tube that propels water into the sky. Or pay your respects at the stunning Byodo-In Temple, which represents a half-sized replica of the same 900-year-old Buddhist sanctuary in Japan. Take in the temple's koi ponds, flourishing bamboo, and crimson pagodas. 
Other incredible tour highlights include stops at the infamous Kualoa Ranch and the lush tropical gardens of the Laie Hawaii Mormon Temple. Thanks to your loquacious guide, you will feel like a true VIP while aboard the private island tours of Oahu. 
Oahu Circle Island Tour Itinerary
Wondering what's in store on your Oahu Island tour? Prime yourself for plenty of world-class adventure, jaw-dropping scenery, and more when you sign up for an Oahu Grand Circle Island Tour. From the rugged mountains to the crashing waves of the Pacific Ocean, your full-day tour includes over eight incredible Oahu landmarks and sights.
The tour will last for approximately 9 hours, kicking off at your Waikiki hotel by 6:45 a.m. * Tour guests can expect to return to their hotel around 4:30 p.m. In addition, your Oahu journey also includes a complimentary BBQ lunch, with vegan and/or vegetarian options upon request. 
Your epic Oahu tour itinerary features stops at the following attractions:
Diamond Head 

Kahala Estates Hawaii's - Gold Coast.

Halona Blowhole Lookout 

Waimānalo Town 

Nu'uanu Pali 

Byodo-In Temple

Chinaman's Hat 

Kualoa Ranch

La'ie Hawaii Mormon Temple

The North Shore Surfing Beaches 

And the Dole Plantation
*Please note that exact hotel pickup times can range from 6:45 a.m. - 7:35 a.m., depending on the location of your lodgings. For an exact hotel pickup schedule, click here. 
Can't get enough Pacific and Polynesian history and culture? Take advantage of the island's rich heritage when you visit any of Oahu's Cultural Centers & Museums
Oahu Hotels and Resorts
Snorkeling, sunset cruises, and breathtaking volcano hikes. Is there anything better than an idyllic Oahu reprieve? Make the most of your time in the Gathering Place when you extend your stay.
Whether you are spending days or weeks surfing, swimming, and hiking, you deserve some premier lodgings. Whether you are seeking beach views, romantic suites, or a family-friendly resort, we offer a plethora of Oahu Hotels and Resorts. 

Hawaii Island Tours Oahu Discounts
Hey, there, thrifty traveler! Save your precious dollars for an extra surf lesson or creamy Pina Colada when you utilize the following dazzling Circle Island Tour discounts:
Oahu Circle Island Tour Military Discount 
Honor, loyalty, and courage are the tenants of the U.S. Military. While Oahu Circle Island Tours is forever grateful for the service of our military brothers and sisters, at this time, they are not providing any military discounts. 
Oahu Circle Island Tour AAA Discount 
Nothing is more important than road safety, and while Oahu Circle Island Tours loves a conscious car driver, there are currently no active AAA member promotions. 
Oahu Circle Island Tour Senior Discount 
The greatest generation has given us so much! Oahu Circle Island Tours loves to show grandma and grandpa some Aloha-style welcome.
Oahu Circle Island Tour Local Discount 
Lucky enough to be a resident of paradise? Locals, or Kama'aina, can take advantage of some dazzling Circle Island discounts.
Feeling peckish? Refuel after a long day of island travel when you take in the theatrics and tasty cuisine of an authentic Oahu Luau. 
Oahu Circle Island Tour Group Travel Deals
What makes island life even better? Sharing it with your nearest and dearest! Admire the volcanoes, mountains, and black sand beaches of Oahu, with your whole crew when you make your Oahu Circle Island Tour a group excursion. Private charters are a perfect way to celebrate your next family reunion, corporate retreat, or church outing.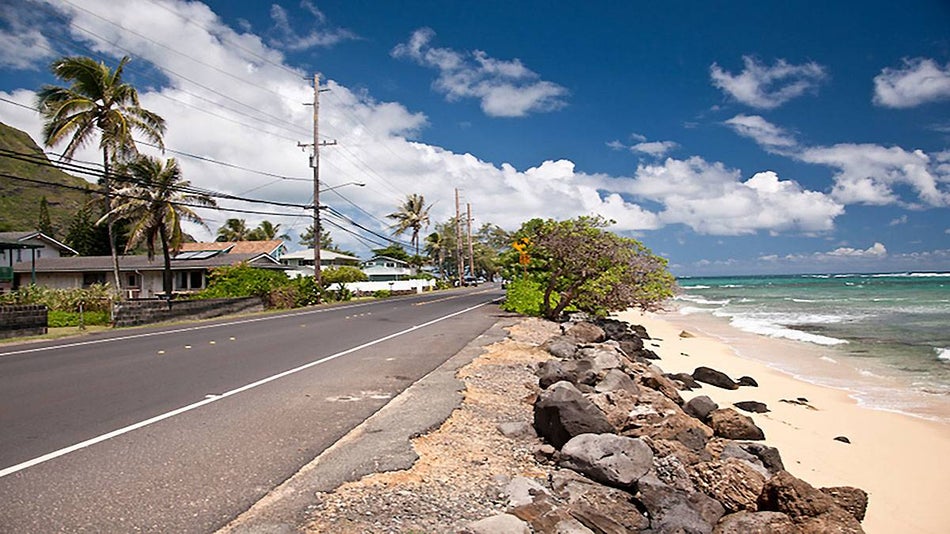 Oahu Attractions
Romantic sunset cruises, canoe rigger rides, and meeting the King! Oahu attractions offer up the best in both entertainment and outdoor adventure. Fulfill your need for culture, traditional cuisine, and more when you try any of our other magical Oahu attractions and activities:
Star of Honolulu Sunset Dinner Cruise
Gourmet-worthy meals, jazz music, and ice-cold Mai Tais, oh my! Treat yourself to a taste of luxury when you book a VIP-worthy Star of Honolulu Sunset Dinner Cruise.
Every tour is chock full of Aloha spirit, from sirloin steak dinners to Polynesian-themed shows. Savor sublime views of Waikiki, Diamond Head, and more from the 232-foot ship's walk-around decks. Or, revel in the world-class entertainment from the magical 'my Hawaii' show. 
Polynesian Cultural Center
Vibrant flower leis, riveting native dances, and winding lagoons create an island experience like no other. Wander through over 42 acres of tropical attractions, exhibits, villages, and more when you spend a day at the Polynesian Cultural Center.
Indulge your craving for authentic luau cuisine, soak in an IMAX show, or take a ride in a traditional canoe. Don't forget to round out your Oahu escape with the unforgettable Hā–Breath of Life evening show!
Rock-A-Hula Show
The King of Pop and Kahula pig? Yes, please! Get your fill of pop music ballads and island macaroni salad when you spend an epic evening at the Rock-A-Hula Show.
Delight in world-class entertainment as you jam out to hits from Elvis, Elton John, Madonna, and more. Perfect your hula moves and sing along to traditional Hawaiian chants. 
Oahu Circle Island Tour Tips
Excited to kick start your journey to the Gathering Place? Make your way around the island Oahu Tour with ease when you pack the following must-have items:
Phone and/or camera

Portable phone charger

Extra cash or cards to purchase additional items at the Temple gift shop and/or the Dole Plantation

Hand sanitizer

Comfortable walking shoes and clothes (tour includes moderate walking)

Light jacket in case of rain or chilly weather

SPF

Sunglasses

Reusable water bottle 
Oahu Circle Island Tour Reviews
Want to hear feedback from intrepid travelers just like you? Read real reviews, tips, and insights on the Oahu Circle Island Tour here. 
Worried about preserving that vacation budget? Kiss overspending goodbye when you utilize any of our awesome Oahu Vacation Package Deals.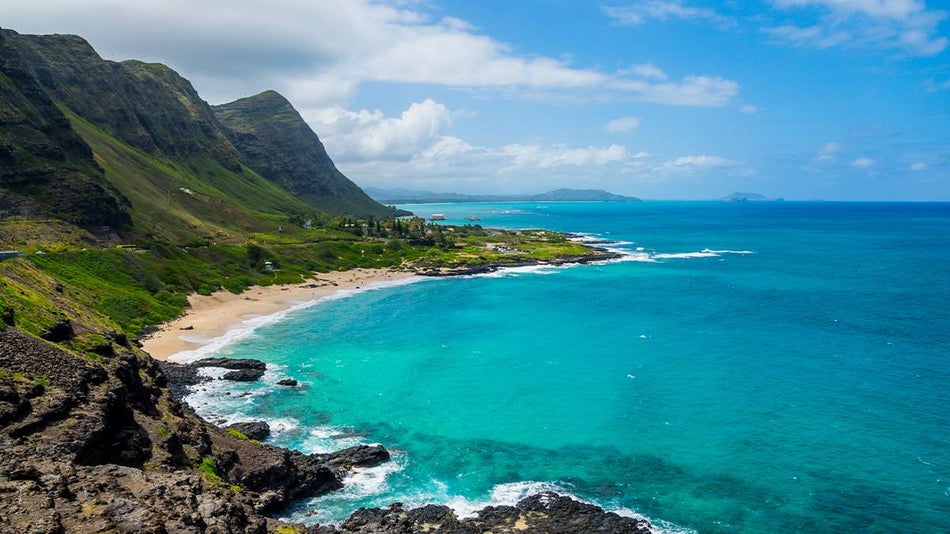 The emerald valleys and peaks of Kualoa Ranch, a massive Pineapple Garden Maze, and the rustic Ohana charm of Waimanalo. An Oahu round island tour is the simple solution to ensuring you don't miss a moment of island excitement. 
Whether you've been dreaming of the perfect North Shore wave or wish to scope out the scenery from Jurassic Park and Hawaii Five-0, Circle Island tours deliver the most comprehensive look at Oahu.
Devour your delicious BBQ lunch, capture countless selfies at the Byodo-In Temple, and brush up on your Hawaiian mythology.
So what are you waiting for? Reserve your island tour of Oahu today! 
Tell us, What's Your Favorite Oahu landmark?
Leave us a comment below!