Glittering neon lights, high stakes gambling, and world-class entertainment - is there anything more enticing than a Las Vegas getaway?
This land of mobsters, casinos, and unparalleled nightlife can tempt even the most staid traveler. Take a big bite out of Sin City when you tackle the most popular Las Vegas attractions with your Las Vegas Go Pass.
From gondola rides to playing blackjack at the famed Golden Nugget Casino to witnessing the raw power of the Hoover Dam, the Neon Capital is chock full of iconic sights and scenery.
Embrace all Las Vegas has to offer without breaking the bank. Stop wondering what things to do with a small budget in Las Vegas with your Go City in hand.
Whether you are angling to visit the Eiffel Tower in Paris or dive into the city's sullied past at the Mob Museum, GO City Las Vegas allows you to fulfill your City of Sin fantasies.
Las Vegas Hotels
Want accommodation deals so good they'll have you screaming 'Viva Las Vegas?' Squeeze even more excitement from your Vegas getaway when you extend your stay.
From huge hotels and casinos on The Strip to more budget-friendly options downtown, we provide a number of lodging options when it comes to Las Vegas Hotels.
As always, make your reservations without hesitation, knowing you are guaranteed our lowest rates.
GoCity Las Vegas
No matter if you're heading to the Gambling Capitol for a feisty bachelorette weekend or simply to blow off some steam at the slot machines, a GoPass Las Vegas is a great idea. Like having a personalized vacation planner in the palm of your hand, both GoCity options allow you to take in tons of top attractions.
From FLY LINQ ziplines to searing STRAT views, you'll leave no Las Vegas activity unturned. Still wondering which is the best Las Vegas GoCity for you? Discover the differences below:
Go Las Vegas Explorer Pass
Paging all picky travelers! If you know what you want to see and when you want to see it, the Las Vegas Multi-Attraction Explorer Pass is for you. The perfect marriage of convenience, savings, and flexibility, the Multi-Attraction Explorer Pass allows you to choose from 3, 4, 5, or 7 attraction pass options. Whatever the number of Choice Pass you purchase is the subsequent number of attractions you can visit.
Go on a Fremont Street Walking Tour, soak in the sparkling views from the High Roller Observation Wheel, or visit the infamous Caesar's Palace, all with your Las Vegas Multi-Attraction Explorer Pass.
Other Important Las Vegas Multi-Attraction Pass Facts
Your pass offers you discounts of up to 60% off retail rates.
You can take up to 60 days* to use your pass.
Choose from over 40 exclusive Las Vegas attractions.
Go with the flow - pick attractions as you go!
Don't roll the dice on misplaced or torn paper tickets - just use the Go City App for seamless attraction entry.
*Please note that your pass is valid for consecutive calendar days, not 24-hour periods.
Go Las Vegas All-Inclusive Pass
Busy bees unite! If you love a packed itinerary, the Go Las Vegas All-Inclusive Pass is your new BFF. Cram in as many Sin City attractions as you can handle with the pass that prioritizes maximum savings and flexibility.
Opt for 2, 3, 4, or 5-day pass options and enjoy nonstop laughs at the L.A. Comedy Club or admire the anatomy of REAL BODIES at Bally's.
Whatever the number of day passes you purchase, you will be entitled to unlimited admission to over 40 sizzling Vegas attractions for that day.
Other Important Las Vegas All-Inclusive Pass Facts
Your pass offers you discounts of up to 55% off traditional admission prices.
All non-activated passes are eligible for a refund within 90 days of your original purchase date.
Choose from over 40 exclusive Las Vegas attractions.
Visit one premium attraction with your purchase of a 3, 4, or 5-day All-Inclusive Pass.
Enjoy seamless entry with an all-on-one digital pass.

The App
It is as easy to lose money at the craps table as it is to activate your Las Vegas Go City via the Go City App!
Simply:
Download the App to your mobile device

Apple

|

Google Play

.
Use your order confirmation number to add your pass to your phone.
Double-check if any of your desired attractions need a reservation and book.
Show your pass at each attraction for easy entry.
Best Attractions in Las Vegas
Big Bus Las Vegas Night Time Tour
The city of vice and showgirls truly comes alive at night, so seize the opportunity to see her in all her illuminated glory with the Big Bus Las Vegas Night Time Tour.
Strap in for three hours of exciting entertainment, trivia, and historical facts as your expert guide captivates you with the inside scoop on Las Vegas and the infamous Strip. 
Relax in comfort on the upper deck of your open-top bus and keep your eyes peeled and camera ready to document:
The iconic illuminated fountain show at the Bellagio.

The stately MGM Grand and Caesar's Palace.

The Welcome to Las Vegas Sign.

Little Church of the West.

And more!
Your nocturnal adventure will wind down with a stop at the Fremont Street Experience, where you can take advantage of Vegas retail, gamble, grab a bite, or relish in the plethora of free entertainment that this 24-hour mall provides.
High Roller Observation Wheel Daytime Pass
Yearning for an elevated Ferris wheel experience like only Vegas can deliver? Enter your own spacious, air-conditioned cabin and begin your ascent 550 ft above the ground when you book a High Roller Observation Wheel Daytime Pass.
The High Roller is the largest observation wheel in North America and provides the ideal vantage point to observe the sweeping 360 views of downtown Las Vegas, its most recognizable landmarks, and Las Vegas Valley. 
As you prepare to be wowed by the stunning vistas on your 30-minute wheel ride, be sure to engage with the interactive displays and videos that detail Vegas's points of architectural interest and provide valuable background and context to the cityscape views.
Skypod at the STRAT + VIP Access
Adrenaline-pumping thrill rides, unobstructed views of the Strip, and enjoying a cocktail at 108 stories high are all part of the VIP Access Experience at Skypod.
Climb to the heavens above at Skypod, which stands tall at a staggering 1,149 feet, making it the tallest freestanding observation tower in the United States. 
An award-winning iconic fixture, Skypod serves up expansive views of the Las Vegas Valley, the acclaimed Top of the World restaurant, and even a wedding chapel!
Venture onto the outdoor deck, and revel in a ruggedly beautiful desert sunset, or watch in horror as those with nerves of steel test their mettle on thrill rides such as Big Shot, X Scream, or Insanity.
Looking for a more laid-back scenic reprieve? Head to the indoor deck to dive into the Strat Hotel's history and humble beginnings. 
Pro Tip: For a fine dining feast like no other, be sure to make a reservation at Top of the World, to enjoy culinary delights and rotating views 800 ft above the ground!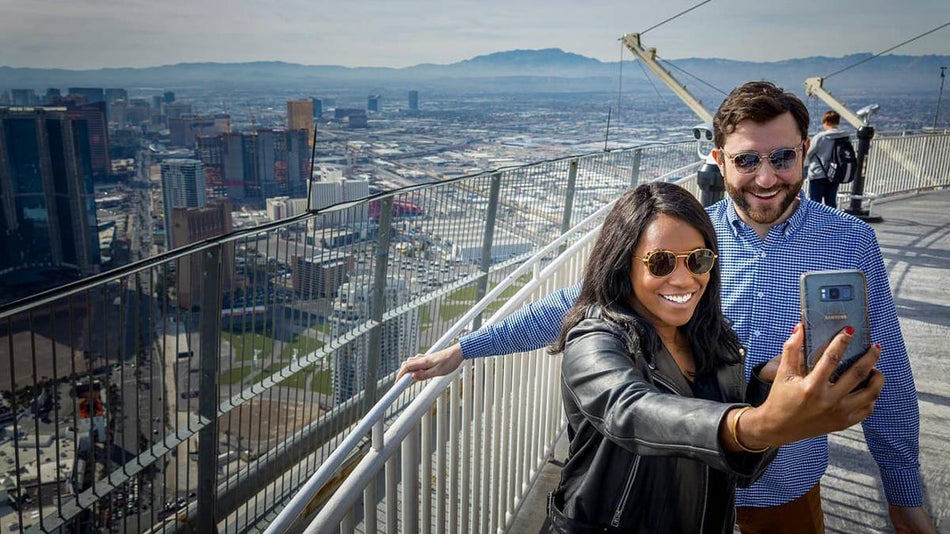 Eiffel Tower Experience at Paris Las Vegas
Dreaming of a romantic rendezvous in old Paris? Recreate the magic and 'Je ne sais quoi' of the city of lights, right in Las Vegas, at the Eiffel Tower Experience.
Lean into your European escapade as you pass by miniature recreations of the most famous Parisian landmarks, such as the Arc de Triomphe, Paris Opera House, Louvre, and more. 
Once you get your fill of sophisticated photo ops, grab your paramour and get ready to say 'bonjour' to the 360-degree views. 
Vegas's Eiffel Tower is half the size of the original, and you will zoom 460 stories above the ground via a glass elevator to reach the summit. Once you arrive at the Observation deck, you'll be met with an iconic view of the Vegas strip. 
Pro Tip: Want to up the Parisian enchantment even more? Be sure to check out the Eiffel Tower Experience after nightfall for an illuminating (and free) light show inspired by the real Eiffel Tower's lights in France.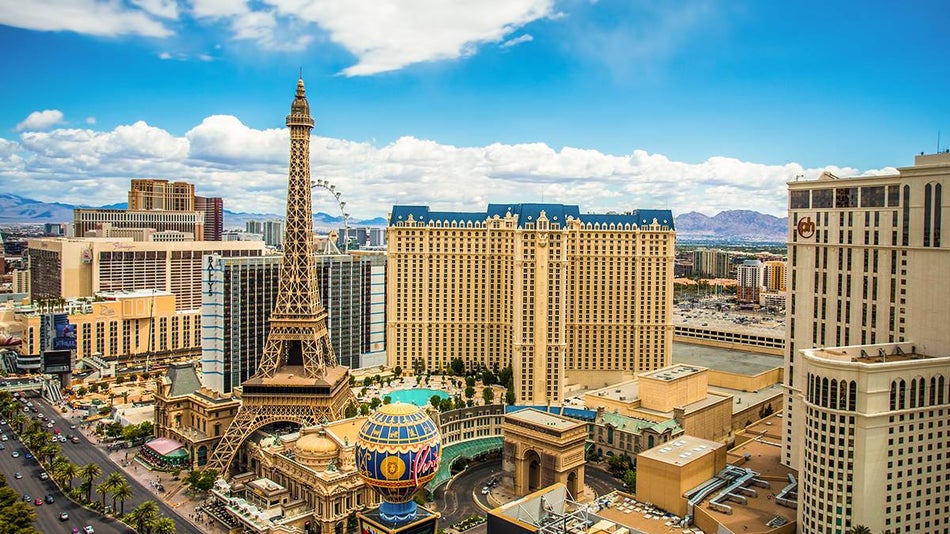 Hop-On Hop-Off Big Bus Classic Tour
Cruise around the Neon City in style on the classic Hop-On Hop-Off Big Bus Tour. Ideal for visitors looking to get the lay of the glitzy and glamorous land, this open-top bus tour provides the most comprehensive look at the Strip, downtown, and more.
Settle in for a wild ride through history as you learn how Vegas earned her moniker 'Sin City' and how she grew from a tiny desert town to a sprawling metropolis.
Your knowledgeable guide won't hold back and will spill plenty of Vegas tips and tricks on how to make the most of your time here. 
Keep your eyes peeled, as you won't want to miss any sightings of the Bellagio Fountain, the Mob Museum, the Strat, Treasure Island, the Welcome to Las Vegas Sign, and more!
Curate your own unique experience of the Big Bus Tour by hopping off whenever you like, or stay put to absorb the entire 2.5-hour guided tour and 15 full stops.
Pro Tip: Never fear you'll be left in a lurch! Buses run every 20-30 minutes, so you won't ever have to wait too long before another bus arrives.
Las Vegas Bar Crawl
What's a trip to Las Vegas without a few blurry memories? Take advantage of Sin City's enviable nightlife with an authentic Las Vegas Bar Crawl.
Party it up like the VIP you are when you embark on a night of drinking, debauchery, and glittering fun on your very own Vegas Rockstar Party Bus. 
Meet your enthusiastic host at a local bar, where you'll kick off the evening with a celebratory free shot and enjoy a plethora of drink specials. Then it's time to board your party chariot and imbibe as many complimentary drinks as you like.
Wind down your Vegas escapade with a second bar stop for more drink specials, another free shot, and more Strip-inspired sin!
Rockstar Pool Party Club Tour
That desert heat is no joke! Cool off with a drink in hand on the Rockstar Pool Party Club Tour. 
Las Vegas Pool parties are a thing of infamy, but it can be a drag to coordinate the logistics, transportation, and timing. Leave the planning to the experts, and simply bring your bathing suit and a smile when you book the Rockstar Pool Party Club Tour.
Begin your booze-soaked adventure at a pool day club, where you'll receive VIP treatment before being escorted onto your luxurious limo party bus. Pop bottles like a rockstar while you utilize the complimentary open bar and prepare for a tour of the Strip.
Splash, dance, and party to your heart's content at the second and final stop of your tour, one of the most exclusive pool parties in Vegas! 
Pro Tip: No room for a wallet in that bikini? No problem! Your tour ticket includes all admissions and cover fees.
Planning a trip to Las Vegas this fall? Check out our guide to Halloween in Las Vegas for a sinfully good time!
The Mob Museum
Mobsters, mafiosos, oh my! Dive into the rich, intertwined history of Prohibition, gangsters, and Las Vegas, when you visit the Mob Museum. 
The Mob's influence can still be felt in Sin City. This engaging and interactive Museum gives you an inside look at mob culture in the USA. In addition, it shares the role that organized crime continues to play in our country.
Better than an episode of the Sopranos, you will hear tall but true tales of bootleggers, rum runners, and the lawmen that tried to take them down. 
Wander through the Museum's four floors, marveling at one-of-a-kind artifacts, immersive exhibits, and stunning recreations. Come face to face with the St. Valentine's Day Massacre Wall. Here you can see the bullet holes from the mass shooting that killed seven members of the Bugs Moran gang. 
Or take a load off at the Underground. This is the Museum's on-site speakeasy. Meanwhile, you can purchase moonshine or other authentic Prohibition-era drinks such as the 'Bee's Knees.'
More amazing mob highlights of the Museum include:
The Crime Lab

Firearm Training Simulator

Organized Crime Today

100 Years of Made Men

And more!
Hoover Dam Highlights Tour
Ready for a testament of man's power over nature? The Hoover Dam is an almost 100-year-old monument that is well worth a spot on any Vegas itinerary.
Your historic Hoover Dam VIP Tour is a half-day adventure. In addition, you'll be filled to the brim with breathtaking views, unparalleled history, and once-in-a-lifetime photo opportunities.
A staggering 726 feet tall, the Hoover Dam plays an integral role in providing energy to Nevada, California, and Arizona. 
Once aboard your luxury deluxe coach, your journey will commence with a stop at the Mike O'Callaghan-Pat Tillman Memorial Bridge. Keep your camera charged, as you won't want to miss the sweeping scenic vistas. You'll be in awe of the spectacular views of the Colorado River and magnificent Black Canyon.
You can also take the Hoover Dam Bus Tour, where you'll learn about the trials and tribulations the Depression-era construction workers faced. 
Fun Fact: Did you know that the Hoover Dam actually helps protect Arizona from the flooding of the Colorado River? 
Go City Las Vegas Reviews
Not ready to commit to a Go City just yet? Don't just take our word for it; read real Las Vegas Go City reviews from travelers just like you here and here.
Las Vegas Go City Promo Code
Magic Mike stripteases, spellbinding magic shows, and marvelous afternoons spent at Madame Tussauds. Las Vegas may not be for the faint of heart, but that doesn't mean you can't be frugal in the Neon Capital.
While there are currently no active Go City promo codes, Sin City visitors traveling together may be eligible for group discounts. Savvy Vegas babies vacationing in groups of 10 or more can email groupsales@leisurepassgroup.com or call +1 855-397-6598 to inquire about these dazzling savings.
Ready to Visit Las Vegas While on a Budget?
Contrary to popular belief, the entertainment capital of the world is more than craps tables, casinos, and Elvis-officiated weddings. Las Vegas is a messy mix of award-winning attractions, landmarks, and awe-inspiring views.
Whether you are recreating your favorite 'Hangover' moment at Caesars Palace, marveling at mobsters past, or living it up on a luxury party bus, there is a wealth of fun to be had by both first-time visitors and Vegas veterans.
GO City Sightseeing passes offer a unique entry point to this oasis of kitschy culture, history, and stark desert beauty. With your Go Las Vegas Explorer Pass, you can cross everything off your Vegas hit list, from the Strip to Downtown, to the MGM Grand.
Have You Been to Vegas with a Go Pass?
We'd love to hear about your experience. Leave us your tips and comments below: