Is there anything more pleasurable than the first bite of your favorite Hershey's candy bar? Nothing quite compares to the tantalizing taste and fragrant smell of an indulgent chocolate treat. 
A deliciously out-of-the-ordinary attraction, Hershey's Chocolate World provides so much more than candy! Little ones and adults of all ages will be in sweet heaven, as they hop on a chocolate tour ride, create their own candy bar, or yuck it up in the Hershey Photo studio*
Best of all, with locations across the United States and Canada, you can commemorate this tasty holiday no matter where you are.
*attractions and entertainment vary from location to location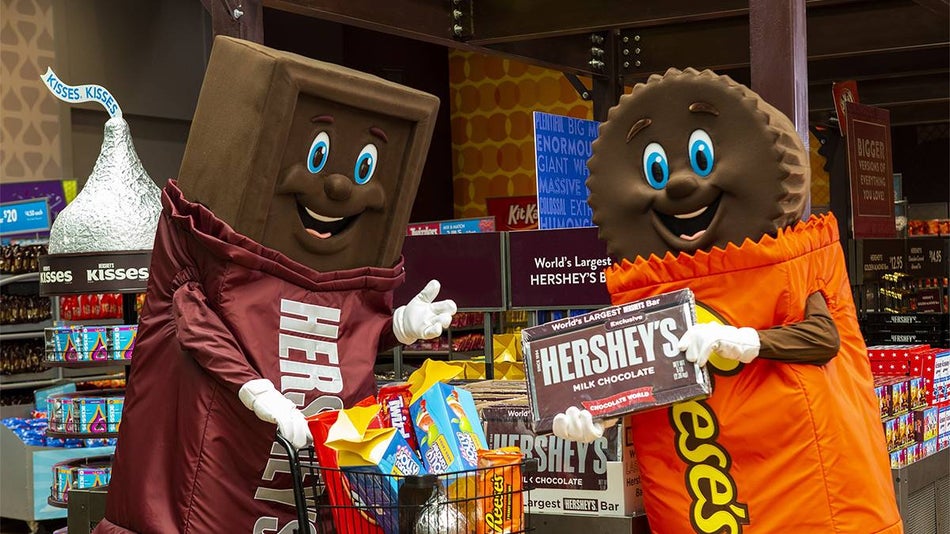 Hershey, Pennsylvania
It's only fitting that we begin our chocolate journey at the 'sweetest place on earth' aka Hershey, Pennsylvania. For a day filled with adventure, laughs, and copious amounts of chocolate, there's no better locale than Hershey Chocolate World Pennsylvania Resorts Company.
Listen up as we spill the inside tips and tricks to having the best day at Hershey's Chocolate World.
Hershey's Chocolate World Tickets & Hershey Tour Packages
In case you didn't know, Hershey's Chocolate World factory tour is 100% free to enter. However, to sample the many other delectable attractions, rides, and entertainment, you must purchase a ticket. 
We highly recommend purchasing your tickets and/or investing in a ticket package to save valuable time and money.
Depending on your unique cocoa desires and dreams, you might favor one ticket package over another. For example, if you're keen to participate in the 4-D Chocolate Movie, and make your own candy bar, but are fine to skip the Trolley Works, you can purchase package 2. 
Curious about how to score the best deals on Hersheys Chocolate World tickets? Read our Ultimate Guide to Hershey's Chocolate World Discount Tickets and Deals!
Passes
Think you might be making your sweet sojourn on an extra busy day? Then, take the stress out of your Hershey escapade by reserving your free timed entry pass. This handy pass allows visitors who have not purchased a paid attraction ticket entry at their preferred time.
Can't Miss Hershey Attractions
Hershey's Chocolate Tour
Who said nothing good is free? The free Hershey Chocolate Tour brings you inside the magic of a (replicated) real-life Chocolate factory. Follow along as the majestic cacao plant makes its journey from humble bean to mouthwatering chocolate bar! 
Kids of all ages will have their senses ignited on this 30-minute educational tour to Hershey nirvana. Enjoy a complimentary candy sample at the end of the tour!
4D Chocolate Movie
Lights, Camera, Action! Grab your favorite Hershey's snack and settle in for some blockbuster-worthy entertainment with the 4D Chocolate Movie. Children of all ages will be transfixed by the ooey-gooey chocolate Mystery and the stunning digital animation and special effects, all of which make you feel part of the action! 
Already played sweet Sherlock before? The 4D Chocolate Movie has over 100 different possible endings and variations, so you are guaranteed never to see the same show twice at this Chocolate World attraction.
Hershey Trolley Works
No stale and dry historical tours here! Climb aboard the Hershey Trolley Works Tour for an unforgettable live show featuring fun characters, lively singing, and the history of Milton Hershey's life.
This side-splitting comical Hershey entertainment begins with your conductors guiding you through the Hershey of the past and visiting many of the historical sites that inspired Mr. Hershey himself. Your tour concludes with a stunning view of the 'sweetest place on earth' from the famed Hershey hill and a delectable sample of chocolate.
Pro Tip: Seasonal Trolley shows are available, so be sure to check the official Hershey schedule before your visit to participate in these fun-themed events!
Create Your Own Candy Bar
Have you ever dreamed of having your own personalized candy bar? Well, stop dreaming, and head on over to Hershey to make this sweet fantasy a reality. 
Create Your Own Candybar is a fully immersive chocolate adventure that puts you in charge. Design every element of your own Hershey's chocolate bar, from fillings to the wrapper, in this authentic one-of-a-kind factory experience. 
Hershey's Unwrapped 
Are you ready to taste the love? Join Hershey's two expert tasting authorities for an enchanting theatrical experience stuffed full of laughs, learning, and of course, chocolate! Hershey's Unwrapped dares you to open your mind (and your mouth) to discover how they make different types of chocolate.
Pro Tip: Tickets to this attraction include a chocolate tasting of a variety of Hershey treats!
Additional Attractions & Activities available at Hershey's Chocolate World include
Reese's Stuff Your Cup - create your own custom 1 lb Reese's cup 

Hershey's Photo Memories - capture the magic of your visit to Hershey's Chocolate World

Sweet Personalization - personalize your favorite Hershey's product for a tasty souvenir or gift (can be done virtually)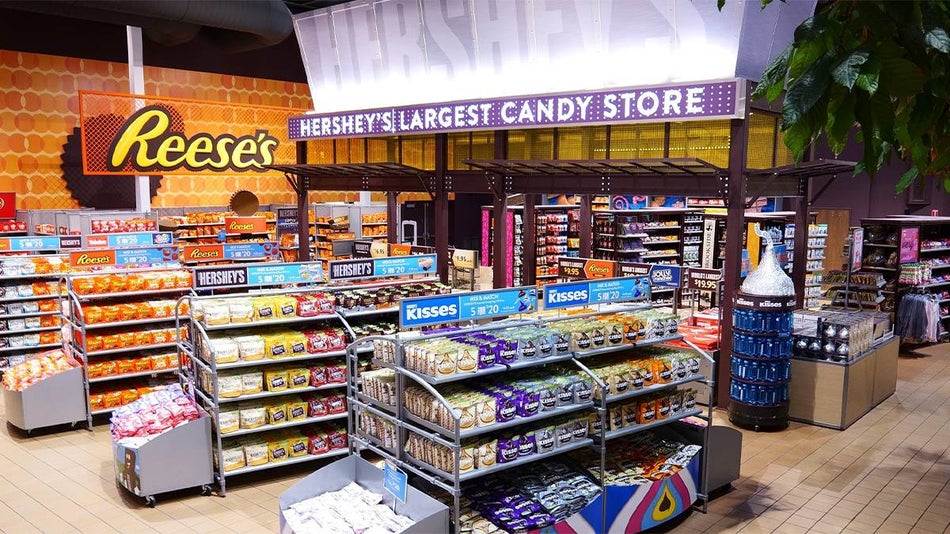 Food & Drink at the Candy Store
What would a day at Hershey's Chocolate World be without some sinfully sweet eats? Load up on all the chocolate bars, sugar, and Instagram worthy milkshakes you can handle with our top tier, can't miss foodie highlights:
Milkshakes - these are famous for a reason! Either go classic with flavors like chocolate or Reese's peanut butter (with extra candy and whipped cream on top) or go wild with a creative seasonal flavor like Hershey Kisses Fangtastic Strawberry.
S'mores - way better than your campfire version. These are melty hershey s'mores on steroids, stuffed with your choice of a candy bar.
Cookie Dough Cups - calling all cookie dough fiends, indulge in your beloved guilty pleasure with the gloriously overflowing chocolate chip cookie dough cups topped with treats like Reeses or Take 5
Epic Pretzel - for something savory, you can't go wrong with the massive 1 lb soft pretzel served with a trio of finger-licking good sauces (honey mustard, beer cheese, and chocolate peanut butter ganache)
Hershey Chocolate Factory Location Options
Times Square, New York City
All hail the big apple! Take a chocolatey reprieve from the Times Square madness when you pop into New York City's very own Hershey Chocolate World.
The Times Square location is just bustling with sweet fun and features:
Incredible Hershey's retail

Amazing Candy Machine

Hershey's Kitchens Bakery Treats

Hershey's largest s'mores experience - served directly out of the cutest camper van!

Sweet Personalization - makes a perfect gift or NYC souvenir 

Say it with a kiss 
Pro Tip: Take advantage of the fact that the epic Hershey's milkshakes are served here and indulge in a creamy, dreamy, cold treat! 
Related Post: How to Spend a Day in New York City with Kids
Not feeling ice cream for breakfast (or lunch)? Then try a gigantic s'more stuffed with anything from Kit Kat Mint duo to Cookies n' Creme from the largest Hershey's s'more experience. 
Las Vegas, Nevada
Looking to explore the lighter side of Sin City? Then wander over to Hershey's Chocolate World Las Vegas to indulge and delight in over 800 Hershey's products. 
Chocoholics and candy lovers alike will be in a state of pure sugar bliss. While you debate the best Hershey kisses and Jolly Rancher flavors you can also personalize your very own chocolate bar. Meanwhile, be sure to grab a refreshing milkshake. 
Special attractions and in-store experiences offered at this West coast flagship include:
Photo Studio

Bake Shoppe

Taste Happiness

Kisses Flavor Wall

Reese's Flavor Wall
Pro Tip: Don't sleep on the top-notch Hershey's Bake Shoppe located here. We love their mouthwatering goodies like peanut butter brownie sandwiches and decadent chocolate-filled donuts.
Niagara, Ontario
Brr, there might be a slight chill just north of the border. Still, the Niagra outpost of Hershey's Chocolate World keeps things red hot with an overload of delicious desserts, unique merchandise, memorabilia, and all the chocolate you desire!
Enjoy an afternoon of fudgy fun as you uncover sweets, souvenirs, a photo studio, and bake shoppe at this four-story-high Hershey attraction.
Pro Tip: Satiate your cocoa cravings by picking up some homemade Hershey's fudge. This is also a specialty of the Niagra location. 
Luscious, decadent, and downright addictive, there's no denying that chocolate holds the key to our stomachs (and maybe even our hearts). But, there's just something about the sweet and simple taste of Hershey's chocolate that brightens even the cloudiest of days.
From the west coast to our Canadian neighbors up north, there are many ways to celebrate this extra-special holiday with Hershey's Chocolate World.
Whether you are riding that very special Trolley, creating your own candy bar, or getting your hands on some outrageously stuffed s'mores, we hope you say hello to happy and hello to Hershey's this year!
Have You Been to a Hershey's Chocolate Factory? 
Was it as delicious as you anticipated? Leave us a comment below!