Tourists flock to the epicenter of Los Angeles with stars in their eyes hoping to get a glimpse of their favorite celebrity. Along the way, they stop at iconic theaters, legendary film sites, and other cultural and historical landmarks.
When visiting Los Angeles for the first time, where is the first place tourists go? Hollywood, of course!
With so much to do and see in Hollywood, it's hard to experience it all in one trip. To make the most of your Los Angeles vacation, make plans to visit the nine most popular Hollywood tourist attractions.
1. Hollywood Boulevard
First stop, Hollywood Boulevard! Almost all the best Hollywood tourist attractions can be found in or near this historic area. With the abundance of lights, signs, and performers, the street is an attraction in itself!
Plus, major events are held year round on the boulevard including movie premieres at TCL Chinese Theatre and star reveals on the Hollywood Walk of Fame. If you plan your trip just right, you may have the chance to spot a celeb or two at an event.
2. Madame Tussauds Hollywood
Not to spoil the fun, but celebs typically don't go out to Hollywood unless they need to. That said, you can still see your favorite stars at Madame Tussauds Hollywood! Strike a pose next to film stars or shoot hoops with athletes like Kobe Bryant. With over 125 celebrities to choose from, you're bound to see the stars you love at Madame Tussauds.
Remember to bring a camera to snap a selfie or two with icons such as Lady Gaga, Jennifer Lopez, Bruce Lee, Shrek, and other celebrities.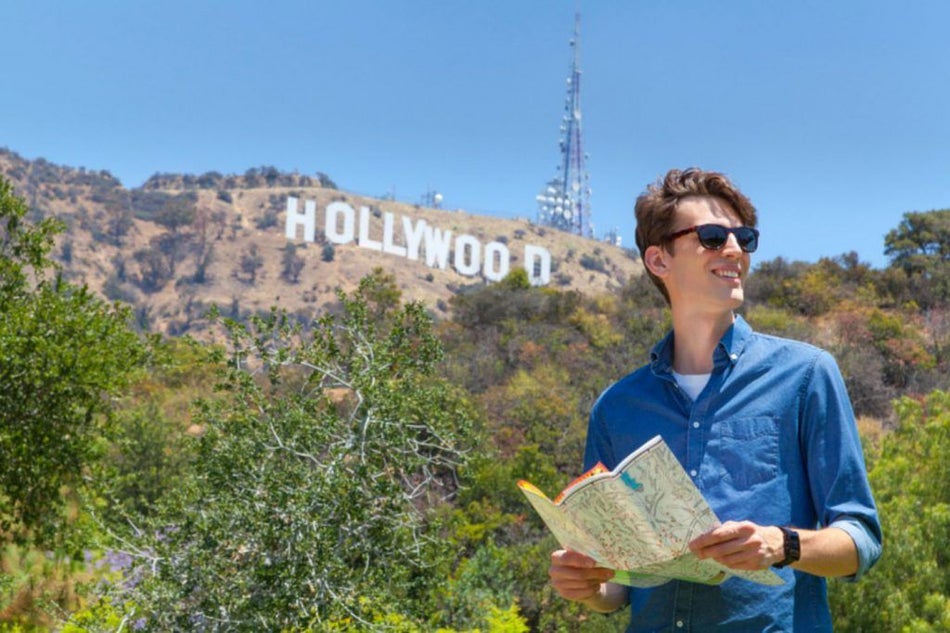 3. The Hollywood Sign
Of the top Hollywood tourist attractions, the Hollywood Sign is by far the biggest—in size and notoriety. There are several ways to see the Hollywood Sign when in LA. Some of the best viewing spots include:
Griffith Observatory
Hollywood & Highland Center
Sunset Ranch Hollywood
Lake Hollywood Park
Be sure to have a camera on hand. You don't want to miss your chance to grab a picture of this notable landmark!

4. Hollywood's Iconic Theaters
As the movie, La La Land, puts it, Los Angeles is the City of Stars. And how do these stars become famous? By starring in movies.
These movies are premiered at historic theaters all across Hollywood. When searching for Hollywood tourist attractions to visit, make sure these theaters are on your list:
In addition to movie premieres, the theaters regularly show the latest films, hold concerts, and host other events. Check the theater's schedule to see what's happening or showing during your trip!
5. Hollywood Walk of Fame
The Hollywood Walk of Fame is a public sidewalk stretched from Hollywood Boulevard to Vine Street lined with concrete stars containing the names of famous celebrities, musicians, artists, and more. If you wish to complete the entire Walk of Fame, be prepared to traverse several blocks.
Along the way, you'll watch as tourists stop to snap a picture with their favorite celebrity's star. Don't be afraid to do so yourself! Just make sure you don't block pedestrian traffic for too long or get in someone's way.
If your Los Angeles vacation lines up with a Hollywood Walk of Fame star ceremony, you should go. The ceremonies are free to all. Try to get there a little early for a great viewing spot!
6. Universal Studios Hollywood
Of course, one of the top Hollywood tourist attractions is Universal Studios Hollywood! Located on the Universal Studios lot, this high-energy theme park brings new and classic movies to life with thrilling rides, epic shows, and constant entertainment. From the Wizarding World of Harry Potter to Jurassic Park and everything in between, this theme park is a movie lover's dream come true.
While there, hop aboard the renowned Studio Tour and go behind-the-scenes to see how the movies and TV shows are made. Throughout the tour, you'll have the opportunity to see a bit of movie magic in action and come across recognizable characters.
7. Griffith Observatory
To see the real stars while in the City of Stars, take a trip to Griffith Observatory. On top of being among the most visited Hollywood tourist attractions, this renowned observatory is also the backdrop for several films, including La La Land.
While at the observatory, visit the Samuel Oschin Planetarium for an unbelievable show or participate in a Star Party late at night complete with public telescopes. And, for continued fun, the Griffith Observatory is located along several hiking trails in Griffith Park including:
East Griffith Observatory Trail
Firebreak Trail to Griffith Observatory
Western Canyon
8. Sunset Strip
Over in West Hollywood, the Sunset Strip attracts tourists of all kinds. The 1.5-mile strip of road boasts a multitude of entertainment, restaurants, bars, and more for visitors to experience. Currently, Sunset Strip is undergoing a ton of renovation and construction, meaning great things are on the way!
A few notable places on Sunset Strip include Chateau Marmont, The Well, and the Roxy Theatre. Head to the Sunset Strip to end your day after checking out the many Hollywood tourist attractions.
9. Hollywood & Highland
Rounding out our list of Hollywood tourist attractions is Hollywood & Highland. This shopping and entertainment destination is visited by locals and tourists alike due to the multitude of things to do and see.
Whether you want to shop 'til you drop, sample gourmet cuisine, or take advantage of world-class entertainment, you can find it all at Hollywood & Highland. Plus, the center hosts events ranging from concerts to festivals all year long. It's impossible to be bored while strolling through the center of Hollywood & Highland.
Which Hollywood Tourist Attractions Will You Visit?
Do you have plans to visit the top attractions in Hollywood? Let us know where you plan to go!