Now that I've seen the mind-blowing show, I want to share everything you need to know before you go. That is, without spoiling any of the magic. After all, J.K. Rowling told us to #KeepTheSecrets!
When I heard an extension of the Harry Potter series was coming out as a play, I was skeptical; as were most fans. How could they capture the magic that is the Wizarding World on a single stage? Nonetheless, I did what every Harry Potter fan would (and did) do. I bought the book.
And I couldn't put it down.
Page after page I was enchanted by the continuance of Harry Potter's story. Although told in a new format, this new chapter in the Wizarding World was bursting with the classic series themes of magic, adventure, and love. At the time, the show was only being performed in London and as much as I would have loved to jet across the pond, it wasn't an option.
Fast forward to mid-2017, when the lottery for the Harry Potter play NYC tickets went online. I frantically entered my info and hoped to earn a chance to purchase tickets.
Fast forward again to late 2017 when I received the entry code and ecstatically purchased my tickets to the Harry Potter play NYC for a June 2018 performance! While my wallet may not have been pleased, my heart was full. After seeing this unbelievable performance, Harry Potter and the Cursed Child lived up to every expectation I had and more.
Table of Contents:
Harry Potter and the Cursed Child: The Story
Without spoiling the plot, Harry Potter and the Cursed Child follows Harry Potter's son, Albus, and Draco Malfoy's son, Scorpius, as they navigate their time at Hogwarts. Along the way, they battle with their respective parents' lasting reputations and how it affects their lives and relationships. Of course, the story features all your favorite wizarding characters including Hagrid, Professor McGonagall, and a few surprises, too.
Since the script is available as a book, I recommend you read it before getting tickets for the Harry Potter play NYC. However, doing so comes with its fair share of pros and cons.
Pros:
You Know the Plot Ahead of Time
Since plays don't come with a pause button or closed captions, it can be difficult to discern what's happening on stage—especially with various dialects and accents thrown into the mix. Reading the book ahead of time allows you to know exactly what's going on throughout the show.
Enter With Excitement
And since you'll know exactly what happens during the play, you'll enter with a sense of excitement. You'll find yourself wondering how they'll execute a certain scene or how the actors will bring their character to life.
Cons:
You Know the Plot Ahead of Time
While this is an advantage, it can also be a disadvantage. You won't be surprised by the pivotal moments in the show, as you know they're coming.
A Small Amount of Magic is Spoiled
The book also includes stage directions and cues, as it reads as a script. This does spoil a bit of the magic, but only in the sense that you know it will happen. When you see how the stage crew brings these directions to life, you'll be mystified! I re-read the book right before going to the show, and while I knew certain parts were coming, I was still shocked at how they pulled it off.
Overall, I recommend reading the book ahead of time, especially as the story contains several references from prior books.
The Play: Know Before You Go
Before you rush to purchase your Harry Potter play NYC tickets, there are few things you need to know.
Format
To best tell the continued story, the show is split up into two parts. Each part is just over 2.5 hours long with a 20-minute intermission.
Audiences have the option to see Parts 1 and 2 sequentially on the same day or to purchase tickets for each part on a different day. I recommend taking the entire day to see the show. It's worth it!
However, since kids may not be able to sit through two shows back-to-back or if prior obligations prevent you from seeing both parts in one day, you should consider booking shows on different days. You can choose to see Part One on a Wednesday matinee or Thursday evening and book Part Two on another Wednesday evening or Friday evening at a later date. Do know that different actors may be performing if you choose to see the parts on different days.
It's Not a Musical
Sorry to burst your bubble, but you won't hear or see a singing Harry Potter. Several people verbally expressed their confusion over this point after the show. Some people didn't read the book beforehand!
Know Thy Children
The show has several frightening elements, plot lines, and realistic effects. With this in mind, it is not recommended for children under the age of 10.
At one (quite terrifying) point in the show, the girl in front of me jumped out of her seat and was trembling for the rest of the scene. Although the majority of the show is kid-friendly, certain points had adults scared, too. Parents, please use discretion when bringing your children to Harry Potter and the Cursed Child. While they (or you) may be the world's biggest Harry Potter fan, the show may not be suited for them just yet.
Children under the age of 15 cannot enter the theater without a parent. Children under the age of 4 are not permitted into the theater whatsoever.
Special Effects
To bring the magic of the Wizarding World to life, the show utilizes an abundance of special effects. If you or another individual in your party may be affected by these effects or are concerned, please speak with an usher prior to the show and they can assist you.

How to Get Tickets to the Harry Potter Play NYC
When I purchased my tickets, it was part of a lottery system as the show had not debuted in NYC yet. Today, you can purchase your Harry Potter play NYC tickets online via Ticketmaster.
However, since the show swept the 2018 Tony Awards, you may find the prices to be a bit steep. If so, you can enter the Friday Forty Lottery instead. Those who are selected pay $40 total ($20 per part) per person, which reserves a seat for both Part One and Two in consecutive performances the following week. Winners are limited to a maximum of two tickets.
Another option is to purchase tickets at the Lyric Theatre box office. While these tickets may not be heavily discounted, you never know what opportunity awaits until you try. The box office is open from 10:00 am to 8:00 pm daily. Or, you can join the cancellation line the day of a performance for recently available tickets.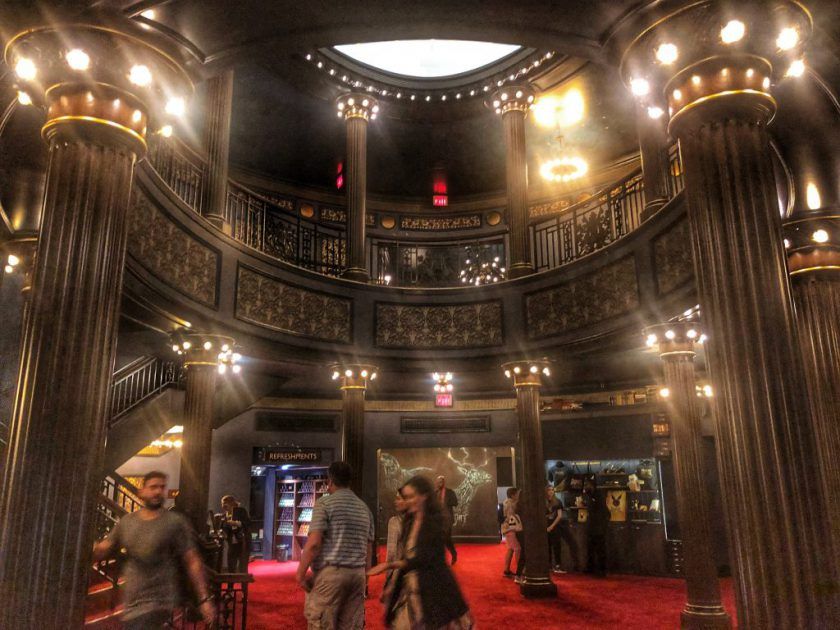 About The Lyric Theatre
Located at 214 W 43rd St, New York, NY 10036, getting to the Lyric Theatre is a breeze.
If you've traveled to Grand Central Station, the theater is a quick 12-minute walk up 42nd. Take a right out of the 42nd street exit and start walking. While you'll see the theater on 42nd, enter through the 43rd Street entrance.
If you're traveling from elsewhere in Manhattan or another NYC borough, take these Subway routes:
1, 2, 3, A, C, E, N, Q, R, W, 7, or S train to the 42nd Street/Times Square Station, 3-minute walk to the theater
B, D, F, M to 42nd St- Bryant Park, 6-minute walk to the theater
As you enter the theater, keep your eyes peeled for Harry Potter inspired decor. Some decorations are obvious, while others are hidden throughout!
The theater also provides refreshments and souvenirs available for purchase once inside. Keep in mind, these items cannot be purchased during the performance.

Seeing the Play: The Day Of
The day you're scheduled to see Harry Potter and the Cursed Child will be filled with anticipation and excitement. As I rode the train into the city, all I could think about was how great this play was going to be!
However, anticipation can sometimes lead to forgetfulness, which is the last thing you need on such a thrilling day. To avoid any bumps in the road, keep our tips in mind:
Download the Ticketmaster App
If you've purchased your Harry Potter play NYC tickets via Ticketmaster, you will need a smartphone for mobile entry. Download the Ticketmaster app the day before your scheduled performance and enter your account information to display the tickets. Your tickets will be made available 72 hours before the performance.
When you enter the theater, have your phone unlocked and ready to scan so you don't hold up the line.
Also, be sure your phone has enough battery to last for entry to two performances. I brought my external battery charger as I knew my phone battery would drain due to heavy usage throughout the day.
Ticket Retrieval
Those who have elected to pick-up or purchase tickets from the box office will need a valid ID, purchasing credit card, and reservation confirmation (if provided) available. If you are missing any of these items, you will not be able to retrieve your tickets.
Arrive One Hour Early
You'll notice your tickets recommend you arrive at the Lyric Theatre an hour before showtime. Heed this advice! We walked by the theater about an hour and a half early and a line was already forming. Even though an hour beforehand may seem excessive, you'll instantly realize why this rule is in place.
Arriving early allows you to explore the theater (and be on the lookout for hidden Wizarding World decor), purchase any souvenirs, and grab a drink or snack before being allowed to take your seats.
Arrive on Time
If you fail to take our advice or your train is running late, do your best to show up at least on time for the production. Latecomers will either not be seated until intermission or are seated at the discretion of management. No one wants to be the group they seat 10 minutes into the show!
Prepare for a Security Check
All guests are subject to a security check which includes a bag search and metal detector. Do know that large bags and suitcases are not allowed inside the theater. If you refuse these processes, you will not be admitted into the theater.
Buy Souvenirs ASAP
Another reason to arrive early is to purchase souvenirs. If you know you'd like a memento of your visit, head to the souvenir shop once you've entered the theater. The line fills up rapidly, so be ready to push your way through a crowd.
Quick tip: There's a smaller shop on the dress circle/mezzanine level! Go there for fewer crowds.
Skip the Food and Beverage Lines
Although I'm not a fan of audience members who chomp on hard candy or sip loudly during the show, I do understand the appeal. If you're interested in buying food and beverages from the Lyric Theatre, you don't have to stand in line.
Once at your seat, you can download the Ordertorium app. From here you can order food and drinks directly to your seat before the show or at intermission! An usher can assist you with this process as well.
During the Show: Broadway Etiquette
The Harry Potter play NYC is an award-winning, multi-million (if not billion) dollar production. Fans from all over the world have come to New York City to be a part of this mystical performance and return to Hogwarts once more. Do not be the audience member who ruins it for them with poor etiquette.
Follow these simple rules and everyone will have a magical time:
No Pictures or Video
Once you see the spectacular set design and special effects, you'll want to capture those memories forever. But, you can't. Photography and videography are strictly prohibited during the performance. And, for a good reason!
Aside from infringing on copyrights, the light from screens or the flash of a camera is distracting to performers. With a show that relies heavily on intricate cues and timing for dangerous effects and choreography, a distracted performer can lead to disaster.
Turn Phones Off
What's more annoying than audiences filming a performance? Those who text or scroll during a performance.
Between the buzz of notifications to the blinding light of a screen, being on your phone is one of the rudest things you can do during a play. Don't just put it on Do Not Disturb or silent. Turn it off!
For perspective, a group was kicked out of the show I attended for being on their phones throughout the show. Don't be those people!
Be Quiet, Please
While the Harry Potter play NYC does have loud, intense scenes and a moving soundtrack, the show also contains soft, tender moments which are pivotal to the plot and character development. Imagine being so invested and concentrated on a scene, only to have it ruined by a conversation behind you or the crinkle of a candy bar wrapper.
Please be respectful to those around you during the show. Do not talk or make a significant amount of noise while watching the production.
Where to Go In Between Shows
If you've chosen to see both parts on the same day (which I recommend), you will have about 2 hours in between shows. During our visit, the first show ended around 4:30 pm. While the next part does not start until 7:30 pm, you should arrive an hour early to the second show as well.
During this break, take the opportunity to grab a bite to eat at any of the nearby restaurants. The Lyric Theatre is located right in the greater Times Square/Midtown Manhattan area, so your meal choices are endless.
Those who have never been to New York City may think eating at a Times Square restaurant is a good idea. Think again! While I understand the intrigue, the gigantic chain restaurants are overpriced, crowded, and taste the same as anywhere else. And, since you only have about 2 hours to eat, selecting a local, less crowded restaurant is far more advantageous.
My personal recommendations in the area would be:
When selecting where to eat, keep in mind that you need to be back at the theater no later than 7:15 pm to get to your seat before the show begins. Remember to also factor in the time it takes to walk a few blocks back to the theater!
Where to Stay in NYC
For the ultimate convenience, book a hotel room at the Westin NYC at Times Square. The hotel is adjacent to the theater and offers cozy accommodations with modern decor. Those traveling with kids find this hotel to be the perfect option for a nap between shows. With a prime location, guests are also situated within close proximity to top NYC attractions.
If you'd rather price shop, explore the many Times Square and Theater District hotels available. You're bound to find one suited for your trip to see the Harry Potter play NYC!
Harry Potter Play NYC: #KeepTheSecrets
Harry Potter fans know Hogwarts will always be there to welcome you home. Now, fans have a new way to enter Hogwarts with Harry Potter and the Cursed Child on Broadway. Plan your NYC trip, secure your tickets to the Harry Potter play, and get ready for a magical vacation.
But remember, after the show, you must now #KeepTheSecrets!