Strap in for a remarkable outdoor adventure filled with adrenaline and nature at Flagstaff Extreme Adventure Course!
Ready to test your skills and push your boundaries to the limits? The Flagstaff Extreme Adventure offers an array of obstacles, including zip lines, aerial courses, and suspended bridges, all set against the breathtaking backdrop of Flagstaff's natural beauty!
Get ready to conquer fears and achieve heights you never thought possible while visiting this top attraction in Arizona. Bring your brave little ones along for an experience you'll treasure forever.
Follow along as we delve into the challenges and fun at Flagstaff Extreme Adventure Course.
Flagstaff Extreme Adventure Course Discount Tickets
Beat the lines and enjoy more time on the adventure course when you book ahead and secure your Flagstaff Extreme Adventure Course tickets in advance. So, pre-purchase your pass from Tripster and tap amazing deals.
Adventure Kids Course
Treat your kiddos to a day of thrill and outdoor fun at the Adventure Kids Course in Flagstaff Extreme Adventure Course. Cheer on them as they embrace the excitement of a variety of age-appropriate obstacle courses and challenges. This outdoor activity is designed for little thrill-seekers ages 7 to 11.
Adventure Ziplines
Feel the rush of adrenaline and cool mountain wind in your hair as you zip from platform to platform on the Adventure Ziplines. The course features over 30 ziplines, varying from 15 to 80 feet in height. Plus, it features bridges and ladders, adding another layer of challenge to the experience. Save your worries though as there will be training to prepare you.
Adventure Course
If the Adventure ziplines leave you yearning for even more excitement, look no further than the Adult Adventure Course. Conquer an array of 10 to 17 various challenges and zip lines, featuring hanging nets, wobbly bridges, rope swings, and more pulse-quickening surprises. This is definitely not for the faint of heart. 
Note: This experience requires guests to attend a 30-minute training session.
Flagstaff Extreme Adventure Course Coupons and Discounts
Flagstaff Extreme Adventure Course Military Discount
This experience proudly offers a military discount, a token of gratitude to our brave servicemen and servicewomen. Just present your ID to receive 10% off your next thrilling experience.
Flagstaff Extreme Adventure Course AAA Discount
Although an AAA discount is not available, you can still enjoy fantastic deals by booking your adventure directly with Tripster.
Flagstaff Extreme Adventure Course Senior Discount
Flagstaff Extreme Adventure Course celebrates the spirit of adventure at any age with a 30% senior discount. Plus, those who get to finish all adult courses will receive a FREE FLG X Shirt Invite your grandparents to enjoy the thrill and the amazing deals!
Flagstaff Extreme Adventure Course Arizona Resident Discount
Unfortunately, there is no available discount for Arizona residents at this moment. Still, you can still score big savings with Tripster.
Flagstaff Extreme Adventure Group Travel Deals
Rally your adventurous squad and dive into the group travel deals at Flagstaff Extreme Adventure Course. Groups of 8 and more get 10% off the experience.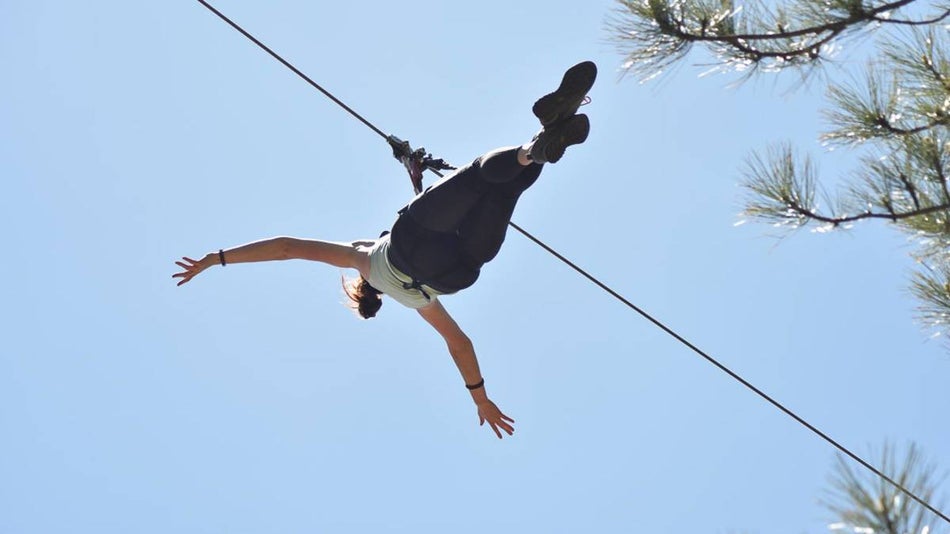 Flagstaff Extreme Adventure College Students Discount
Just flash your valid student ID and enjoy a 10% discount as you take on the adrenaline-pumping course.
Hotels Near Flagstaff Extreme Adventure Course
Make the most of your time in the area by selecting a hotel close to the action, granting you easy access to an array of exciting spots.
Book your stay in any of these hotels for a perfect blend of convenience and relaxation. 
Arizona Attractions
Sea Life Arizona

Plunge into a world of marine life at Sea Life Arizona, where the mysteries and beauty of the sea come to life. Observe and get an up-close encounter with an array of interesting sea creatures from playful otters to giant Pacific Octopus. This attraction features a 26,000-square-foot interactive aquarium that houses over 250 species.
Related Post: Medieval Times Phoenix - 2023 Discount Tickets and Reviews
Make sure to come to visit with your kiddos as the place is filled with interactive play areas, educational workshops, and more attractions tailored for little ones.
LEGOLAND Discovery Center Arizona

Unleash your inner builder at LEGOLAND Discovery Center Arizona, a colorful paradise where endless possibilities, creativity, and brick-filled wonders abound. Have a blast at LEGO-themed play zones, hop aboard family-friendly rides, and engage in hands-on activities with your little ones. Plus, take the chance to meet and greet, plus snap selfies with your favorite LEGO characters.
Grand Canyon & Sedona Day Adventure
Discover the treasures of Arizona's landscape on a fascinating Grand Canyon and Sedona Day Adventure. Marvel at the timeless beauty of the Grand Canyon's geological formations, and then delve into the vibrant hues of Sedona. Don't forget your cameras as you embark on the Grand Canyon & Sedona Day Adventure as this 13-hour journey is a photographer's dream come true.
Insider Flagstaff Extreme Adventure Course Tips
Keep these suggestions close at hand to guarantee that your Flagstaff Extreme Adventure experience exceeds all expectations.
Will I Need to Sign a Waiver?
Yes. A signed waiver is required for all guests.
Related Post: Things to Do with Kids in Phoenix: 13 Fun Activities
Do I Need to Come with My Child/Teen on the Course?
Children 12-15 must be accompanied by a paying adult.
Are there Any Restrictions?
Participants must have the ability to reach a height of 5'11" (180 cm) with their palms while maintaining flat feet on the ground.
Do We Receive Training on How to Navigate the Course and Use the Equipment?
Yes. Guests will undergo thorough training in the proper usage of the gear and learn more about the course.
Flagstaff Extreme Adventure Course Reviews
Seeking that final nudge to decide whether this experience is the right choice for you? Read the most recent reviews from fellow thrill-seekers. You can also check Flagstaff Extreme Adventure Course photos for reference. 
Challenge yourself, soar through the sky, and embrace the sheer thrill of conquering difficult obstacles with your Flagstaff Extreme Adventure Course discount tickets from Tripster. Then, expand your horizons by discovering the many hidden gems that Arizona has to offer.
Have You Experienced the Thrill of Flagstaff Extreme Adventure Course?
Let us know in the comments below.