January 18, 2023 @ 8:00 am

-

5:00 pm

PST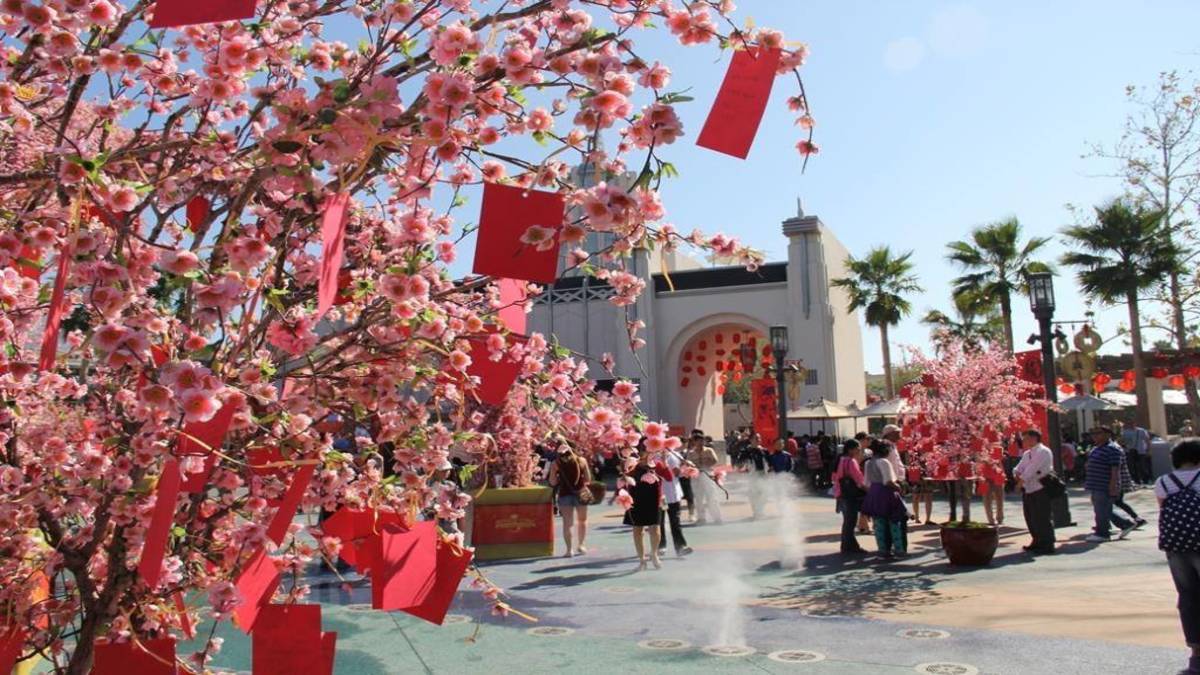 Traditional dragon dances, brightly lit red paper lanterns, and authentic Asian cuisines. Are you ready to welcome the Year of the Rabbit at Universal Studios Hollywood Lunar New Year 2023 celebration?
Say goodbye to the Year of the Tiger at this annual festivity. Universal Studios Hollywood never passes up the chance to honor the event and pay homage to cultural traditions through holiday entertainment, favorite character sightings, a Chinese menu, and colorful decorations.
Stuff your mouth with flavorful dishes such as secret ingredient noodle soup at the noodle shop located at the Holywood dine, write and clip your wishes in the coming new year to the pink blossom tree, or enjoy red envelopes and gifts.
Stop by the park and usher in the Year of The Rabbit, a zodiac animal that symbolizes luck and prosperity with the entire family. Follow along to learn more about this joyous Universal Studios Chinese New Year celebration.
Related Post: Insider's Guide to Universal Studios Orlando Tips
Universal Studios Lunar New Year Tickets and Date
Unfortunately, the park hasn't released the official dates for the Universal Studios Lunar New Year 2023 experience. We will update this page with more information once available.
Universal Studios Hollywood Discount Tickets
When it comes to adrenaline-inducing rides to movie magic, you can't beat Universal Studios Hollywood. Before exploring an actual movie set, getting on the action-packed rides, and enjoying events like Universal Studios Hollywood Lunar New Year 2023, get your tickets from Tripster first:
1 Day General Admission Value Non-Peak
1-Day General Admission Mid-Peak
1 Day General Admission Peak
About Lunar New Year
Widely celebrated in Asia and other parts of the world, Lunar New Year marks the beginning of a new year on the lunisolar calendar. This festive tradition is commonly celebrated during the month of February and comes in all colors and sizes. It features dragon and lion dances, red envelopes, pyrotechnic displays, and tasty delicacies.
It's a time to connect with your loved ones, welcome the new year ahead in style, and wish for good fortune, prosperity, and happiness throughout the entire year.
Interested in deepening your knowledge of this tradition? Make your way to Lunar New Year at Universal Studios Hollywood, then.
Universal Studios Hollywood Vacation Package
Whether you're a movie buff or thrill-seeker, there are plenty of adventures in Universal Studios Hollywood. Set foot on this amusement powerhouse and get in the Los Angeles fun without busting your wallet with these vacation packages from Tripster:
Other Can't-Miss Universal Studios Hollywood Attractions
The Wizarding World of Harry Potter™
Channel your inner witch or wizards at The Wizarding World of Harry Potter™. From high-end movie prop replicas to magical creatures, this theme park attraction is full of surprising thrills. Take the chance to discover all the secret doors at Hogwarts™ castle, get your own wand and potions at Hogsmeade™, and hop in the pulse-pounding rides that bring you into an enchanting world.
The World-Famous Studio Tour
Have you really ever been to Disneyland & Universal Studios Hollywood Vacation Package if you don't go behind the scenes of your favorite movies? After the Lunar New Year Universal Studios, journey through the 400-plus acres of this iconic studio lot, where you'll come face-to-face with Kung fu Panda Master Po, King-Kong, and The Simpsons. Plus, learn movie secrets and see never been released footage.
iFly
Want to skydive but can't still pluck up the courage to do so? Try this indoor skydiving attraction at Universal Hollywood Studios first! iFLY Hollywood is an advanced upright wind tunnel that allows adults, teens, kids, and anyone in between to fly without the costs and dangers.
Experience Universal Studios Lunar New Year
With traditional dances, authentic Asian meals, red lanterns, and more festivities, Universal Studios Hollywood Lunar New Year is the next best place to greet the Year of the Rabbit if you can't travel to Asia.
Eat all the sticky rice snacks, pork ramen, or dumplings you crave at the spicy-themed noodle house. Then wish for a prosperous new year, and honor the traditions and culture at this event. We hope the secret ingredient noodle soup, mango tiger boba, and cinnamon tiger tail donut will make a comeback for this year's event.
Related Post: Ultimate Guide to Discount Universal Studios Hollywood Tickets
Plus, shop for souvenirs and lucky charms that are only available for a limited time.
Join thousands of people as Universal Studios Hollywood celebrates the new year. May luck and fortune be yours!
Related Events