April 22, 2023 @ 5:00 pm

-

10:00 pm

PDT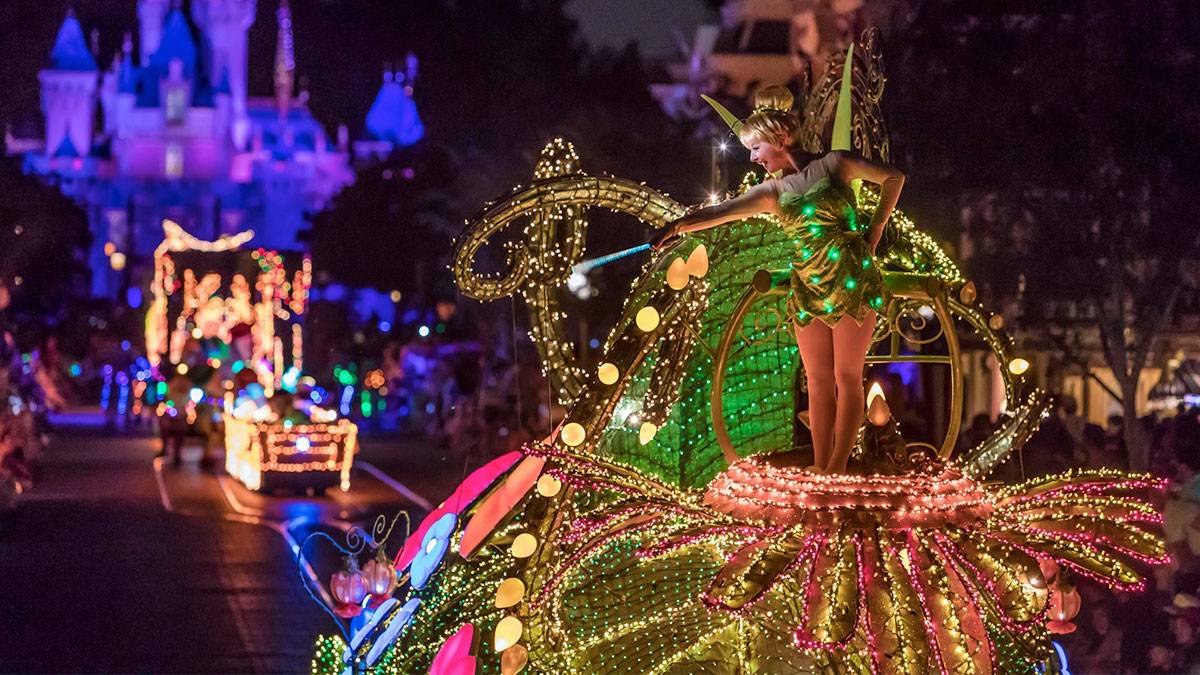 Behold a pageantry like no other at the annual Disneyland Electrical Parade! The magic and color of your favorite Disney movies comes to life through elaborately adorned floats and live performances.
Get lost in the enchantment of a Disney parade, where millions of lights, decorations, and other surprises abound.
Perfect for kids and kids at heart, Main Street Electrical Parade Disneyland is the best place to immerse yourself in magical stories and sightings. Witness scenes and characters from your favorite movies pass right in front of you.
Related Post: Disneyland on a Budget: The Step-by-Step Planning Guide
Don't miss out on the chance to experience a nighttime celebration packed with magic at the Disneyland Electrical Parade!
Main Street Electrical Parade Disneyland Tickets
The Electrical Parade is included with your Disneyland tickets.
Nearby Hotels and Lodging
Make your trip experience one to remember by booking an ultra-relaxing room! Take a break at one of the best hotels in the area by booking with Tripster:
Disneyland Discount Tickets
Unsurprisingly, Disneyland draws massive crowds every day. So, it's a good idea to extend your day trip into multiple visits to tackle all the park's exciting attractions.
Book these discount tickets with Tripster to do so without breaking your vacation budget:
Disneyland Vacation Packages
While in Los Angeles, make the most of the city's other great attractions and top sights. Bundle your tickets with these vacation packages from Tripster for the ultimate savings:
About Main Street Electrical Parade Disneyland
Created in 1972, Main Street Electrical Parade is a nighttime spectacle that features massive floats and live performers. Since its debut over 50 years ago, it has fascinated millions of guests at Disney Parks and Walt Disneyland Resort, including the Magic Kingdom.
Every year, the Disneyland Electric Light Parade excites, not only with spectacular, state-of-the-art floats adorned by more than 500,000 lights, but also with character experiences.
When attending the attraction, keep your eyes open for beloved Disney characters, including Tiana, Mowgli, and Elsa. Aside from your favorites from Jungle Book, Princess and the Frog, and Frozen, Minnie and Mickey Mouse, Cinderella, and others will be there to greet the crowd.
It's a celebration of fun for everyone!
Electrical Parade Route
This Disneyland Electrical Parade Route runs from "it's a small world," then Sleeping Beauty Castle, down Main Street USA, and around Town Square. "How long is the Electrical Parade at Disneyland?" you may wonder. It runs for about 20-30 minutes.
Main Street Electric Parade Disneyland Best Viewing Spot
"it's a small world"
Watching with kids? This family-friendly viewing location is for you. The place has a large area to save a spot from and nearby bathrooms and refreshment stands. Just be sure to arrive early, as it's one of the places that gets easily crowded.
Always check the Disneyland Electrical Parade schedule to manage your time well.
Matterhorn
Can't stand for too long? The space right past Matterhorn has built-in benches to sit with your little ones. There are bathrooms and food booths nearby the area, making it a comfortable place to watch the Electric Light Parade Disneyland. Come before the parade starts at 8:45 PM.
Main Street and Town Square
The folks who arrive last minute don't have to worry, as they can still watch the parade at Main Street and Town Square. Snag a place before the procession begins or get seated on the curb if you're lucky.
Related Post: Ultimate Guide to Disneyland: Coupons, Discounts, and Deals
You can also follow the advice of some former attendees to scout out a room behind the rope and try to find a spot that offers the best viewing experience.
Parade Dining Package
Enjoy a tasty lunch with a can't-resist offer: a special viewing area for the Main Street Electrical Parade Disneyland. The Plaza Inn Dining Package gives you reserved viewing access and delicious meal options, making it a steal!
Disneyland Electric Parade Venue
The Electrical Parade will be held at Disneyland Park 1313 Disneyland Dr, Anaheim, CA 92802.
Main Street Electrical Parade Date and Details
"When is the Electric Light Parade at Disneyland?" you may ask. The last procession was on September 1, 2022, during which it celebrated its 50th anniversary.
It has been reported that the event will end its limited time runs, but we are hoping for its return in 2023. We will update this page with more information as it becomes available.
Experience the Disneyland Electrical Parade
Walk into a magical place filled with shimmering floats, character sightings, and familiar tunes when you visit Disneyland during the Main Street Electrical Parade!
Related Post: Insider's Guide to Disneyland
This beloved spectacle envelops you in a breathtaking and nostalgic journey with surprising special effects, decorations, and character experiences. See Cinderella, Mickey Mouse, Minnie Mouse, Snow White, and other cast members during the procession.
Plus, sing along to Baroque Hoedown, the main theme song of the parade. Join the event and let it transport you to the whimsical worlds of Disney and Pixar stories. Meanwhile, you can extend your trip into an enchanting getaway with a Disneyland vacation package.
Related Events