March 1, 2024

-

May 31, 2024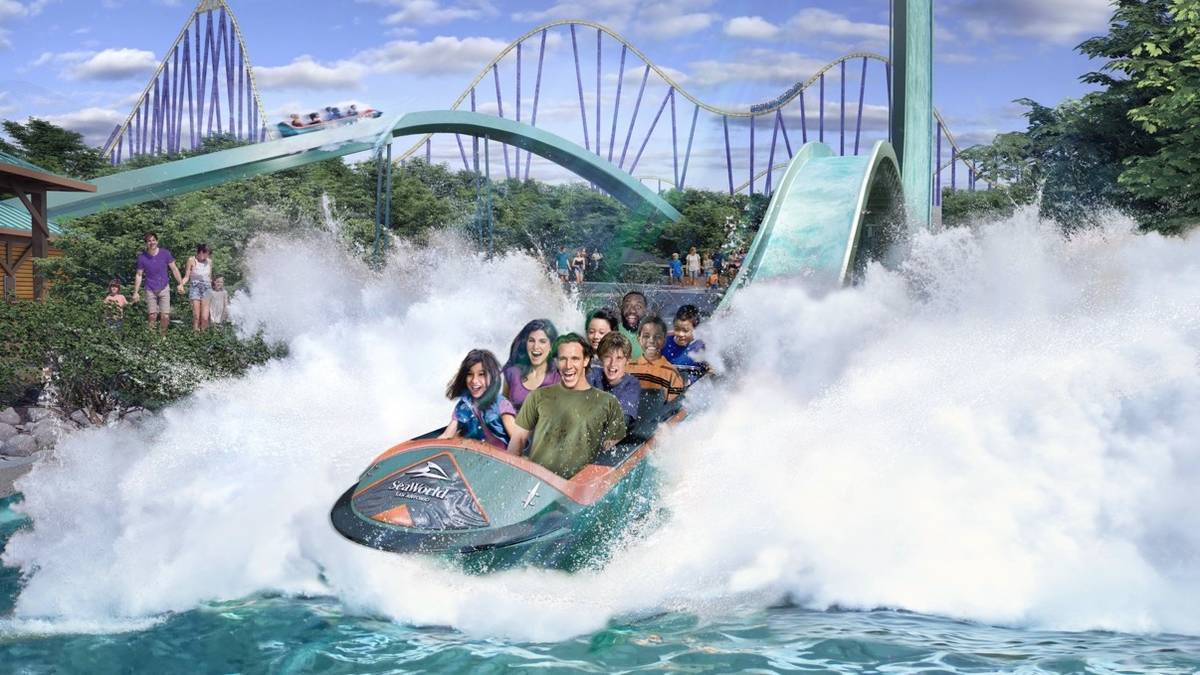 After months of teasing, SeaWorld Antonio officially announces its newest record-breaking ride - the Catapult Falls. Get ready to soar and make a splash like never before this 2023!
Offering the rush of a launched roller coaster, the anticipation of a vertical lift elevator, and the adventure of a water ride, Catapult Falls is the World's First Launched Flume Coaster and Steepest Flume Coaster!
The hottest addition will hurl through the launch at speeds of 30 feet per second, letting passengers experience a pulse-pounding blast while feeling the swirling effect of a water trail. Then, at 53 degrees, it plunges passengers into the falls at over 37 miles per hour.
Learn all the deets about this SeaWorld San Antonio new ride!
SeaWorld San Antonio Catapult Falls Admission
Can't wait to ride the Catapult Fall? So are we! After all, this is North America's only flume coaster-type ride that features a vertical lift. But before anything else, be sure to get a 2023 Season Pass to be among the first to check out this latest thrilling entertainment.
On top of getting exclusive access to the newest SeaWorld San Antonio rides, pass members are rewarded with unlimited year-long visits and more perks.
SeaWorld San Antonio Discount Tickets
Test your courage by trying more rides Seaworld San Antonio, watch world-class shows, and join interactive exhibits. While counting the days before the launch of Catapult Fall, keep yourself busy by marveling at the marine theme park's 250-acre.
Snag these discount tickets from Tripster to stretch your budget:
Other SeaWorld San Antonio Thrilling Rides
Rides at SeaWorld San Antonio range from wholesome to exhilarating. If you're looking for some pulse-pounding experience, then you've got to try these:
Steel Eel Hypercoaster
One of SeaWorld San Antonio rides that many daredevils rave about is Steel Eel Hypercoaster, and we couldn't agree more. This coaster surprises riders with a vertical plunge of 15 stories preceded by a dozen camelbacks, treating them to moments of weightlessness.
Texas Stingray
Thrill-seekers, this longest, fastest, and tallest roller coaster SeaWorld San Antonio Texas, is for you! The Stingray is a wooden thrill ride in the Lone Star State that features a 100-foot drop, a top speed of 55 mph, and 3,379 feet of track.
Tidal Surge
Soar through the air at this tallest and fastest screaming swing - the tidal surge. It impresses with 135 feet of dynamic swing height and a speed of 68 miles per hour.
Wave Breaker
Before having the best time at the awaited SeaWorld San Antonio new ride 2023, focus your attention on saving precious marine animals first. Ride this speedy coaster for the rescue mission, where you'll experience two launches, a 61-foot drop, and zoom along 2 600 feet of track. This is a perfect family adventure ride.
Nearby Hotels and Lodging
After a day of watery free-fall and twists and turns at the new SeaWorld ride San Antonio, you will surely want to keep your feet on the ground, or better, on a bed. Book these nearby hotels from Tripster to rest and relax. You want to be refreshed and ready for the next day's adventures.
While at it, save some serious cash.
SeaWorld San Antonio Vacation Package
Why pay a higher price when you can book these affordable vacation packages from Tripster?
Experience Catapult Fall at SeaWorld San Antonio in 2023
The new ride at SeaWorld San Antonio comes in three-in-one thrills, perfect for those looking for the exhilaration of a coaster ride in a water attraction.
Making a splash this 2023, Catapult Fall is the world's first launched flume ride that will surely impress any serious adrenaline junkie. This awaited attraction will take riders up 55 feet above before plummeting them down a 53-degree drop at 30 feet per second. Once they reach the peak, the riders will experience the world s steepest drop.
Related Post: Ultimate Guide to SeaWorld San Antonio: Coupons, Discounts, and Deals
Even SeaWorld San Antonio president Byron Surrett is excited about the newest attraction that only will be the world s first launched flume coaster.
There's no better way to cool down in the hot Texas temperatures while getting that extreme adrenaline rush than at this Catapult Fall. See you in 2023!
Also, don't forget to have a blast at other SeaWorld rides in San Antonio and explore the city's top spots with a SeaWorld San Antonio Vacation Package.