March 20, 2023 @ 8:00 am

-

July 21, 2023 @ 5:00 pm

CDT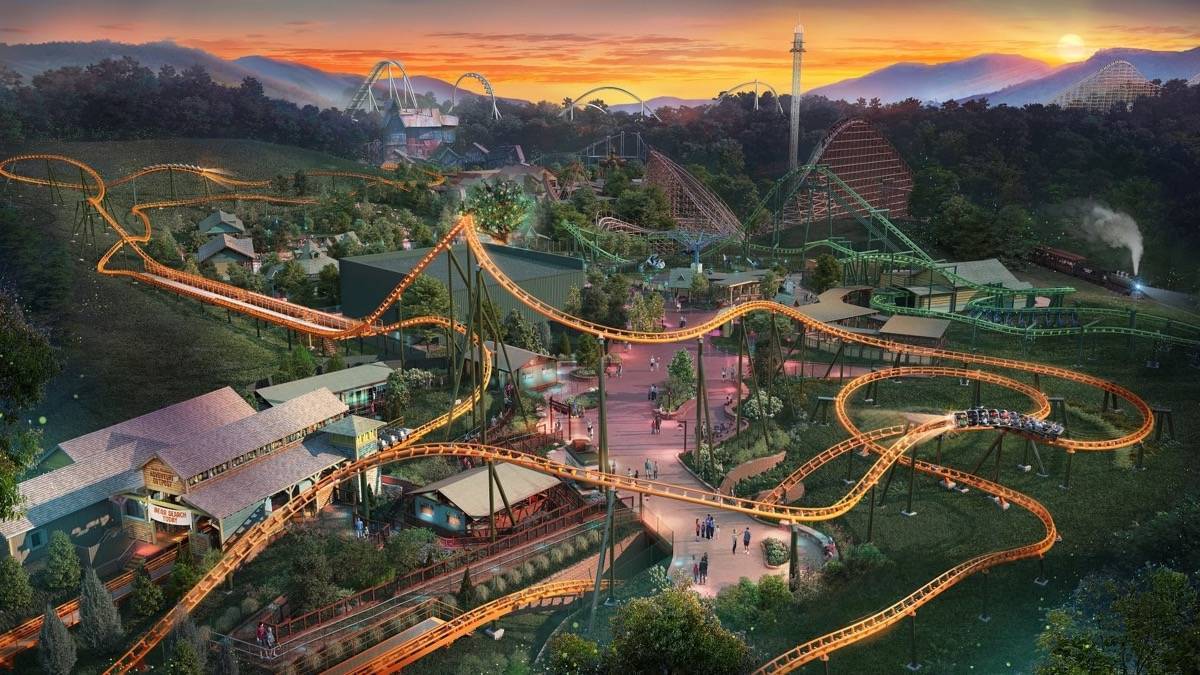 Brace yourself for the most thrilling adventure ever as Big Bear Roller Coaster Dollywood is finally slated to open this Spring!
Only a real adventurer will go on an expedition in Wildwood Grove to find that Big Bear aboard Dollywood's gigantic coaster. Up for the challenge? Then, hop in and roam through the wilderness for roughly two minutes on 3,900 feet of track. But, just when you settle in your seat and catch your breath, your ride starts its lightning turns and three separate launches, plus multiple airtime hills with a top speed of 48 miles per hour.
The park's longest addition features onboard audio, including announcements from Ned Oakley, resident wilderness explorer and an adventurer who is also dedicated to finding the massive creature while in his specially outfitted four wheel drive SUVs.
Follow along to learn more about Dollywood's newest sleek ride.
Dollywood Big Bear Mountain Tickets
Before finding yourself having the best time of your life on Big Bear Mountain Dollywood, pre-register for a 2023 season pass first. Visit Dollywood's website to register and get exclusive access for the opening day in the spring of 2023.
Nearby Hotels and Lodging
After a long day of screaming your lungs out at the Big Bear Mountain coaster Dollywood and other rides, take relief in knowing that you booked the best room and saved a ton of cash with one of Tripster's hotel offers.
Other Attractions in Pigeon Forge
From fresh mountain air and family-friendly fun to high-flying thrills and relaxing spectacles, Pigeon Forge is chock-full of awe-inspiring rides and experiences. Build a lot of memories in the city's premier attractions:
About Big Bear Mountain
With its 66 feet' high track elevation and a top speed of 48 mph, Big Bear Mountain is for all the adrenaline junkies. This all-new ride is also at 3,990 feet, making it the park's longest ride to date.
Related Post: Dollywood Tickets Discount - 2023 Ultimate Guide
While aboard the Big Bear Mountain roller coaster Dollywood, expect three separate launches multiple airtime hills, and striking turns and tunnels. Coming with your little daredevils? No problem as this newest addition only comes with a 39 inches height requirement.
Other Thrilling Rides in Dollywood
Lightning Rod ®
Based on a decked-out 1950s hot rod, this attraction is one of the best rollers in the country. Lightning Rod features a 165-foot drop and a 3,800-foot track to the highest speed of 73 miles per hour. Head to Dollywood's Jukebox Junction with your fellow thrill seekers and experience the power and swiftness of lightning. The ride can carry a total of 24 people per train.
Thunderhead ®
Nestled between two mountains, Thunderhead is an enormous wooden coaster that includes a 100-foot plunge and a speed of 55 miles per hour. Marvel the mighty trees and make the most of the park's tumble and rough landscape while on this daring ride.
Wild Eagle ®
Fly like a wild eagle above the Smoky Mountains during your Dollywood visit with this attraction. Guests need to meet the 50 inches height requirement.
Experience Big Bear Mountain at Dollywood
A black bear called the Big Bear has been wandering through Wildwood Grove s Hidden Hollow for almost forever, but no one has still ever spotted him. Think you're lucky enough to catch the sight of this elusive creature? Then, hop aboard the Big Bear Mountain, Dollywood's newest gigantic ride opening in Spring.
Related Post: Dollywood Tips and Tricks 2023 - An Insider's Guide
Just make sure you'll have the courage and stamina to face 3 launches multiple airtime hills and a 66 feet track elevation during your quest.
Don't forget to seek the help of your fellow thrill-seekers in search of this legendary bear as the ride can take up to 20 passengers.
Even Dolly Parton herself even root that you'll find the massive bear! "I'm excited our guests will be able to head out on their own trip into the Smokies".
Related Events