December 2, 2022 @ 8:00 am

-

5:00 pm

CST

Free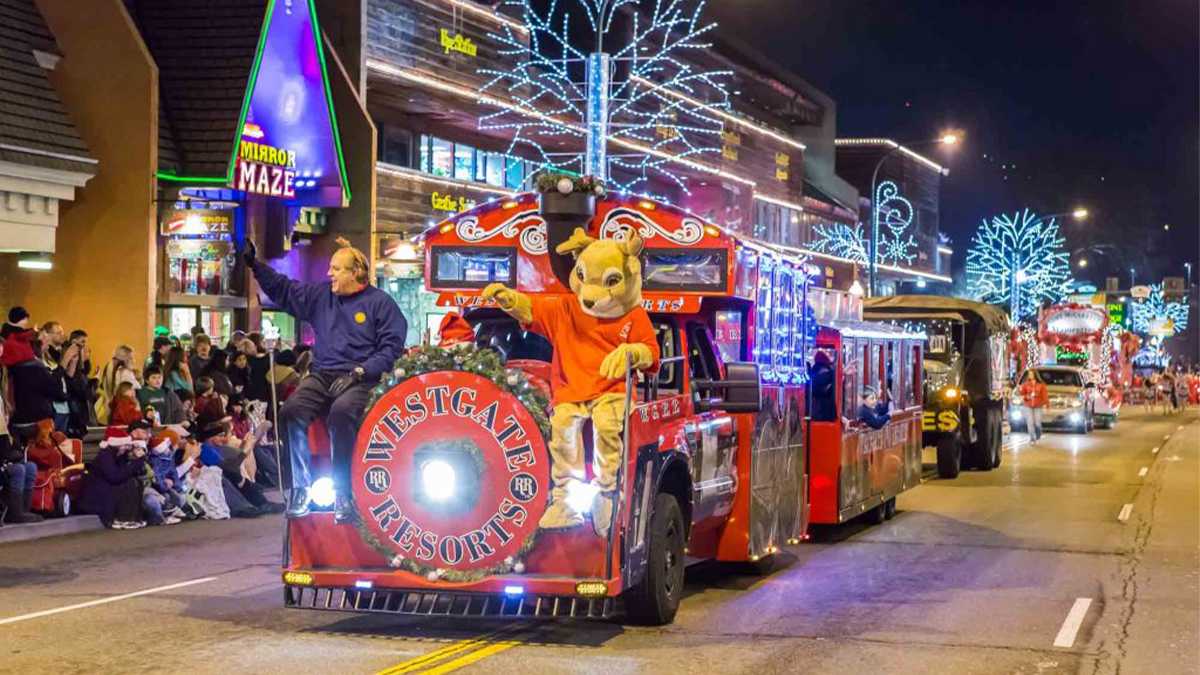 With larger-than-life helium balloons, extravagantly decorated floats, thunderous marching bands, and jolly holiday characters, the Fantasy of Lights Christmas Parade bring the most wonderful time of year to Gatlinburg!
Every year, hordes of festive spectators descend upon downtown Gatlinburg in celebration of holidays and to witness one of the best processions in America, the Fantasy of Lights Christmas Parade. This award-winning event, uniting thousands of people from all over the country, is back, so make sure to add this tradition to your holiday vacation itinerary!
Follow along as we bring you the roundup of the Gatlinburg Christmas Parade 2022.
Must-Visit Attractions in Gatlinburg
There's nothing better than traveling to all the best places, like the Great Smoky Mountains, without shelling out big bucks. Book from Tripster to get bundled savings:
Tree Lighting Ceremony
Before the highly awaited spectacle, city officials will hold a grand lighting ceremony of the Gatlinburg Christmas tree first. Flock to the Parkway Plaza at Traffic Light #3 before 7: 25 PM to be a part of this longtime tradition.
The fantasy of Lights Christmas Parade Route
The celebrated parade starts at Baskins Creek Bypass on East Parkway, traveling South onto the Parkway before stopping at Traffic Light #10.
Related Post: Most Unique Places to Eat in Gatlinburg
About Fantasy of Lights Christmas Parade
For 44 years, the Fantasy of Lights Christmas Parade has entranced millions of visitors and locals alike with its incredible lineup, including unique performance acts, gigantic floats, colorful balloons, and Santa Claus' appearance. No wonder it has been hailed one of the best parades in America by USA Today.
Can't make it to the actual Gatlinburg, TN, Christmas Parade? It's a shame, but there's still a chance to experience the magic. The event will be broadcasted on Christmas Eve and Day on local TV stations across the United States.
Parking Locations
Remember to arrive early for the parade. By doing so, you get to save a good viewing spot and find a place to park. You might be lucky enough to park for free along River Road. There are several privately owned parking locations near the parade route and city-operated parking garages nearby Traffic Light #3, but it's easily filled up.
Gatlinburg Christmas Parade Date
"When is Gatlinburg Christmas Parade?" you might ask. The event is on December 2, 2022, from 7:30 PM.
Experience Christmas Parade Gatlinburg
Whether you're celebrating Christmas in Gatlinburg for the first time or not, witnessing the annual Fantasy of Lights Christmas Parade is a must! This grand revelry draws 60,000 viewers every holiday season, so you know it's an excellent way to usher in the holidays.
Related Post: The Ultimate Gatlinburg Itinerary for Every Visitor
Bask in the explosion of merriment and colors with floats decorated in glittering lights and ornaments. Plus, marvel at the large balloons and festive costumes.
Of course, keep your peepers open for character appearances, including from the big jolly old man himself. Prepare to be impressed with the extraordinary performances of marching bands and guest entertainers at this special event.
So, grab your Santa hats and join the thousands of spectators in this longtime tradition.
While in town, take some time to see the beauty of the city and experience Christmas in the Smokies with a Gatlinburg, Tennessee package.