October 3, 2022

-

October 11, 2022

Free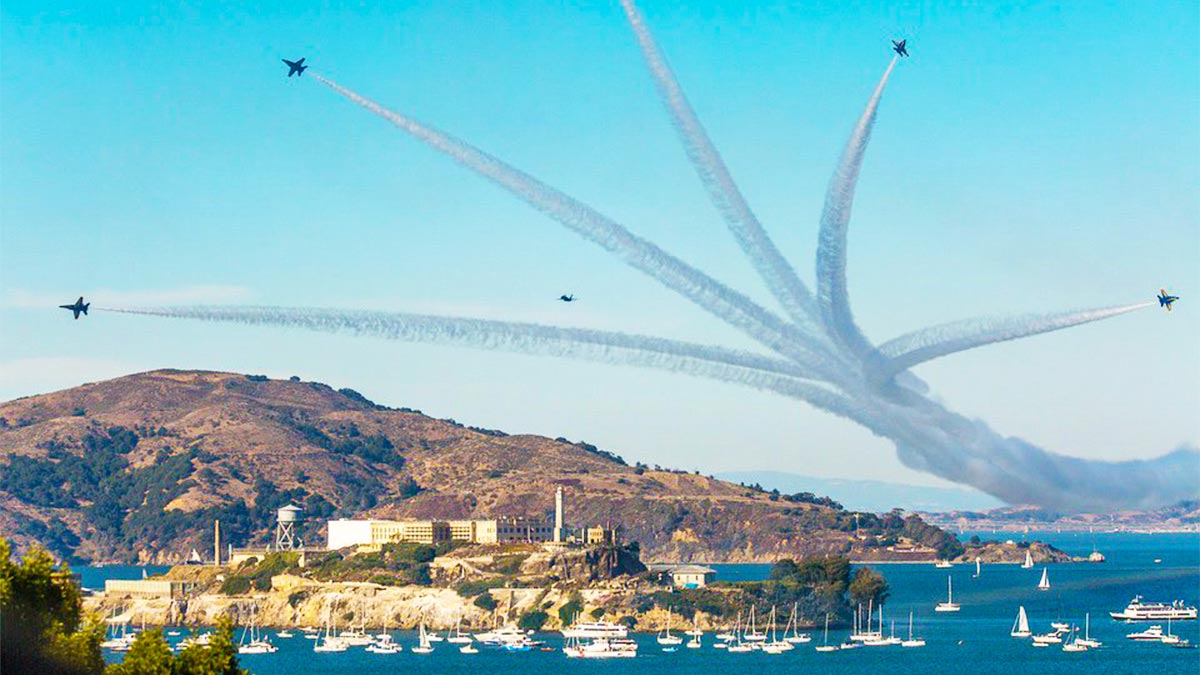 A tradition running since 1981, San Francisco Fleet Week honors the men and women of the United States Armed Forces with jaw-dropping aerial shows and military-related attractions.
This anticipated event allows the public to pay tribute and create connections with the brave men and women who serve and have served in the armed forces. Fleet Week's highlights include an aerial spectacle featuring the Blue Angels. Plus, there will be ship tours and disaster response activities throughout the week.
Date and Details
San Francisco Fleet Week runs from October 3 to 11, 2022.
Related Post: 5 of the Best Museums in San Francisco
The Air Show
The superb air show will be held on October 7, October 8, and October 9 from 10 AM to 4 PM.
Ship Tours
Climb aboard cruisers and head to the Port of San Francisco to get a glimpse of the daily lives of the sailors. Schedule as follows:
October 5 to 9, 2022: 10 AM to 4 PM
October 10, 2022: 9 AM to 12 PM
Parade of Ship
Located along the San Francisco Waterfront, the parade of ships happens on October 7, 2022, at 11 AM.
Humanitarian Assisted Village
Head to Marina Green to witness the disaster response exhibition of the military's relief equipment. It's from October 7 to 9, 2022, and starts from 10 AM to 4 PM.
Stem Center
Explore the opportunities in technology, science, and math here. It runs from October 7 to 9, 2022, at 10 AM.
K9 Heroes
This cutest attraction runs on October 8, 2022, from 10 AM to 2 PM at Duboce Park.
Honor our Fallen Soldier
Pay tribute to the service members who made the ultimate sacrifice for our country. Drop by Herbst Theatre SF War Memorial & Performing Arts Center on October 6, 2022, at 6 PM.
Neighborhood Concerts
Dance and party with the service men and women from October 4 to 10, 2022.
Covid-19 Information
Guests are encouraged to wear face coverings.
Tickets
Admission is free.
Other Attractions in San Francisco
Upgrade your Bay area vacation by visiting these other fun attractions:
Experience San Francisco Fleet Week
Related Post: A Weekend in San Francisco: How to Plan the Perfect Trip
Show your gratitude and support to our brave men and women at San Francisco Fleet Week. Come with the entire family to this patriotic and entertaining event.