April 1, 2023 @ 5:00 pm

-

November 1, 2023 @ 10:00 pm

EDT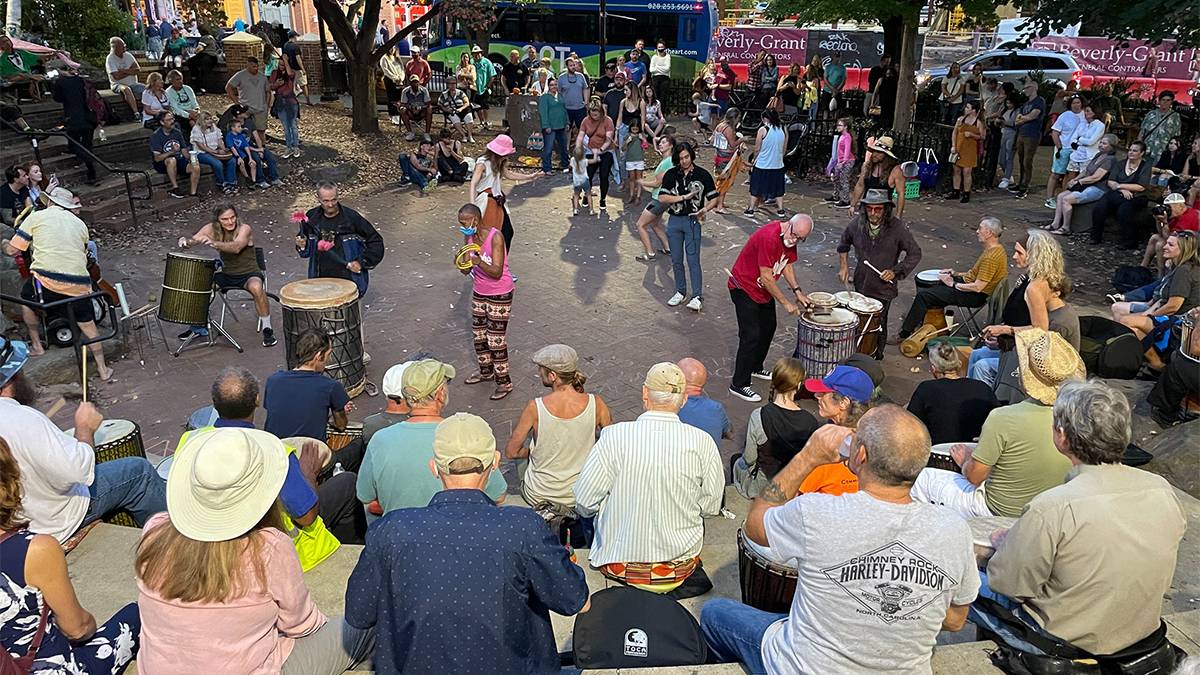 Have a free Friday night? Take a break from your usual routine and enjoy an unforgettable experience at Asheville Drum Circle!
Related Post: 31 Absolutely Free Things to Do in Asheville NC
A favorite of locals and visitors, Friday Night Drum Circle in Asheville NC is the place to be if your heart beats for some drumming and dancing. Drop by the Asheville Drum Circle each Friday night and watch folks of every age groove to the thunderous sounds.
Or, better yet, join the community in moving to the powerful rhythms created by dozens of artists. Anybody is welcome to bring their own drums and play their music.
Follow along as we share all the events and unexpected delights of the Asheville Drum Circle.
Nearby Hotels and Lodging
No matter how exciting the night is, it will eventually end. When that happens, you'll want to be in a relaxing room filled with the best amenities.
Find plenty at these discount hotels from Tripster:
Other Attractions in Asheville
Take the time to get to know Ashville and its rich history after the fair. There are numerous ways to fill a full trip itinerary!
These vacation packages from Tripster can make your trip more convenient and affordable.
Drum Circle Asheville NC Details
Information about Asheville NC Drum Circle time and dates has not yet been released. Just like last year, most assume that the Asheville Drum Circle schedule will still run from April-October.
Additionally, it will most likely take place in Pritchard Park Drum Circle on Patton Avenue. The dancers and drummers commonly start showing off their skills at 6 PM.
Check back later for more updates and possible changes.
Experience Asheville Drum Circle
Save your precious time and stop searching "drumming circle near me" online. We'll just tell you about the best one yet – the Drum Circle Asheville North Carolina! This free event is coming back this year to give you a good Friday with its powerful music and festive atmosphere.
Related Post: Most Romantic Things to Do in Asheville NC: The Ultimate Guide for Couples
Can't picture the event? Just search Drum Circle Youtube and you'll see what we're talking about. Witness how the rhythms come together as the drummers and guests play.
Throughout the event's grounds, there will be drums dancers, hula-hoopers, and other visitors with cowbells, triangles, and other instruments upgrading the fair's vibe and visuals. Plus, drum classes will be offered for those interested.
Whether you want to simply sit back and take in the show or be part of the action, Drum Circle is an event that promotes harmony and music.
So, sing, bond, share your moves with the community, and be ready for a good time at the Asheville Drum Circle. Enjoy yourself at Drum Circle Asheville North Carolina!
Meanwhile, you can level up your Asheville vacation by hitting all the city's top destinations, including Splashville Asheville, Asheville Parks and Recreation, and more.