Ziplines have become a popular attraction in the United States over the last couple of years. New courses have sprouted across the nation, with several zipline attractions located in Branson, Missouri. My favorite place to zip in the Ozarks is Branson Zipline at Wolfe Creek Preserve. They've excelled at creating an outdoor attraction that weaves Ozark legend with thrilling adventure.
I've zipped at Branson Zipline and Canopy Tours multiple times and each experience is unique and exciting. There are two courses to choose from – the Ozarks Xplorer Zipline Canopy Tour and Flying Prospector Zipline Canopy Tour. Ozarks Xplorer runs the full gamut of the Branson Zipline course, and traverses a total of seven ziplines and 10 skybridges. If you opt for the Flying Prospector Tour, you'll start at the midway point of the Xplorer tour and complete four zips and cross seven skybridges.
No matter which you choose, your tour will begin the same way. After meeting your guide, you'll trek to equipment headquarters to get outfitted with zipping gear. Guides are there to help you adjust, secure and tighten your equipment. During this time, you can ask any questions you may have and lockers are also on hand to store any keys or cell phones. From there, you're transported to the top of Wolfe Mountain in a Pinzgauer Army troop carrier to begin your adventure.
Before the first zip, guides go over the zipline equipment and lay down some rules. For instance, let them be the ones to connect your from cable to cable. They're ACCT (Association for Challenge Course Technology) certified and are there to ensure your safety. They also go over breaking procedures at Branson Zipline. Here, you don't have to brake yourself by utilizing the zip cables. Instead a braking mechanism is in place to help you stop. This makes it much easier to relax and take in the feeling of soaring through the skies while you zip from tower to tower.
Once it's time to zip, the adrenaline really kicks in – especially for novices. The most important thing to keep in mind is the first leap is the hardest. But, once you've stepped off that first tower and zipped through the lush canopy of the Ozarks things change. Nervous thoughts that were running through your head are replaced with "I can't wait to do that again!"  Throughout the tour your helpful guides also tell the story of Wolfe Creek Preserve, a tale-tale about Isaac Wolfe and his once-upon-home in these Ozarks hills. The narration adds character to the activity and is a special feature you won't find at other zipping companies.
I highly recommend choosing the Ozarks Xplorer tour. It's an all-encompassing experience and the best overall value. During this tour, you'll get acclimated to zipping during the first half of the course, featuring three zips, all while taking in the beauty that surrounds you. Bask in the natural splendor of the Ozark Mountains and the breathtaking, scenic vistas of the countryside from towering elevations. A quick snack break of complimentary water and granola bars fuels you for the second half of the tour. The course's longest skybridge leads to the last four ziplines, all of which up the ante a bit with faster, longer cables. Guides snap photos throughout the tour to capture your first zip, funny faces and goofy poses. Ham it up and you're sure to get some memorable photos! They can be purchased at Wolfe Creek Station.
You can add even more adventure to you day at Branson Zipline by tackling the Blue Streak Fast Line and Freefall Xpress. This zip is the ultimate thrill! You soar at heights of over 150-feet for a quarter of a mile, taking in panoramic views of the rolling mountains at top speeds. If that isn't enough of a rush for you, the only way to get down from Everest (the tower platform) is to freefall. Yep! You heard right. Close your eyes, cross your heart and jump! You freefall half the height of the tower before a power fan contraption gently slows your fall and lowers you to the ground. It's an awesome ending to your zip experience! Forget coffee – I could do this every morning as my wake up and greet the day with a smile!
Add Branson Zipline Canopy Tours to your Branson itinerary to see the Ozarks in an all new way.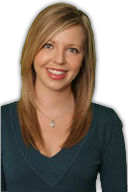 Ashley is Reserve Direct's travel expert, visiting Branson to find the best travel tips, money-saving deals and insider information. With over 10 years of experience in first-hand-travel adventures, she shares her stories, advice, and current events to help you stay in the know.