Christmas is a time for love, cheer, and making memories. Experience all three when you watch the hilarious Sanders Family Christmas this year!
The Sanders Family Singers are back up to their crazy antics! Sing along to some of the most cherished holiday carols and experience the merriest of Christmases with the Sanders Family at the Little Opry Theatre in Branson.
The Smoke on the Mountain family has retired to say a bittersweet goodbye to their only son, who is shipping out with the Marine Corps. But before he goes, the Sanders Family singers are heading up the annual Sanders Family Christmas Branson celebration at Mount Pleasant Baptist Church!
Join Reverend Mervin Oglethorpe, Uncle Stanley, and the rest of the Sanders family as they celebrate the holidays the best way they know how–with timeless holiday hymns, genuine family love, and unforgettable moments worthy of an enormous belly laugh.
Sanders Family Christmas Discount Tickets
Thinking about treating the family to the Sanders Family Christmas Branson Missouri this year?
Look forward to a hilarious family-friendly comedy show plus big savings on tickets when you purchase Sanders Family Christmas discount tickets on Tripster!
Sanders Family Christmas Coupons and Discounts
Sanders Family Christmas Military Discount
The theatre salutes the armed forces by offering military members and veterans year-round half-price show tickets. That's not all! Immediate families of active and retired military personnel are likewise entitled to 20% off show tickets.
At the Little Opry Theatre, simply show your military ID to claim discount tickets for you and your family.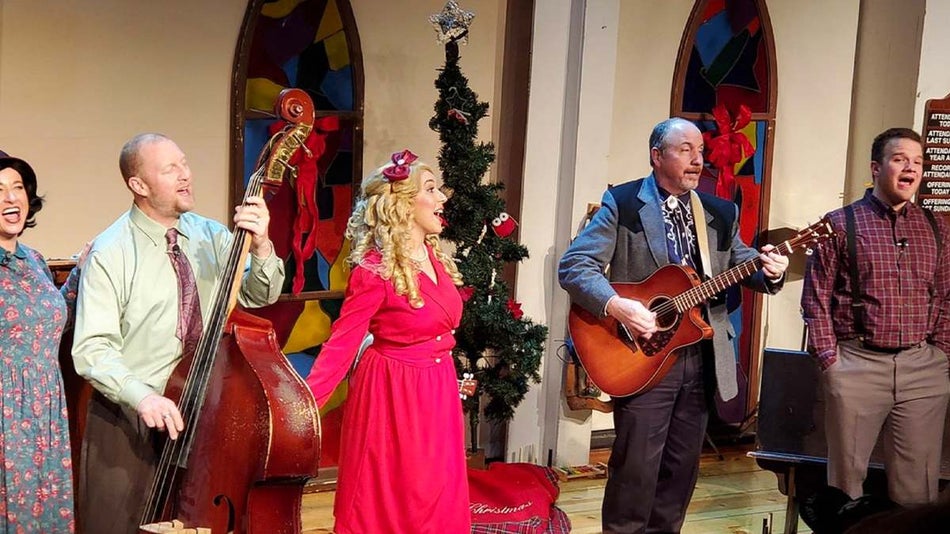 Sanders Family Christmas AAA Discount
Looking forward to claiming an AAA discount? We regret to inform you that Sanders Family Christmas Gospel Music Comedy is not offering special discounts to AAA membership cardholders at this time.
For big discounts, claim the Sanders Family Christmas Show discount tickets on Tripster instead!
Sanders Family Christmas Senior Discount
Join the annual Christmas celebration at the Little Opry Theatre in Branson with the whole family! Bring grandpop and grandma as well–they will enjoy the live comedy show as much as the little ones!
Wondering if the Little Opry Theatre is offering special discounts to senior citizens this year? Growing older comes with its perks! For guests who want to claim a Sanders Family Christmas senior discount, head up to the ticket booth and present a valid ID.
Sanders Family Christmas Local Discount
There is no Branson resident or local discount for guests who want to see the Sanders Family Christmas show. However, everyone is welcome to book discount tickets on Tripster.
Hotels Near IMAX in Branson MO
Need a place to stay during a holiday vacation in Branson? The lodging choices below puts you in the heart of the action!
Be as close as possible to theatres, the mall, and Branson's top attractions without compromising comfort and value.
Quality Inn West
Best Western Music Capital Inn
Radisson Hotel Branson
Grand Country Inn/ Indoor & Outdoor Water Park
Save even more when you bundle your room nights with your attraction tickets in one of our convenient vacation packages!
Branson Attractions
Beyond the Lens Family Fun - Branson
Try something fun and unique in Branson! Beyond the Lens Family Fun is a pop culture-centric museum that features many interactive experiences, including exhibits for history buffs, escape rooms for team players, and the new FlyRide for thrill seekers!
Butterfly Palace & Rainforest Adventure
It may be a snowy winter in Branson, but inside the Butterfly Palace & Rainforest Adventure, guests are always welcome to enjoy a tropical-themed destination! Enjoy exploring a butterfly aviary, a rainforest discovery center, and a perplexing mirror maze.
In addition, there are educational videos, interactive activities, and up-close encounters with more than 1,000 colorful live butterflies, exotic live reptiles, and amphibians that visitors of any age will enjoy.
WhoDunnit Hoedown Murder Mystery Dinner Show
Murder mystery movies aren't as exciting as putting the puzzle pieces together in person! This thrilling dinner show treats guests to a delicious traditionally Southern dinner while figuring out how Fiddler Squeeky Bowman met his demise.
In the process, expect that you will experience plenty of laughs as WhoDunnit Hoedown Murder Mystery Dinner Show is also a family-friendly comedic show.
Titanic Museum Attraction
It takes more than 2 hours and thousands of dollars to reach the Titanic Shipwreck with the Titanic Shipwreck Expedition. But for many, a sneak peek of the ship's re-created cabins, parlors, and the infamous $1-million Grand Staircase is good enough. The Titanic Museum Attraction features all this and much more. 
Veterans Memorial Museum
Honor the strength, bravery, and determination of the American soldiers who fought for the United States in the 20th century. Get to know some of their most captivating stories and the wars they fought.
See in person a collection of real wartime letters, weapons, medals, and other historic artifacts on display. Veterans Memorial Museum discount tickets are available on Tripster.
Insider Tips
What to Bring
The Sanders Family Christmas show is about 2 hours long. While you can go out anytime you like, we recommend bringing a small bottle of water and a jacket to stay warm and comfortable while enjoying the show.
Little Opry Theatre Seating Chart
The Sanders Family Christmas Branson MO show offers reserved seating.
Get the best seat possible at the time of ticket reservation, so get your Sanders Family Christmas discount tickets early on Tripster!
Can I Bring Food Into The Little Opry Theatre?
Food and drinks are available for purchase around the Little Opry Theatre but are not allowed inside the theatre during showtime. Before or after the show, grab a bite to eat at the nearby McFarlains Family Restaurant!
Little Opry Theatre Parking
The Sanders Family Christmas show will be performed at the IMAX entertainment complex in the Little Opry Theatre. Whether you're traveling with a group, motorcoach, family, or friends, there should be plenty of free parking for guests.
Sanders Family Christmas Reviews
Want to find out what other readers think of Sanders Family Christmas Branson?
Lesta said, "The show was a perfect way to get into the Christmas spirit. Great show, great talent! Thoroughly enjoyed it."
Check out the most recent reviews here.
The Sanders Family Christmas show is an all-in-one musical comedy and a Christmas show! Laugh out loud and celebrate the spirit of Christmas in one of Branson's top theatres.
Which Branson Christmas Show is Your Favorite? 
Leave us a comment below!