Pack your bags and book your hotel, it's time to spend a weekend in Williamsburg VA. Maximize your time in Williamsburg by following our weekend itinerary.
Looking for a quick getaway? Have you considered spending a weekend in Williamsburg VA? From going back in time to the Revolutionary War era to zooming down a roller coaster, there is so much to experience in the greater Williamsburg area.

Skip ahead to a specific day:
Friday Night
There's no shortage of hotels and other lodging options for your weekend in Williamsburg VA. You can choose to stay in a hotel, family-friendly condo, or one of the many resorts.
After checking into your hotel or resort, make dinner reservations at the Blue Talon Bistro for a fabulous meal. Their traditional and original comfort food style menu will hit the spot and is the perfect beginning to a weekend in Williamsburg VA.
Next, walk off your meal by exploring New Town. This area of Williamsburg offers more than 170 shops and restaurants to choose from. The area also boasts a 12-screen movie theater, parks and trails, and other types of entertainment. If you did not order dessert at Blue Talon Bistro, stop by Sweet Frog for some frozen yogurt while you stroll through the shops and enjoy the relaxing evening in Williamsburg.
Sounds like the perfect start to a weekend in Williamsburg VA to me!

Saturday
Fill your Saturday with captivating history about our nation's former capital all throughout Williamsburg VA.
Start your day by visiting Historic Jamestowne and the Jamestown Settlement. While at the Jamestown Settlement, you'll learn all about America's first permanent English colony. You can experience their way of living, hear their stories, and explore life-size re-creations of their forts and village.
While exploring Historic Jamestowne, join a tour to hear all about the archaeological discoveries on Jamestown Island.
Take a leap forward in history by next visiting Colonial Williamsburg. Throughout the historic area, you'll meet members of the revolution including political figures, notable women, shopkeepers, and other significant individuals. Be sure to talk to them to learn more about their experiences during this pivotal time in our nation's history.
While at Colonial Williamsburg, engage in these notable activities:
The Colonial Williamsburg Orientation Walk
Governor's Palace
Capitol Building
The Arts Museums of Colonial Williamsburg
While discovering the Revolutionary War era, join one or more of the guided and self-guided tours. These tours allow you to see inside the many buildings including what was once the United States of America's capitol building.
An excellent way to save money on your historic exploration of Williamsburg is with the America's Historic Triangle Pass. With this affordable pass, you'll receive access to Colonial Williamsburg, Historic Jamestowne, the Jamestown Settlement, the American Revolution Museum at Yorktown, and Yorktown Battlefield over the span of seven consecutive days.
Saturday Night
Don't forget to grab a bite to eat in Colonial Williamsburg! Stop by the Raleigh Tavern Bakery for a sandwich or a quick treat.
To keep the Revolutionary theme going all day long, secure dinner reservations (trust me, you'll need them) at the historic King's Arm Tavern in Colonial Williamsburg. Devour a chophouse style meal in a tavern built in 1772. But be on the look out — there's a rumor that a friendly ghost haunts the tavern.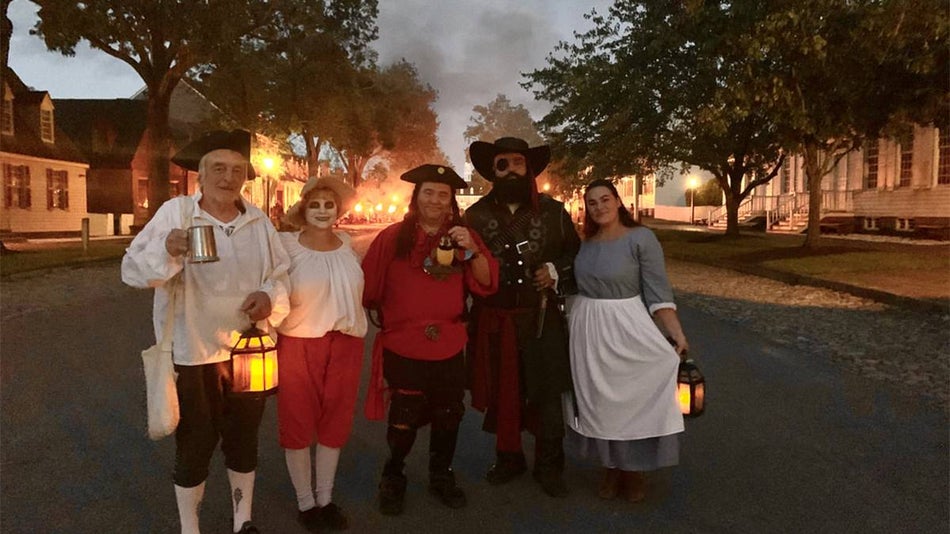 Speaking of ghosts - cap off your night with the Official Colonial Williamsburg Ghost Walk. You never know which former Williamsburg resident you might have the honor of meeting! For fans of the paranormal, this tour will be the highlight of your weekend in Williamsburg VA. Another spooky tour to embark on is the Dead of Night Ghost Tour. Reserve your spot early or seal your fate!
Sunday
If the possibility of seeing a ghost isn't enough of a thrill for you, end your weekend in Williamsburg VA at an amusement park. Williamsburg is home to Busch Gardens Williamsburg and Water Country USA (seasonal). Kings Dominion in Doswell, VA is also just a short drive away.
Grab Busch Gardens Williamsburg tickets, you'll find tons of rides and entertainment for everyone. The park features superior rides for thrill seekers such as the Griffon roller coaster that dangles riders at a 90-degree angle before plummeting towards the ground. Those who prefer a bit of adventure will love going on the twisting and turning quest on the Battle of Eire 4D ride.
If young children are accompanying you during your weekend in Williamsburg VA, they'll absolutely love the kid-friendly rides available. From the Land of the Dragons to Prince Elmo's Spire, your child will have the time of their life at Busch Gardens Williamsburg.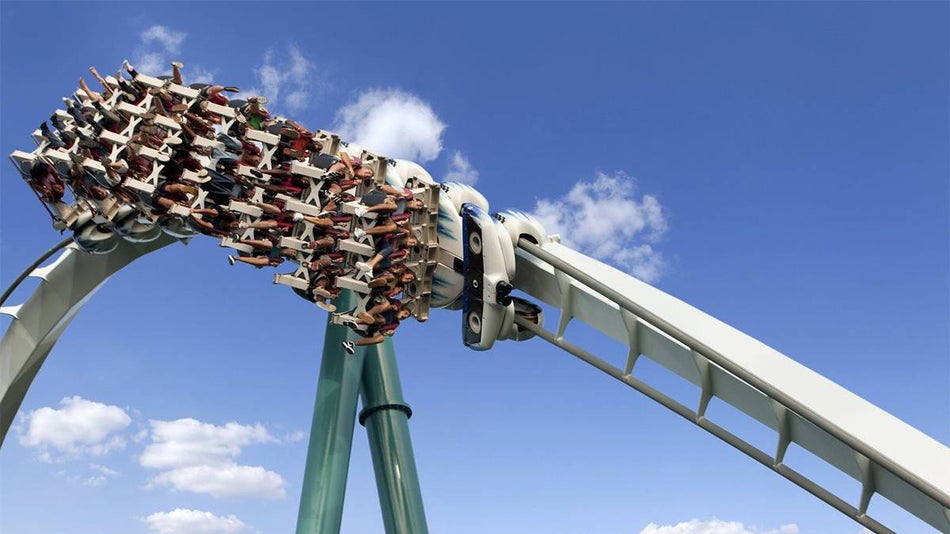 Depending on the season, your weekend might also include a trip to Water Country USA. Between the Colossal Curl to the Nitro Racer, the water slides, pools, and other attractions are a fantastic way to spend the day in Williamsburg.
On the other hand, if you choose to spend your last day in Williamsburg at Kings Dominion, make sure you check out these incredible rides:
Delirium
Flight of Fear
Intimidator 305
Grizzly
Shenandoah Lumber Company
Woodstock Express
No matter if you visit Busch Gardens Williamsburg, Water Country USA, or Kings Dominion, you're sure to spend your last day in Williamsburg well.
Get Ready to Spend a Weekend in Williamsburg VA
Of course, you can't see all of Williamsburg in a single weekend. Therefore, you'll have to come back to Williamsburg again and again.
Now that you know the best way to spend a weekend in Williamsburg VA, it's time to book your trip. Take advantage of extra savings when you bundle your Colonial Williamsburg or Busch Gardens tickets with your choice of hotel. Everyone loves to save money on a weekend in Williamsburg VA, right?