You can expect sunny days, a warm welcome, and plenty of fun when you visit scenic central Florida, combining just the right mix of recreation and relaxation. 
Orlando may be the home of "endless summer," but what if you only have 24 hours? 
With something to do for everyone, Orlando sits comfortably in the US's top five most visited destinations. It's a fabulous option for families, couples, and solo travelers who would like to experience a little bit of everything–from tons of entertainment and attractions to an abundance of natural beauty that is picture-perfect in any season!
Whether you're seeking a leisurely day or a day packed with adventure and excitement, we've broken down your options into the perfect guide to ensure that your 24 hours in Orlando will be unforgettable!
Where to Stay 
No matter the length of stay in Orlando, diving into a cool pile of pillows after your day is a necessity. Rest easy knowing you're always guaranteed our best rates online.
Here are some of our top picks for some serious shut-eye in the City Beautiful: 
Liki Tiki Village
If you are in need of reprieve from the outside world, Liki Tiki is the oasis for you. Kids can spend hours at Liki Tiki Lagoon Water Adventure Park, where they'll find a wave pool, water slides, and more. Meanwhile, more active teens and adults can play sports at the spacious tennis courts or play a round of mini-golf. Liki Tiki Village also has indoor amenities in case of rain, including a game room and a bar & grill lounge. 
If you've already purchased separate tickets to Walt Disney World Resort but are still looking for nearby hotels to stay for the night, drift off to Neverland at any of the hotels below:
They all offer complimentary shuttles to Walt Disney World Resort, which eliminates the complications of driving and parking so you can maximize the entire day at Disney.
Leisurely 24 Hours in Orlando
Visit popular points of interest around Lake Eola in downtown Orlando, Winter Park, and the City of Celebration while on a City Tour of Orlando. During the tour, enjoy a one-hour narrated scenic boat cruise, have free time to explore the boutiques and shops on Park Avenue, and ride the 400-feet tall observation wheel at Icon Park! 
The entire tour typically lasts six and a half hours, leaving you time to explore more of this Central Florida mecca. 
Calling all fine arts enthusiasts! Dr. Phillips Center for the Performing Arts is considered a hub for international and local artists. Therefore, it is always hosting events and performances. Catch live shows like The Lion King or concerts like Star Wars: The Empire Strikes Back, performed by Orlando Philharmonic Orchestra.
Live shows and concerts held at Dr. Phillips Center for the Performing Arts get booked fast. If you couldn't secure tickets, the CityArts Factory, located in the heart of downtown Orlando is open from 11:00 AM to 06:00 PM Tuesday through Saturday. The best part? Admission is free inside the gallery. You'll find eclectic art collections and several galleries to peruse.  
If you happen to be in downtown Orlando on Sundays, we highly recommend stopping by the Sunday Farmer's Market at Lake Eola Park. In addition to vendors full of vibrant, local produce, You'll find a beer and wine garden, live music, and (trust us) some of the most delectable, fresh, flakey pastries.
Feeling satisfied with your day in Orlando but hungry for some exceptional dining? Downtown and the surrounding areas of Orlando are home to a myriad of world-class restaurants and bars. Reserve a table for the entire family at any of these notable eateries. 
Adventure-Packed Day in Orlando
Orlando goes on top of the must-visit destinations because of its fun amusement parks and spectacular nighttime shows year-round. Thinking about an adventure-packed day in Orlando screams theme parks!
Families typically stay for a couple of days to a week at Walt Disney World or Universal Orlando Resort but spending an entire day still makes for a magical trip.
Disney World
Planning ahead is essential since you'll only spend a day at Walt Disney World Resort! Start with a list of activities and attractions the family must experience. Then, download the My Disney Experience App to use the Genie feature. You'll be able to maximize your time in the park by using real-time data to monitor wait times at your favorite rides and experiences within the park.
In addition, we recommend picking just one park to enjoy thoroughly. Choose from Disney World's four parks–Magic Kingdom, Epcot, Animal Kingdom, and Hollywood Studios. 
The key is to arrive as soon as the park opens and stay as late as possible. Check Disney World's Calendar and try to go on a day when the park you choose stays open late! Plus, you'll be able to come and go as you please throughout your reserved day at the park (or parks) you chose. 
A visit to Disney World isn't complete without a quick visit to Disney Springs to do some shopping or catch a showing of 'Drawn to Life' presented by Cirque du Soleil and Disney.
For dinner, choose to reserve a dinner show at Walt Disney World Resort's Sci-Fi Dine-In theater restaurant. Nearby Lake Buena Vista is also filled with incredible themed restaurants and dinner shows. Check out Pirates dinner adventure; it's voted "Best Dinner Show in Central Florida,"
Universal Orlando Resort
Spending an entire day at Universal Orlando Resort is easily one of the best adventures families can experience in Orlando. Islands of Adventure, which typically stays open from 08:00 AM to 06:00 PM, features the Wizarding World of Harry Potter, where you can ride Hagrid's Magical Motorbike Adventure™ and walk through magical Hogsmeade to live out all of your wizarding dreams.
If a plethora of roller coasters and 3D rides are more your style, don't miss Universal Studios. Expect tons of exciting themed rides like the newly opened Jurassic World VelociCoaster and the kid-friendly Woody Woodpecker's Nuthouse Coaster™. Help save the planet with the Autobots on Transformers: The Ride 3D. Or soar through the skyscrapers with Spider-Man while working to free the Statue of Liberty from thieving villains while on The Amazing Adventures of Spider-Man®.
Please note that kid-friendly rides at Universal Orlando Resort have a minimum height requirement which is typically around 36 inches (92 cm). 
Take a rest from Universal Orlando Resort's sensational rides by attending ongoing shows on-site. Events at Hard Rock Live® Orlando, located along Universal CityWalk, are separately ticketed. The world's most talented musicians and comedians take the stage at Hard Rock Live® Orlando. Check their calendar to see who is performing while you're in town.
In the evening, Universal Orlando's Cinematic Celebration treats guests to a celebration of music, water, and light, inspired by movies we know and love like Jurassic World, Fast & Furious, and Despicable Me. 
And if that isn't enough, cap off your trip with a visit to Loews Portofino Bay Hotel's Harbor Nights event for an authentic Italian evening. The hotel is on Universal Orlando property and is conveniently within walking distance of Universal Orlando's Theme Parks.
Harbor Nights is an incredible event where you can spend the night sipping select wines and trying unlimited gourmet food samples from the hotel's restaurants. If the kids are with you, they will love the aroma of Italian cuisine, live music, and a traditional opera performance. 
Additional Choices for an Adventure-Packed Day
Regardless of which park theme park or resort the family chooses to visit, an entire day at any of Orlando's theme parks and amusement parks will make the day whoosh past! Legoland and SeaWorld Orlando are a couple of our top picks.
However, the choices are nearly endless. Check out Tripster's complete list of things to do in Orlando. Visiting any of these attractions will keep the family busy and thrilled the entire day.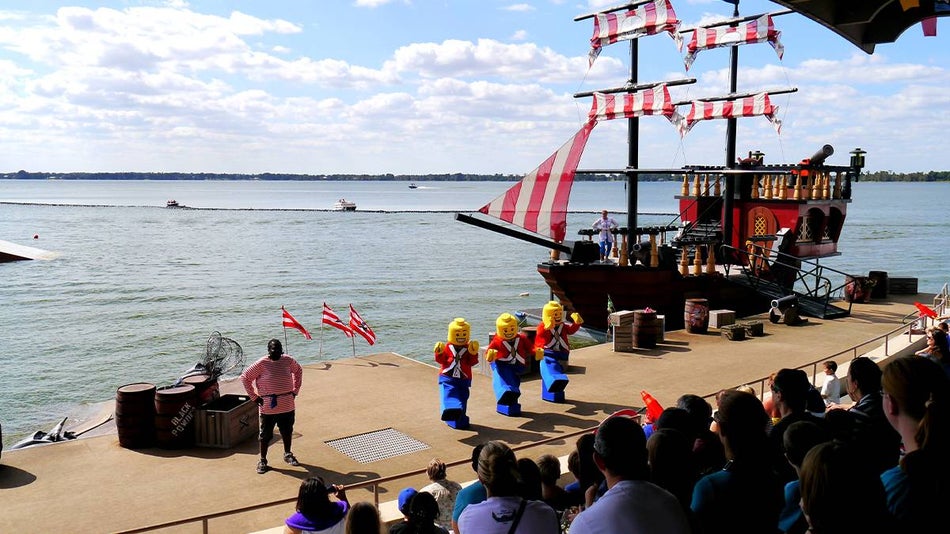 Animal aficionados are invited to visit Busch Gardens Tampa. A little less than 2 hours from Orlando, this 110-acre theme park is home to more than 12,000 animals representing 300 species.
It's one of the largest zoos in North America, but it's not any ordinary zoo. General admission to Busch Gardens Tampa gives you access to thrilling rides, water rides, family entertainment, and much more! 
For those who are fascinated with alligators, Gatorland is an enticing theme park and wildlife preserve. See thousands of alligators (and a few crocodiles!), visit the petting zoo for an up-close and personal interaction with the gators and crocs, and you can even be a "trainer for a day" for gator training lessons.
Looking to inject even more adrenaline into your gator-filled day? Soar high above the park's massive alligators and crocodiles while on the Screamin' Gator Zipline. Reach speeds of 30 miles per hour while on this 2-hour experience. 
Indoor Experiences in Orlando
It seldom rains all day in Orlando, but when your 24 hours of fun happens to be a washout, the best thing to do is to visit Orlando's incredible indoor attractions. A few of our top picks are the Kennedy Space Center, WonderWorks Orlando, and Orlando Science Center. A visit to any is a perfect opportunity to spend quality time with the family while giving everyone fun educational experiences.
Kennedy Space Center 
Space enthusiasts and families will enjoy exploring the Kennedy Space Center Visitor Complex. You could easily spend 6 hours going through the attractions, but we recommend maximizing the entire 9 hours that the complex is open to visitors. There's so much to see and learn. The Astronaut Encounter is among our favorite experiences at the Kennedy Space Center Visitor Complex.
It's not the most common opportunity to meet an astronaut in person and get to ask questions about life in space, but admission to the complex will give you just that! Have the most fun learning experience by meeting veteran NASA astronauts who have lived and worked in space. 
Listen as they share their unique experiences during trips to space, ask for an autograph or a picture, or exhaust your list of questions during the live presentation! Other must-see attractions include visiting the US Astronaut Hall of Fame, the Saturn V Rocket massive machine exhibit, and getting a close-up view of the Space Shuttle Atlantis. 
Orlando Science Center
Orlando Science Center is another popular educational attraction that is enjoyable for all ages. This private science museum features a vast array of interactive experiences that make learning science fun and exciting. 
3D movies and planetarium shows, towering dinosaur skeleton exhibits, and hands-on experience programming are just some of the activities that make a visit to the Orlando Science Center worthwhile. Exploring everything that the Orlando Science Center takes at least 4 hours, but kids and science enthusiasts have been known to stay much longer!
WonderWorks Orlando 
WonderWorks Orlando is an indoor amusement park for the mind with over 100 interactive exhibits for visitors of all ages. There are so many activities to participate in that you'll barely notice the time passing by! Feel what hurricane winds would be like, compete in laser tag, or say yes! to an adventurous journey through the 4D XD motion theater's virtual reality. 
Pro Tip: Make sure you wear closed-toe shoes, as many exhibits require them!
The best thing about WonderWorks Orlando is how it combines the joy of learning with unique entertainment. Start your journey in any of the six Wonder Zones, depending on what you want to learn more about first!
Our personal favorite, Space Discovery Zone, lets you explore a life-size replica of a spacesuit and experience the feeling of weightlessness and the rolls and tumbles that astronauts feel when they are conquering missions in space.
Hours of fun at WonderWorks Orlando will make memories you'd look back on for a lifetime.
Medieval Times Dinner & Tournament
The day's not over yet! Treat the family to a highly entertaining show in Kissimmee–the Medieval Times Dinner & Tournament! 
The 2-hour experience occurs inside an 11th-century-style castle in Medieval Spain. Once seated, guests are served a four-course banquet that includes garlic bread, tomato bisque soup, roasted chicken, sweet buttered corn, herb-basted potatoes, dessert of the Castle, coffee, and two rounds of select non-alcoholic beverages.
If anyone is vegetarian, the Queen of the Royal Court would be happy to whip up meatless meals upon request.
During the dinner show, expect jousting, swordsmanship, thrilling hand-to-hand combat, displays of extraordinary horsemanship, and falconry from the six knights competing in the tournament. 
Since the Medieval Times Dinner & Tournament shows start at 05:00 PM or 08:00 PM, there's enough time for the family to explore during the day.
Aquatic Adventures in Orlando
Perhaps you're looking for water-based activities while in Orlando for 24 hours. Discovery Cove is, hands down, one of the best all-inclusive day resorts around. You'll experience tons of marine creature encounters, snorkeling, swimming, and outdoor relaxation! 
Your day at Discovery Cove starts with an all-inclusive breakfast. The Laguna Grill Breakfast Menu consists of seasonal fresh fruits, breakfast pastries, and homestyle classics to ensure you're ready for what lies ahead.
Discovery Cove's signature dolphin swim experience is guided by animal care specialists who will teach the group about dolphin habits, behaviors, and incredible communication abilities. After that, each group member will get one-on-one interaction with a dolphin, so ready your cameras to record this once in a lifetime experience!
Next, head to The Freshwater Oasis. This park area allows visitors to have face-to-face encounters with playful Asian Clawed otters and curious marmosets. The Asian Clawed Otters are known for being friendly and inquisitive mammals. If you didn't bring your own, you can rent snorkeling gear and dive in the Freshwater Oasis to get an up-close and personal look at the world below. 
Rain or shine, there's always something to do at Discovery Cove. In case of a rainy day, water activities will continue at the resorts. It's safe to say that this all-inclusive resort will keep everyone's schedule packed for the day and begging to return.
Can't get enough of life under the surface? More sea creatures can be seen in their stunning habitats when you visit SeaWorld or SEA LIFE Park.
Want even more sun-soaked marine fun? Head to Aquatica Orlando for a splash-tastic day. Hop on a tandem raft and zip down the all-new Riptide Race! Or, float your cares away on the winding Loggerhead Lane.
Dealer's Choice 
At the end of the day, the places you'll visit during your 24-hour stay in Orlando will depend on your interests. If you're still unsure what kind of activities you want to include in your itinerary, consider purchasing the Go Orlando Explorer Pass.  
The Orlando Explorer Pass® Package lets you choose either 3 to 5 attractions from 15 options plus your choice of hotel. For example, visit Madame Tussauds Orlando, the Museum of Illusions, or SEA LIFE Aquarium Orlando. 
Depending on your pace, visiting up to 5 attractions using the Go Orlando Explorer Pass could fill up your day.
Once you've exhausted your Go Orlando Explorer Pass, you can easily add more activities to your nighttime itinerary like a visit to Universal City Walk, a nighttime adventure at ICON Park, or spending the rest of the evening at Disney Boardwalk.
What will you do with your 24 Hours in Orlando?
In an ideal world, you'd get that "endless summer" in Orlando, or at least a week in this gorgeous city. However, 24 hours in Orlando is better than none! 
With a bit of planning, some of Orlando's most iconic attractions can be enjoyed in just one day. 
Have You Visited Orlando? 
What activities would you suggest if a family had only 24 hours to spare in O-Town? 
Leave us a comment below!