This Appalachian oasis, located in western North Carolina is brimming with romance, love, and outdoor adventure.
Follow along to discover the most romantic things to do in Asheville NC.
Just one short stroll through the iconic and inviting downtown packed full of locally-owned shops, art galleries, restaurants, breweries, and exciting entertainment venues and you'll be convinced of the endless things to do in Asheville NC, for couples
Feel the heart-pounding exhilaration of hiking trails in Pisgah National Forest, sample as many ales as you can in 'Beer City USA,' or capture killer street art content by 'Chicken Alley.' Asheville activities for couples cover everything from gourmet meals to historic Biltmore Estate tours.
Whether you spend three days or three weeks in the 'Paris of the South', our list of Asheville date ideas and activities is sure to reignite the romance in any relationship.
Ready to plan your own Asheville romantic getaway? Read on…
Romantic Hotels in Asheville NC
Luscious linens, cozy bathrobes, and jacuzzi tubs, oh my! Romantic getaways in Asheville NC certainly spare no expense. Whether you are planning your anniversary in Asheville NC, or simply on the hunt for new couple things to do in Asheville NC, this charming city sets the stage for a love-soaked rendezvous.
Choose lodgings located in trendy downtown Ashville, or choose to sleep just moments away from the vibrant River Arts District. A romantic getaway in Asheville NC means tons of TLC, trendy amenities, and unparalleled service. Opt for luxurious spa treatments in a rusticly opulent resort. Or imagine life as a gilded Vanderbilt when you stay at the iconic Biltmore Estate:
The Omni Grove Park Inn
Consistently named one of the top spas in the world, no visit here is complete without a day unwinding in one of the Inn's many saunas, spas, steam rooms, mineral pools, or hot-and-cold pools. Then, post-heated outdoor tub soak, revel in the chic stone exterior and modern amenities of their plush rooms. 
The Inn on Biltmore Estate
A lavish fairytale-inspired property that just oozes old-school elegance, the Inn on Biltmore Estate is romantic Asheville at its very best. Appreciate this four-star escape's undeniable history and Blue Ridge Mountain views week-long with your lover.
The Foundry Hotel
Ideal for city slickers who love a modern romance, this chic historical and cultural heritage property pays homage to its industrial roots with exposed brick walls, elevated craftsmanship, and vintage-style rooms. 
Most Romantic Restaurants in Asheville NC
Creative, edgy, and inviting. These are just a few words to describe romantic Asheville restaurants. From winter to spring, one of our favorite things to do in Asheville for couples is eat out! Whether you are planning to pop that question or just need to inject some ingenuity into an Asheville date night, a romantic restaurant is your savior.
Still searching for free romantic things to do in Asheville, NC? Check out our Asheville travel guide featuring 31 Absolutely Free Things to Do in Asheville NC.
The Land of the Sky has been serving up 'farm to table' eats long before it hit the mainstream, and their wealth of fine dining establishments overflow with ambiance, atmosphere, and swoon-worthy dishes:
Zambra
Named the #1 most romantic restaurant by Travel + Leisure, Zambra's warm amber lit decor and design, exotic wine list, and creative western Mediterranean style tapas make for an epic dinner date. Order your fill of roasted scallops, pan-braised pork spring rolls, and patatas bravas, all washed down with a bold rioja. 
Sunset Terrace
A view so stunning it's sure to make your date weak in the knees, the Sunset Terrace at Omni Grove Park Inn provides a truly memorable Asheville outdoor dining experience with awe-inspiring mountain views.
Rhubarb
James Beard-nominated Chef Fleer plates up mouthwateringly delectable Appalachian-inspired cuisine in a relaxed atmosphere at Rhubarb. Feast on heritage cornbread, pumpkin soup, and collard salad before moving onto the sensational wood-fired sunburst farm whole trout. 
French Broad Chocolate Lounge & Factory
While not technically a restaurant, there's nothing sweeter than ending your meal with a lavender & honey or chocolate caramel bonbon from Asheville's most famous chocolatier. 
Scenic Asheville NC Attractions for Couples
Fresh out of date night ideas for Asheville? Take a page from our playbook and play photographer. One of our favorite things to do for couples in Asheville NC is to get snap happy! Memorialize your amazing North Carolina times at any of Asheville's most scenic spots. We wouldn't forget photo ops in our list of romantic things to do in Asheville.
We've taken the guesswork out of compiling Asheville's most scenic spots to bring you the most blissful couples' vacation pics yet:
The Blue Ridge Parkway - for some seriously scenic eye candy, you must pull over for a shot of this stunning parkway, complete with views of the oldest mountains in North America.

The Flat Iron Sculpture & Building - grab two photos here, one of the infamous building and another of the quirky monopoly piece-like iron sculpture. 

Double D's Double Decker Bus - score some caffeine and some memories when you get a dynamic duo pic of you, and your boo on this repurposed Double Decker Bus to coffee shop establishments.

Local Street Art & Murals - the street art scene in Asheville is unparalleled, with hundreds of murals, banners, and more decorating the city's streets. We can't help but be drawn to the Queen of Country herself, Dolly Parton, at 783 Haywood Rd, as well as the gorgeously detailed 'Chicken Alley' on Carolina Lane & Woodfin St. 
Best Sunset Spots
Is there anything more romantic in Asheville than a gorgeous sunset?
After an action-packed day of kayaking, hiking, and mountain-top yoga, wind down the adrenaline and amp up the seduction. Take in a bewitching sunset at any of Asheville's most amorous locales:
The Blue Ridge Parkway

Craggy Gardens

Lake Glenville & Lake Junaluska

Max Patch

Capella on 9 (rooftop bar)
Asheville Romantic Things to Do
Farmers markets, cascading waterfall hikes, and phantom spirits. Whether you're fiending to capture multi-colored art murals or horseback riding through the Flame Azalea and Fern Forest, Asheville NC attractions for couples will never let you down. Brush up on your American magnate history, sample tons of suds, or say 'namaste' on top of a mountain.
Things to Do in Asheville NC for Couples
Biltmore Estate
There is no destination more synonymous with Asheville (nor with romance) than the historic Biltmore Estate. 
An enchanting edifice like no other, this palatial Châteauesque-style mansion is the largest privately-owned house in the United States.
Built by George Washington Vanderbilt II in the late 1880s, the magnificence of this 'summer estate' has been enticing visitors for more than a century.
Explore three of the house floors and basement on your self-guided tour, peeking at the inner lives of the Vanderbilts as seen through their displays of vintage clothing, accessories, art, furniture, and more. Or reserve a rooftop tour to get an even closer look at areas not included on a regular visit. 
Pro Tip: Don't forget to budget time to traverse the gorgeous gardens, grounds, and winery that are all part of the extravagant estate. 
Private Walking Tour of Asheville
Give your sugar boo the gift of undivided attention with a Private Walking Tour of Asheville. Kiss crowded large groups goodbye when you walk with relaxed intimacy on this 2.5-hour educational and historical tour.
Uncover the best of Asheville when your local guide takes you through downtown, the River Arts District, a farmers market, and more.
Listen up as they spill all the best tips and insider knowledge on the 'Paris of the South.'
Incredible tour highlights include:
South Slope Brewing District - enjoy a stop and free beer

Stop at WNC Farmers Market

Biltmore Village - enjoy a stop and free beer
Asheville Night-Time Walking Ghost Tour
Hold your honey tight, and prepare for things that go bump in the night when you book your Asheville Night-Time Walking Ghost Tour.
An ideal excursion for partners passionate about the paranormal. This 2-hour ghost tour is also a spine-tingling adventure into Asheville's dark past.
Keep alert as your local expert guide scares you silly with spooky tales of the haunted.
Omni Grove Park Inn, the body, entombed in the wall of the Basilica of St. Lawrence, and much more. 
Terrifyingly true stories and urban legends meld together on this hair-raising affair which features stops at:
Pack Square

Grove Arcade

Thomas Wolfe Memorial

Pritchard Park
Hiking and Mountain Tours
Waterfalls and Blue Ridge Parkway Hiking Tour with Expert Naturalist
Go chase waterfalls with your nature-inclined love bug on this acclaimed 4.75-hour wilderness adventure.
Celebrate the raw beauty of the Blue Ridge Parkway and enjoy the perks of traversing this mountainous terrain with a professional naturalist guide when you attend the Waterfalls and Blue Ridge Parkway Hiking Tour.
This small-group tour showcases you and your partner the most exalted vistas, photo spots, and waterfalls of Asheville and the Pisgah National Forest.
Budding botanists will be overjoyed to learn all about the area's diverse array of flora and fauna while hiking enthusiasts will relish the challenge of a 3-mile hike through stunning Appalachian scenery and stops to over three waterfalls.
Scenic Driving Tour of the Blue Ridge Mountains
Need a taste of the great outdoors sans the mud, guck, and sweat of a traditional hike? Keep that blowout intact and snuggle in the back with your sweetie on this luxurious chauffeur-driven tour. 
Leave the driving to the (naturalist) experts on your Scenic Driving Tour of the Blue Ridge Mountains. 
Sit back, relax, and gaze in awe at the spellbinding Appalachian landscape of the Blue Ridge Parkway and Mountains on this 4-hour comprehensive tour.
With your chauffeur at the wheel, you'll have plenty of opportunities to snap one-in-a-lifetime photos of the area's vibrant foliage, winding roads, and craggy mountain tops. 
This is an intimate tour, which allows for additional stops, hikes, and naturalist know-how at the group's discretion.
Guided Waterfall Hike with Expert Naturalist
Cascading falls, a thriving temperate rainforest, and enchanted caves make for a day of pure wood-filled wonder on the Guided Waterfall Hike.
Grab your hunky hiking partner (and even Fido if you feel so inclined) as you foray into the Pisgah National Forest on this 5-hour moderately paced hike.
Listen up as your expert local guide provides the ecological and historical background of this Southern Appalachian utopia. 
You and your small group will conquer the lush woodland trails, rock gardens, and 1900s ruins of this route as you make your way to the sublimely serene 150-ft towering waterfall. 
Along this journey into the backwoods, you will be able to sample and identify the many species of plants your guide points out. 
Outdoor Adventure
Guided Horseback Ride through Flame Azalea and Fern Forest
Champions of chivalry and fairy tale fanatics will flip over the chance to ride atop a noble steed through the Blue Ridge Mountains.
Saddle up for a romantic ride through the Asheville area's most fanciful natural attractions on a Guided Horseback Ride through Flame Azalea and Fern Forest. Your little over an hour tour will feel like a true wilderness escape, as you trot past verdant fern groves, rows of wild flame azaleas, and a white pine forest. 
Canter without hesitation, as this ride is ideal for novice riders and includes extensive training and a safety program. 
French Broad River Kayak Tour in Asheville
Calling all aquatic adventurers! See Asheville's flourishing forests and rushing rivers in a new light when you and your sunshine paddle your way through a 2.5-hour kayak tour.
The French Broad River Kayak Tour in Asheville is a rousing full-bodied way to see Asheville's most famous attractions, including the Biltmore Estate.
Sync up your tandem stroke and make your way through Asheville. You start at the Bent Creek Inlet and and float down the French Broad River. Meanwhile, your naturalist guide will educate you on the unique ecology, biology, and history of the area.
Beer Tours
Electric Bike Brewery Crawl of Asheville
Beers and bikes may seem like an unlikely combination, but just like chocolate-covered bacon, it somehow works! 
Raise a glass to your partner in crime, and prepare to tackle those Asheville hills without hesitation on your Electric Bike Brewery Crawl of Asheville.
Craft beer snobs will be in heaven. Cycle to and from five of Asheville's most popular microbreweries, all while astride a state-of-the-art e-bike.
Zoom past local scenery easily, sample your favorite suds*and even indulge in a mid-brewery bar snack break.
This intimate small group tour lasts for four hours. In addition, it is great for couples of all ages and biking skill levels. 
**beer samples not included.
Downtown Asheville Guided Brewery Walking Tour
Asheville isn't called 'Beer Town USA' for nothing. In fact, this new-age metropolis boasts more breweries per capita than any other U.S. city. 
Knowing where to begin on your hop-fuelled drinking day can be difficult, though. Take the guesswork out of planning a brewery tour with your better half when you book a Downtown Asheville Guided Brewery Walking Tour.
From lagers, ales to IPAs and more, this 2-3 hour tour will give you the down and dirty details and a behind-the-scenes look at Asheville's brewery scene. 
Your tour is led by a Certified Cicerone, a recognized beer expert.  This extensive tour will lead you on a journey to 2-3 of Asheville's most famous breweries. In addition, it will provide 3-4 ample samples of different brews.
Dive deep into the brewing process as you absorb how these delectable malt beverages came to be. 
Then, as your tour winds down, be sure to order a special commemorative pint glass to memorialize your time in this ale-obsessed city.
Asheville Brewery Crawl on the Party Bus
Keep the good times rolling and flowing on a feisty and festive Asheville Brewery Crawl on the Party Bus. 
A quintessential social affair for any partying pair, this fun-filled four-hour tour is guaranteed to leave you smiling.
Hit the streets and explore Asheville's wide assortment of:
craft breweries

bars

sake spots
Imbibe with abandon on this 4-hour tour. In addition, alcoholic beverages are included, and you will be stopping at such local hot spots as:
Hi-Wire Brewing

New Origin

Various breweries on the South Slope

Wedge Brewing
Forgot to document the hoppy times aboard your brightly decorated party bus? No worries, as your party captain, also doubles as your photographer and will be snapping away.
Unique Experiences
Landscapes & Waterfalls Photography Experience
Is your sweet pea a wanna-be shutterbug? Express your artistic admiration for your lover's hobby with an exclusive Landscapes & Waterfalls Photography Experience.
See the stunning scenery of Asheville through a new lens on this guided half or full-day tour. Pick up invaluable tips, tools, and knowledge from a professional photographer. In addition, you'll learn:
basic composition

how to lead the viewer

how to frame your subject

and more
You will be educated while also memorializing the Appalachian region's mountains, waterfalls, and forests.
Besides leveling up your photo skills, you will come home with keepsake photos of the most beautiful landscapes, sunrises, and sunsets in Asheville.*
*Specific nature documented depends on the time of year/season booked.
Mountaintop Yoga & Meditation Hike in Asheville
Namaste with your nutter butter on a 2.5-hour tranquil Mountaintop Yoga & Meditation Hike in Asheville.
Clear those chakras, inhale that fresh mountain air, and practice some serious couples self-care on this full mind-body experience.
Begin your journey to nirvana with a 1-mile mountain top hike to the Blue Ridge Mountains. Once at the summit, you and your sweetie will be treated to an hour of blissful yoga. Then take the time to soak up the views before completing another 1-mile trail loop.
Paramours yearning for even more privacy can feel free to book a private hike. Or, to add even more relaxation or rejuvenation to their day, try purchasing an additional massage treatment, farm-to-table cooking class, or tarot reading for two.
Pssst.. looking for more unique adventures in Asheville? Check out our guide!
"Love Stories of Asheville" Guided Walking Tour
Every story is a love story. Make all of your beloved's lovey-dovey fantasies come true when you indulge their amorous adoration on a "Love Stories of Asheville" Guided Walking Tour. 
This is a quintessential interlude for all hopeless romantics. Your 2-hour guided tour is the ideal Valentine's Day or date night activity. Discover the heart-filled secrets, stories, and lore that are endemic to the 'Paris of the South.'
Your local professional guide (and full-time romantic) will capture your heart and attention. Be prepared to listen to with swoon-worthy legends regarding Asheville's streets, buildings, parks, and wineries.
Learn about the secret tunnels that run underneath the city's cobblestone streets. In addition, discover the best place to have a romantic meal or take a first-rate engagement or couples photo.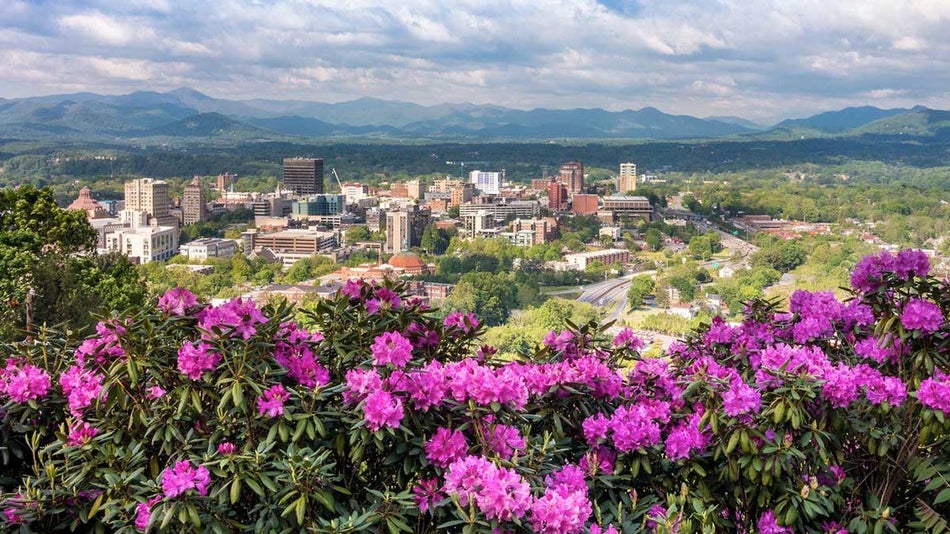 Enjoy paddling in tandem with your partner down the flowing French Broad River. Or, holding a picture-perfect tree pose on top of the Blue Ridge Mountains. Then, to round out your romantic things to do, gaze in awe at the royal-like gardens and grounds on display at the Biltmore Estate in Asheville.
This eccentric corner of Western North Carolina is buzzing with undeniable energy, art, and outdoor enterprises.
A thriving craft beer culture, iconoclastic architecture, and vivacious art scene make this city a mecca for couples seeking romantic things to do in Asheville, NC.
From brewery visits to scenic driving tours of one of America's most photogenic parkways, a getaway, along with our list of romantic things to do in Asheville, is an exercise in the extraordinary.
What Romantic Things to Do in Asheville NC Did We Miss?
Did we miss any of your favorite Asheville Nc things to do for couples?
Leave a comment below!