Home of the Pennsylvania Dutch, it's no wonder that the Quaker City loves to treat children like little VIPs. Chockful of priceless American historical artifacts and museums that cater to curious minds, you'll never have to wonder what to do in Philadelphia with kids.
Follow along to uncover the 14 best things to do in Philadelphia with kids.
Stop endlessly googling 'Family events Philadelphia' or 'Things to do outside in Philly'. From indoor activities in Philadelphia to things to do in Philadelphia with kids, we've got you covered.
Visit Philadelphia and immerse yourself in our nation's birth with stops to the Liberty Bell and the Declaration of Independence. Or, fuel up the learning and the fun when you pal around with Big Bird, Elmo, and Ernie at Sesame Place.
From bricktacular building sessions at LEGOLAND Discovery Center to spooky tours of the city's most haunted penitentiary, there's never enough time to see every inch of the City of Brotherly Love.
Ready for all of the family-friendly fun in Philly? Read on…
Family Fun* in Philadelphia
Just a short drive from many major East Coast cities (or a quick flight), the Cradle of Liberty makes an ideal destination for a kid-friendly day trip or getaway. Ensure you make the most of all the enthralling family activities in Philadelphia when you book any number of our Philadelphia Hotels.
From cozy quarters by Rittenhouse Square to outdoor pools just begging for a refreshing swim, your brood will be able to relax no matter your vacation budget. As always, make your reservations stress-free knowing you are guaranteed our lowest rates online.
*Please note that this is by no means an exhaustive list of fun to do in Philadelphia, simply a round-up of our Philadelphia top things to do.
Things to Do with Kids Philadelphia
Traveling with kids isn't always a picnic. From long road trip meltdowns to forgetting their favorite blankie, engaging in a new city usually doesn't come without a few hiccups. Instead of worrying over what things to do with kids in Philadelphia, leave your itinerary to the experts.
From science museums that explain electricity to food halls overflowing with flavor, we've compiled the creme de la creme of fun things to do in Philadelphia.
Psst..hoping to enjoy some more mature attractions after the kiddies go to bed, or perhaps planning to return for a romantic rendezvous in the Fall? For the best things for adults to do in Philadelphia this Fall check out our guide.
The Franklin Institute - Philadelphia Science Museum
For almost two centuries the Franklin Institute has been championing principles of science, truth, and discovery. Spark your child's interest in the natural world and beyond when you visit this beloved science museum. In addition to housing the Benjamin Franklin Memorial, the museum will challenge the way you think about the human body.
Crawl, climb, and scale your way through an 18-foot-tall neural network, or discover how images are processed in the human brain by walking through a city street filled with illusions. Take a gander at the iconic Giant Human Heart, and listen up to hear the rhythmic thumping of a real human heartbeat. Journey to faraway cosmos at the Fels Planetarium, or check out a fully charged Tesla coil.
Please Touch Museum
Designed especially for pint-sized learners and chubby little fingers, the Please Touch Museum is consistently voted one of the top children's museums in the country. Created with kids in mind, this edifice of education and entertainment seeks to empower children to pursue their imagination and curiosity at full speed.
Visitors can explore two full floors of enthralling exhibits, including the beloved Food & Family. This massive 3,650 square-foot exhibit encourages kids to wonder where food comes from and its journey from the farm to the table. Get your hands dirty in the museum's outdoor garden, or escape to Wonderland to play among the Hall of Mirrors, hedge mazes, and more.
Don't forget to take a peek at special traveling exhibits such as Pixar's Inside Out, which dives into the role of emotions, memory, and imagination in our everyday lives.
Eastern State Penitentiary
Prison may seem like an odd stop on your kid-centric tour of Philly, but pre-teens and beyond will be fascinated by the lore and urban legends that surround the Eastern State Penitentiary. This former prison was operational until 1971 and has hosted a number of nefarious inmates including bank robber "Slick Willie" Sutton and "Scarface" Al Capone. Today visitors can choose from a variety of both day and nighttime tours to take in the ruins of this world of crumbling cell blocks and empty guard towers.
Peek at Al Capone's well-appointed cell which is said to have contained fine furniture, beautiful rugs, and tasteful paintings. Or, set your sights on otherwise off-limit areas of the prison with Hands-On History experiences that include stops at Soup Alley, Hospital, and the Catholic Chaplain's Office.
Need even more hands-on Philly fun? If you're revved and ready to spot everything from the Betsy Ross House to the City Hall Tower, spring for a Go Philadelphia All-Inclusive Pass or Go Philadelphia Explorer Pass and cover even more of the Cradle of Liberty.
Fun Places Philadelphia
Oh, the places you'll go (in Philly)! From gazing upon wild creatures at the zoo, to sampling fudge, ribs, and cheese steaks at the market, Philadelphia offers a cornucopia of kid-approved delights.
Reading Terminal Market
Open since 1893, the Reading Terminal Market has withstood depressions, world wars, and more. An iconic Philly attraction, mini munchkins who love to cook and eat will be in epicurean heaven as they explore row upon row of vendors hawking fresh produce, meats, fish, groceries, flowers, baked goods, crafts, and more.
Devour some delicious Amish items such as Pennsylvania Dutch–style chicken pot pie or a slice of sweet molasses-flavored shoo fly pie. Stock up on souvenir Tastycakes, and more at the Pennsylvania General Store. Or, savor bites of Carmen's Famous creative cheesesteaks for lunch.
Philadelphia Zoo
Topping everyone's list of things to do in Philadelphia for kids is our nation's oldest Zoo. Opened in 1874, the Philadelphia Zoo has the distinct honor of being our country's first Zoo. Home to over 1,900 rare and endangered animals this institution is a hotbed of diversity and conservation.
From adorable fluffy Black -And-White Ruffed Lemurs to proud African Lions showing off their resplendent manes, the Zoo is an oasis for all kinds of mammals, reptiles, and amphibians. Animal-obsessed visitors of all ages will be dazzled by their award-winning exhibits and attractions.
Take a ride on their SEPTA PZ Express Train, tackle a WildWorks ropes course, or give your noggin a workout with their brand-new interactive scavenger hunt. The Nature Blazer aids lets you navigate exhibits with a smart compass, complete challenges, and answer trivia all through an interactive mobile app powered by TRAKID.
Spruce Street Harbor Park
Temperatures are climbing in the Cradle of Liberty, but that doesn't mean it's time to go home! Visitors lucky enough to be frequenting Philly during the balmy summer months will be in luck, as the city provides many places to cool off and relax. Relish Delaware River views, finger-licking good eats, technicolor lights, and more at the Spruce Street Harbor Park.
The ideal site for your afternoon siesta or hang out, the park is open from May 26th through September 26th. Rent a colorful hammock and cuddle up with your cuties or splash out with a floating barge for your larger party. Beat the heat with a dreamy ice cream sundae or go for broke with a deep-fried funnel cake or oreo.
Fun Things to Do Near Philadelphia
Hershey's Chocolate World
What's sweeter than a little chocolate surprise? Escape the city limits and head to the birthplace of cocoa-scented happiness, Hershey PA. Witness the wonder of candy making when you smell, taste, and touch the excitement of Hershey's Chocolate World. Choose from any number of adventures and get ready to enter this decadent world of treats.
From watching beans become Hershey's chocolate bars to catching rides on the charming Trolley, there's heaps to do. Don't forget to commemorate your experience by crafting your own custom candy bar or loading up on tons of Hershey character merch.
LEGOLAND® Discovery Center Philadelphia
Prime yourself for over 30,000 square feet of plastic paradise when you swing by  LEGOLAND Discovery Center Philadelphia. This mini LEGO-based theme park is full of interactive rides, building experiences, and immersive activities. Reunite with all your favorite LEGO characters as you soak in a 4D screening, master LEGO building, or hop aboard the Imagination Express.
Get ready to lap the competition when you design the speediest race car at Build & Test or take on laser mazes and evil ninjas at the LEGO Ninjago training camp. Don't forget to snap some photos of the stunningly accurate MINILAND recreations of Philly's most famous landmarks including the Eagles Stadium.
Sesame Place
Cozy up to your kid's favorite Muppets when you spend a day at Sesame Place. Little ones of all ages will rediscover the joy of Sesame Street when they conquer:
16 kid-friendly rides
9 family-friendly water attractions
parades
and more
Watch with amazement as your tot enjoys their very first roller coaster ride. Or takes a spin on Big Bird's Tour Bus.
Schedule a delicious breakfast with Elmo, or fly sky-high in one of the cookie monster's massive jars. From the Sunny Day Carousel to play areas complete with double slides, every inch of Sesame Place was designed for maximum smiles and entertainment.
Things to Do Outside in Philadelphia
Liberty Bell
Looking to make American History come to life for your little one? Then reserve a private kid-friendly tour of the Quaker City's most emblematic sites. Your Private Family Walking Tour will contain 2 hours of personalized narration, facts, and storytelling.
Listen up as you make your way past the first post office in America, the Christ Church Burial Grounds, and the Liberty Bell. In addition, your tour includes tickets to Independence Hall. Both the United States Declaration of Independence and the United States Constitution were debated and adopted.
Franklin Square
Located in the Independence National Historical Park, Franklin Square is a lush oasis of green space, fountains, playgrounds, and more. This historic park is one of the five original open-space parks planned by William Penn when he first designed Philadelphia.
Within the park, visitors can spot the oldest refurbished and functioning public water fountain in the United States. Be sure to catch its daily choreographed show. In addition, tykes can take part in carousel rides and perfect their putt putt with mini golf games. Or chow down on a hearty SquareBurger.
Run the Rocky Steps at the Philadelphia Museum of Art
Are your tykes fans of the Italian Stallion? Has your brood seen the Rocky series? Regardless, no trip to the City of Brotherly Love is complete without a selfie at the Rocky Statue. Or running up the 'Rocky Steps.' Head to the bottom of the stairs of the Philadelphia Museum of Art to ham it up with this icon. Then, ascend to the top to soak in some sweeping views of the city skyline.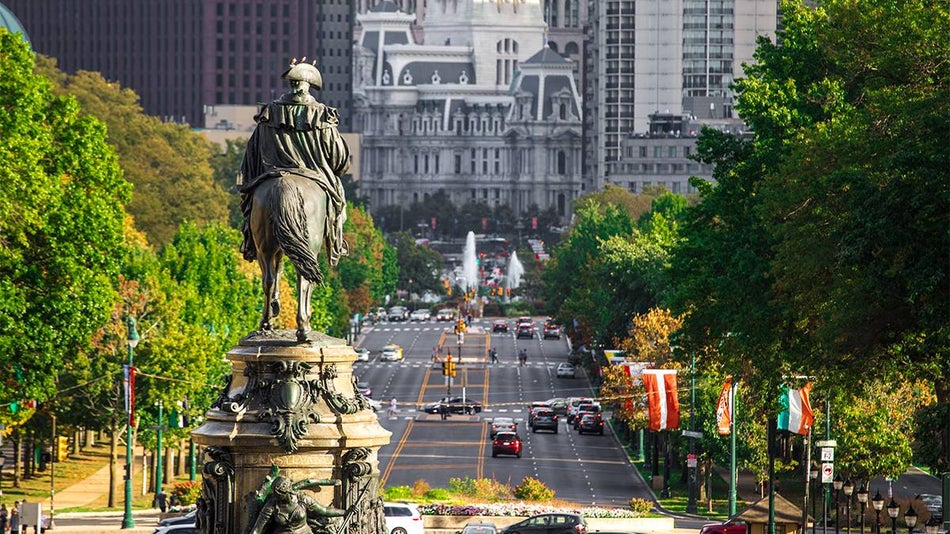 Walk in the footsteps of the founding fathers, discover the mysteries of the human heart, or indulge your sweet tooth with the magic of a Hershey's surprise.
A city of grit, history, and Amish culture may seem like an unsuspecting locale for a family-friendly trip. However, Philadelhpia's mess of iconic attractions, sites, and activities makes for one magnificent adventure.
Watch tigers stealthy crawl overhead at the Zoo, or play conductor when you board a mini SEPTA express line.
Channel Benjamin Franklin as you use your body to complete a circuit and illuminate a lightbulb. Or feast on Amish Apple Dumplings and homemade doughnuts.
Whether you are traveling with teenagers or toddlers, you'll never run out of fun things to do in Philadelphia.
Tell us, What are Your Favorite Things for Kids to Do in Philadelphia?
Leave us a comment below!